FOTC News 2013
New intercollegiate fencing program in our backyard. McKendree University
December 27, 2013 - Pearce Wilson
I am excited to be part of a new NCAA fencing program.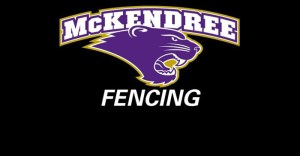 http://www.mckbearcats.com/news/2013/12/4/GEN_1204135237.aspx
McKendree University in Lebanon, Illinois (25 miles from St. Louis) is launching a new fencing program for the 2014-2015 season.
We are looking for epee, foil and saber fencers for the 2014-2015 season. We plan to develop full men's and women's teams in all three weapons over the next two seasons.
Our eventual goal is to apply for NCAA status. However, I must stress there are no guarantees on the timetable.
McKendree is a Division II school and as such has the ability to offer athletic scholarships. In my talks with the Athletic Department and the University Administration it became clear that McKendree is very serious about this program and is prepared to offer very generous equipment, competition travel and scholarship opportunities.
We are late into the college selection timetable for next fall's enrollment. Recruiting begins at once.
If you are a high school senior interested in fencing for McKendree please contact me.
If you are a high school junior I would also be interested in hearing from you for possible 2015-2016 enrollment.
Sincerely,
Pearce Wilson
Head Coach
McKendree University Fencing
Grizzlies In A Small Boat.
December 22, 2013 - Pearce Wilson
That tweet started a conversation with the Saskatchewan Fencing Association, @SKFencingAssoc Sask asked if I could blog a bit about some our our 'plays'.
First let me stress that the names of these 'plays' are meaningless. We are having fun. We intentionally come up with sometimes ridiculously fun names. Actual fencing, hitting each other with a metal stick, like all sports, is silly. But using the analogy of sport to life to develop the mind and body? That is not silly. We take winning seriously but we never forget to have fun along the way.
When I teach fencing actions I tell the kids that the simple individual actions are like Legos. Each Lego piece has a function. The fencer has to understand all the pieces she has available. She has to understand how they fit. The fencer/artist puts the pieces together in novel ways to create a masterpiece.
A newer fencer can get flustered in a bout. To build that Lego masterpiece under the pressure of competition is hard. So we develop some attacks in practice that the fencer can fall back on during a tough bout. These are just like the plays a football coach might develop. We try to develop plays that have a single beginning but have 3, 4 or 5 possible endings. The goal is to make the opponent wait long into the attack before he can decide which response is correct. Hopefully by that time it is too late, he is already hit.
Grizzlies In A Small Boat is a foil fencing example of this.
This started out as When Grizzlies Attack which I use to help fencers understand running attacks. When the grizzly attacks, she runs at you. If you turn and run, she continues to chase you until it is lunchtime. If you stand your ground, she stops just out of range. Only after she has sized up her prey does she complete the attack. The fencer should do the same. From the engarde lines the fencer partially extends her foil and leaps forward as far as she can but stays just outside her opponent's attack range. If the opponent upon seeing the attacking fencer flying towards him, retreats, the attacker with no hesitation continues the aggressive attack. But if the opponent stands his ground, the attacking fencer stops her aggressive attack and sets up for a more traditional fencing encounter. She stops to size up her prey just like the grizzly does.
Many weeks later I was trying to teach my fencers how to intimidate their opponent. I had the theme from the movie Jaws playing through the speakers in the salle. We were bouncing up and down on the balls of our feet slowly at first in cadence with the music. Then if you remember, as the shark approaches closer, the music begins to speed. We sped the cadence of the bounce. And of course the final measures when the shark attacks? The fencer attacks. The kids joked how we were going to need a bigger boat. The name stuck. We began calling it You're Gonna Need A Bigger Boat.
Fast forward to a few weeks later. and here is where the Legos come in. We combined When Grizzlies Attack and You're Gonna Need A Bigger Boat to make Grizzlies In A Small Boat. Again, the kids came up with the name. The execution of the move starts like When Grizzlies Attack as the attacking fencer lands from her leap, she must be prepared for one of 5 different endings. If the opponent runs, she chases them. If the opponent counter-attacks, she completes her attack with right of way. If the opponent stands still, she starts the bouncing action of You're Gonna Need A Bigger Boat in an attempt to intimidate the opponent. If the opponent takes just one step back, she leaps again into a high target attack. Finally, an option for when the opponent takes just one step back, she fakes the second leap with her shoulders and instead executes a long low lunge into a low target. The fencer uses the split second while she is in the air during that first leap to determine which ending of the attack is the appropriate one.
The various Lego pieces used in this 'fencing play' are When Grizzlies Attack, You're Gonna Need a Bigger Boat, Tiger, Cobra, Mongoose, Bird of Prey, Rosemary's Baby and Scorpion's Tail.
The names of the Lego pieces need to be created with and for the student. My students are currently mostly high school fencers. Having fun is important. If your fencers are fun loving, then silly names like this work. If your students are serious, these silly names probably won't work.
Selling the Sport of Fencing-Part3: No one cares about you.
December 17, 2013 - Pearce Wilson
An important part of turning fencing into a financially successful sport is to start a feedback loop.
An increase in the number of slots for college fencers will help convince more high school students to take up fencing. More high school students participating will help convince more high schools to field fencing teams. More high school funded fencing programs will convince more high school students to try fencing. More high school fencers will help convince more colleges to field fencing teams. A feedback loop.
I was recently asked by a local university to help them start an intercollegiate fencing program at their school. Other fencing enthusiasts have asked me how this happened. It happened the same way any great product gets promoted to a consumer with an unmet need.
Step One: Learn your product. What are its features? What are its benefits?
Step Two: Whose needs match your product's benefits?
Step Three: Educate the consumer on the match between their needs and your product's benefits.
If you understand your product and find the consumer who truly needs your product and you take the time to educate, the sale (if you want to call it that) is impossible to stop.
The problem comes when you spend too much time thinking how this will benefit you. No one besides your mom really cares about you. If this product is not a great fit for the consumer's needs there will be no sale. If it is a great fit for the consumer's needs, you will look like a genius when actually you have little or nothing to do with the sale. The product sells itself.
You are not a salesman. You are a researcher. You are a teacher.
There is a TV show in the works!
December 4, 2013 - Pearce Wilson
We spent 3 hours with a film crew last Saturday on location across St. Louis. The footage is destined for a show that will air on the St. Louis ABC affiliate and another local TV station. But equally exciting is that this footage is being assembled with an eye to national broadcast on a major cable network.
Here are some stills from the video shoot: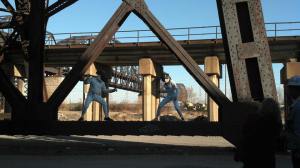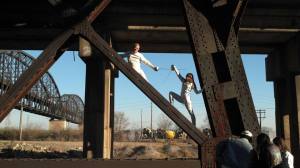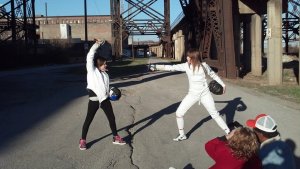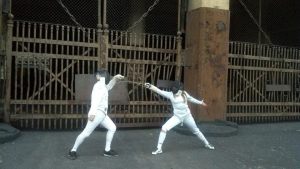 Vanderbilt Cumberland Open
November 12, 2013 - Pearce Wilson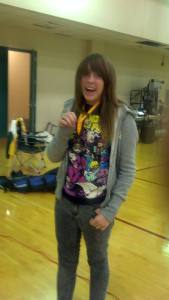 Great tournament for us at Vanderbilt University in Nashville TN.
Three of our fencers competed in foil.
TJ had an off day. It wasn't until his direct elimination bout that he fenced to his potential. But that's the way things are, some days you just don't have it.
Shelby fenced better than I expected her to. No medals this time but her fencing keeps getting better.
***UPDATE*** A clerical error at the scorer's table, once corrected, puts Shelby into 3rd place in Women's Foil. We discovered it too late for Shelby to receive the Bronze Medal but she did earn it.
Corey told me she thought she had a good day. I told her no, she had an average day, average for her. Corey doesn't fully understand her potential. She is on the path to being a great fencer. She won the gold medal in the women's foil category with only two losses all day fencing in a mixed competition. She was one touch from being undefeated in the pool round losing 4-5 to a higher rated male college fencer. Then she lost a well fought Direct Elimination bout to another higher rated male high school fencer, the eventual bronze medalist in the mixed event.
…and in almost news…
November 3, 2013 - Pearce Wilson
Boys' Life Magazine? Check.
Encyclopedia Britannica? Check.
Local ABC affiliate? Check.
Adding Nickelodeon and Hallmark networks to the list of media who have run stories about us? Why not?
The TV producer who filmed us at the Adewale Cup is meeting this week to pitch a TV show to network executives.
Absolutely insane. A bunch of kids in a cornfield who don't know what impossible means…
Fencing on the Cliffs of Insanity
October 16, 2013 - Pearce Wilson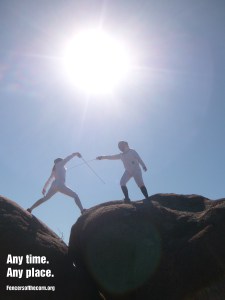 A perfect day! Lots of fun. Lots of fencing. Lots of food.



Getting up on top was no small feat.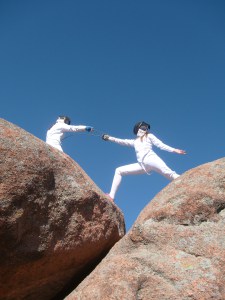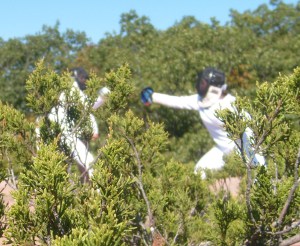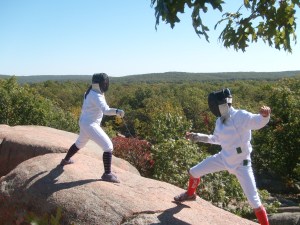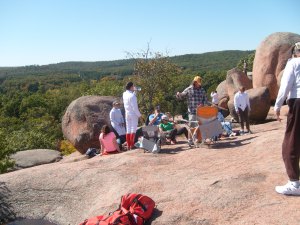 Even the shadows got in a bout or two: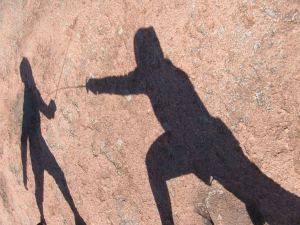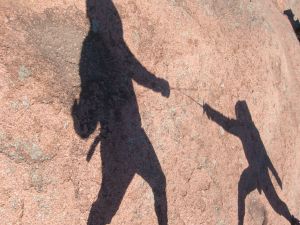 …and the survivors feasted.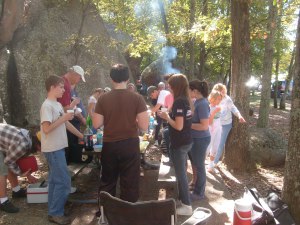 Fencing: Ballet for a BADASS
October 10, 2013 - Pearce Wilson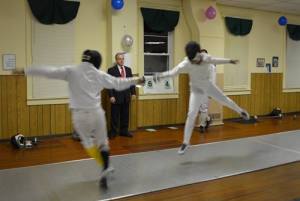 We have two new girls fencing with us. Last night their mother remarked that when she learned she was having girls she had visions of ballet. I reminded her that fencing IS ballet… ballet for a badass!
Who can look at these pictures from some of our recent tournaments and say this is not ballet?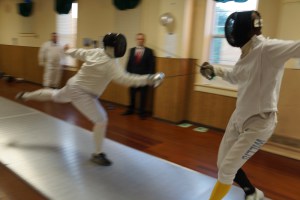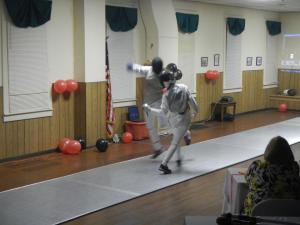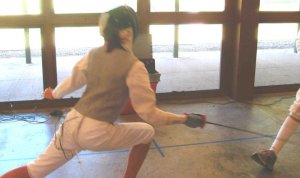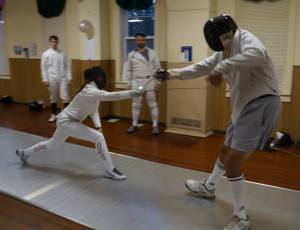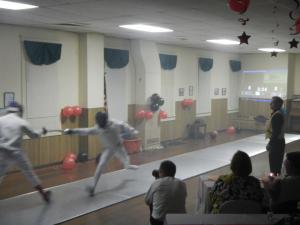 Teaching fencing to Scouts at the Fall Fun Rally
September 26, 2013 - Pearce Wilson
This weekend we have the opportunity to teach hundreds of teen Boy and Girl Scouts how to fence. The Fall Fun Rally is held each year at Beaumont Scout Reservation near St. Louis. This year they are expecting more than 1000 Scouts from at least 13 states.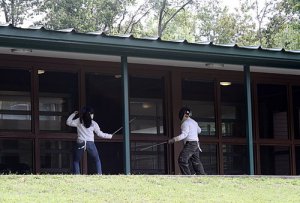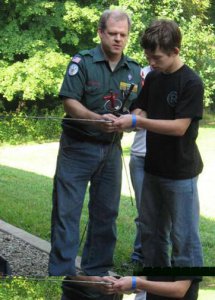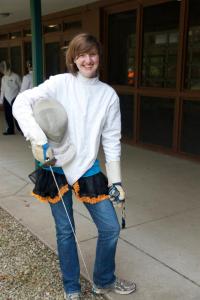 Besides teaching fencing, we will be camping and participating is the scores of other activities for the Scouts in attendance.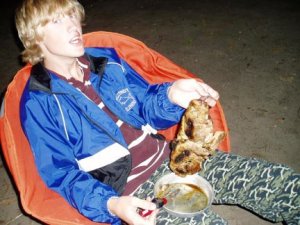 Might the sounds of crossed swords ring out through the night? You never know. Once we get a couple smores in us we can get a little rowdy!
The Pinnacle of Perfection: Advertisers love fencing.
September 10, 2013 - Pearce Wilson
I recently wrote about marketing the sport of fencing. Here is a youtube video of an advertisement that piggybacks on fencing to prove to the audience that the target product is beautiful and 'perfect'. The last scene of the ad, the take-away? The product being advertised is just as elegant and perfect as fencing.
https://www.youtube.com/watch?feature=player_embedded&v=-q4XSP3a8iA
And yet, fencing doesn't market ITSELF as beautiful and perfect. It doesn't market itself at all.
Advertisements like this should be understood for what they are, a plea from advertisers to let them throw money at the sport. Advertisers desperately want the audience that SHOULD and WOULD exist for fencing.
We recently competed in a large tournament in a major metropolitan convention center. Somewhere around 800 competitors over a 3 day weekend – including some of the top youth fencers in the United States. Tournament organizers had minimal spectator seating, no scoreboards, no announcers. This is typical for events in the United States. Why?
Why no media? Why no advertiser tie-in? Why not spectator friendly? As a sport we need to understand the potential of our product. We need to do better.
Fencing Demo for Union United Methodist Church's Vacation Bible School
August 22, 2013 - Pearce Wilson
What a fun evening. Kayin, Shelby, Corey and Pearce visited Union United Methodist Church in Belleville, Illinois to demonstrate and teach fencing to their Vacation Bible School kids.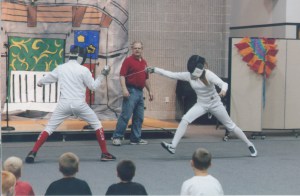 Kayin Corey demo2Kayin and Corey demonstrate for the kids before we let them try it themselves.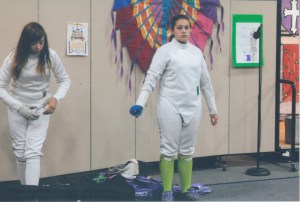 Here, Corey and Shelby are getting ready.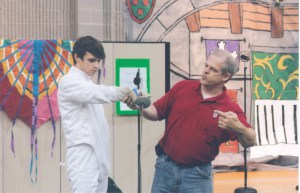 Kayin and Pearce describe the safety equipment we use.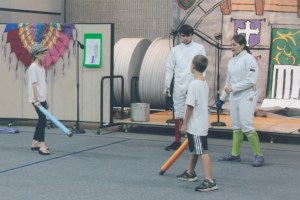 Kayin and Shelby teaching a couple new fencers.
We let everyone have a chance to fence using the foam noodle swords. Even though we had enough fencers to teach 6 students at a time, it still took a couple of hours to get to everyone.
Fencing lessons at the City Museum
August 18, 2013 - Pearce Wilson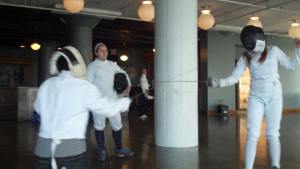 Today, Aug 18 in the Architecture Hall on the 3rd floor, we will be teaching free fencing lessons to everyone who wants to try it. Hope we see you there!
If you can't make it today, we teach both group and individual fencing classes. Write us at classes@fencersofthecorn.org for more info or to reserve a spot.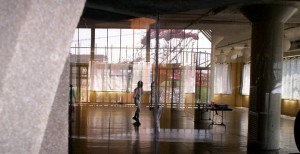 The Adewale Cup
August 10, 2013 - Pearce Wilson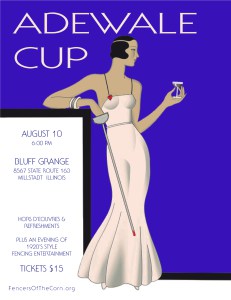 UPDATE:
Thank you to all who came to this fun event.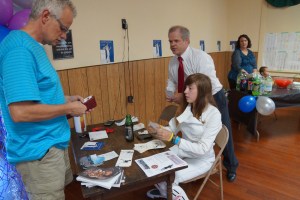 Spectators arrive at the Speakeasy. What is the password?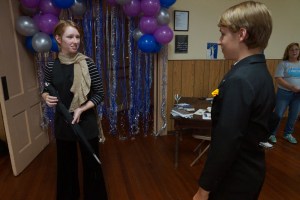 Our debonair host welcomes a flapper girl.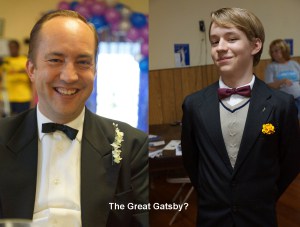 A trio of pretty flapper girls.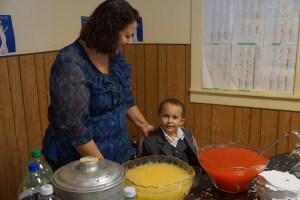 Our bartenders for the evening.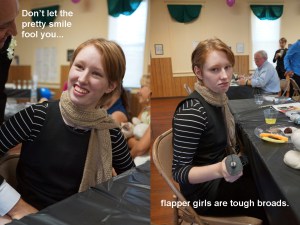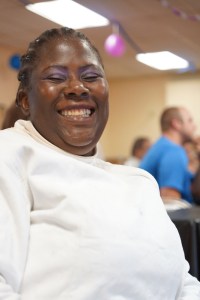 The event was held in honor of Yinka Adewale.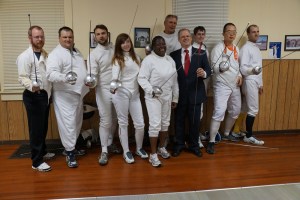 The athletes.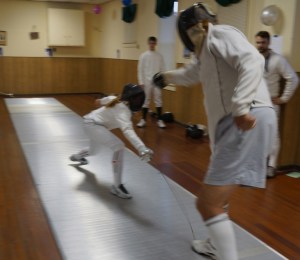 Awesome toe touch from a foil/saber fencer no less!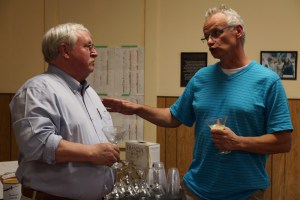 A couple spectators enjoying a Bees Knees beverage.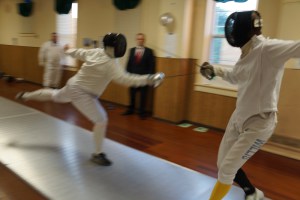 Fencing or ballet?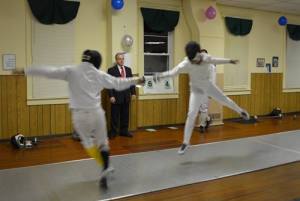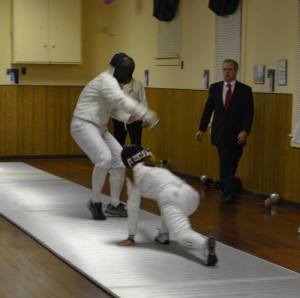 Our Medalists.
———————————————————–
Please join us in a throw-back to the 1920's when gentlemen (and women) took up arms in friendly combat.
Your $15 ticket entitles you to hors d'eourves, refreshments and an evening of entertainment unavailable anywhere else.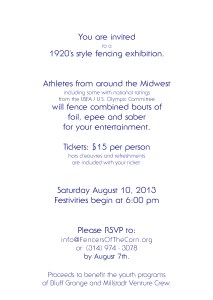 The proceeds from the evening will help support our Girl and Boy Scout fencing team.
Please RSVP with your head count to info@fencersofthecorn.org to reserve your seats.
You may pay your $15 through this Paypal link via credit card or your Paypal account to make your reservations online. Please include your email address on the payment form so we can confirm your reservation in a reply email.

And if you are a fencer who wants to enter this event, go here to pre-register: http://askfred.net/Events/moreInfo.php?tournament_id=22501
Welcome to St. Louis. Engarde!
August 7, 2013 - Pearce Wilson
The historic Eads Bridge over the Mississippi River was closed for a few days for repairs. Some of the Fencers of the Corn seized the opportunity. Early on a Sunday morning we jumped the barricades and fought a duel at the Illinois – Missouri state line marker atop the bridge deck.
Four days later, the City of St. Louis was named the most dangerous city in the United States. Sorry Mr. Mayor!


You can get a copy the above poster in exchange for a donation to our not-for-profit fencing club. We will add it to the Fencers of the Corn store.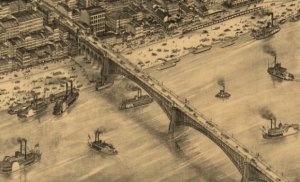 What it looked like in 1875.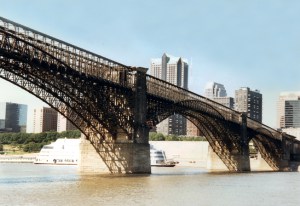 What it looks like today. Photo courtesy builtstlouis.net
Prepare for a threshing.
July 26, 2013 - Pearce Wilson

Poster worthy?
Fantastic finish at The Point
July 23, 2013 - Pearce Wilson
So to recap, Sunday's tournament was a great success for us.
In the Women's E & Under Corey Kilgallon wins the Silver medal.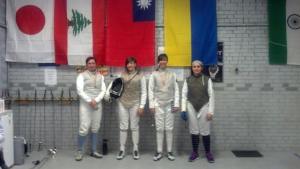 In the Mixed E & Under TJ wins the Bronze medal and his 'E13' rating from the United States Fencing Association / U.S. Olympic Committee. This puts TJ in the top 15% of all male foil fencers in the United States. The amazing thing? TJ has only been fencing about 6 months.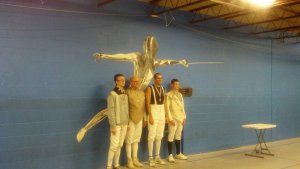 In the Mixed C & Under Corey gets eighth place and re-earns her E13, Emma Groom gets sixth place and re-earned her E13, and Pearce wins the Bronze medal and earns his D13.
Also as the highest placing unrated fencer Kayin earned a special medal donated by a member of the U.S. World Team.
We had the team van filled to the gills with fencers and swords and it was worth it. Everyone of us didn't medal but everyone of us fenced well. Fantastic tournament.
This was the 'away' half of a home-and-away two tournament deal we made with The Point. It worked out really well for both of us. Both they and we have trouble getting enough fencers for a higher rated tournament. By working together we were able to create two very good tournaments. Three fencers earned a rating at our half in June. Seven fencers earned a rating at their half on Sunday. We will have to try this again.
Purchase a Promotional Poster
July 18, 2013 - Pearce Wilson
People from around the world have asked to buy our promotional posters. This was not something we had planned in advance but what the heck! We currently have the following items available in exchange for a tax deductible donation to our not-for-profit fencing club.
ADEWALE CUP
Sizes available:
8″ X 10-3/4″ for a minimum donation of $5
18″ X 24″ for a minimum donation of $40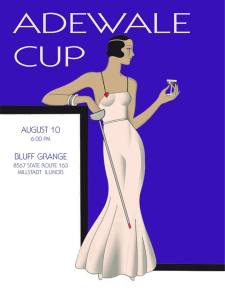 FIGHT NIGHT!
Size available:
11″ X 17″ for a minimum donation of $10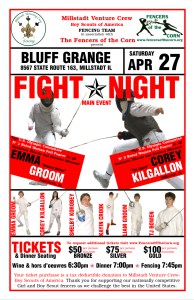 Fight Night Dinner and Fencing Gala
HOW TO ORDER
You can make your donation through this Paypal link via credit card or your Paypal account. ***IMPORTANT*** in the comment section of the Paypal link please include:
your email address
your street address/mailing address
which item you want and which size if there is more than one size available for the item you want.
Your poster will be shipped by United States Postal Service.

And from all the kids at Millstadt Venture Crew / Fencers of the Corn, THANK YOU FOR YOUR SUPPORT!
New fencing class session starts August 4
July 17, 2013 - Pearce Wilson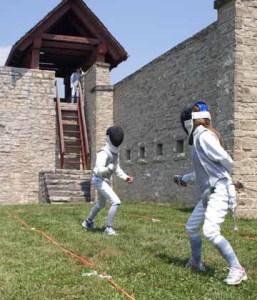 Children's class on Sundays from 5:30 to 6:30.
Adult's class on Sundays from 6:30 to 7:30.
All the info you need to sign up is here: LESSONS
Foil Fencer | Apex Predator on sale now!
July 17, 2013 - Pearce Wilson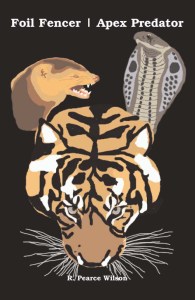 Title: Foil Fencer Apex Predator
Author: R. Pearce Wilson
ISBN: 978-0-615-83877-9
Library of Congress: 2012911370

Until we get Amazon or Barnes & Noble to carry our training manual this is the only place you can buy it. These are the lessons that are taught to our beginner and intermediate foil fencers. You can get an autographed first edition for a donation of at least $25 (that includes the shipping costs) to our not-for-profit fencing club.
You may pay your minimum $25 donation through this Paypal link via credit card or your Paypal account. Please include your email address on the payment form so we can confirm your order in a reply email and ***IMPORTANT*** include your name and street address so we can mail your copy to you via the U.S. Postal Service.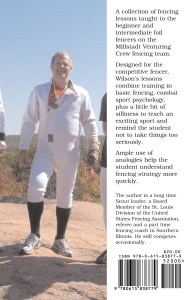 Here is a peek at the Table of Contents: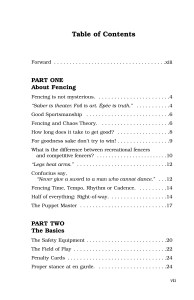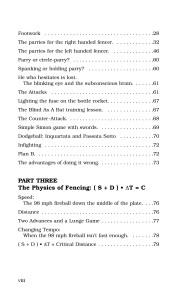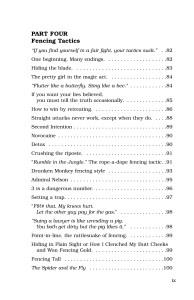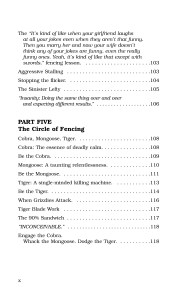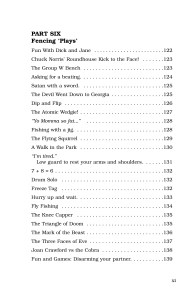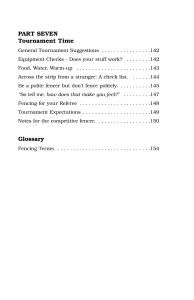 Risk / Reward
July 16, 2013 - Pearce Wilson
I'm having an email conversation with another club organizer about risk-reward. As we start to look at this Fall's competition schedule, this seems like a good time to explain what I look for when I pick tournaments.
I balance: cost, distance and method of travel, competition level, which weapon or combination of weapons are being fenced, possible rating and/or ranking improvement, referee level, educational benefits outside of fencing, what our various fencers need, competition time of day, time away from home, creating memories they can tell their grandchildren about, time away from school, frequency of competition, how our fencers' grades are holding up, how many of our fencers might go, inspiration and esteem building, what day of the week the competition is held, and last but not least FUN AND ADVENTURE!

A few examples:
Ohio State University tournament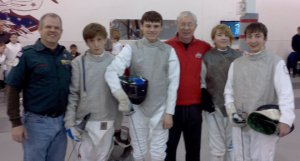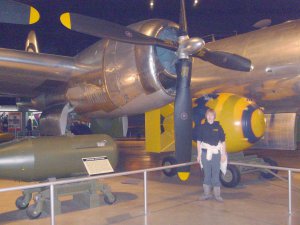 This event didn't make sense based upon cost and fencing benefit but we went because of the combination of fencing, meeting their 6 time Olympic Medalist coach and the educational benefit of visiting the United States Air Force Museum at Wright-Patterson Air Force Base.
Purdue University and Chicago trip – We went because the competition level at Purdue was medium to high and because we got to tour a big time University campus. We added the Chicago part of the trip because we had an opportunity to fence our skill level peers and because it was on a Sunday and because we were already more than halfway there.

Last year's North American Cup in St. Louis

This event did not make sense from a purely fencing standpoint. The skill level of the competitors was so much higher than ours that we didn't learn a lot about fencing but we went because it was in St. Louis (meaning lower cost), the inspiration of getting to meet and compete next to Olympians and to experience competition at the highest levels in the United States.
This Summer's National Championships/Cadet North American Cup – We did not go. Even though the event was relatively close (Columbus Ohio) the cost/benefit for our fencers did not justify the trip.

The Hunger Games at Fort de Chartres last month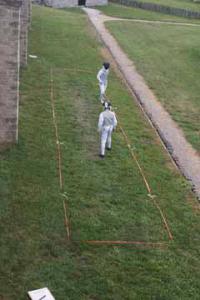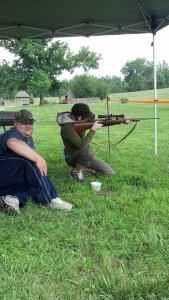 Didn't make any sense from a fencing standpoint but it was fun.
The City Museum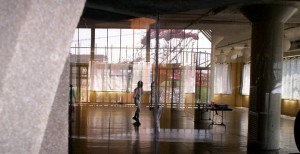 Doesn't make sense for our competitive fencers but it does for our fencers who have told me they just want to have fun. Low cost. Opportunity to promote fencing in our region.
The Dallas Trip next month – Relatively low cost because we have family and friends in the area we can stay with. Majority of competition is on a Sunday. We need to miss little school. I expect competition level to be medium high which is the right level for most of our current competitive fencers.
So as I look toward the Fall events, I want our competitive fencers to have an opportunity to fence one serious event each month. Plus I want to have a second less serious event available maybe every other month. These less serious events are for our fencers who are just here to have fun and exercise but also for our competitive fencers to get a chance to try out new skills on fencers outside our club in real bout conditions but without the pressure of victory being so important they can't take a chance on an unproven action.
I don't want to fence too much and get burned out or to risk overuse injuries OR BAD GRADES! I don't think we will host many of our own USFA tournaments this year. Our mix of fencers is different this year and the likelihood of getting enough fencers for the next higher skill level tournament in St. Louis (especially on the Illinois side of the river) is pretty low.
September is very busy. Dallas, possible ROC in St. Louis, possible SYC/Cadet in St. Louis, Venturing-BSA National Championships & teaching at the Fall Fun Rally
We will have to pick and choose among several good options in October. The Burton Open in Chicago, the Cadet and Y14 North American Cup in Milwaukee, The Remenyik in Chicago, and the Crescent City Open in New Orleans. I think we can only afford one. Plus there is the annual epic duel to the death on the Cliffs of Insanity.
I haven't seen much in November so that is probably a good time for us to hold a tournament at our place if we think we can get enough fencers. November is when I was thinking of holding the first High School League tournament but I'm having second thoughts about the league. Fencers who want to compete will probably fence USFA events and I've heard from other of our fencers that they don't really want to compete at all. They are more interested in a fencing social club. Which is fine but this leaves a possible high school league in an undesirable middle place.
December is the second Cadet North American Cup in Dallas. This is another chance to meet Olympians who will be competing at the same time as us. The Junior Olympics qualifiers is also usually held in December in St. Louis.
Finally, there may be times when an event is really good for only one or a few of our fencers. I might suggest those fencers attend but not others. And if there is an event you want to attend even if I don't think it passes the risk-reward threshold you should go. Ultimately you need to do what you think is best for you.
At what age should you become a serious fencer?
June 27, 2013 - Pearce Wilson
There is currently a discussion thread on the fencing.net page arguing various points related to serious competitive fencing among children. You can follow the thread here:
http://www.fencing.net/forums/thread66723.html
Be patient the thread starts out differently than the drift. It is the drift that I want to address.
In the United States the system is set up such that if a fencer wants to be world class they must specialize early. There is no time for marching band. There is no time for Scouts. There might not even be time for high school! Boyfriend? Girlfriend? Not likely.
Here are two articles about a stand-out high school age fencer who has given up so much to be one of the best. Now she is questioning whether she wants to continue to concentrate solely on fencing. MidSouth Fencers Club: On Becoming An Olympian
Fencing is a learned skill. It takes years to develop a fencing athlete. To log the number of hours of learning required to be the best by the time they are of college age the fencer must drop most if not all their non-fencing activities to train non-stop. Then God forbid they come in 4th in the Olympics.
Those kids have been cheated out of their childhood. For this reason as a coach I have not offered my high school students a full time training schedule. The few fencers I train who are grade school age? I don't even let them fence seriously. We just play.
Luckily, because fencing is more mental than physical, it is still possible for a 30 something fencer to be an Olympian. I propose, and the path I am putting my fencers on is, a longer less steep slope. I want my students to enjoy life and participate in a variety of life experiences while they are young. And fencing can certainly be one of those life experiences. Let them enjoy school. Let them be in the marching band or choir or JrROTC, etc.
The number of hours of training to be the best is still long but a fencing career can be long. Instead of trying to cram all the needed training into 10 or fewer years, stretch it out to 15 to 20 and maybe even 25 years and still have a life outside of fencing.
They can train and fence competitively during high school and college and if they want, after high school, after college, they can continue training as an adult. When they are older and more capable of weighing the options they can decide if they want to pursue an Olympic dream at the expense of a delayed or diminished start to their work career. But to let kids or worse to push kids to make a decision to give up so much while they are still so young is unconscionable.
A teammate of mine at the University of Missouri started fencing in college. In fact, he started the competitive fencing program at Mizzou the year before I began fencing there. The ratings were different then but I would guess he was only a 'D' level fencer by the time he graduated. He became a computer programmer and continued to train after college and got good enough that before he was 30 he made the Danish National Foil Team.
It can be done and it is a more healthy system for our young athletes.
Selling the sport of fencing.
June 4, 2013 - Pearce Wilson
There was a recent discussion on a fencing forum of the future of fencing. With the vote of the IOC to drop Wrestling from the 2016 Olympics many small Olympic sports enthusiasts are concerned. Fencers should be concerned. The IOC has signaled that audience is the most important factor for inclusion in the Olympic Games. Fencing is ranked near the bottom of Olympic sports by the IOC in terms of audience.
Really? Fencing is not entertaining? That is ridiculous. Star Wars? Pirate movies? The Three Musketeers? Fencing is just poorly presented. Why are fencing tournaments nearly always in dimly lit gyms with no spectator seating, announcer or scoreboard? Dumb. Dumb. Dumb. The sport is doing a horrible job of marketing itself.
Our fencers are not satisfied to compete in a lonely gym with no audience. Millstadt Venture Crew's recent experiment with 'Fight Night' proved fencing just needs to be properly marketed. MVC will test another effort at an evening's fencing entertainment with our 'Adewale Cup' tournament on August 10. We have lots of details to test and evaluate but we are confident we can develop a fencing program that will be entertaining to a paying audience.
Anyway, below is copied from our post in the fencing.net forum:

What is the sport marketing analogy for fencing?
If you are trying to develop a marketing business model for the sport of fencing, where do you look for success stories to copy? What are the properties of the sport of fencing that you see in other monetarily successful sports? There are three other sports that I believe have lessons for fencing: Gymnastics, Tennis and Figure Skating.
Those three share with fencing many commonalities – with Figure Skating probably having the most direct comparables and Tennis having the fewest. I suggest that it is no coincidence that Tim Morehouse, USA Fencing's resident marketing genius is currently participating in a celebrity figure skating competition.
1) Minimal school funded training opportunity. Expensive at the higher levels due to combination of equipment, facilities required, travel, and private coaching.
And still Gymnastics, Tennis and Figure Skating are successful. Tennis has some high school support but even then the teams are likely made up of just a few kids.
2) Some small number of athletes can make a living as a professional.
But even here, (think of tennis and Anna Kournikova) the vast majority of earnings are from modeling and endorsements.
3) Comprehension of scoring among the sport's audience is minimal.
Can any of us watch a gymnastics competition or a Triple Salchow and correctly score the performance? Yet we watch.
4) Appeals to groups that advertisers want. WOMEN!
Fencing is elegant. Fencing is sophisticated. Fencing is a sexy. Women want to look like fencers. Advertisers want women. I again point to USA Fencing's resident marketing genius Tim Morehouse. He is a correspondent to E! Television a woman aimed show if I have ever seen one.
The key to fencing success is women. That is all you need to know. Everything else is minor details.

Disson Skating Sponsorships:
68% of females aged 18 and over and specifically, those between 25-54 are interested in figure skating
Figure skating is the most popular spectator sport among American women
Research has shown that figure skating is particularly popular among women aged 18-49, a segment which tends to control most families' disposable income
Females 25-54 chose Kristi Yamaguchi, 1992 Olympic Gold medalist as their favorite figure skater
Highest rated Olympic Sport on television

http://www.scarborough.com/press-rel…ng-Fan-Avidity
73% of Avid Gymnastics Fans are female and 81% of Avid Figure Skating Fans are female. This is a unique demographic makeup since Avid Fans of sports like the Olympics, Women's Tennis and the WNBA – classically "female friendly" sports – are only about 50% female. This notable demographic base helps explain findings such as: Gymnastics Fans are 53% more likely than all American adults to schedule a spa day, 30% more likely to visit a jewelry store and 33% more likely to visit a bridal store. Similarly, Figure Skating Fans are 28% more likely to visit a florist and 27% more likely to visit a dry cleaner.
This is not fencing! But it is funny.
May 22, 2013 - Pearce Wilson
Funny Youtube video: Idiot Fencing
We can teach you the real stuff. If you want to learn how to fence we have two new sessions coming up:
For adults, Sundays from 6:30 to 7:30 for six weeks starting June 2.
For children, Mondays from 6:30 to 7:30 for six weeks starting June 3.
Click the link below to get the class details and sign up sheet:
click for fencing classes
United States Air Force Academy Fencing Team
May 9, 2013 - Pearce Wilson
Wants You!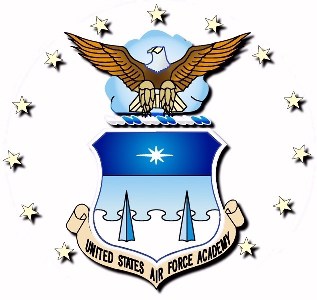 We received a letter from the US Air Force Academy yesterday. They are interested in high school junior and sophomore fencers.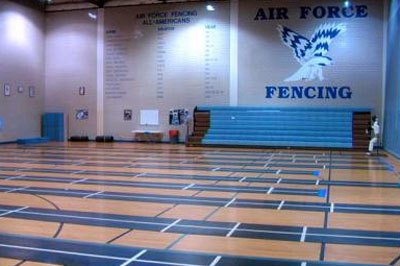 http://www.goairforcefalcons.com/facilities/cadet-gym.html
If you want more information tell Coach Wilson and he can give you the email contact information for the head coach and/or assistant head coach as well as some information they supplied about an appointment to the Academy.
Fencing at Vanderbilt University
May 6, 2013 - Pearce Wilson
Congratulations to our 15 year old fencer Corey Kilgallon on her silver medal in Women's Foil at Vanderbilt University in April. The only woman to place higher than Corey is a teammate of U.S. Olympian Lee Kiefer and a private student of the head coach of the United States Olympic Women's Foil team.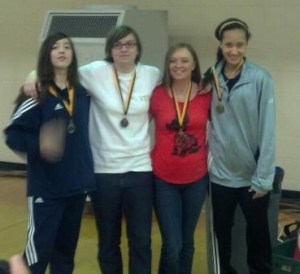 The winner in the mixed bracket was a mountain of a man who Corey dubbed 'The Marine'. Corey and he bumped into each other during their bout and it bent her sword so badly it will require pliers and a vise to fix. He fenced for 10 hours straight; winning the gold medal in epee while going undefeated in all his preliminary bouts; winning the gold medal in saber while going undefeated in all his preliminary bouts; winning the gold medal in foil while going undefeated in all his preliminary bouts EXCEPT FOR ONE. Our Corey beat him in their head to head.

Yeah Corey!
Fight Night !
March 21, 2013 - Pearce Wilson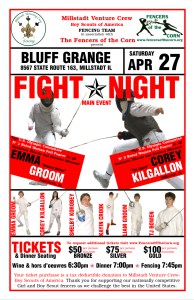 Fight Night
Dinner and Fencing Gala
We want to thank everyone who came out and supported us and also special thanks to all the family and friends who helped with planning, food prep, cooking, light and sound and cleanup. Bluff Grange looked wonderful for the banquet.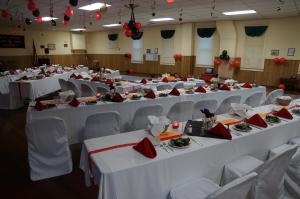 We had a wonderful time putting on the show. Thank you! Thank you! Thank you!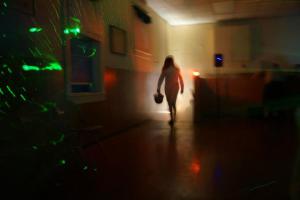 The fencers emerged into the arena through a fog and laser light show.



In the saber under card event, 15 year old Corey Kilgallon of Millstadt defeated 16 year old Jacob Ronzo from Cahokia 3 bouts to none. A dual duel threat, Kilgallon would return later in the evening to fence in the Main Event.
In the foil under card competition best 3 of 5 – 5 touch bouts, we had a nail biter. The first bout went to Shelby Korobey, a 15 year old Belleville East student. The second bout went to TJ Bowen a 16 year old Belleville home school student.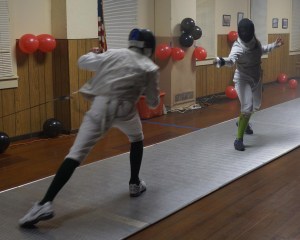 TJ also eked out a win in the 3rd bout but lost the 4th. Finally with the bout score tied at 2-2 and the fifth and final 5 touch bout tied at 4-4 the final sudden-death touch and victory went to TJ. Congratulations to both fencers on a really fun bout to watch!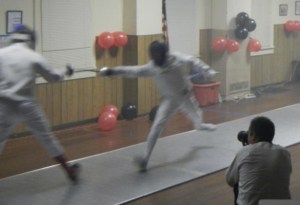 3 year old Liam Groom a home schooled Smithton resident defeated 15 year old Columbia High sophomore Kayin Crook 3 bouts to none in the epee competition under card event.
In the Main Event, the region's #1 Olympic rated women foilist our Emma Groom, a 15 year old home school student from Smithton Illinois faced the region's #2 Olympic rated women foilist our Corey Kilgallon, a 15 year old Freeburg High sophomore. Ms. Kilgallon defeated Ms. Groom in the best 4 of 7 competition, 4 bouts to 2.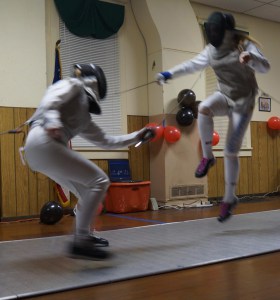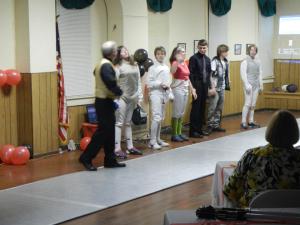 Intercollegiate Fencing Tournament
February 28, 2013 - Pearce Wilson
UPDATE:
Our MVC-BSA fencers did very well.
Corey Kilgallon was the only woman saber fencer so had to compete in the men's bracket. She came away with the bronze medal.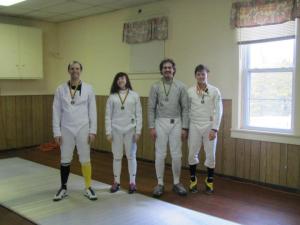 In foil we our ladies did very well. Emma Groom and Shelby Korobey tied for bronze in women's foil. Corey Kilgallon (not pictured) earns the Women's Silver.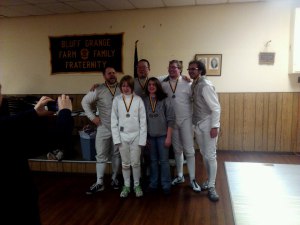 This weekend, March 2 and 3, 2013. Spectators are welcome and admittance is free.
Fencers from universities around the Midwest will be competing at Bluff Grange.
Saber starts at 10:00 am on Saturday. Should last about 2 hours.
Epee starts at 12:00 noon on Saturday. Should last about 5 hours.
Foil starts at 10:00 am on Sunday. Should last about 5 hours.
We fence for fun. We fence to win. We fence to teach.
February 25, 2013 - Pearce Wilson
We think of ourselves as a community resource. Sure we are trying to win but we also do as much teaching and outreach as we can.
This past Saturday we taught somewhere between 300 and 400 Boy Scouts and Venturers of the St. Clair District how to fence at their Winter camporee.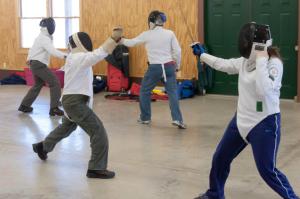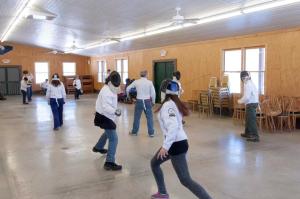 Then Saturday night we demonstrated the sport to another Scout group at their annual Leader Awards Dinner.
Over the past 5 years, we estimate we have taught between 3000 and 4000 people how to fence and have demonstrated fencing to between 40,000 and 60,000 people.
Here teaching at the City Museum in St. Louis. Photo courtesy of the City Museum's Facebook page.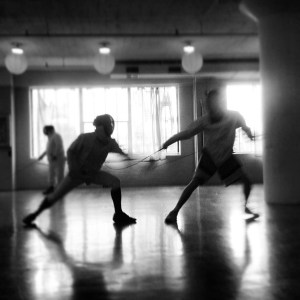 Here at the Fall Fun Rally, a camporee of over 1000 Venturers from across the country in St. Louis each September.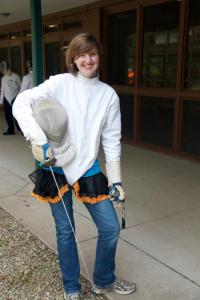 Here teaching at Scout Quest in Forest Park St. Louis – the BSA 100th anniversary celebration campout with 25,000 Scouts.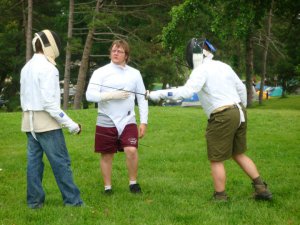 Finally on Sunday we traveled to Southeast Missouri State University for an inter-club competition. Our fencers did very well. Emma earned a 3rd place tie, Shelby earned the silver (The coach found out later, on a sprained ankle) and Corey earned the gold medal.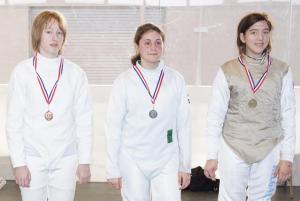 Pastries and Role Models
February 22, 2013 - Pearce Wilson
Tonight I saw this article on the U.S. Olympic web site about how an Olympian inspired a normal person doing a normal job to be the best he can be. http://www.teamusa.org/News/2013/February/20/Mariel-Zagunis-Hard-Work-Makes-Lasting-Legacy.aspx
You don't have to be an Olympian to have a positive effect on people.
The other night we had a new family stop by to watch a fencing practice. Their 9 year old daughter wants to learn to fence with us. After a while the dad came to me and told me our fencer (Shelby) was really good and that his daughter told him she wanted to be just as good some day.
It reminded me of this quote:
You don't have to be a famous athlete to have someone look up to you. Just be the girl who plays with all her heart and never quits. I promise someone will say, "Daddy I want to be just like her."
Never forget that you are a role model.
Most of the time when you help someone you will not receive any recognition. Do it anyway. You may never even be aware you inspired someone. Be the best you can be anyway. Who knows, a decade later you may begin receiving free pastries! Sorry you will have to come to fencing practice if you want to hear the 'free pastries' story. LOL!
First learn foil.
February 21, 2013 - Pearce Wilson
Aldo Nadi is widely regarded as one of the greatest fencers in the history of the world. His book is great. If you find a copy make sure you buy it. Mr. Nadi has this passage in his book:

"There are three fencing weapons: foil, epee, and sabre. Not for the last time, I say that he who knows foil knows almost all there is to know about modern fencing. His knowledge can easily be applied to the other two weapons — not vice versa. Even though, originally, the foil came into being in order to study how to defend one's self, and kill, with the rapier, today the technique of the epee is borrowed from the science of foil. In comparison to this science, sabre fencing is mere child's play." –Aldo Nadi, On Fencing
We have some fencers asking to branch out to epee or saber. Good. But learn foil first.
Junior Olympics Days 4 and 5
February 18, 2013 - John
Corey was up against some tough competition for Cadet Women's Foil. Two B's, a C, a D, another E and an Unrated. Her first bout she scored two touches on the B rated fencer who eventually finished 8th overall in the competition. The first judge for three of her bouts was obviously a supporter of classical fencing as he took Corey aside and told her she needed to be less aggressive. This, I believe, put her off her game until another judge took over. She defeated the unrated fencer 5-4 in her 5th bout. Overall, sadly, she did not make the cut for DE and finished 135th overall out of 159.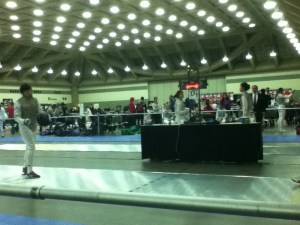 Corey preparing for her third pool bout in Cadet Women's Foil
We also found out that most of the places in Baltimore close at 6PM on Sunday as we wandered in the biting winds for a place to eat dinner at 6:15PM. Finally ended up at Five Guys Burgers where Corey's vegetarian slant meant she could only have the grilled cheese.
Day 5 is today, Monday, and our travel day home. Hopefully this will be uneventful, but if not, then she will have more stories to tell at practice tonight. Yes, she still wants to go….
Junior Olympics Day 3
February 17, 2013 - John
Today was a day without swords. Slept in then headed over to the National Aquarium after stopping for breakfast at Lenny's Deli. Over 4 hours of dolphins, jellyfish and puffins…. They also had a section replicating Australia with birds, fish, crocs and bats hanging from the ceiling. Lunch at Bubba Gump's and dinner at Uno's pretty much completed the day. A nice rest before the real deal on Sunday.
Cadet Women's Foil at 1:00pm. Corey's seeding has dropped to 119 now that there are 159 participants. To qualify for DE she will need to finish pools higher than 127…
Millstadt Fencing in the news
February 16, 2013 - Pearce Wilson
As John mentioned in the first post, though this web page is new, our team is about 5 years old. We have had a couple of nice stories written about us.
The first in the St. Louis Suburban Journals in 2011.
The second in the Belleville News Democrat in 2013.
Oh, and a feature in Boys' Life Magazine in November 2009! You can see the article at this link: http://web.ebscohost.com/ehost/pdfviewer/pdfviewer?sid=75b64205-3cc6-450e-90b7-692819757bf1%40sessionmgr12&vid=2&hid=25
Junior Olympics Day Two
February 16, 2013 - John
Friday, Feb 15, 2013, was a day of firsts. Corey's first saber tournament. Corey's first National level saber tournament. Up early to get over to the center for equipment checks on her cords, mask and new lame and check in. Check in was a breeze, but equipment check? At 7:10, the line already stretched across the full width of the convention center, I always thought I was the patient member of the family, but as the time stretched past 8:00, Corey was the one calming me down as I checked on her inexorable progress in the line.
Finally at 8:25, she passed her equipment check, the pool rounds were posted at 8:30 and we were at the strip and ready to fence at 8:45. I cannot remember the number of times my daughter told me, "I'm fine" or "It's fine Dad." I guess I was more nervous then she was and all I had to do was watch and provide support.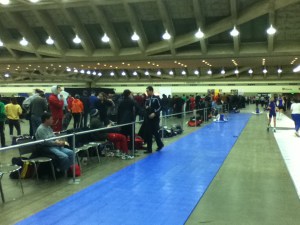 The line for the first day's equipment check at Junior Olympics, Baltimore
She went into her first pool bout against a D rated fencer. The referee immediately knew Corey was more comfortable with Foil because she would start with her left arm raised in Foil ready position which is not a requirement in Saber. Corey realized it too and kept yanking it down with each "Allez." The bout videos are posted on Facebook, but to summarize her results were:
Saber results for pool:
1-5 (D 12 rated Fencer)
1-5 (D 13 rated Fencer)
0-5 (B 12 rated Fencer)
3-5 (B 12 rated Fencer)
1-5 (E 11 rated Fencer)
5-1 (Unrated)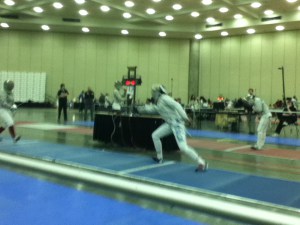 Corey starting bout 6 of her pool rounds in Saber. She won this one 5-1
Corey missed qualifying for Direct Elimination by 4 touches. While she was disappointed, she was ecstatic about how well she did. I couldn't have been prouder. As pool rounds finished, I saw crying fencers, fencers angry and yelling at their parents/coaches and angry parents/coaches yelling at their fencers. Corey was none of that. On a final note, the fencer she didn't score a touch on in her third bout went on to finish 7th overall. The B12 she scored 3 touches on in her fourth bout when on to finish at 71. The two D rated fencers finished in 20th and 37th places, while the E rated one finished in 92nd. Out of 109 competitors, Corey placed at 100. Oh, the unrated fencer she defeated? She placed at 101…
The fencing part of the day we finished up with Corey buying some minor gear for saber and getting the foil gear equipment checked ahead of time for her Sunday 1230 Cadet Women's Foil competition. She also got the tip replaced on her favorite foil so she is ready to go
The rest of the day was Baltimore without swords. We walked around the Inner Harbor, had lunch at Hard Rock Cafe, stopped and looked at the historic ships they have on display, the USS Constellation (one of the US Navy's first six sailing frigates), the Chesapeake (a light ship), and the USS Torsk ( a World War II submarine). While we did not tour them, I did spend a few moments looking at the Torsk up close from the pier. Whenever I am some where there is a WWII sub on display, I try to visit as a remembrance to my father. He served four war patrols aboard the USS Atule in 1944 and 1945 in the Pacific Theater and has been on Eternal Patrol since 1996.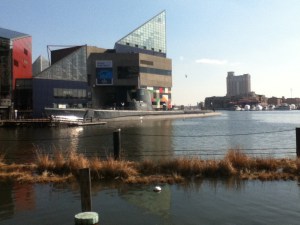 USS Torsk, one of five ships on display at the Historic Ship moorings in Baltimore.
Dinner was at the food court in what serves as a shopping mall nearby and Corey got her "glorious" vanilla bean frappe to walk back to the hotel with. She spent 30 minutes on the treadmill before racking in for the night.
Saturday, Day 3, is a no competition day for her so we are hitting the National Aquarium at some point after sleeping in. Well after she sleeps in, since I am obviously not because I am writing this post at 6:00AM!
Welcome to the Arena.
February 16, 2013 - Pearce Wilson
Do you realize how unusual you are?
As you travel through your life, each day seems pretty normal, boring even. It is only if you are able to view your life from the outside that you get an idea of how special you are.
Recently some of our adult fencers were talking and Yinka wondered out loud why so few people fence. I had to remind her how freakishly unusual she is. A girl who immigrates from Nigeria at 6 years old, who becomes an eye doctor; in her 30's a competitive fencer, a percussionist in a Symphony Orchestra, and a member of a professional bagpipe band? Ridiculous. It can't be done. Did she stop to realize how impossible this is? No she didn't. She just did it. You all know her, she is the nicest person you will ever meet, but she is not normal.
You are not normal either. Kids from small towns and rural communities, you have picked an elite international sport that takes a lifetime to master. You practice in a farmers' coop building on the edge of a corn field on the bluffs overlooking the Mississippi River in Southern Illinois. You couldn't be more all-American if your names were Tom Sawyer and Becky Thatcher. And you can't wait to take on the best fencers in the world. You are not normal. You are remarkable.
The other night Corey asked about the Teddy Roosevelt quote on the wall at the Grange. Roosevelt's quote embodies what it means to be a remarkable person:

"… The credit belongs to the man who is actually in the arena; whose face is marred by the dust and sweat and blood; who strives valiantly; who errs and comes short again and again; who knows the great enthusiasms, the great devotions and spends himself in a worthy cause; who at the best, knows in the end the triumph of high achievement, and who, at worst, if he fails, at least fails while daring greatly; so that his place shall never be with those cold and timid souls who know neither victory or defeat." –Theodore Roosevelt
Welcome to the arena.
Why yes, we do have our own music video!
February 15, 2013 - Pearce Wilson
Boy's Life Magazine ran a feature about the Millstadt Venture Crew fencing team in their November 2009 issue.
As part of their story they took some video clips from our competitions at the University of Louisville in Kentucky and at Northwestern University outside of Chicago as well as some from our practices and edited them together.
Enjoy: http://boyslife.org/video-audio/10585/en-garde-venturing-fencers-in-action/