FOTC News 2014
Refereeing at New Trier High School
December 13, 2014 - Pearce Wilson
Fencer of the Corn's Corey Kilgallon was hired to referee a big high school competition in Chicago.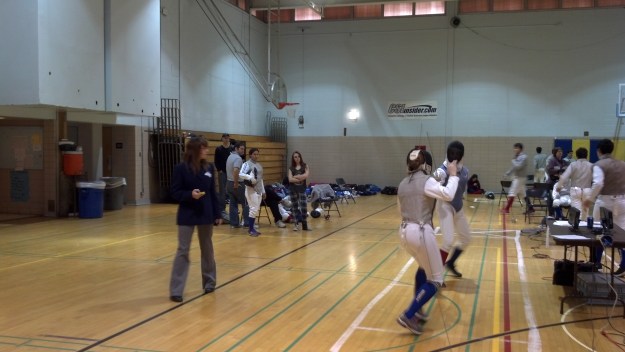 She must have impressed the coaches and tournament organizers. She was invited to come back and referee 2 additional tournaments!
The big time: National Champion Penn State's Garrett Collegiate Open
November 23, 2014 - Pearce Wilson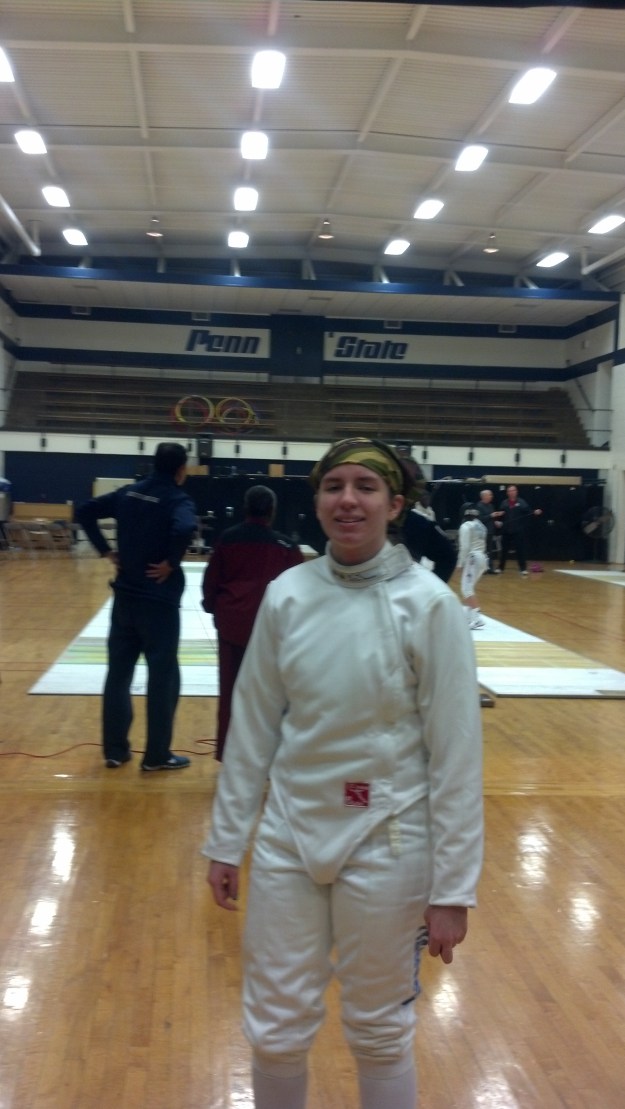 The McKendree team was invited by the head coach of the 2014 National Champion Penn State Nittany Lions to compete in their Garrett Collegiate Open.
Mary, Cameron, Tristan and Andrew made the trip.
We competed with fencers from Penn State, UPenn, Ohio State, Notre Dame, Yale, Johns Hopkins, City College of New York, North Carolina, Brown, Long Island University, and more.
This was the first trip to this historic fencing school for all of us but Tristan.
The McKendree team has been doing extremely well with our 9-2 record in team play so far this year. However, this trip proved we are not good enough to beat the national champions on their home field! We have more work to do. Tristan and Cam fared the best of our fencers but all our fencers did very well. With a little more improvement we can be a ready to challenge the top collegiate fencers in the nation.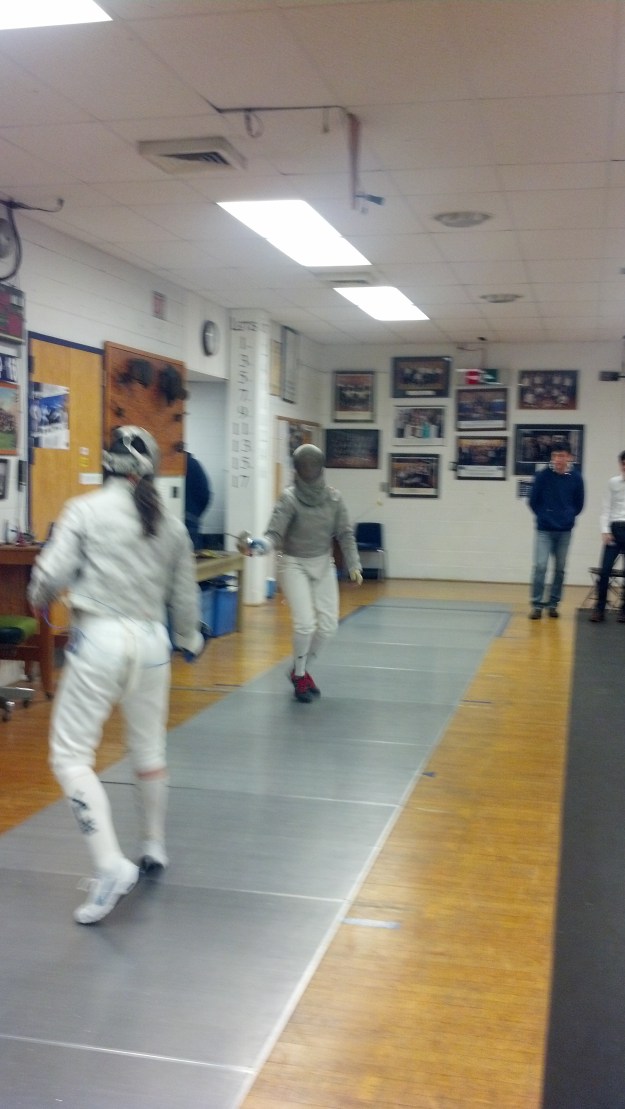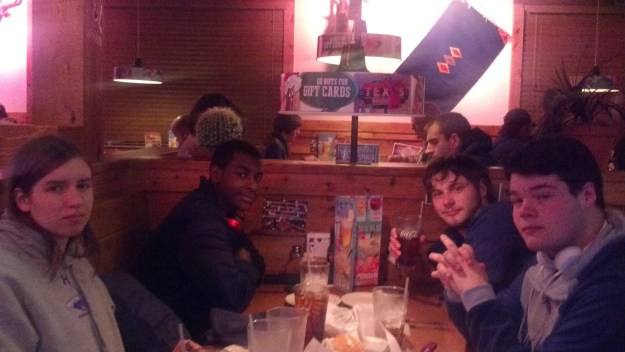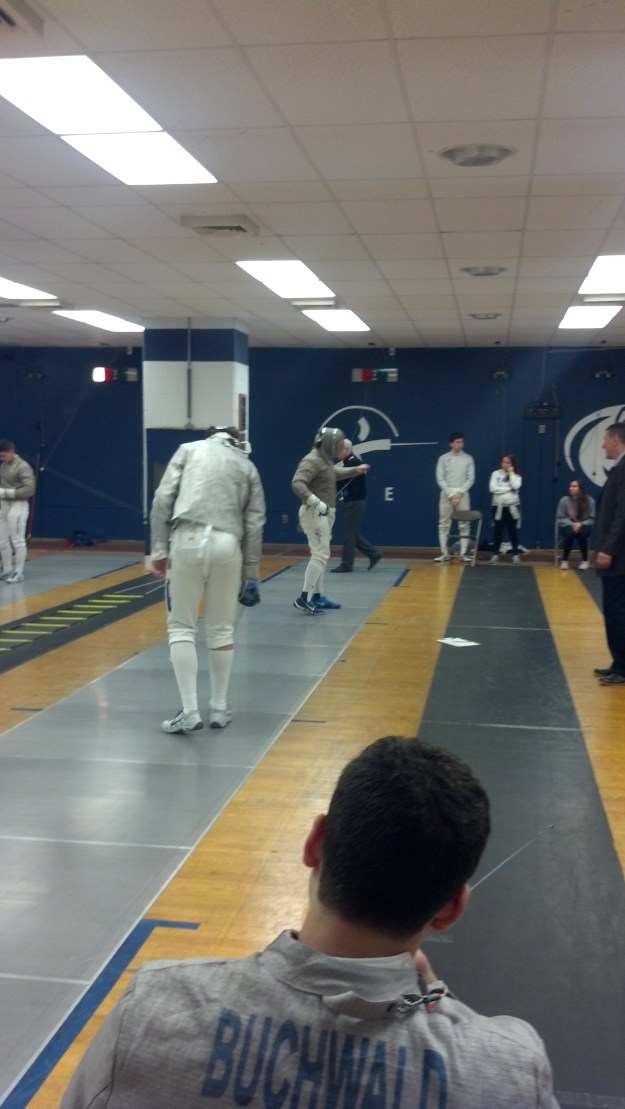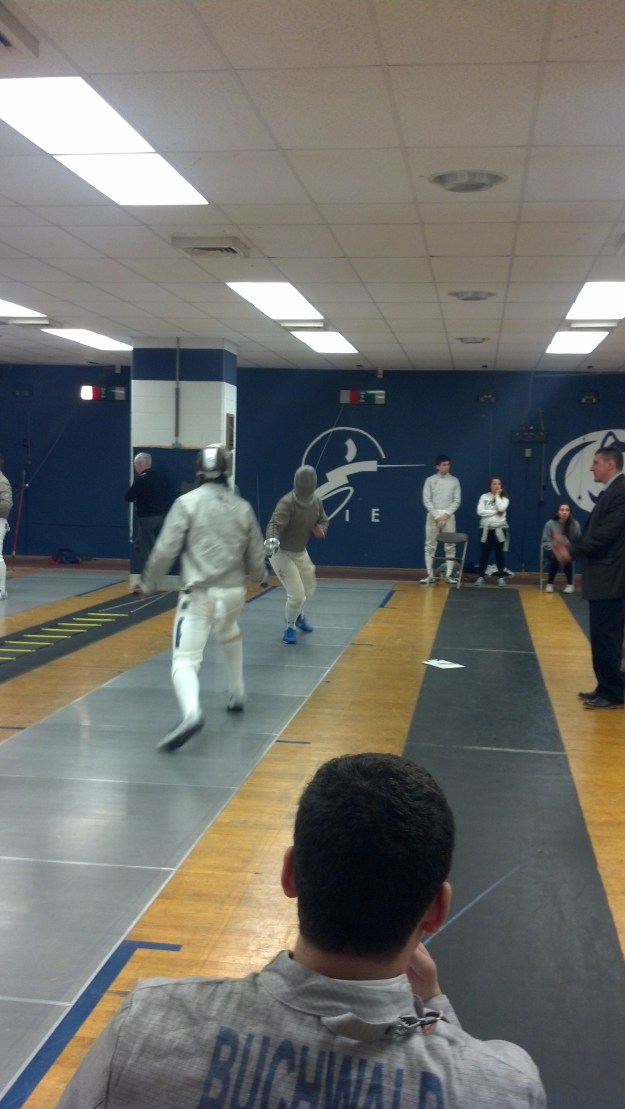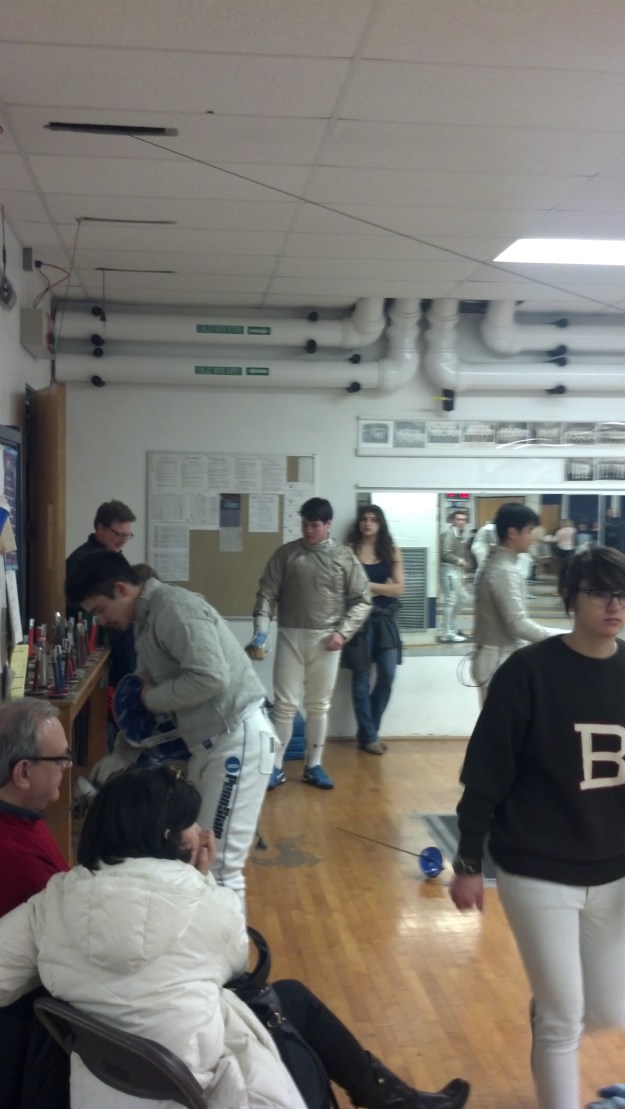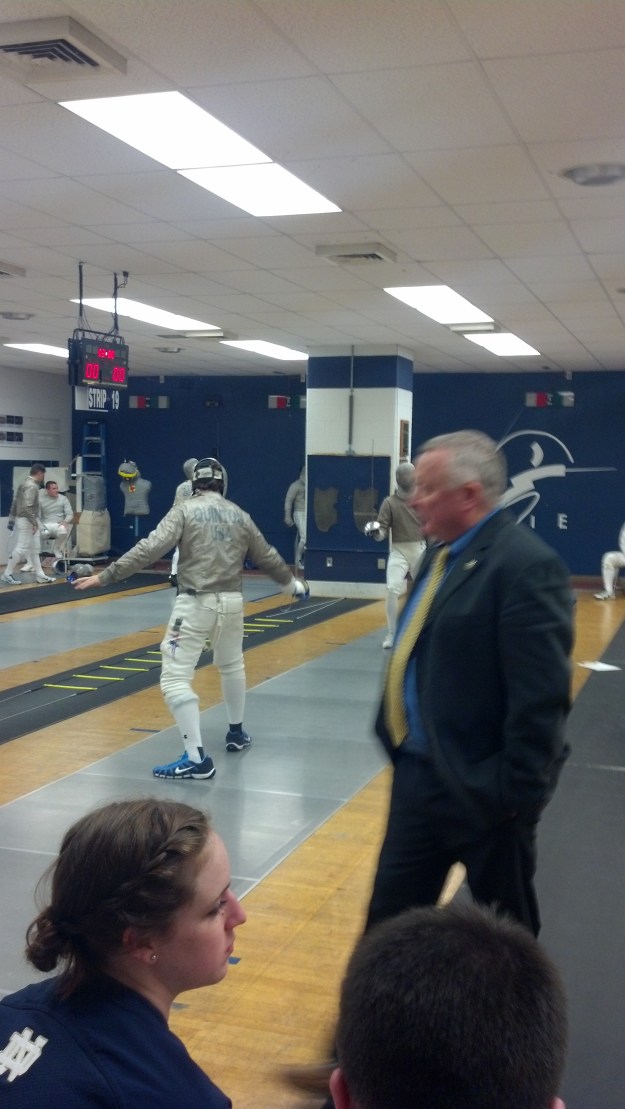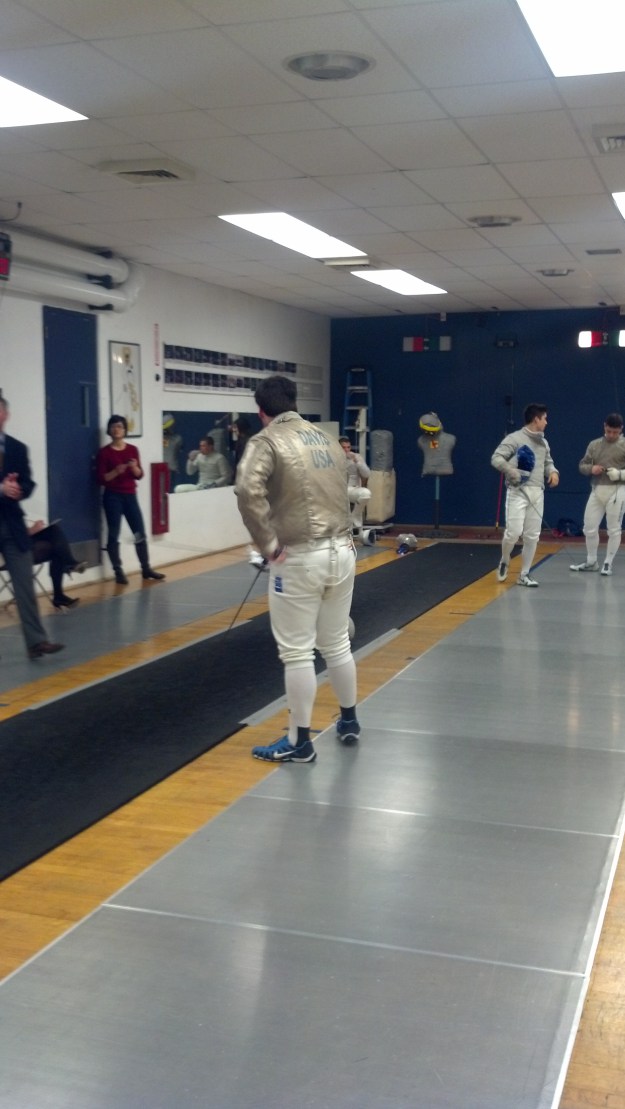 Fencers of the Corn compete at Bourbon Open
November 16, 2014 - Pearce Wilson
Tristan Quinton (McKendree University) and Cameron Davis (McKendree University) traveled to Louisville Kentucky to compete in the Division 1A Saber ROC (the Bourbon Open).
Tristan earned the silver medal. Cameron came in 11th place.
Congratulations guys!
USFA November North American Cup
November 13, 2014 - Pearce Wilson
We sent 7 fencers to the 4 day long November 2014 Junior/Cadet North American Cup competition in Louisville Kentucky.
Liam fenced cadet foil. Emma and Corey fenced junior foil. Andrew fenced junior epee. Mary, Cam and Tristan fenced junior saber.
Unfortunately, at least for Coach Wilson, the events for our fencers were on different days. So that our fencers didn't have to more more school than necessary, we drove 4 round trips to Louisville with the different athletes. 2200 miles for the coach! Whew!!
No medals at this extremely high level competition. Tristan and Cam fared the best of our fencers. This was the first such high level competition for Mary and Andrew. I think they enjoyed the atmosphere.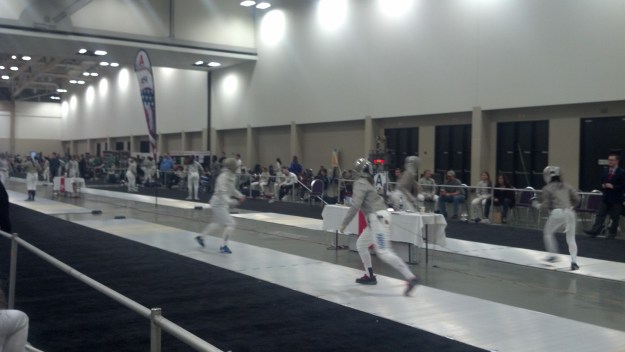 The fight to get fencing the attention it deserves is succeeding!
November 13, 2014 - Pearce Wilson
Channel 5 News, the NBC affiliate in St. Louis did a nice piece on the McKendree University fencing team last night. http://www.ksdk.com/videos/sports/college/2014/11/13/18955165/
This was very good for so many reasons:
So many times non-fencing reporters go nuts on the swashbuckling aspects of fencing. Frank Cusumano the sports director at Channel 5 did a great job with his interviews of the fencers and the team and yes, the scholarships that are available to athletes.
The editing was very good. Television news has so little time to devote to any one story. Their skillful editing kept the report interesting and informative.
The report highlights McKendree University, a small school not typically of interest to a big city sports department. It is hard for a small Illinois school to get noticed over stories about St. Louis University and the University of Missouri big time sports programs.
When I talked the McKendree administration into letting me start the intercollegiate team there I told them we could get positive publicity for their school in the local media. One more prediction comes to fruition!
The report also mentions the Millstadt fencing team. So maybe our high school and grade schools teams will get some additional interest. We have been trying to get local high schools interested in starting fencing programs in their schools. One of my high school fencers in particular, Shelby Korobey, is a real fighter in this regard. She has a proposal before the Belleville school board meeting next Monday. The timing of this should help her/our cause.
Area fencers compete in National Championship qualifiers in Chicago
October 27, 2014 - Pearce Wilson
Two of our McKendree University fencers competed in the RJCC Junior Olympic qualifiers and the ROC Div1A National Championship qualifiers hosted by Northwestern University in Chicago this weekend.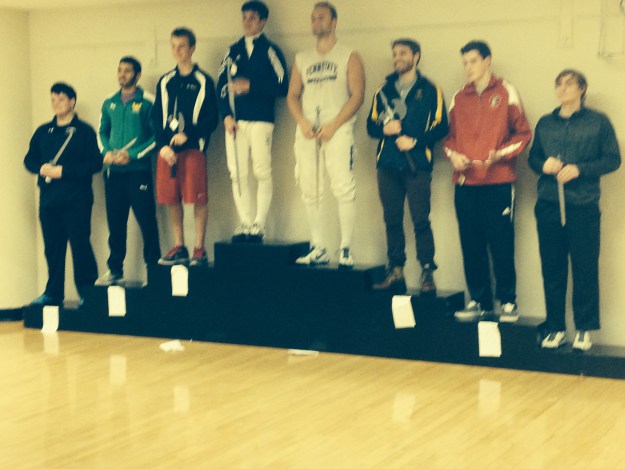 Cameron Davis finished 7th in the Senior Men's Saber event (Division 1A National Championship qualifier). Tristan Quinton finished 15th in the same event.
Tristan finished 12th place in the Junior Men's Saber event (RJCC Junior Olympic qualifier). Cameron Davis finished 14th in this event.
Because of the their success in these competitions, Tristan and Cam are earning points towards qualification to the USFA/U.S. Olympic Committee sponsored championships in the Junior and Division 1A categories being held in 2015.
Because of his top 8 finish in the Senior Men's competition, Cameron earned his 'C rating' and the right to compete in the highest level competitions in the United States, the United States Fencing Association Division 1 level where the Olympians compete.
Bluff Grange Trivia Night to benefit their community service programs!
October 27, 2014 - Pearce Wilson
Saturday November 1 at Bluff Grange. Doors open at 6:30. Play starts at 7:00.
Bluff Grange sponsors the Millstadt Venture Crew fencing team. This is their big annual fundraising effort. Without their sponsorship of the Millstadt Boy and Girl Scouts, fencing in Southern Illinois would be almost not-existent.
Please come out and help a great cause and have fun doing it!
It only costs $15 per person. In addition to the trivia games, there will be a silent auction, raffles, and attendance prizes.
McKendree University competes at Bradley University Duals
October 20, 2014 - Pearce Wilson
Have they set the world on fire? Not yet, but you can start to smell smoke!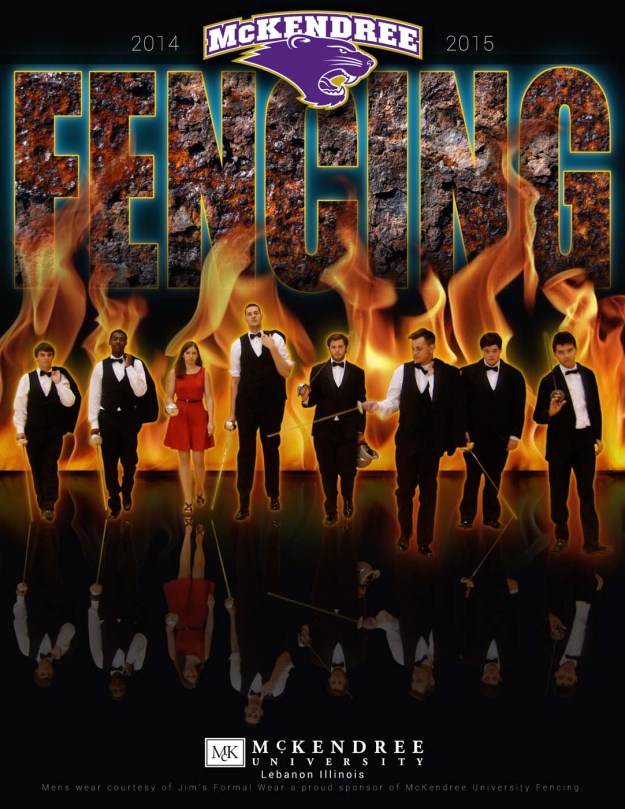 In the team's second team format competition of their inaugural season McKendree faced six schools. The McKendree team lost to Lawrence University 9-18 but defeated the University of Illinois 17-5, the University of Wisconsin 16-11, the University of Iowa 18-6, the University of Minnesota 21-6, and Bradley University 18-9.
However, many of the schools (including McKendree) came without a full roster so the team scores (which include the forfeits tally) are of limited value in characterizing the relative strength of each schools' fencers.
On an individual basis Andrew Tolbert leads the pack with a 13-1 record on the day. Tristan Quinton in second with an 11-1 record. Ivan Lich has the 3rd best record on the team for the day with an 11-3 record. McKendree's other fencers with winning records for the day: Cameron Davis at 9-3, Alex Smith at 10-6, and Kenneth O'Dell at 9-7. Six of the eight McKendree fencers had a personal winning record for the day.
Excellent day.
The McKendree team record stands at 9-2 for the season.
McKendree Fencers off to a running start
October 12, 2014 - Pearce Wilson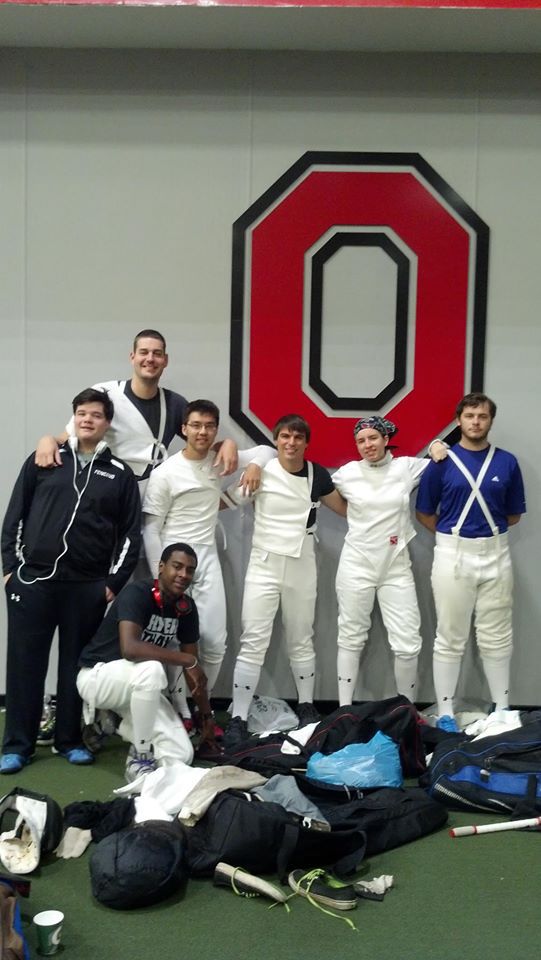 In their first competition as members of the Midwest Fencing Conference McKendree University shines at the Ohio State University Duals on October 4th.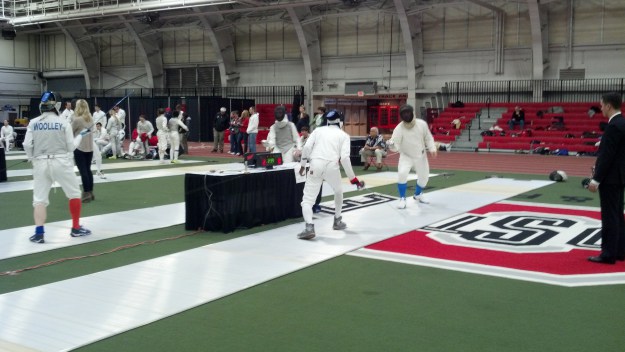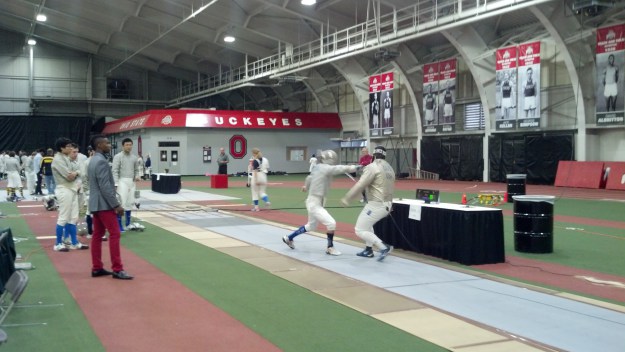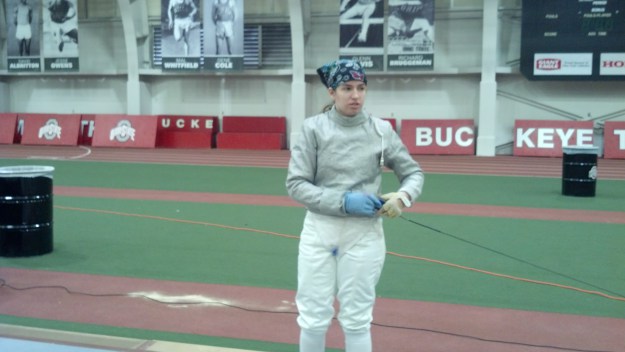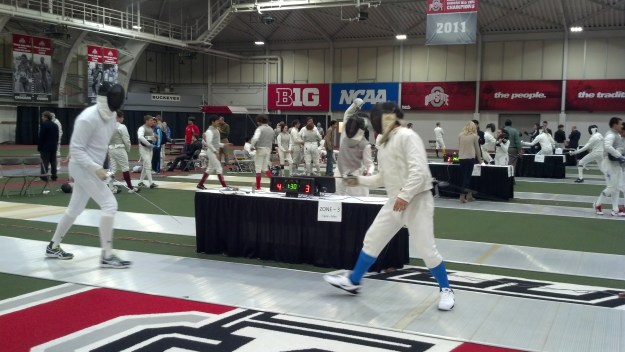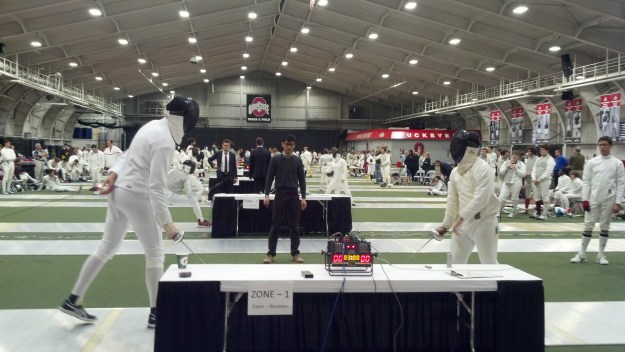 McKendree is competing with a partial team this their first year. McKendree brought 2 foil fencers, 2 epee fencers and 3 saber fencers including Mary our only female team member. Mary is competing on the men's team against the other schools' men's teams this year. A full team would be 3 or 3 plus an alternate in each weapon.
The missing fencers' bouts are counted as forfeits in the best of 27 bout contests that make up the team competitions at Duals.
McKendree fell to Case Western Reserve 11-16 but regrouped to defeat the University of Indiana, the University of Iowa, Oakland University and Xavier University.
Some of the highlights of the day were Tristan's 15-0 and Cameron's 14-1 personal records.
Then it was a long drive to:
Northwestern University for the Burton Open on October 5th.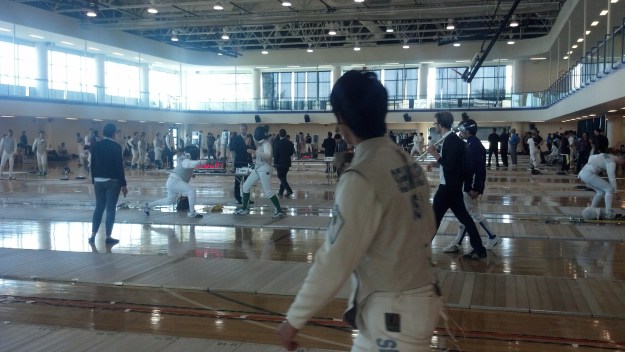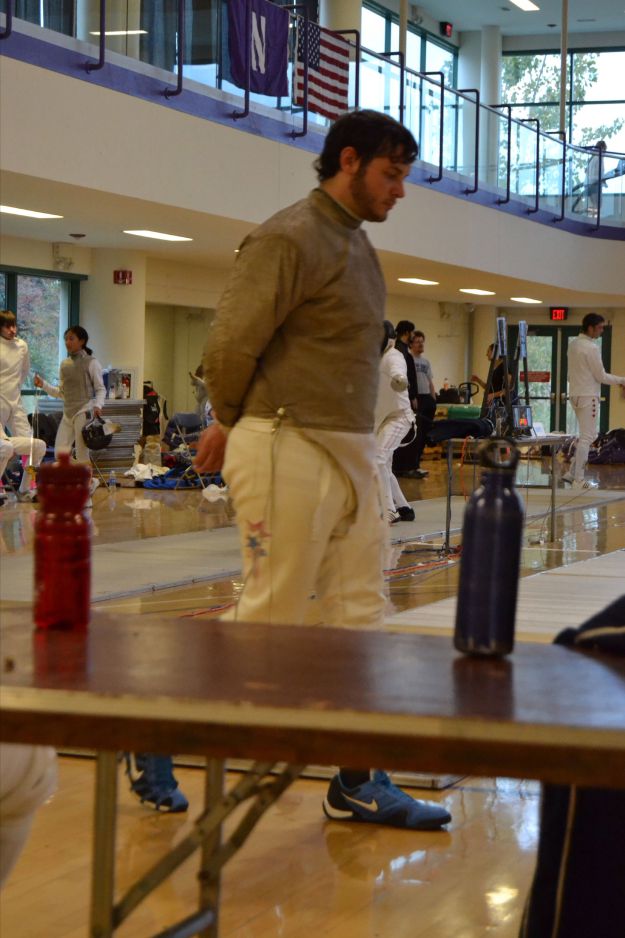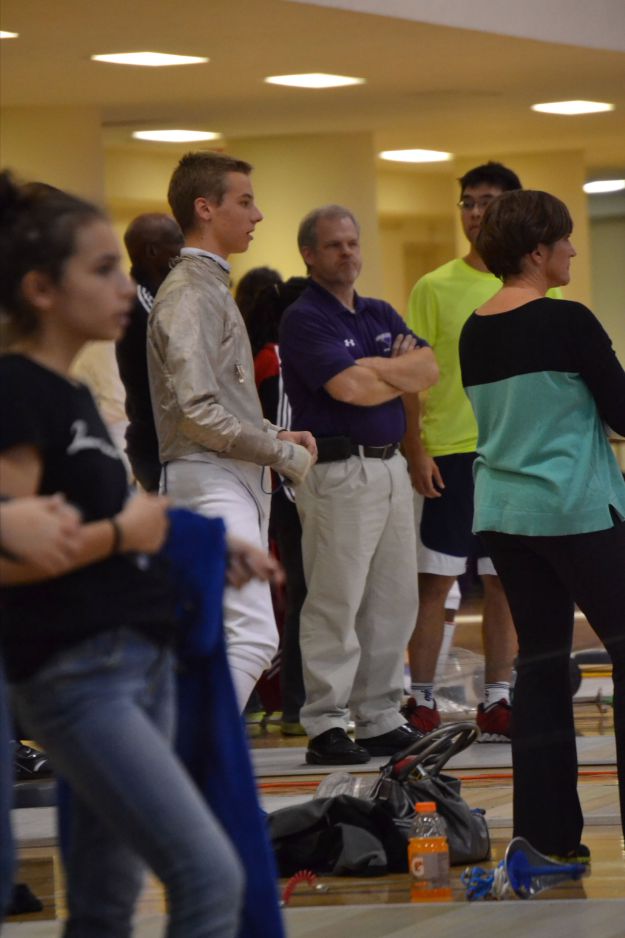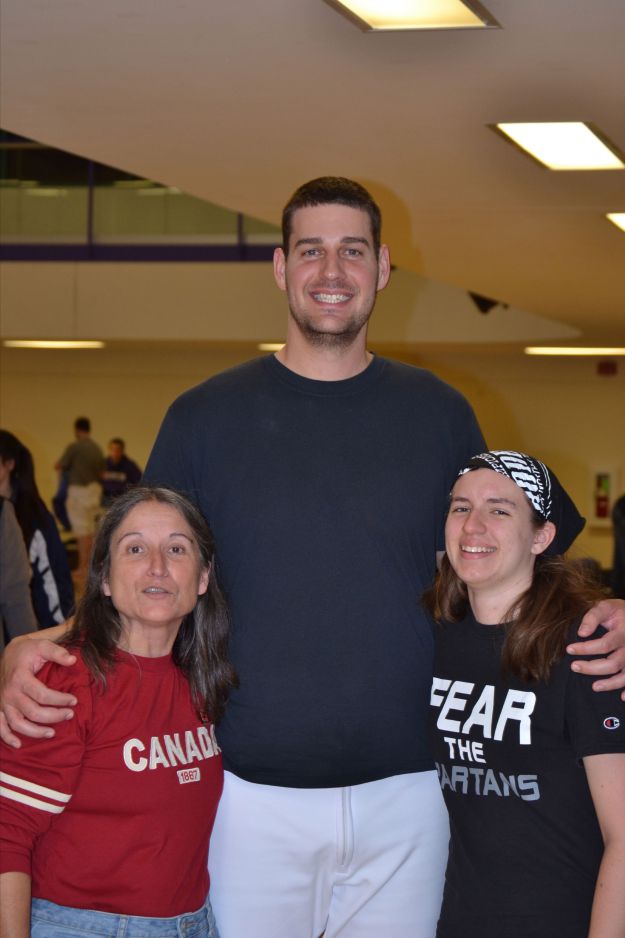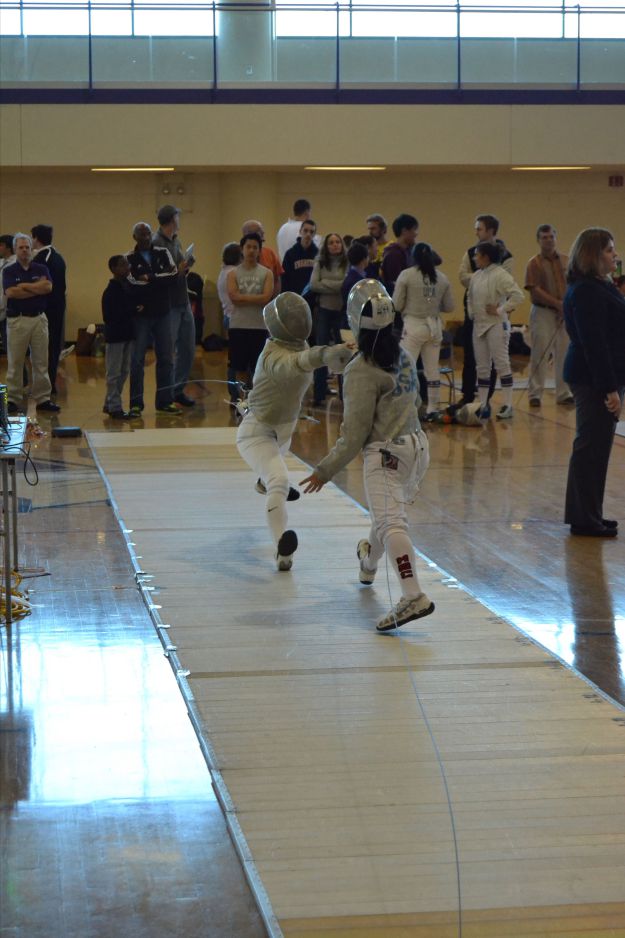 The McKendree fencers all fenced well but the day's stand outs were Andrew who was one touch from earning his United States Fencing Association 'B' rating when he lost 14-15 to the eventual silver medalist in this A4 epee contest and Tristan who wins the bronze medal in saber with borrowed equipment after his was mistakenly packed away by another school's fencer.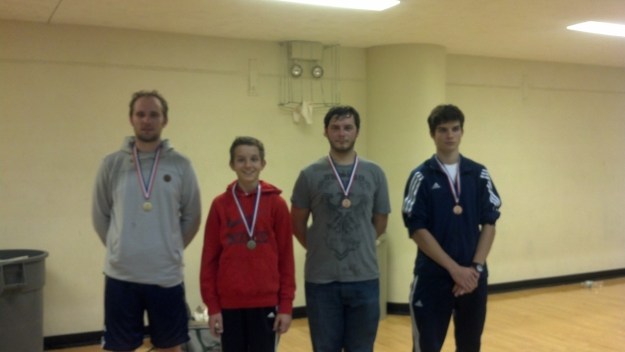 We did find Tristan's gear after the competition was over.
Congratulation to all the McKendree fencers. And thank you to Mr. Hardig (Mary's dad) for the great pictures from Northwestern!
Dallas Regional Junior and Cadet Circuit event
October 3, 2014 - Pearce Wilson
Fun time at a high level competition. We fenced well but no medals. Liam and Emma from Millstadt Venture Crew plus Cameron, Andrew & Mary, local college fencers training under Coach Wilson participated.
Special thanks to Mrs. Groom for all her help and to the Sweat family for letting us stay at their house in Dallas!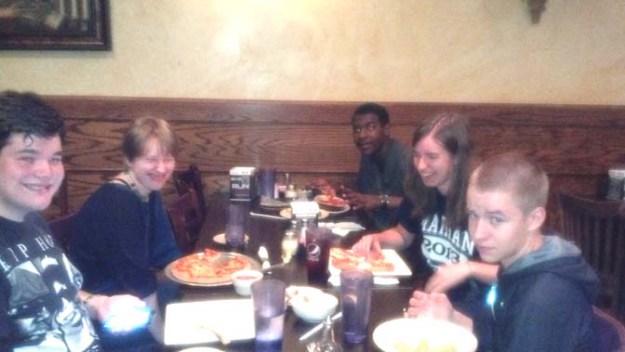 Here we are in Durant Oklahoma the night before the first competition. Carb loading!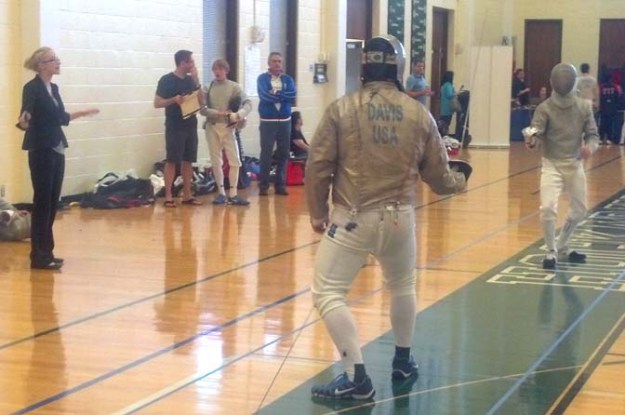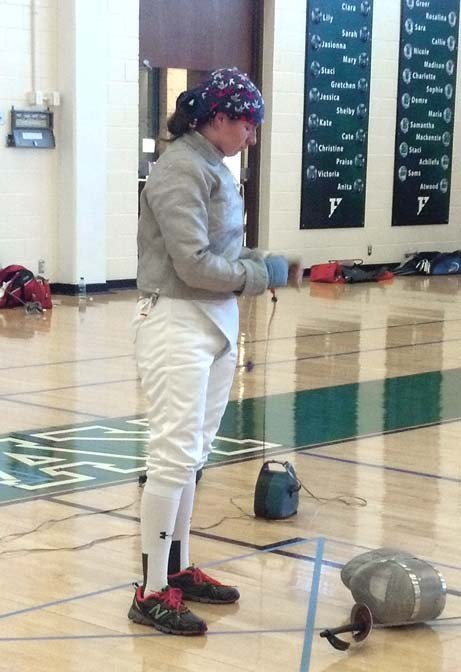 Cameron and Mary fencing saber. Cameron's 10 place finish in Junior Men's Saber was the group's best.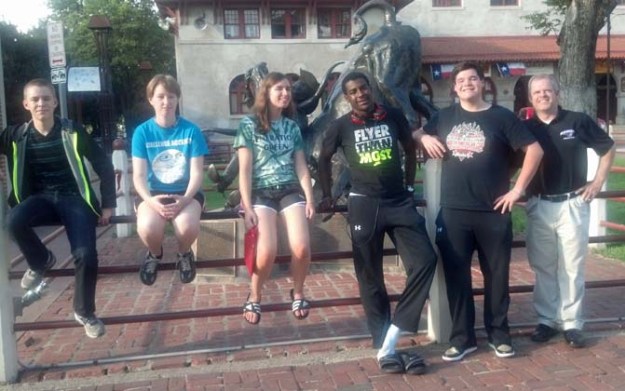 Fun Times at the Stockyards in Fort Worth Saturday night.
Meet the McKendree University Fencers
September 14, 2014 - Pearce Wilson
Andrew Tolbert, epee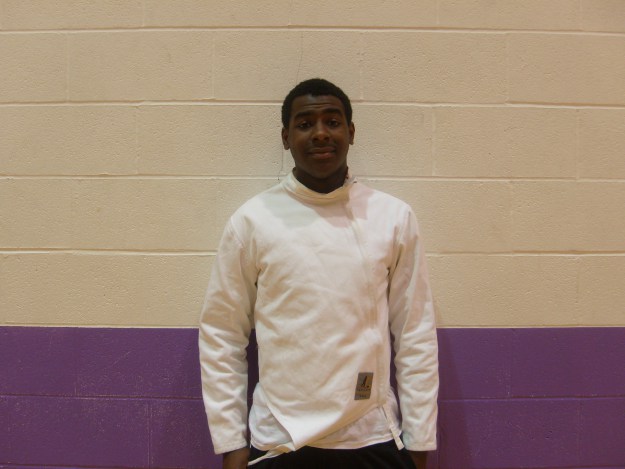 Ivan Lich, epee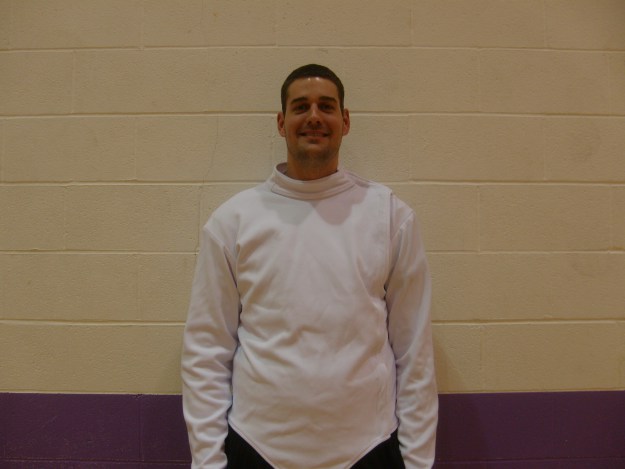 Kenneth O'Dell, foil/epee


Alex Smith, foil/epee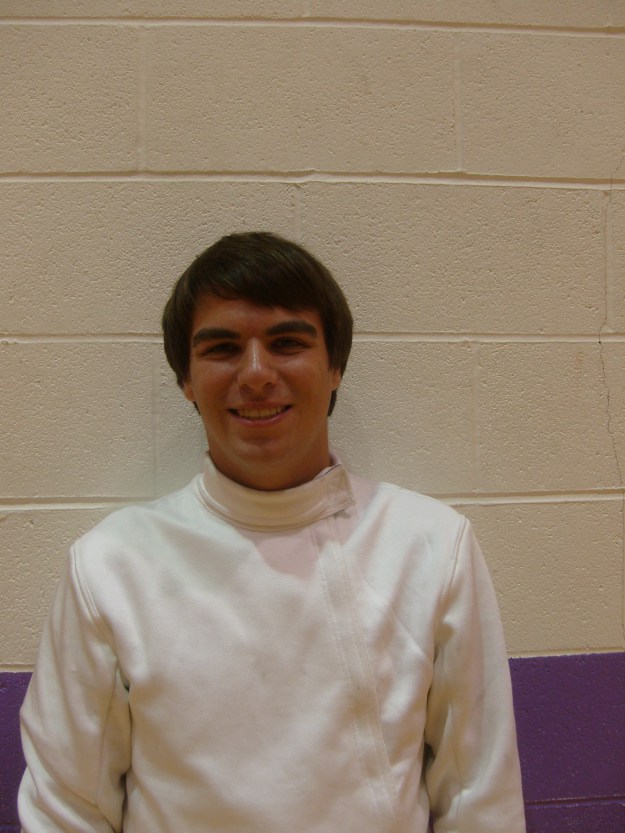 Luke Davis, foil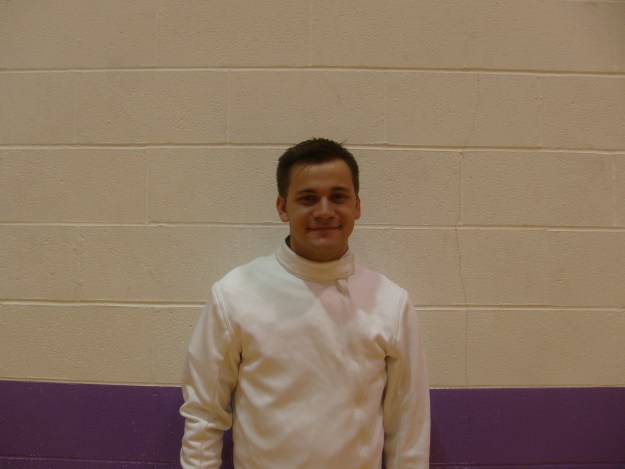 Cameron Davis, saber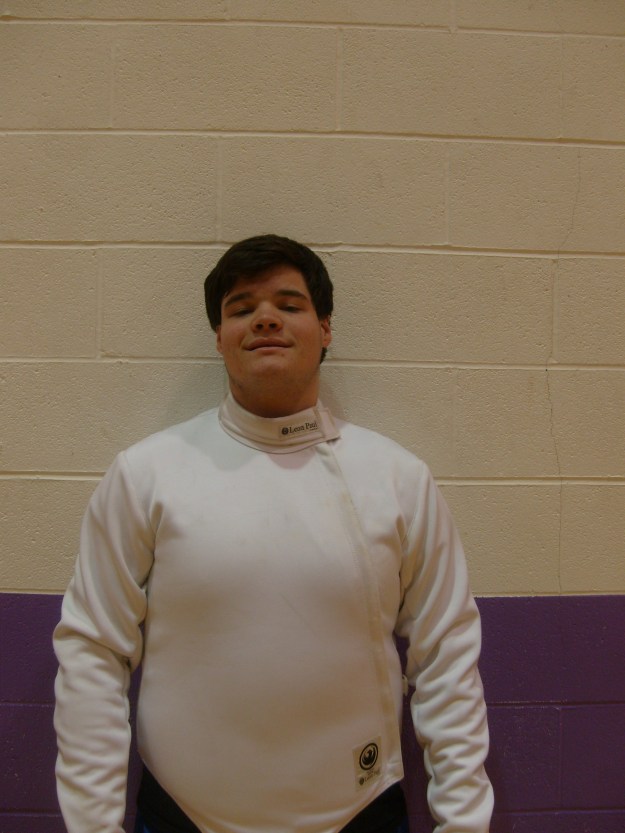 Mary Hardig, saber/foil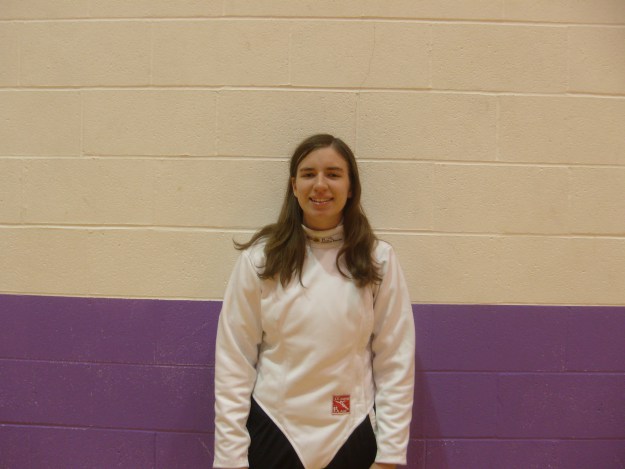 Tristan Quinton, saber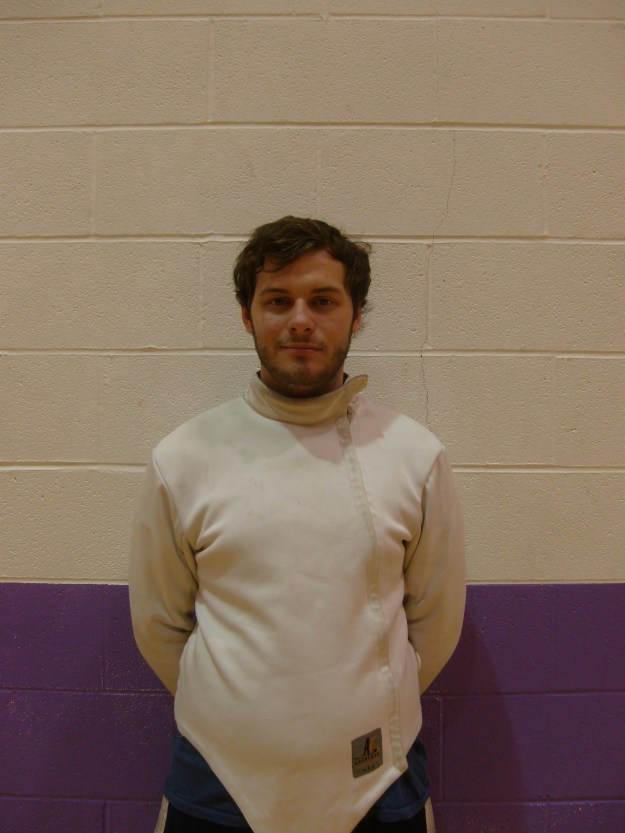 Pearce Wilson, Head Coach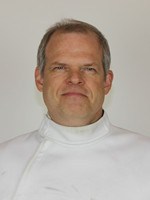 Corey Kilgallon, Assistant Coach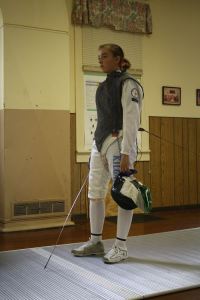 First Fencers of the Corn event for the combined MCK and MVC
September 12, 2014 - Pearce Wilson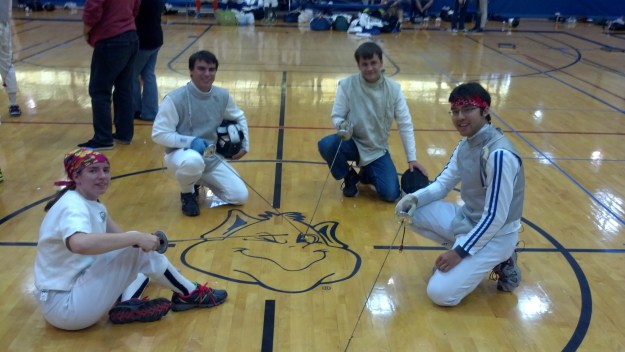 Last weekend fencers from McKendree University and from Millstadt Venture Crew traveled together and helped each other with shared equipment, coaching and cheering each other on at the first college league fencing tournament of the 2014/2015 season hosted by St. Louis University.
Fencers participated from the University of Missouri-Columbia, University of Missouri-S&T, Southeast Missouri State University, St. Louis University, University of Central Missouri plus some unaffiliated fencers from as far away as Milan Italy.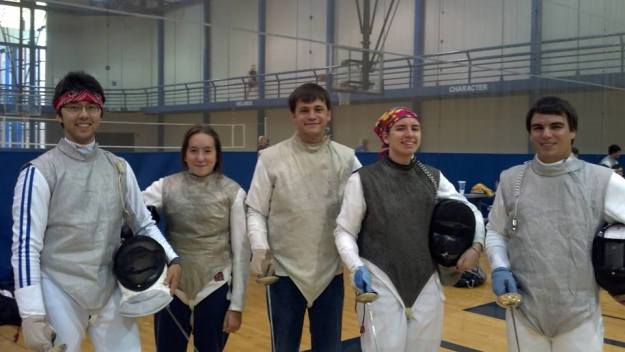 We had 5 foil fencers on Saturday. Mary, Kenny and Alex fenced for McKendree. Luke and Tiffany fenced for Millstadt. On Sunday we had 3 saber fencers and 6 epee fencers. Mary, Tristan and Cameron fenced saber for McKendree. Mary (yes again… she can't be stopped), Andrew and Ivan fenced epee for McKendree. Rory, Emma and Daniel fenced epee for Millstadt.
We did pretty well. The highlights, Kenny takes 6th in foil. Rory takes 5th in epee. Andrew takes 6th in epee. Tristan takes 1st in saber. Cameron takes 3rd in saber. Mary takes 1st in the women's bracket in saber.
I couldn't be happier how well all our fencers worked together to help each other. This is going to be a wonderful partnership!
Now we are THE Booster Club for Southern Illinois & St. Louis Metro East fencing
September 3, 2014 - Pearce Wilson
With the addition of the McKendree University fencing team in our area, the Fencers of the Corn will serve as an umbrella group for both the McKendree University team and the Millstadt Venture Crew Girl & Boy Scout fencing team.
We will serve to coordinate both groups' fundraising, fencing equipment, classes and coaching, schools and group demonstrations, etc.
Another fun fencing poster
July 28, 2014 - Pearce Wilson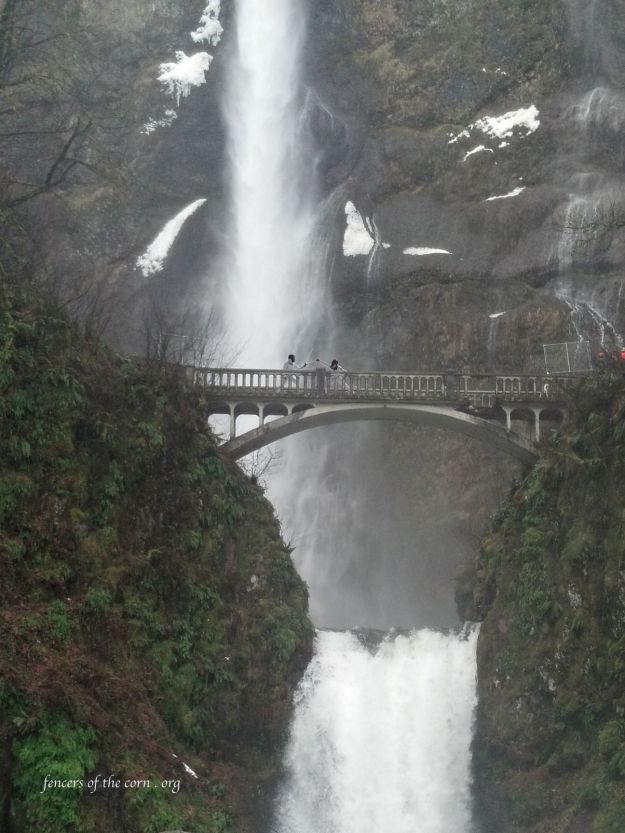 Bridge (18 X 24 poster)
We will be making all our posters available for purchase through our web store.
Show-Me State Games
July 26, 2014 - Pearce Wilson
We were honored to be able to run the fencing tournament for the Show-Me State Games.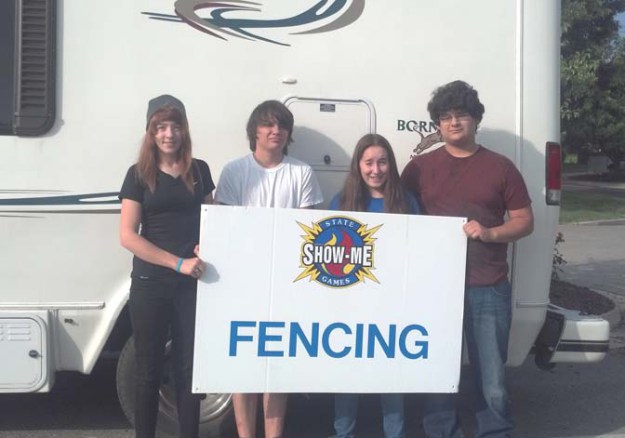 This year's event was held at Columbia College in Columbia Missouri.
And we got some great press from the Columbia Missouri newspapers.
The "Columbia Missourian" published a very nice article about Corey Kilgallon, one of our fencers who competed in Saturday's saber competition.
Click for link to Columbia Missourian article
The "Columbia Tribune" also published a very nice article about the Show-Me State Games fencing tournament including a great picture of Ms. Kilgallon fencing saber with a very good fencer from Lawrence Kansas on the front page of their Sunday Sports Section.
Click for link to Columbia Tribune article
The Adewale Cup 2014
July 19, 2014 - Pearce Wilson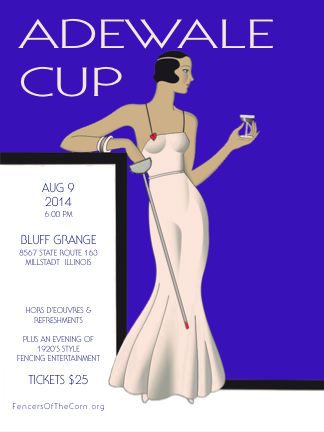 Saturday August 9, 2014.
1920's style dinner, *drinks, music and fencing.
Roaring Twenties costume are encouraged but not required.
Come to fence or just for the party!
$30 to fence & party or $25 just for the party.
The fencing is double elimination combined foil, epee, saber 8 touch bouts fenced dry with four judges and a Director for the entertainment of the spectators.
Fencers can read more and pre-register here.
Please RSVP so we make sure we have enough food and drinks for everyone.
* under 21 will be served soft drinks.
** in the unlikely event we have more than 8 fencers participating, we will move the preliminary rounds earlier so only the final 8 will fence in front of the audience.
30th Anniversary of the Show-Me State Games
July 19, 2014 - Pearce Wilson
We have been asked to help with the Show-Me State Games (the state games of Missouri). This is not a big event but it is an honor to be asked.
It is being held on the Columbia College campus in Columbia, Missouri.
Saturday July 26 is Saber and Foil.
Sunday July 27 is Epee.
This will be fun!
Grandpa Luke's sponsored fencing tournament
July 8, 2014 - Pearce Wilson
Saturday, July 12. Just fencing? You're thinking too small. How about fencing and eating!
Free samples from Grandpa Luke's Deli & Coffee House' great menu will be available to try. Coupons from Grandpa Luke's for fencers and spectators. After the tournament run into Millstadt for a delicious meal. Grandpa Luke's is next to the Dollar General Store on Washington Street. (Link to Grandpa Luke's)
Hint! Stop off at Grandpa Luke's for a coffee on your way to Bluff Grange. Awesome stuff!
Y12 and Y14 mixed foil start at 9:00am.
Unrated mixed foil starts at 1:00pm.
Open mixed foil starts at 4:00pm.
Fencers can pre-register here: (Link for fencer pre-registration and more event information)
Neither electric bib nor USFA membership is required for the Y12 and Y14 events.
USFA membership and full gear IS required for the Unrated and Open events.
Congratulations Alex Smith!
July 3, 2014 - Pearce Wilson
Even though he has never fenced before, Alex earned the gold medal and his Foil E14 in his first tournament after only a month of fencing training with the Fencers of the Corn.
Alex is a student at McKendree University.
Alex is the third of our fencers in the past year to earn a rating at the first tournament they entered. He is the second of our fencers to earn a rating within a month of starting fencing.
The Hunger Games 2014. Swords. Arrows. Bullets.
June 26, 2014 - Pearce Wilson
Great fun. Rainy weather held off.
Three weapon competition. First Fencing: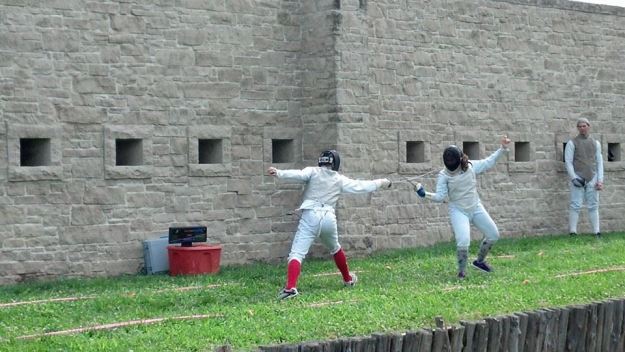 Next Archery: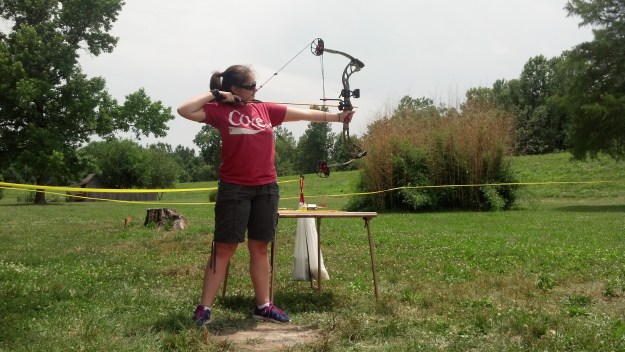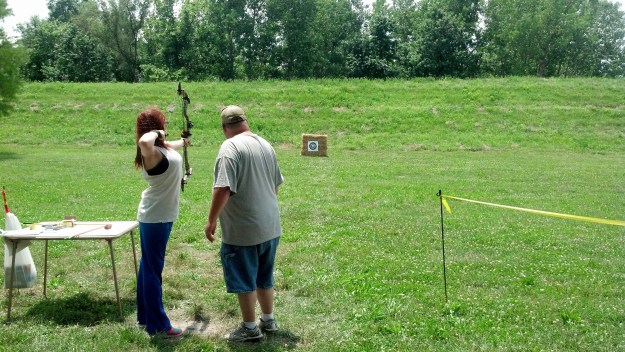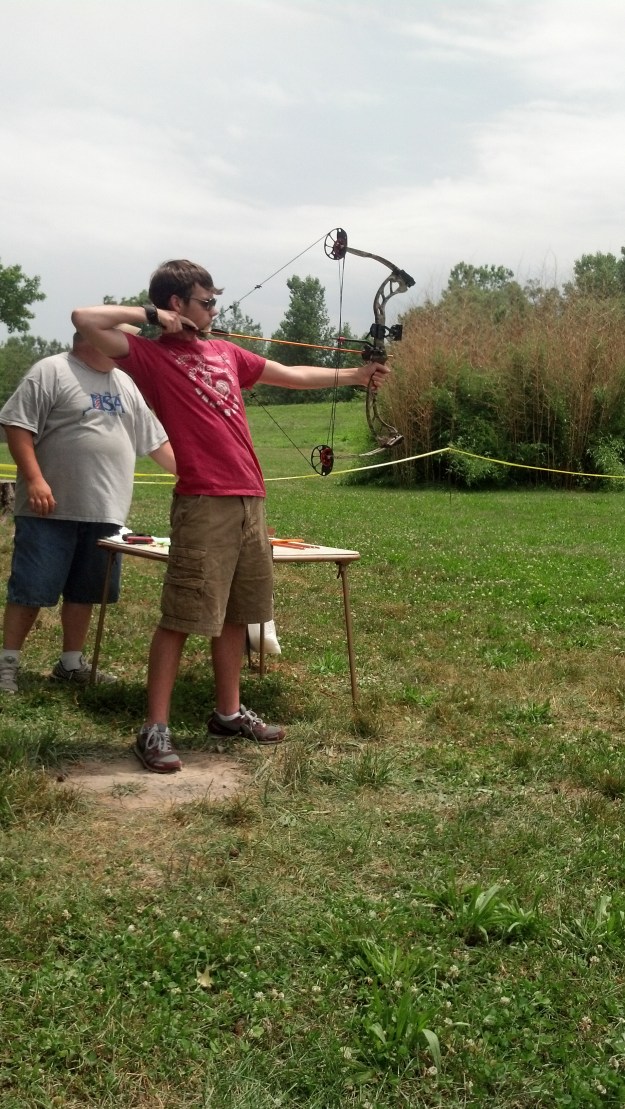 Finally Riflery: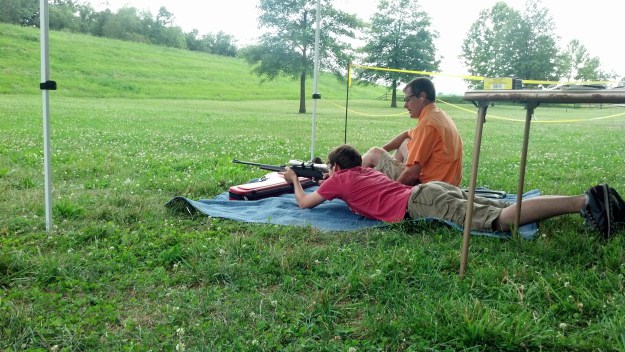 The Survivors: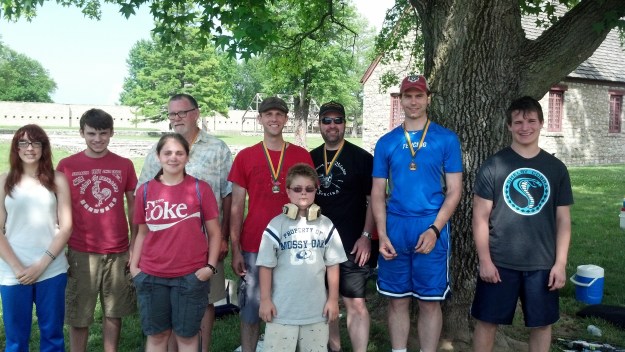 Can auditory signals defeat the visual Mandelbrot Set complexity of fencing?
June 25, 2014 - Pearce Wilson
I was talking with a former World Cup competitor yesterday at the National Championships. Great guy.
I was telling him I tried combining music with fencing training. I told him about an unusual bagpipe piece that had two rhythms, one with 3 beats per measure, one with 4 beats per measure, running simultaneously through the piece. I would get my opponent to dance with me to one of the rhythms and then on one of the instances when the rhythms synced (every 3 X 4 = 12th note) I could switch to the other rhythm.
Then I told this coach the story of how Bill Velders, who plays in a symphony orchestra, could never stop my attack until one time during rehearsal of the Overture of Symphonie Fantastique the conductor yelled at the musicians, "No! Come in on the AND of Four."
I explained that for Bill this was his epiphany. Bill heard my attack in that piece of music. Turns out my attack has a distinct 4 beats per measure rhythm but my hand is moves in that time/space between the beats. I feint on the third beat. I hit between the fourth beat and the first beat of the next measure. In order to parry me, the fencer must parry on the AND of four. That is, BETWEEN the fourth and first beats.
Bill discovered that if he watched my attack, I deceived him and he could not stop it. But if he listened to my attack, he could.
As I was explaining that I was fascinated by the idea of natural rhythms and that I was pretty sure this rhythm idea was something but didn't quite understand what to do with it, the coach's eyes kept getting bigger. Finally he looked at me like I had just pulled out a pirate treasure map and told him, "I found this thing and I'm pretty sure it is important but I don't quite know what to do with it."
When he was fencing on the World Cup Circuit he got to know a French Olympian whose coach had trained numerous Olympians and World Class fencers out of a little club in France. Half a century ago, this French coach had developed a saber training system based on sound and feel. They would even train with the lights off. When the saber timings changed and devalued defense in saber this system was dropped.
This world class fencer/coach went on to explain that the training system was a 10 step system of increasing complexity with programmed attack, parry/riposte, counter-parry/riposte actions. This coach described the training system as on one level, genius in its simplicity. On the next level a feedback loop of interconnecting multidimensional infinite complexity.
The foil system we are developing is based on saber fencing style of half a century ago. What we are developing uses a system of interconnecting loops of complexities.
Are you thinking what I'm thinking?
The entire system fits hand written on a half sheet of notebook paper. I have a copy of it.
http://www.youtube.com/watch?v=0jGaio87u3A
Things I notice…
June 25, 2014 - Pearce Wilson
I'm at the National Championships.
An observation: if a man comes to the strip ready to fence, wearing pink socks with cupcakes on them be wary of him.
A man that can wear pink socks with cupcakes to a combat sport competition is confident in his abilities.
It was a beautiful day to fence…
June 19, 2014 - Pearce Wilson
… What day isn't?
Yesterday we got to demonstrate fencing to the Lewis & Clark Council's Cub Scout summer camp.
When we were done we headed over to St. Louis for some lunch and fencing photo shoot.
Great day to be fencing outside.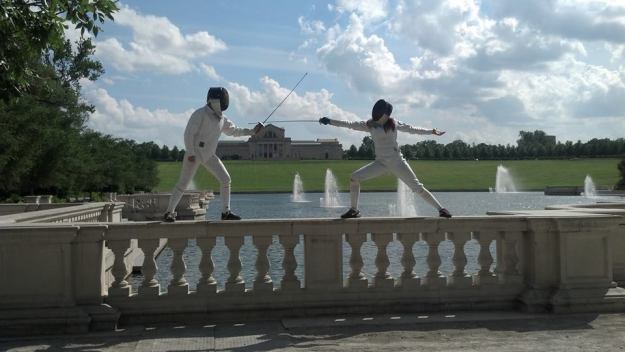 Summer 2014 Fencing Classes
June 18, 2014 - Pearce Wilson
We are teaching fencing classes all summer.
Grade Schoolers' class each Wednesday from 5:00 to 6:00.
High School and Adult class each Sunday from 6:30 to 7:30.
Taught at Bluff Grange, 8567 State Route 163, Millstadt Illinois 62260
The classes are taught by the nationally rated high school fencers of the Millstadt Venture Crew 'fencers of the corn' fencing team assisted by Pearce Wilson, Head Fencing Coach at McKendree University.
These are not group classes. We are teaching one on one. This is important because people learn at different paces. This also allows people to start and stop the lessons on their schedule.
Cost of the classes are $50 per month for grade schoolers or $60 per month for adults and includes club membership allowing attendance at Sunday open fencing practices. Or, if you want to just try a couple of lessons you can take classes ala carte at $10 each
Contact Pearce Wilson at milstdfarm@aol.com or 314-974-3078 for more information.
Some fun posters we made.
June 18, 2014 - Pearce Wilson
Part of the fun of fencing is how photogenic the sport is. Let's face it, it looks really cool. And it is!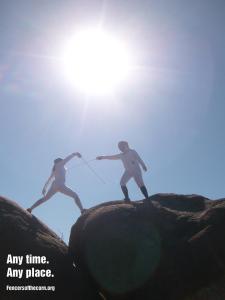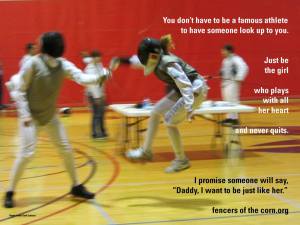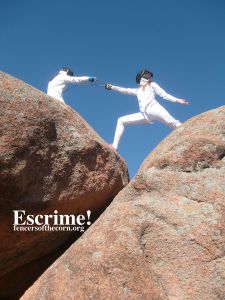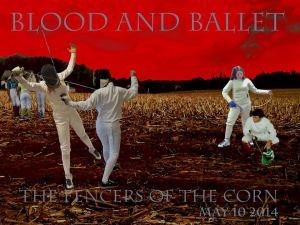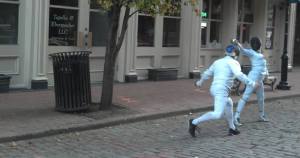 Congratulations to two of our fencers.
May 23, 2014 - Pearce Wilson
TJ and Kenneth both earn their E14 rating in foil at our tournament on May 17th at Bluff Grange. Way to go guys!
Also, Kenneth's mom asked for a press release she can send to her hometown newspaper. Here is what I wrote:

Dateline: May 17, 2014 — Millstadt, Illinois
Carlyle Illinois resident Kenneth O'Dell wins the Gold Medal in the Rick and Joyce Brenner Invitational Fencing Tournament held Saturday at Bluff Grange near Belleville Illinois.
O'Dell bested 8 opponents in this United States Fencing Association sanctioned foil competition. The USFA is the fencing governing body for the U.S. Olympic Committee.
With his Gold Medal performance O'Dell earned his first USFA national rating placing him in the top 15% of competitive male foil fencers in the United States.
O'Dell, a Sophomore at McKendree University, only started fencing last month making his victory quite a surprise even to his coach, Pearce Wilson.
Said Coach Wilson of O'Dell's victory, "Kenny is a good athlete and he is learning fast but to win gold in his first tournament and after only a month of training? That was way beyond my expectations. I'm excited to see what the next few months will bring."
O'Dell is training with the Millstadt Venture Crew ( www.fencersofthecorn.org ) fencing club in Millstadt Illinois. The club is coached by Wilson who is also the head fencing coach at McKendree University in Lebanon, Illinois.
Revised Practice Schedule
May 11, 2014 - Pearce Wilson
Our fencing practices are getting too big. We are going to tweak things.
Sunday's remain as now. Open fencing for all ages and skill levels from 6:30 to 8:30 for the younger fencers. Later end time for the older fencers.
Wednesday's **
Grade School fencers from 5:00 to 6:00 pm.
High School fencers from 6:30 to 8:30 pm
College fencers from 8:30 to whenever we are too tired to continue.
Special nights on Thursdays and occasional Tuesdays:
Thursday's – Lessons for a small group of our most serious fencers. If you want to come to this lesson, talk to Pearce. It is not suitable for everyone.
Tuesday's – One on one lessons by appointment only. Talk to Pearce to arrange.
** details of our Wednesday practice schedule.
If I think a grade school fencer is capable of competing with our high school fencers, I might invite them to attend the high school practice.
At some point as we continue to grow, we may need to make 6:30 to 8:30 a high school only practice time but for now college fencers can attend the high school time slot. However, my attention will be concentrated on our high school fencers.
High school fencers can attend the 8:30 to whenever, college time slot once school is out and if they get permission from their parents to stay later.
—- Parents are encouraged to fence with us! —-
—- Come to any practice time you want. —–
Pearce Wilson
Midwest Fencing Guild 2013-2014 Season Championship
April 7, 2014 - Pearce Wilson
Congratulations to our 16 year old foilist Emma Groom on her 7th place finish in the men's and women's combined and #1 in the Women's bracket in the Midwest Fencing Guild's 2013-2014 Season Championship yesterday.
The League is in its 4th year and it keeps growing. This year's foil championship boasted 38 entrants.
The Midwest Fencing Guild is a Confederation of Missouri and Illinois University fencing clubs. Millstadt Venture Crew (the Fencers of the Corn) is the only non-University club to be a member of the league.
Community Health Magazine
March 21, 2014 - Pearce Wilson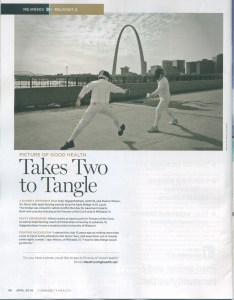 Page 40. April 2014 edition. cmghealth.net A bit of nice publicity for fencing and our club. The caption written by Ms. Watt at Community Health Magazine reads:

A sharply different pair. Tyler Higgenbotham, (left) 18, and Pearce Wilson, 54, fence with epee fencing swords atop the Eads Bridge in St. Louis. The bridge was closed to vehicle traffic that day for pavement repairs. Both men practice at the Fencers of the Corn club in Millstadt, Ill.
Savvy Swordsmen. Wilson works as head coach for Fencers of the Corn as well as head fencing coach at McKendree University in Lebanon, Ill. Higgenbotham is now a student at the University of Missouri.
Fighting in good fun. "I started this club 10 years ago as nothing more than a way to inject some adventure into teens' lives, and keep them out of trouble a few nights a week." says Wilson, of Millstadt, Ill. "I had no idea things would go this far."
"Well, that's the news from Lake Wobegon…"
March 6, 2014 - Pearce Wilson
"… where all the women are strong, all the men are good looking, and all the children are above average." –Garrison Keillor
That is also true of fencers everywhere in the world!
Last night one of our fencers (wearing her fencing jacket) was at a gas station 5 miles from where we practice.
An elderly man behind her in line asked her, "Are you headed to fencing practice?"
She replied, "Yes."
He said, "I bet you're pretty damned good."
She answered back, "Why do you say that?"
Man, "I've heard that all the fencers in this area are pretty damned good."
Man, "You're going to protect your face, right? Because it's pretty damned good too."
Leaving aside for a moment the fact that elderly men can get away with saying things that might get a younger man slapped, the man was right.
Fencers, both male and female are attractive. Fencers are physically fit. Physically fit is attractive. Fencers have an air of confidence about them. Confidence is attractive.
Fencing is great fun and great exercise but the downside is you will have to learn to deal with the swarms of adoring fans. 🙂