FOTC News 2015
More black light and fog fencing pictures
December 29, 2015 - Pearce Wilson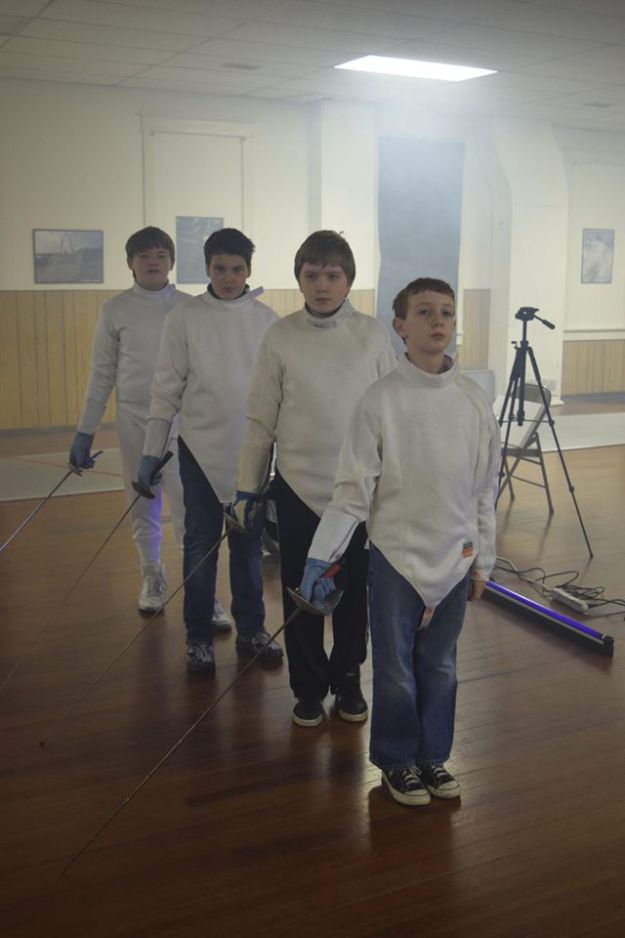 Lane, Ethan, Montana, Matt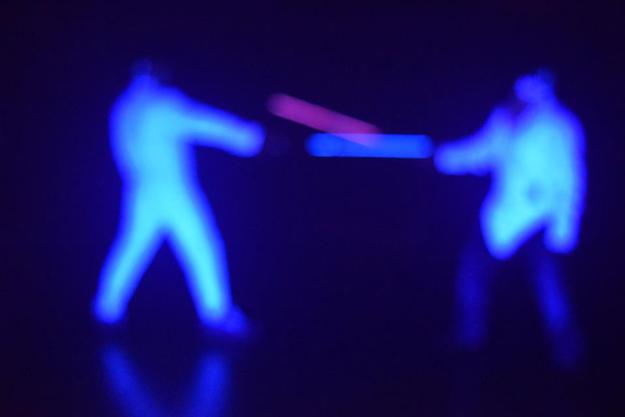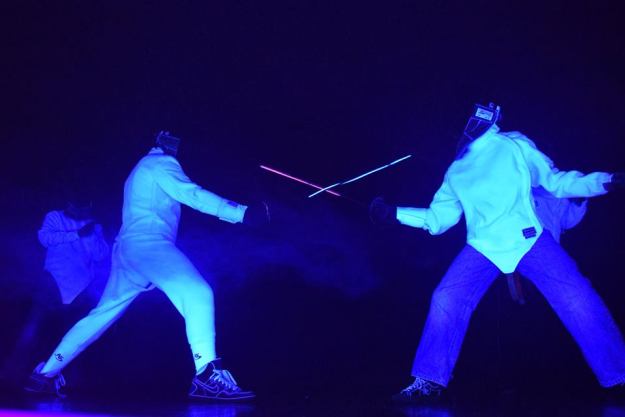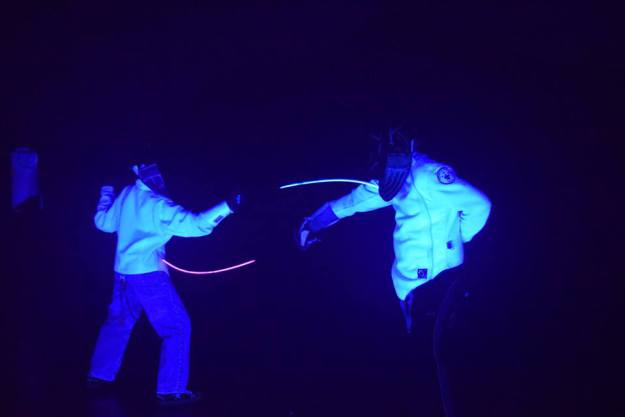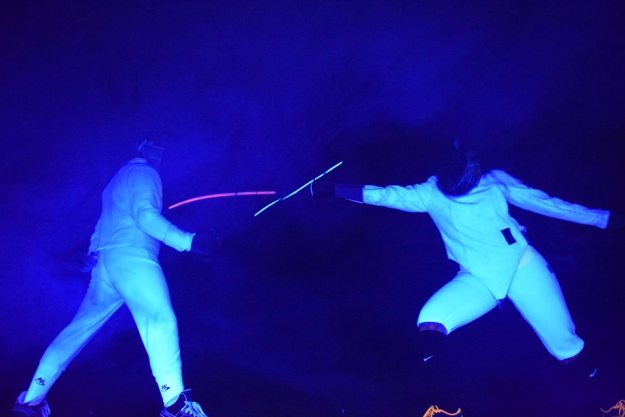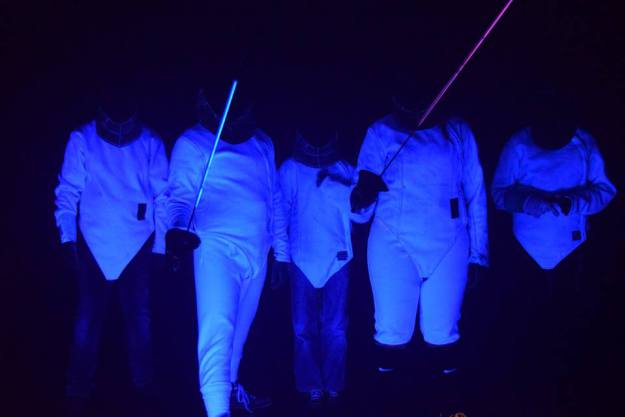 Black Lights. Fog Machine. Swords.
December 29, 2015 - Pearce Wilson
Can it get any better?we live it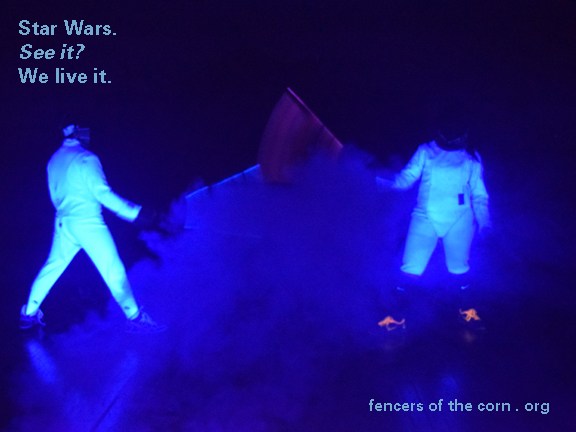 Great time photographing some of our fencers tonight. I'll have more pictures to post tomorrow.
Fencing Trivia Night and Silent Auction
December 28, 2015 - Pearce Wilson
Fund raiser for the Fencers of the Corn youth fencing team.
Date: Saturday February 27, 201
Time: Doors open at 6:00. Games start at 7:00.
Location: Bluff Grange, 8567 State Route 163, Millstadt Illinois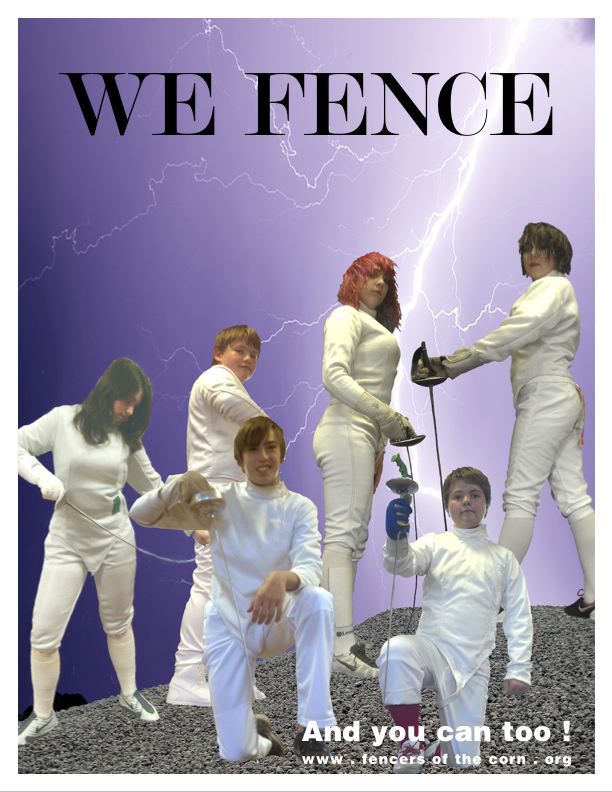 Trivia, Silent Auction, Raffles, 50/50, Attendance prizes.
We have brand new fencers and nationally rated fencers. Please help us support them!
$15 per person / 8 people per table
A fun night to benefit a great group of kids.
To reserve your spot, comment here or call Pearce at 314-974-3078.
VIP private practice tonight.
December 24, 2015 - Pearce Wilson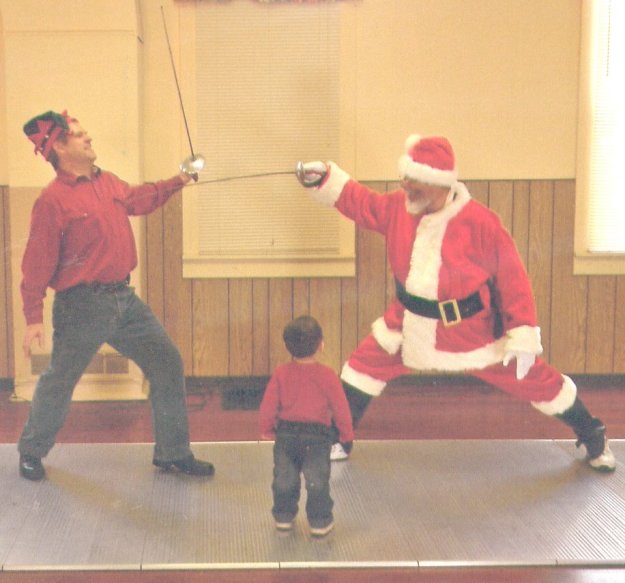 Thursday practice has been canceled for tonight. We received a request from a VIP for a private session.
Sorry, we can't tell you who it is.
Stay home. Enjoy your family. We'll see you Sunday at our next regularly scheduled fencing practice.
Oh, and have a Merry Christmas!
Merry Christmas, Happy Holidays!
December 23, 2015 - Pearce Wilson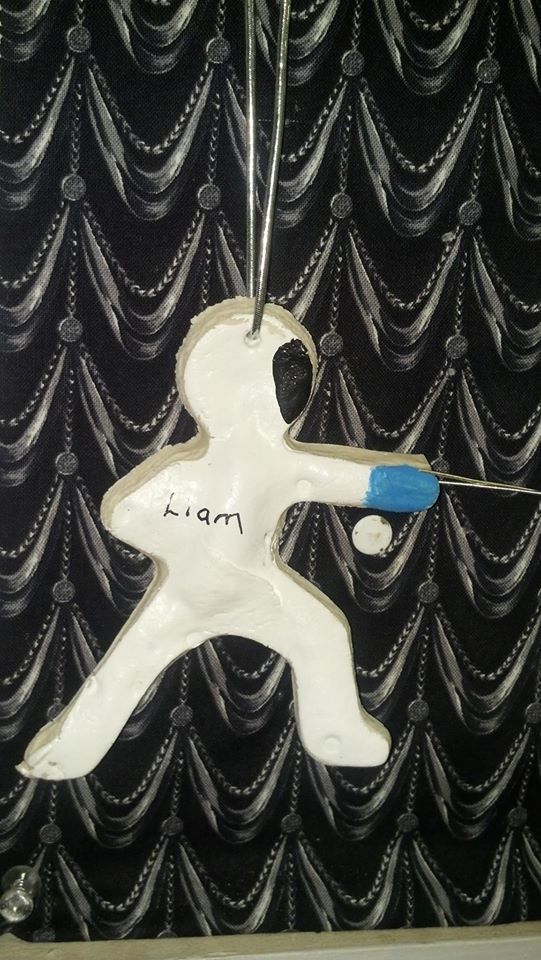 Thank you to Mrs. Demick for her craftyness! She made personalized fencer ornaments for each of our fencers.
We have a new Instagram account.
December 19, 2015 - Pearce Wilson
We have been searching for a platform to display our best pictures. We settled on Instagram. Have a look. Let us know which photographs are your favorites.
http://www.instagram.com/fencersofthecorn
End of an era approaches.
December 17, 2015 - Pearce Wilson
At the end of December after nearly a dozen years, Millstadt Venturing Crew will relinquish its charter with the Boy Scouts of America.
We are growing in number of fencers but our direction has changed. We have many younger and adult fencers but not enough active teen members with the combined interest in fencing and Scouting to keep the Crew as a separate entity from the larger fencing club.
Not much will change in the way we operate. We will continue to be a non-profit group. We will continue to offer free fencing lessons to those who cannot afford to pay. I will continue to volunteer my coaching time.
The biggest change is personal. I've been part of Boy Scouts and Girl Scouts for 30 years. That will be coming to an end in two weeks.
-Pearce
Holiday Schedule Changes
December 13, 2015 - Pearce Wilson
No fencing on Christmas Eve (Thursday) or New Years Eve (Thursday).
All other times/days stay the same.
U.S.A.'s top fencers coming to St. Louis in January
December 11, 2015 - Pearce Wilson
The United States Fencing Association's North American Cup is coming to St. Louis January 8-11. Many of the top fencers in the country (and from around the world) will be competing.
In addition to the Division One events (the top echelon competition) there are Junior (17, 18 and 19 year olds), Wheelchair, and Team Fencing events scheduled across the 4 day tournament.
Our own Miss Korobey and Miss Kilgallon will be competing in Junior Women's Foil on the 11th.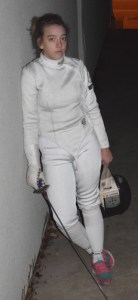 Fencer of the Corn and Gateway Death Angel fencing team member Corey Kilgallon
You owe it to yourself to attend one of the days just to see what fencing at the highest levels is like. It costs nothing to attend. You will be amazed at how close to the action you can get – literally 20 feet or less.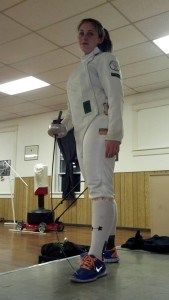 Fencer of the Corn and Gateway Death Angel fencing team member Shelby Korobey
You will have opportunities to talk with the athletes. Pictures? Autographs? I only ask that you not bother them during their events. They are in the 'zone' and we don't want to distract them. However, many of them will be around the venue on days they are not competing. They will be more able to talk with you on those days.
There will also be several fencing equipment vendors at the event. If you are shopping for fencing gear this will give you a chance to try on everything before you buy.
The schedule of Division One events:
Friday is Men's Foil starting at 8:00 am
Saturday is Men's Epee starting 8:00 am and Women's Foil starting at 1:00 pm
Sunday is Men's Saber starting at 8:00 am and Women's Epee starting at 8:00 am
Monday is Women's Saber starting at 8:00 am
Shelby and Corey are competing in the Junior Women's Foil event on Monday starting at 12:00 noon.
PS: The location is the downtown convention center next to the football stadium — America's Center Convention Complex.
You'll like it. I promise.
December 6, 2015 - Pearce Wilson

A cold night fencing in an alley in Millstadt, Illinois with Gateway Death Angels fencers Corey Kilgallon and Tyler Forsythe.
An angel or a flying lunge? Can't it be both?
November 28, 2015 - Pearce Wilson
Kellen, one of our 8 year old fencers, practices her flying lunge at tonight's grade school class.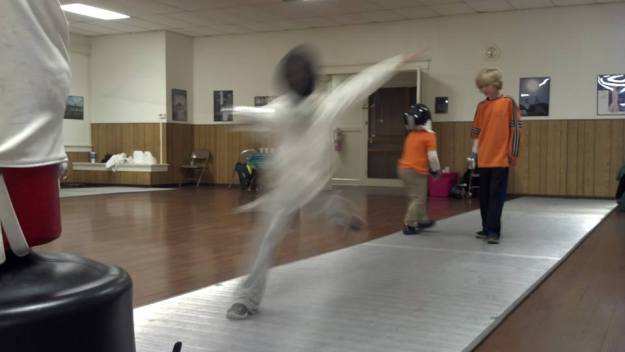 She believed she could, so she did.
November 19, 2015 - Pearce Wilson

Gateway Death Angel fencer Corey Kilgallon challenges the sea
Great tournament for us at Vanderbilt University in Nashville TN.
"Take a stab at fencing."
November 18, 2015 - Pearce Wilson
Good article from Moms Team Institute of Youth Sports Safety.
http://www.momsteam.com/sports/introduction-to-fencing
Cobra Foil Fencing Trainer (beta) response time tool video demo
November 17, 2015 - Pearce Wilson
Entertaining a crowd on Rue St. Louis
November 12, 2015 - Pearce Wilson
Halloween in the French Quarter. New Orleans loves them some fencing! We were asked multiple times to fence for people. This clip was shot on Rue St. Louis. Everyone was having such a great time. It was wonderful to be able to entertain them.

Florida beach fencing video clips
November 12, 2015 - Pearce Wilson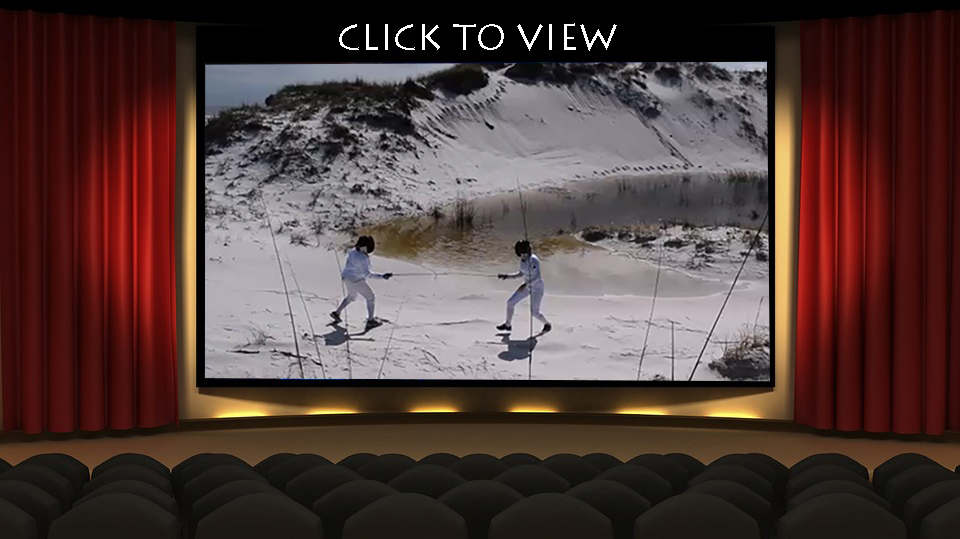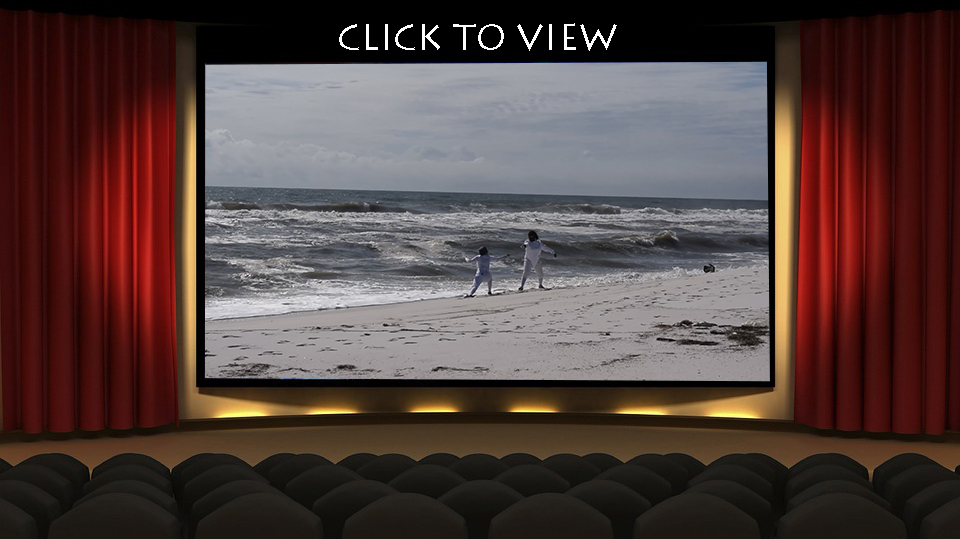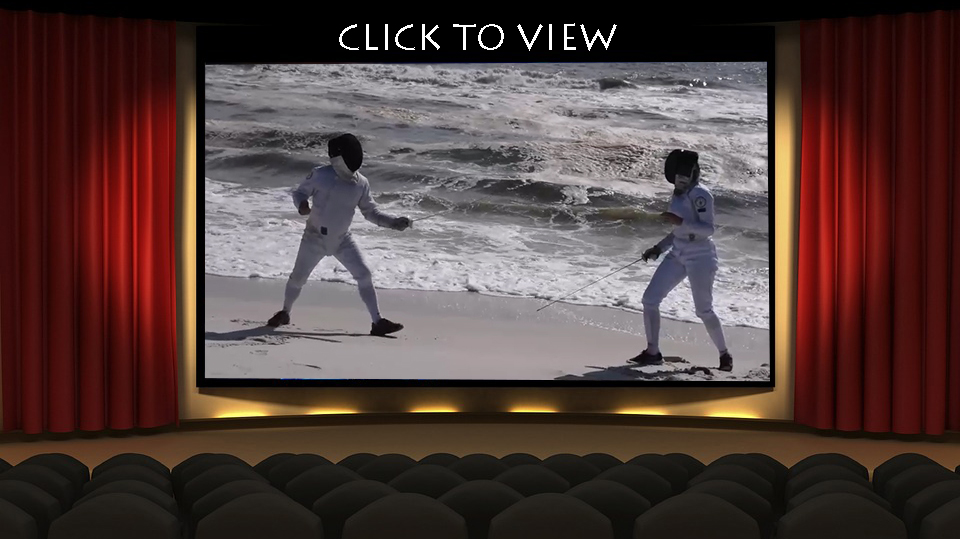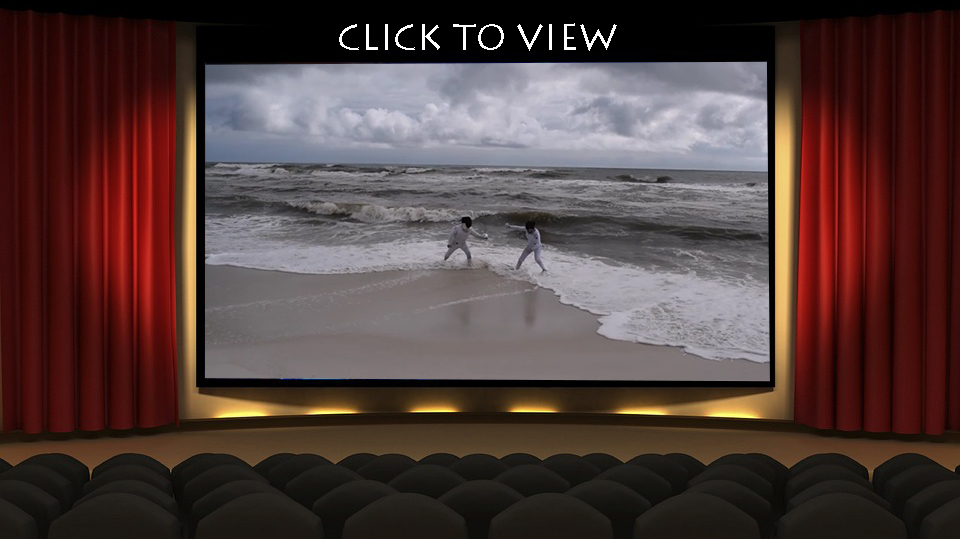 Have sword will travel.
November 12, 2015 - Pearce Wilson
After our time in New Orleans the Gateway Death Angels fencers headed to Florida for fencing in the sand and surf. We were unable to visit historic Fort Pickens. The hurricane that hit the week before we got there left 5 feet of sand covering the road to the fort. Still, sunny skies and warm seas made for a wonderful trip!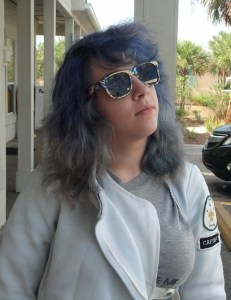 All trips to Florida must begin with a purchase of new sunglasses.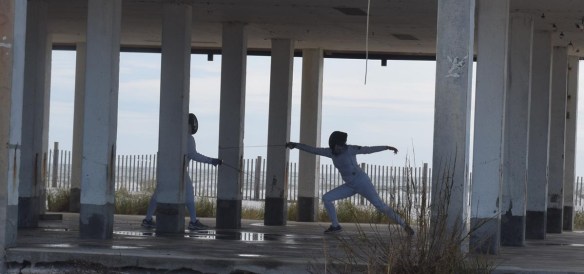 On our way to the beach we came across this abandoned building - FOR SALE! Big enough for 5 strips times three stories. Beach side fencing school anyone?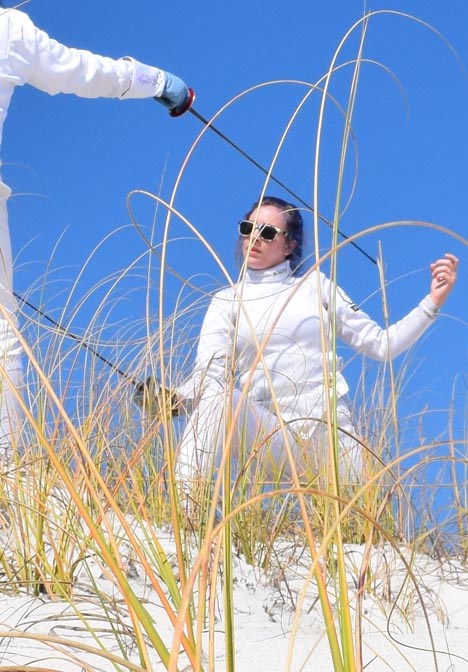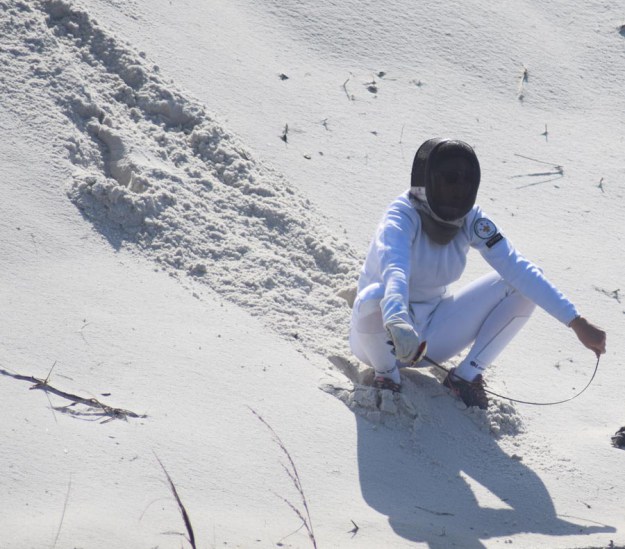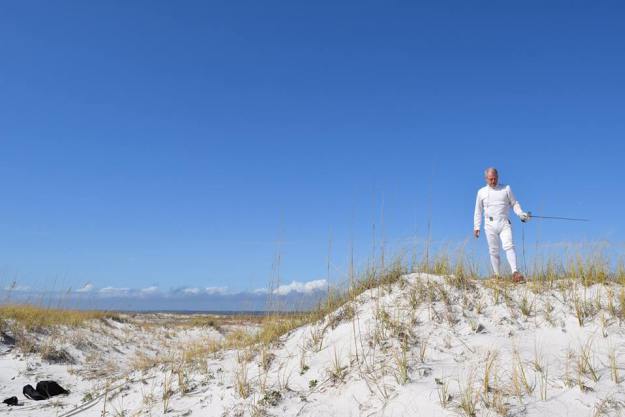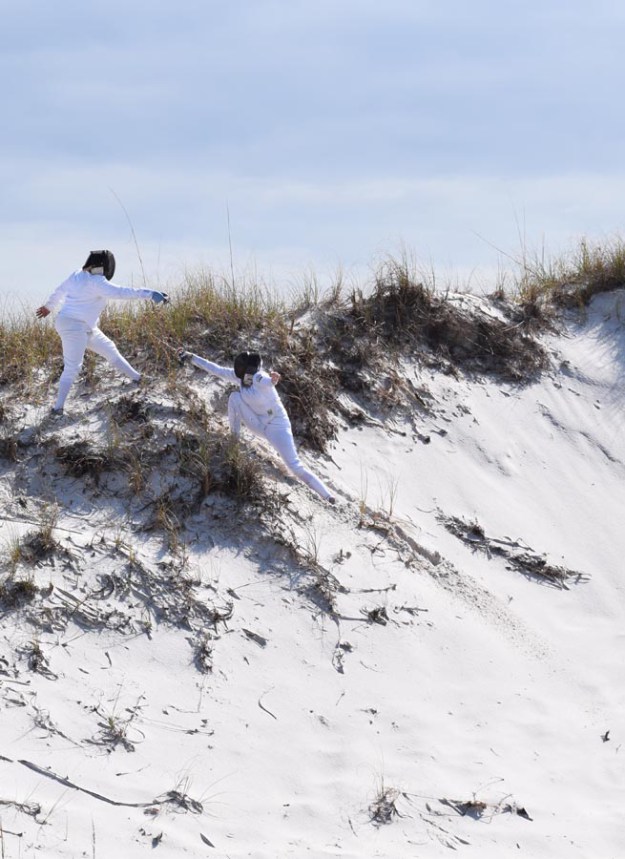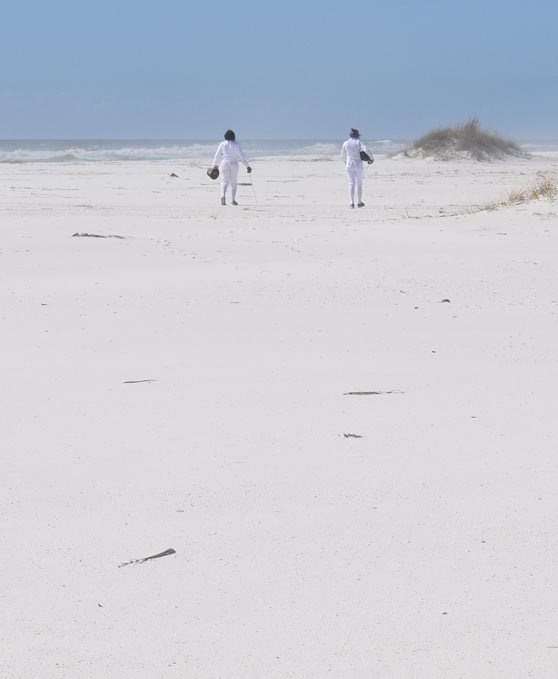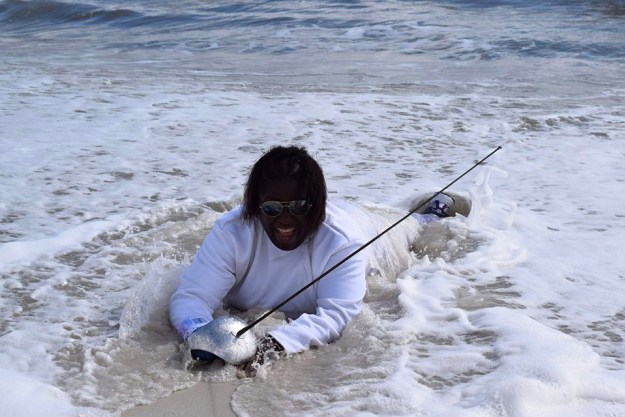 Miss November?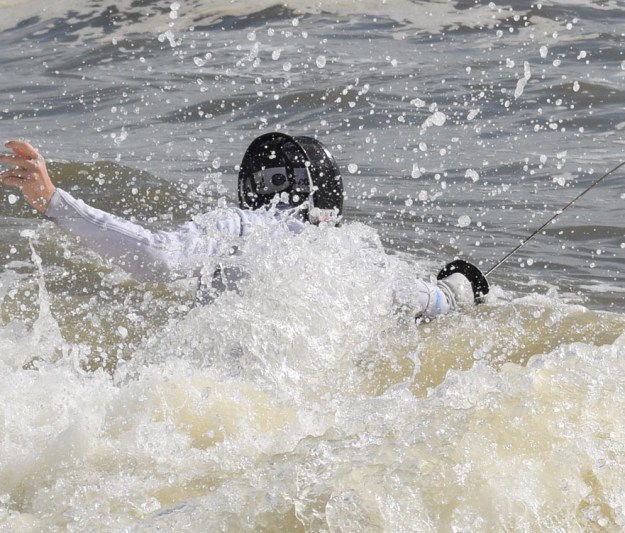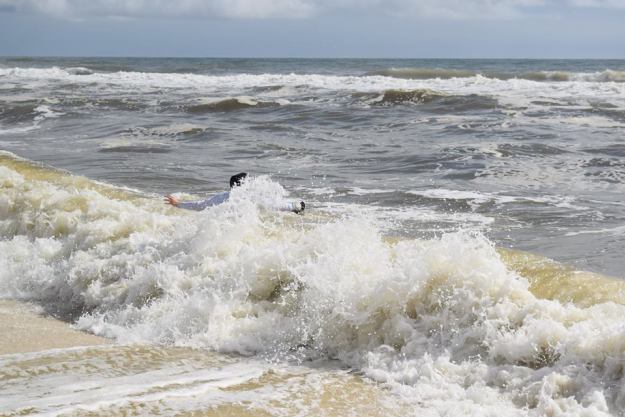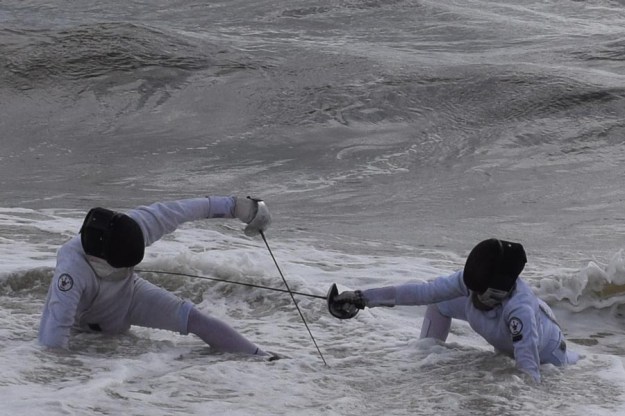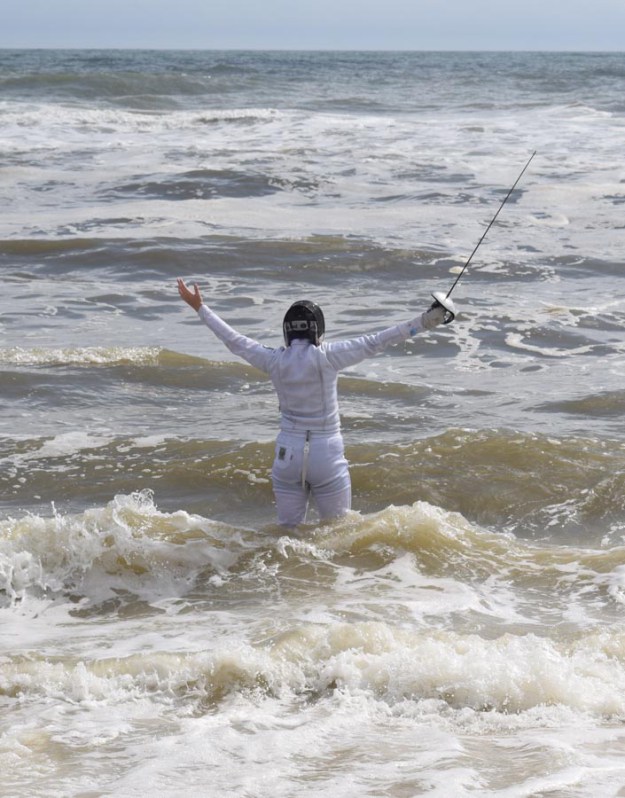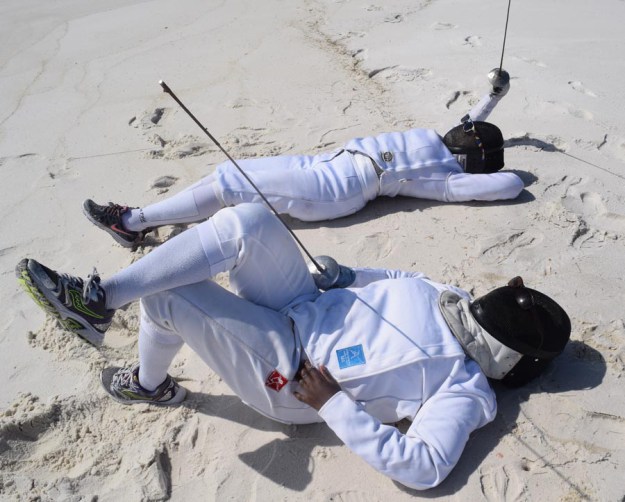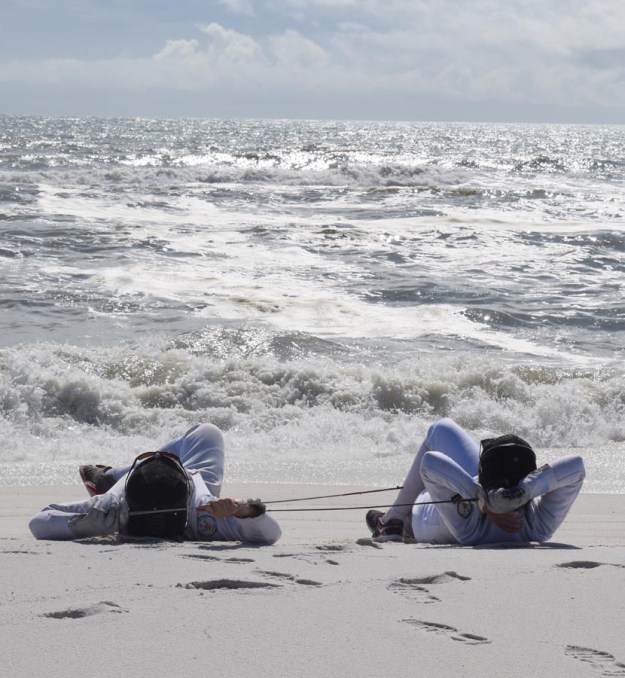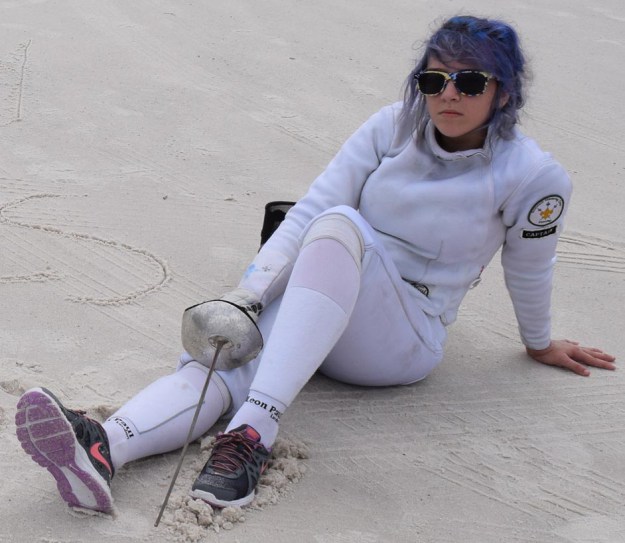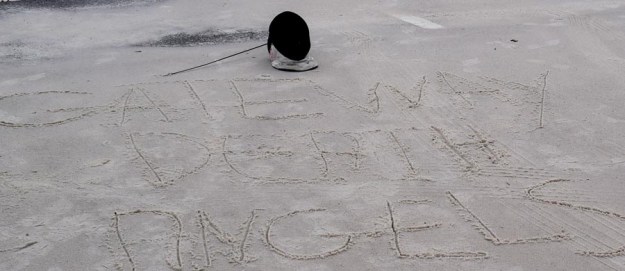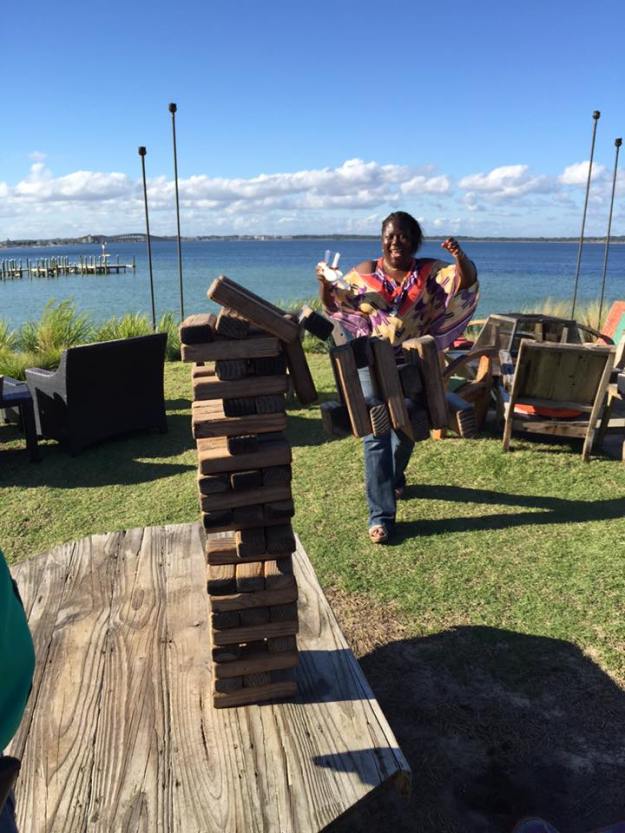 It wasn't all fencing all the time. We stopped at a bayside restaurant for lunch, cocktails and Jenga.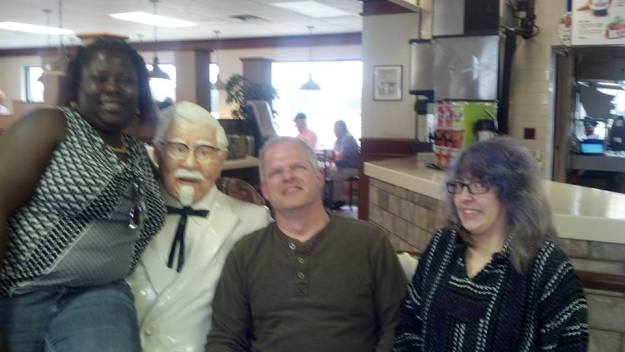 After a non-stop week it was time to head home but not before asking the Colonel to whip up 3 KFC Double-Downs - special order!
Crescent City Fencing – Halloween in the French Quarter
November 11, 2015 - Pearce Wilson

We arrived in New Orleans Friday afternoon. Checked into the hotel, then made a beeline to the French Quarter for dinner and some sightseeing.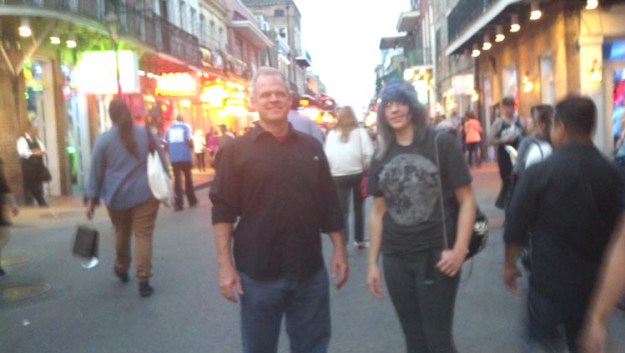 Of course we are searching for Jean Lafitte!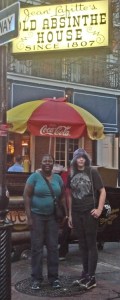 After dinner we stopped at Cafe Beignet for some dessert and jazz. But we couldn't stay long. We fence early the next morning.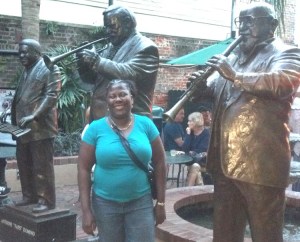 After the tournament on Saturday morning we headed back to the French Quarter for pictures and fun. It's Halloween after all!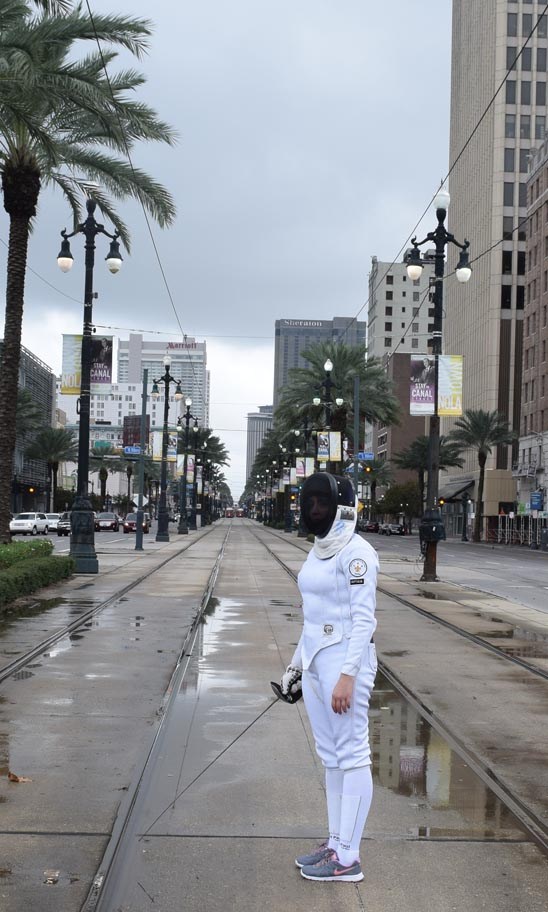 We had to search long and hard to find a place that served non-alcoholic pina coladas. Success!


Then off to Chris Owens Blues Bar for some jazz and dancing on stage ala Saturday Night Fever.


Fencing in the rain? Why not?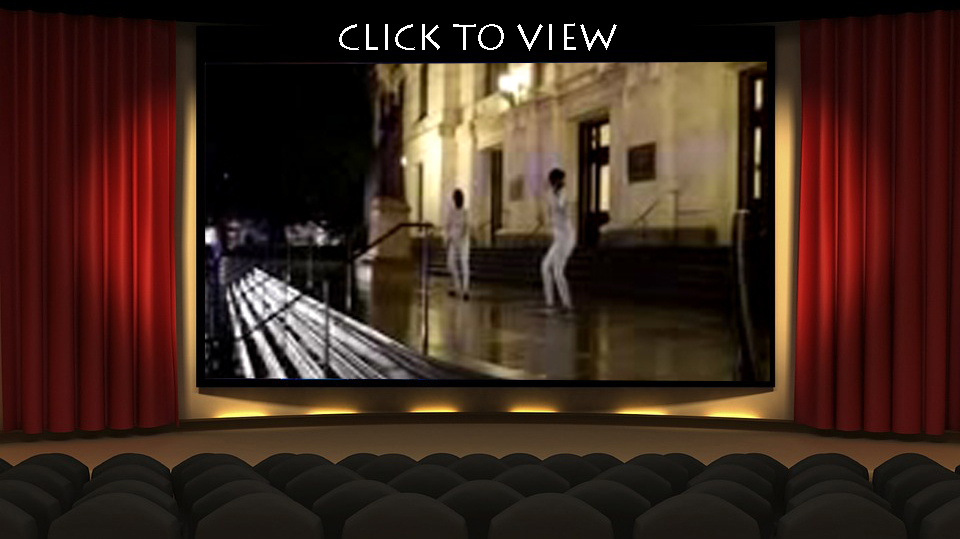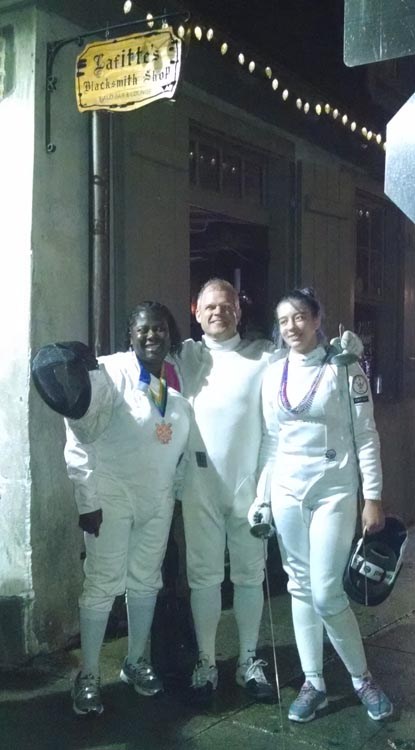 More clues to the whereabouts of Jean Lafitte?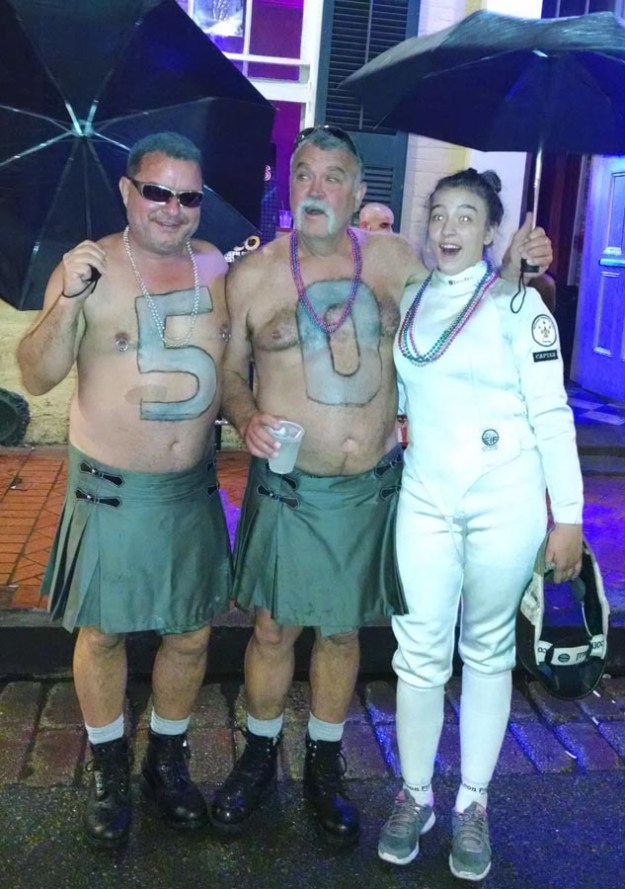 We were not the only ones having fun in the French Quarter. These guys were a blast!
Jazz and Beignets
November 2, 2015 - Pearce Wilson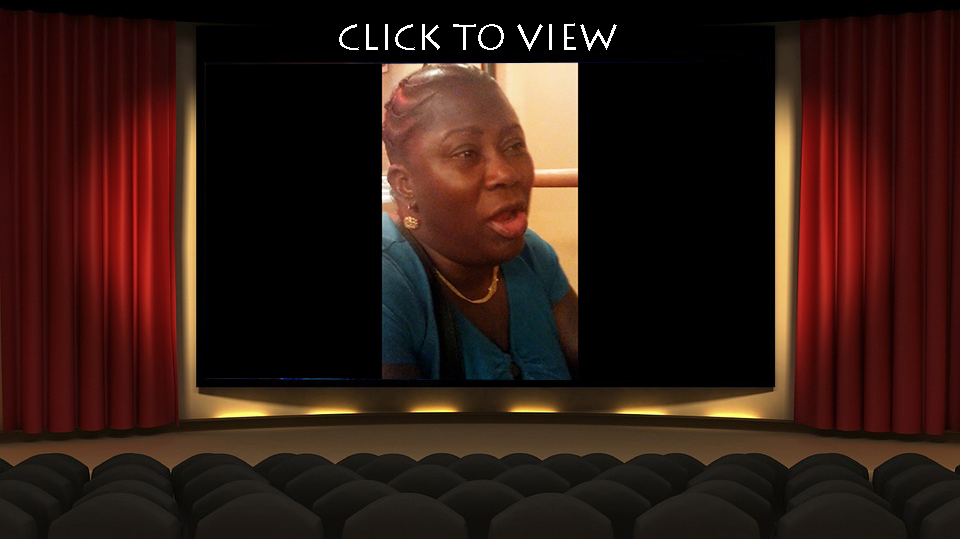 More new training tools under development
October 28, 2015 - Pearce Wilson
The Reapers team logo
October 24, 2015 - Pearce Wilson
Looking into shirts and patches with the new logo.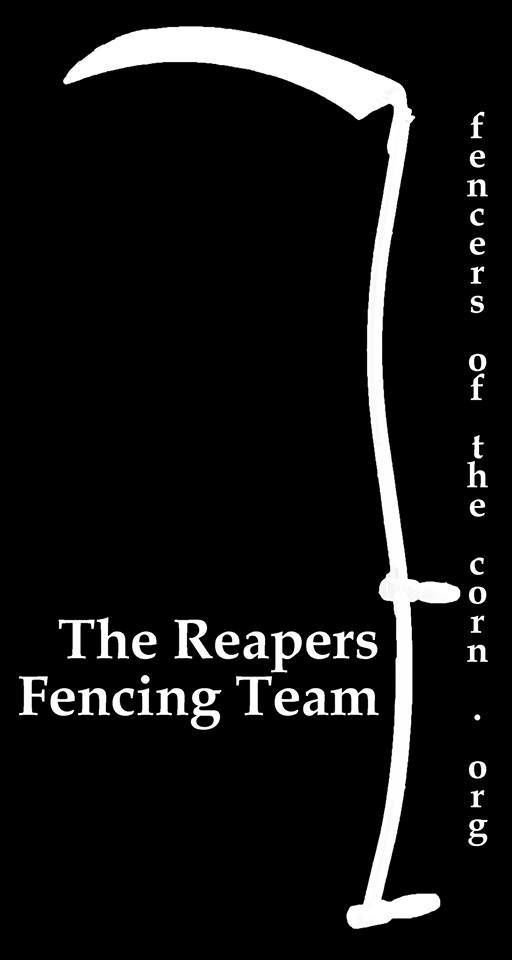 We love fencing in famous places!
October 21, 2015 - Pearce Wilson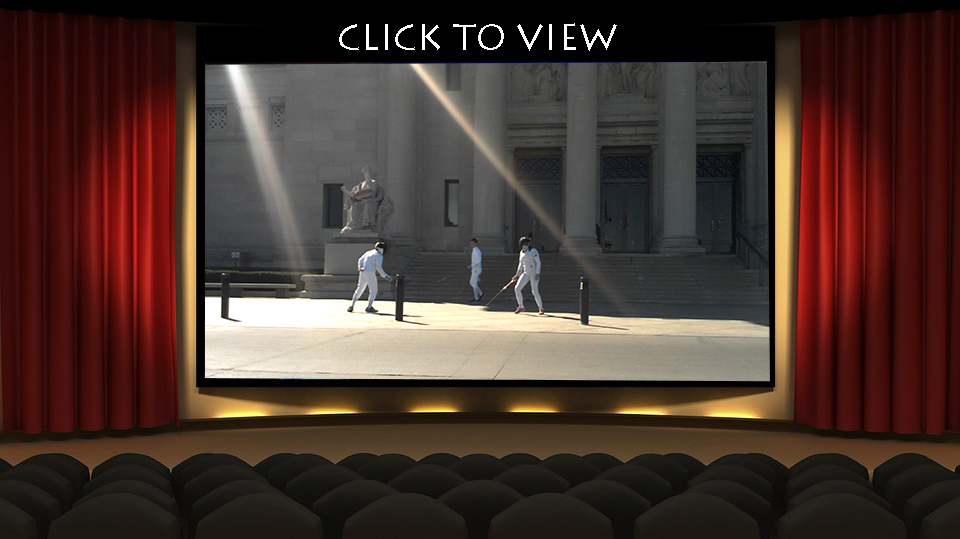 Fencing in the Olympics: Entertaining a TV audience.
October 21, 2015 - Pearce Wilson
A minor controversy is brewing in the fencing world.
Word comes down from the international fencing governing body, the FIE, regarding a current fencing rule called, "Non-Combativity".
Non-Combativity is a situation where during a bout both fencers have signaled their unwillingness to fight. It is a stalling tactic. In practice, there are strategic reasons a fencer might want to kill the clock. However, like the old stall tactics in basketball, it can be boring to watch for an uninformed TV audience.
The Olympics is about entertaining a TV audience.
According to rumors (I'm calling them rumors because I have no first hand knowledge) the International Olympic Committee has warned the fencing world that if there is a bout with non-combativity during the Olympics next summer, fencing will be kicked out of future Olympics.
The suggestions I've seen are that both fencers will be penalized for non-combativity with a yellow card warning for a first offense. The second offense will be a black card expulsion from the tournament. This is the same penalty awarded to non-violent bad sportsmanship offenses. That is about as serious as a fencing penalty can get.
Fencing needs the Olympics. If the rumors are true, expect changes to the non-combativity rule in next few months.
Fencing IS art!
October 19, 2015 - Pearce Wilson
A beautiful day to fence on Art Hill in Forest Park, St. Louis.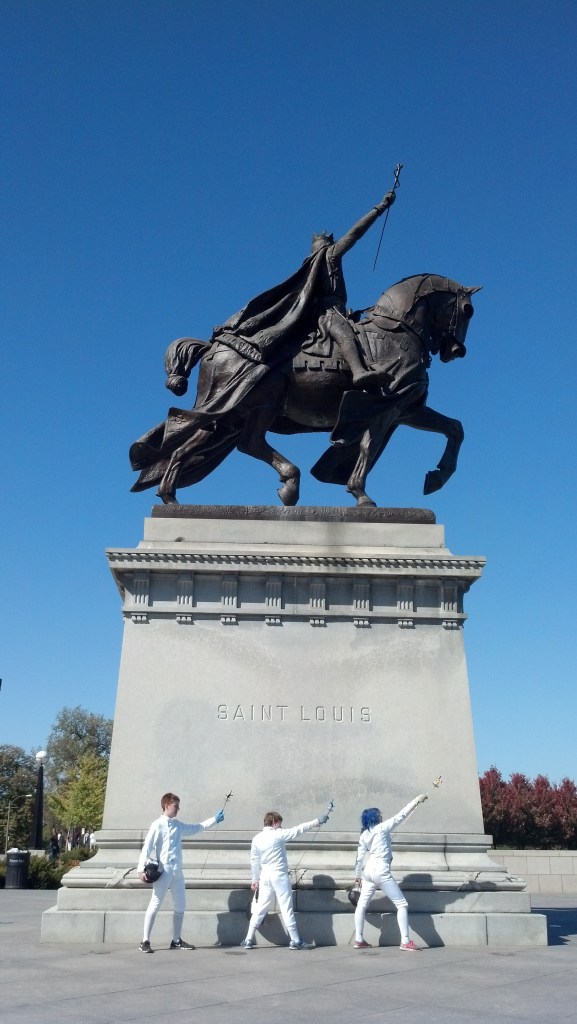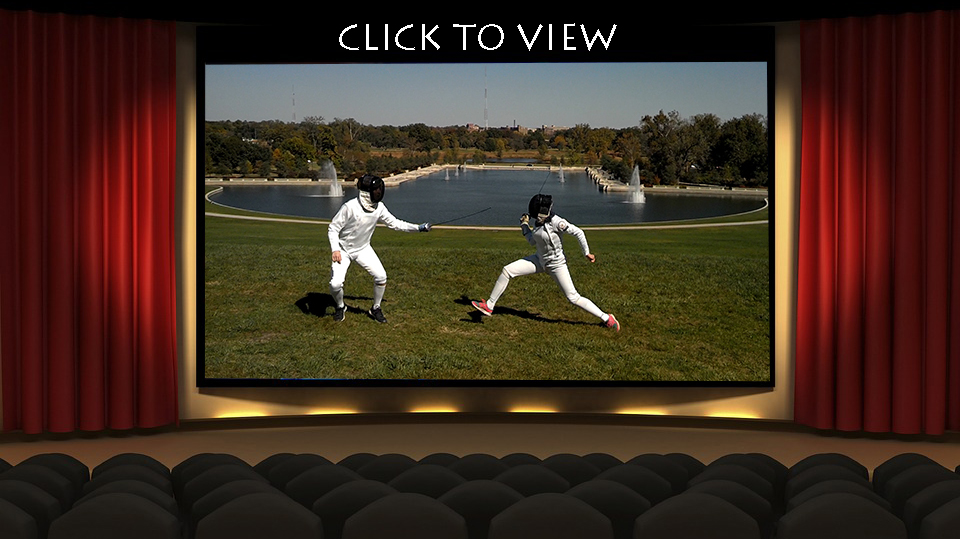 Fencing demonstration to the public
October 16, 2015 - Pearce Wilson


Gateway Death Angels Team fencers Corey Kilgallon and Tyler Forsythe will be demonstrating fencing this Sunday from noon to 1:00 in Forest Park in St. Louis.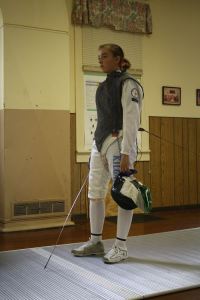 If you have ever wanted to see real fencing up close, this is your chance.
Gateway Death Angels announces newest roster addition
October 15, 2015 - Pearce Wilson
Gateway Death Angels Fencing Team announces addition to its 2015/16 season roster, Shelby Korobey.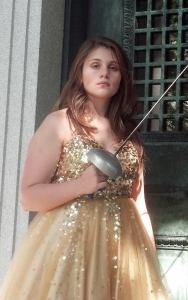 Korobey is a 5'4" right handed foilist from Fairview Heights, Illinois. She is a 2 time Junior Olympian. She also fences epee. Coach Wilson's comments about Korobey, "Shelby has been working on her physical conditioning with cross training. This has improved her speed and endurance considerably. Shelby faced some of the best fencers in the world this past year but make no mistake, we still have room to improve. Her physical skills are there but I want to see an increased awareness of strategy and tactics in her bouts. It's not enough to be fast and strong, a fencer has to be crafty."
The Gateway Death Angels Fencing team is drawn from the young adult competitive fencers of the Fencers of the Corn Fencing Club.
If you would like a fencing demonstration or a fencing class for your school, business or organization contact Coach Wilson at fencersofthecorn@gmail.com or at 314-974-3078.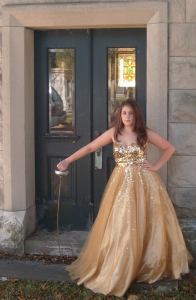 A magical place.
October 15, 2015 - Pearce Wilson
18 x 24 posters.
One.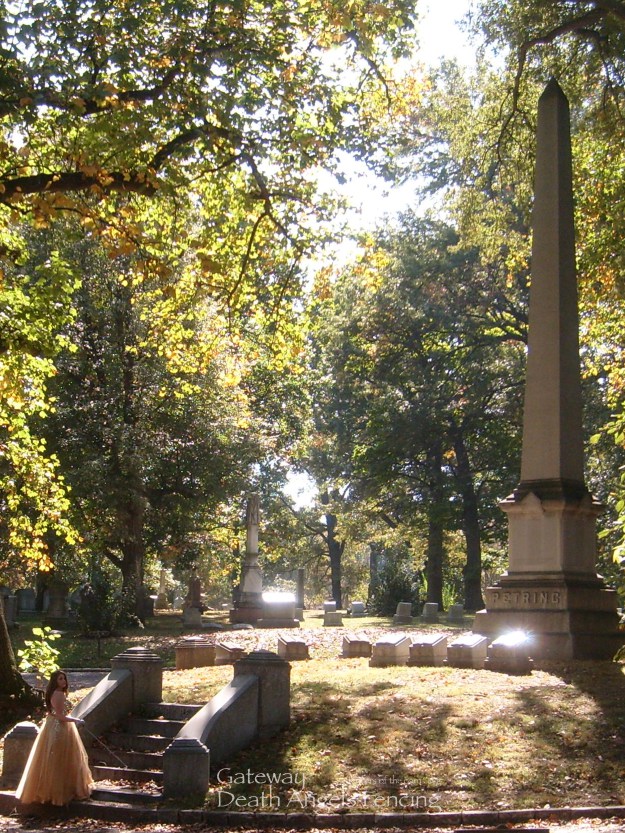 Two.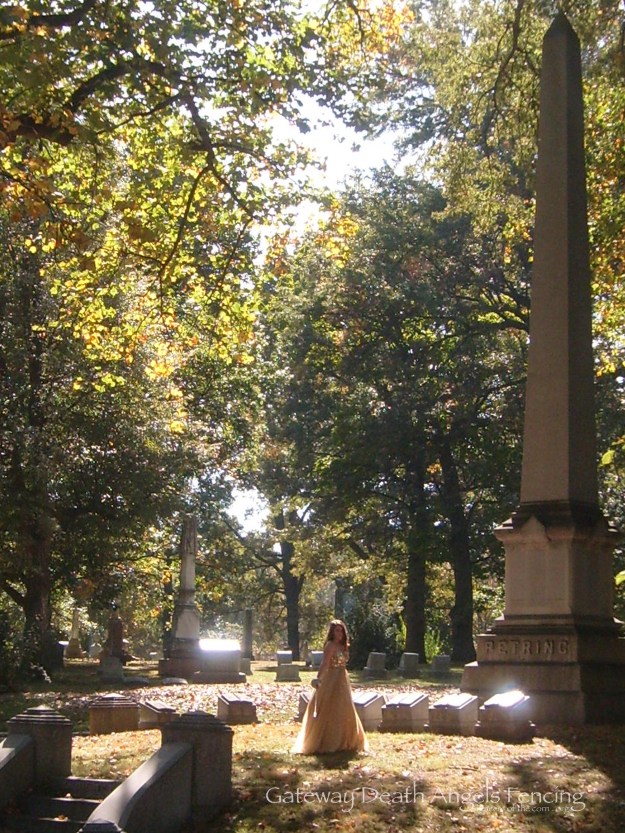 Swords and Pipes at Dusk
October 12, 2015 - Pearce Wilson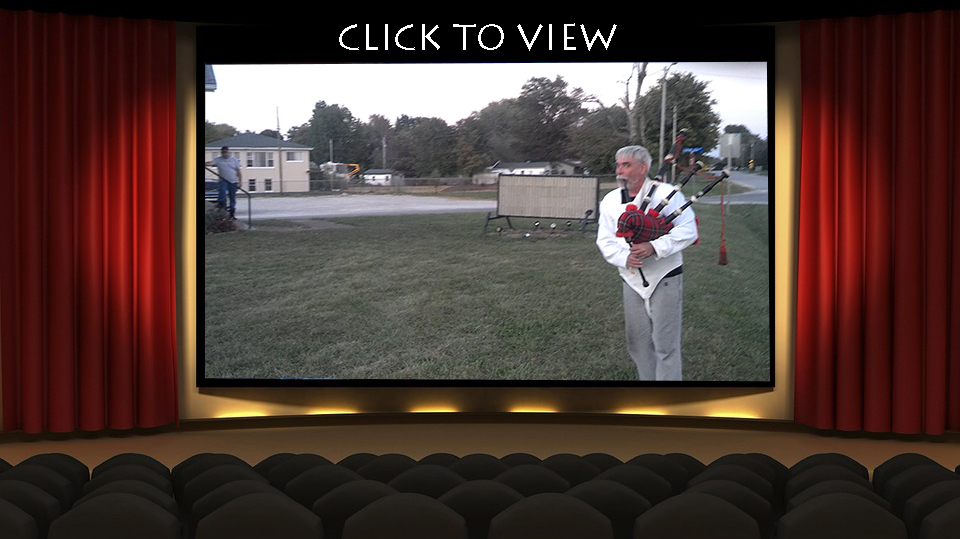 Great tournament for us at Vanderbilt University in Nashville TN.
The Search for Jean Lafitte
October 8, 2015 - Pearce Wilson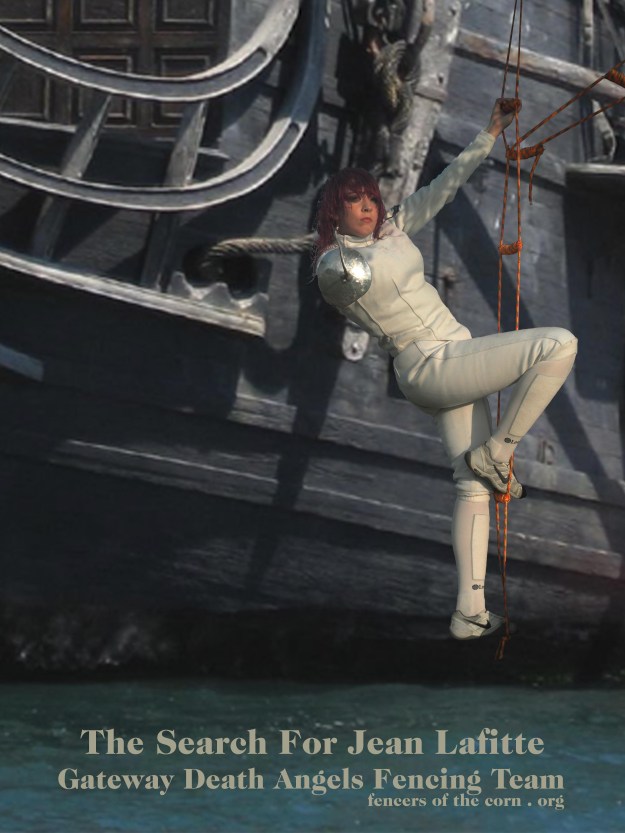 The Gateway Death Angels Fencing Team will make their first competition foray with a trip to the National Championship qualifier in New Orleans over Halloween weekend. While there we intend to involve ourselves in some typical pirate skulduggery with a swashbuckling swagger befitting the famous pirate Lafitte!
Notorious New Orleans resident, pirate Jean Lafitte, sometimes ally, sometimes enemy of the United States Navy may have a local tie-in. We have discovered articles that make a persuasive case that in his later years Lafitte faked his death, took on an alias and moved to Alton Illinois.
www.altonmuseum.com/newsletterSummer2010.pdf

Jean Lafitte
On the inside front covers of the family Bible, a handwritten family history records that Jean Lafitte married Emma Hortense Mortimore in 1832, and that he died on May 5, 1854 and was buried in Alton, Illinois.
Lafitte changed his name to Laflin to elude the British. He settled in St. Louis, where he operated a gunpowder and gun store on the riverfront. He later moved to Alton, Illinois, where he was in the lumber business.
therecordlive.com/2009/04/29/jean-lafitte-legendary-gulf-pirate-is-some-of-his-gold-still-buried-here/
The latest theory, based on the recent discovery of a "diary," is that when the camp in Galveston was destroyed by a hurricane, Lafitte married and moved up to Alton, Illinois. There he became passionate about furthering the cause of the working man.
www.carnaval.com/lafitte
Some say Jean Lafitte's Brother Pierre died in Missouri in 1844 and was buried in St. Louis. Pierre's children have been quoted as saying that their "esteemed" uncle changed his name to Jon Lafflin and dropped out of sight
Here is one more article on the subject: The Journal of Jean Laffite: Its History and Controversy: digitalcommons.kennesaw.edu/cgi/viewcontent.cgi?article=11268&content=provenance
The Reapers Fencing Team
September 29, 2015 - Pearce Wilson

The Fencers of the Corn is proud to add the Reapers Fencing Team to our club family.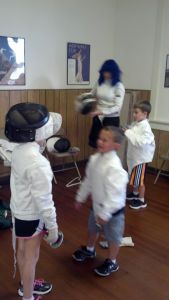 With the addition of youth fencing classes it is time to update our team name. We plan to drop the Millstadt Venture Crew team name at the end of 2015 and move to the Reapers.
The Gateway Death Angels will continue to be our special team for our adult serious competitors.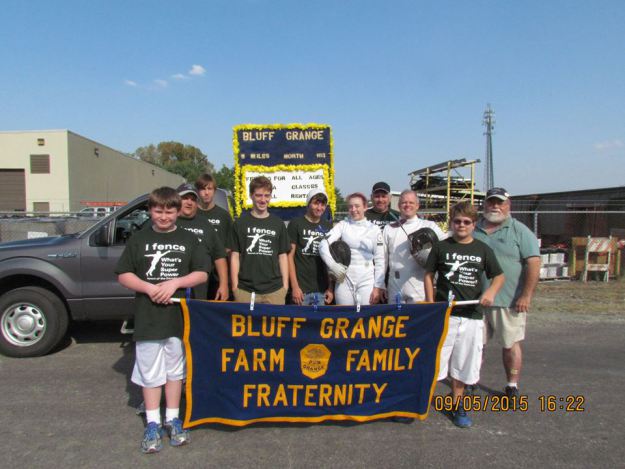 Fencers from each of the Fencers of the Corn teams: The Reapers, Millstadt Venture Crew and The Gateway Death Angels.
Awesome video on fencing!
September 28, 2015 - Pearce Wilson
The two fencers featured are from the Chicago area and you will see them fencing and refereeing in our region. Watch for them! http://touchvision.com/video/106339
Congratulations to Lane Demick
November 12, 2015 - Pearce Wilson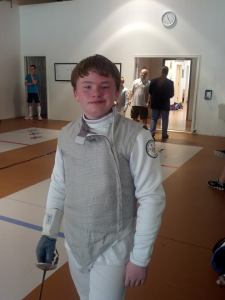 Lane wins the gold medal today in the Y14 foil competition hosted by Buccaneer Blades Fencing in Wentzville, Missouri. Lane has previously competed in one unofficial event but this was his first real tournament. Lane has been training with the Fencers of the Corn for a few months and is learning fast. Lane was undefeated on the day.
Fencers of the Corn Assistant Coach, Corey Kilgallon was on hand for strip side coaching. This was her first time in this official capacity. She did a great job.
Our thanks to Buccaneer Blades for hosting the event.
First flight of the new Gateway Death Angels fencing team
September 22, 2015 - Pearce Wilson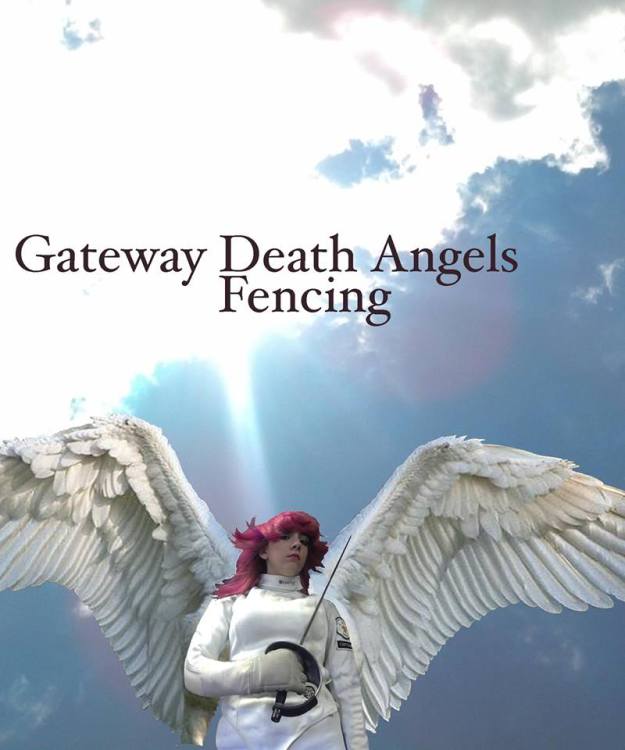 Gateway Death Angels Fencing Team announces the first two members of its 2015/16 season roster, Tyler Forsythe and Corey Kilgallon. The GDA fencing squad is reserved for our most serious young adult competitive fencers.



Ty Forsythe is a 5'10" left handed foilist from Freeburg, Illinois. GDA Coach Pearce Wilson describing Forsythe, "Ty has a promising future in the sport of fencing. Physically he is ready and he has the intelligence needed to be a great fencer but he will have to work hard this season to improve his blade skills."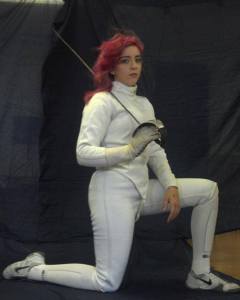 Corey Kilgallon is a 5'6" right handed foilist from Millstadt, Illinois. Kilgallon is a 2 time Junior Olympian. Said Coach Wilson about Kilgallon, "We treaded water the last two years with Corey's growth as a fencer while I was occupied developing the McKendree University fencing program. I couldn't give her the coaching attention she needed. I am happy to be back coaching her full time. Corey will start the season on injured reserve. She is recovering from a non-fencing related foot injury and she is not ready to compete. I expect to enter her in some small rehab competitions by late October." Besides her competitive fencing career, Kilgallon served one year as Assistant Coach for the McKendree University Fencing Team while still in high school. She currently teaches fencing classes at the Fencers of the Corn Fencing Club near Belleville where she is Assistant Coach.

The team will continue to add athletes to the roster in the coming weeks and months.

The Gateway Death Angels fencing team is available for demonstrations.
If you would like to have our athletes put on a demonstration of Olympic fencing at your school, business or organization please email: fencersofthecorn@gmail.com
New classes forming now!
September 11, 2015 - Pearce Wilson
How do I join? Easy!
Call Coach Wilson at (314) 974-3078 or email us at: fencersofthecorn@gmail.com
The classes do not have a defined start and stop date so don't worry about missing a first class or two.
Adult Women Fencing class
Coed Adult Fencing class
6-9 year old fencing class
10-13 year old fencing class
Advanced Fencing class for competitive fencers
Fitness class designed for competitive fencers
Tai Chi class
And we have expanded the open fencing practice sessions to 4 hours a night, two nights a week.
Day, Time and Cost Details — Click Here.
September 15th classes to be rescheduled
September 10, 2015 - Pearce Wilson
Above the post update
And now we know why were were invited to the Annual Dinner. Our own Corey Kilgallon was named the Show-Me State Games Female Volunteer of the Year.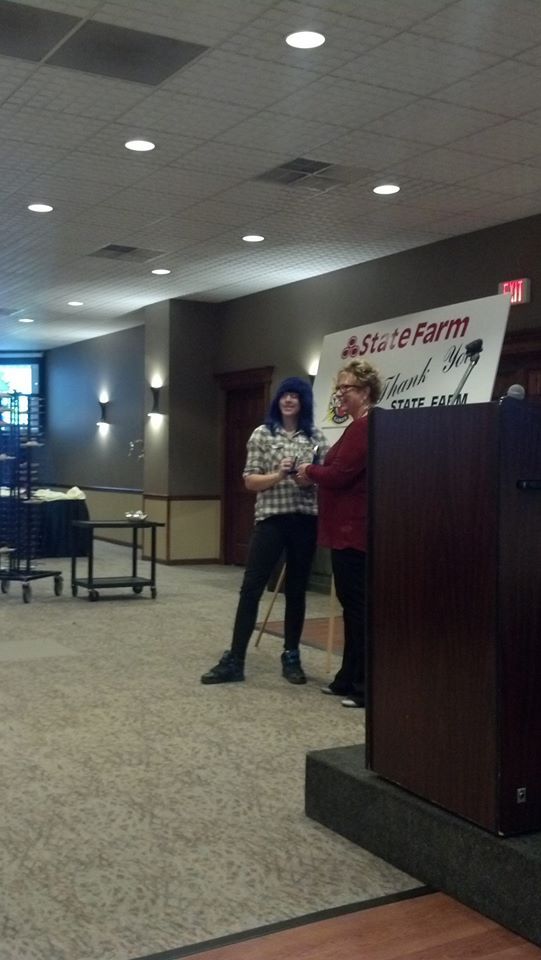 And yes, everyone wants to have their picture taken with Miss Kilgallon!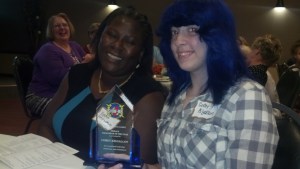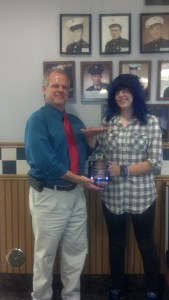 The past two years Fencers of the Corn have been among the nearly 1500 volunteers who helped make the Show-Me State Games the largest and most successful state games in the United States. In 2014 the Fencers of the Corn nominated volunteer won the Sportsperson of the Year award. In 2015 the Fencers of the Corn nominated volunteer won the Female Volunteer of the Year award.
We don't make you successful. Our job is to get you to that place where you have a chance to be successful. The rest is up to you.
——————————–
Original copy:
The Fencers of the Corn coaches have been asked to attend the State of Missouri/Show-Me State Games Awards Dinner September 15th in Columbia Missouri.
No classes Tuesday September 15.
2015 World Fencing Flash Mob Day
September 9, 2015 - Pearce Wilson
We marched in the Millstadt Homecoming Parade both Saturday and Sunday. As luck would have it, Sunday was World Fencing Flash Mob Day.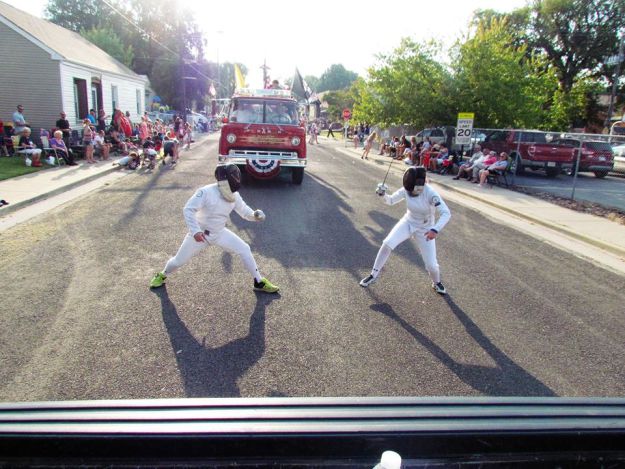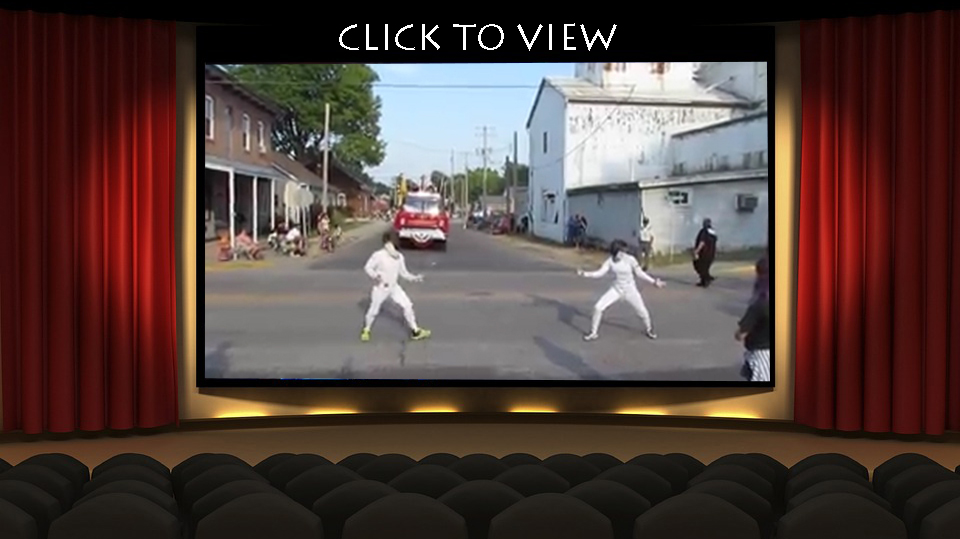 Thanks to Lori Demick for the picture and video!
Seeking talented instructors
September 5, 2015 - Pearce Wilson
Yoga, Dance and Music Instructors Wanted
Music, dance and fencing are strongly correlated skills.
The Fencers of the Corn are looking for more activities to add to the calendar. We are considering adding Yoga, dance and music classes. If you are an instructor and would like to teach a class in your specialty please contact us at fencersofthecorn@gmail.com
New training tools.
September 4, 2015 - Pearce Wilson
We created a series of mobile targets. So far we like how they are working. Our fencers are enjoying using them for warm up before practice.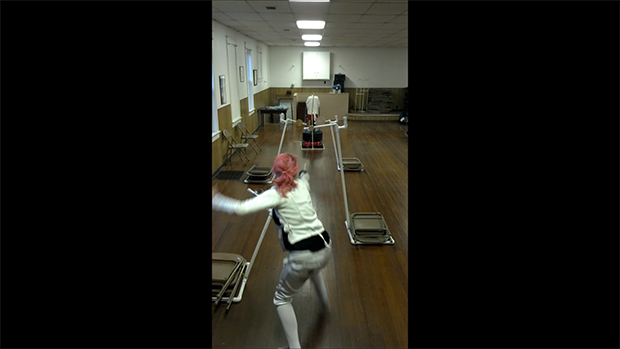 This video had music playing in the background. Due to copyright concerns, we are not archiving this video.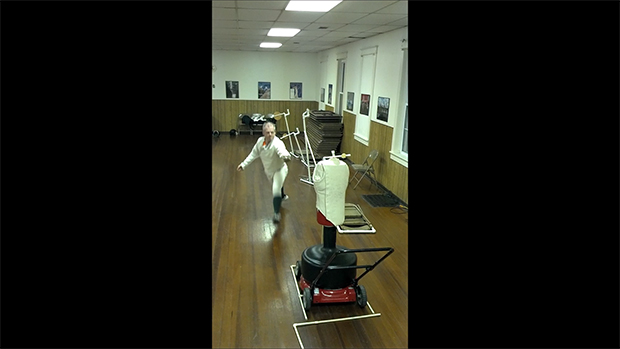 This video had music playing in the background. Due to copyright concerns, we are not archiving this video.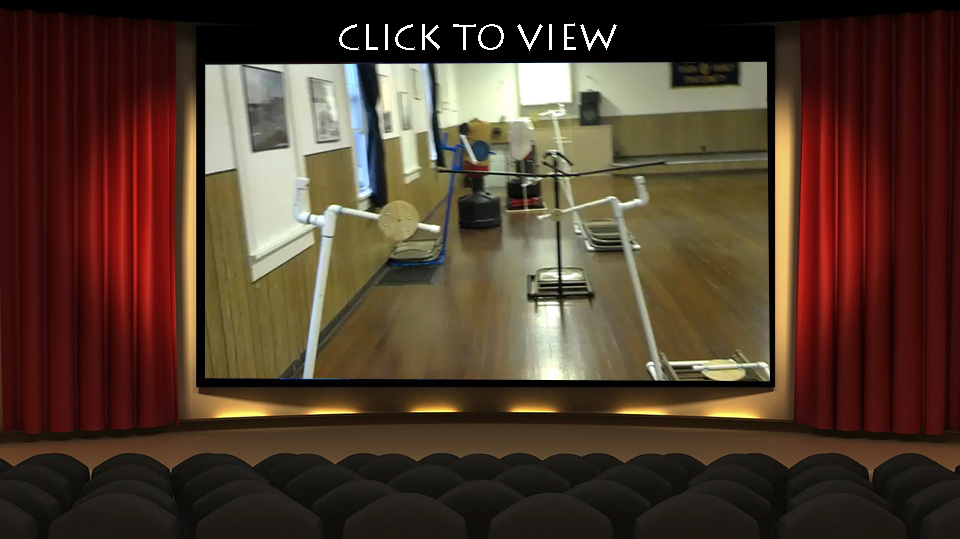 You like us. You really like us!
August 31, 2015 - Pearce Wilson
We got a nice couple emails from a new fencing club on the West Coast asking if they could use some of our Fencers of the Corn pictures and asking if we had a favorite quote we could send them they can put on the wall of their fencing club.
The quote I sent is one our fencers have heard me say over the years, "If the distance is right, any attack is good enough. If the distance is wrong, no attack is good enough."
Fencing is a sport for all ages.
August 30, 2015 - Pearce Wilson
Great story. Yes, older people can do quite well in fencing. It truly is a sport for all ages.
http://www.pressofatlanticcity.com/sports/thrust-of-the-story-cape-may-court-house–year/article_3d4964f8-4df6-11e5-8806-779a785ee5f1.html
We fence. What's Your Superpower?
August 28, 2015 - Pearce Wilson

We Fence. 18×24 poster.

Millstadt Homecoming Parade
August 28, 2015 - Pearce Wilson
We're marching in the Millstadt Homecoming Parade Saturday Sept 5 and Sunday Sept 6. Look for us. Our shirts came back from the screen printers today.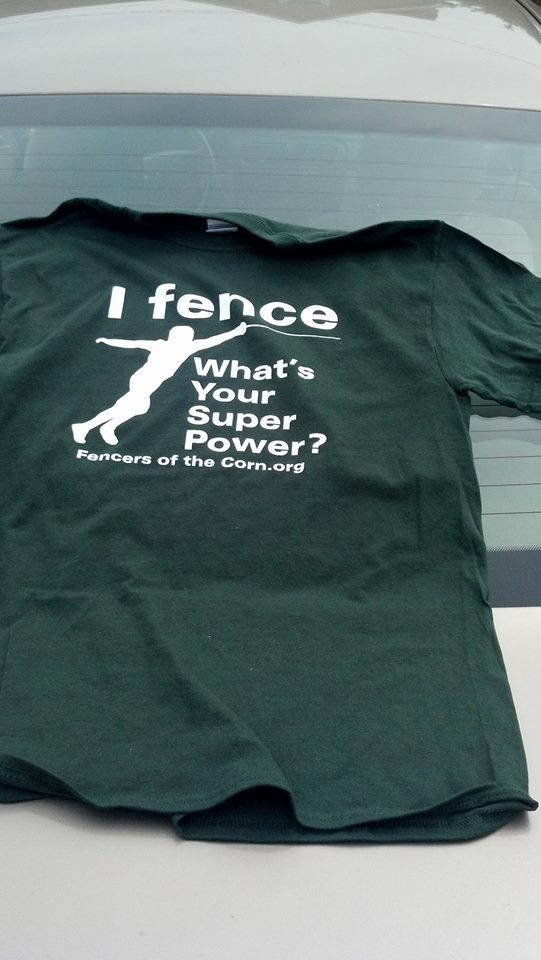 Be fierce. Fence.
August 14, 2015 - Pearce Wilson
New fencer portrait posters. Special perks of being a fencer with the Fencers of the Corn!
Suitable for 18 X 24 inch poster prints. Any of our fencers who want in on this only have to tell us.
First 3 are complete.
Corey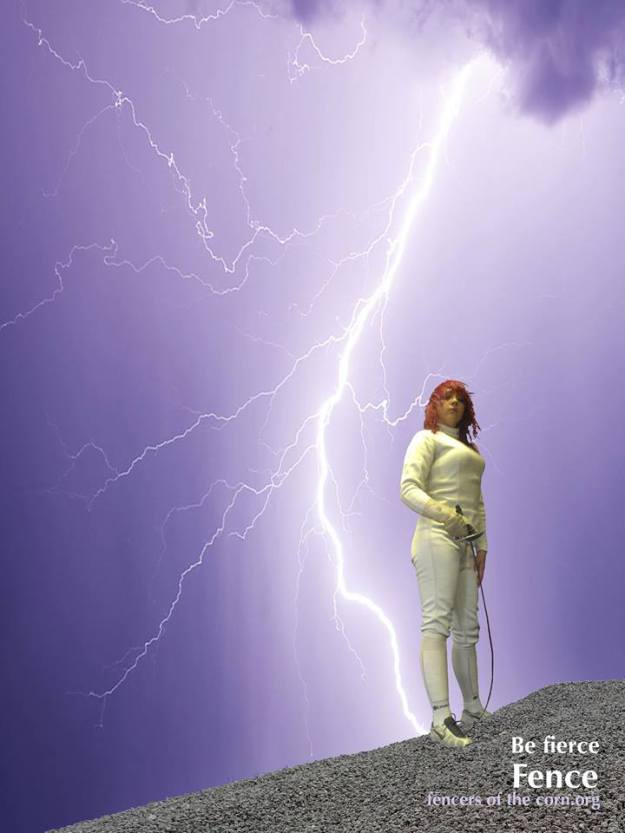 Lane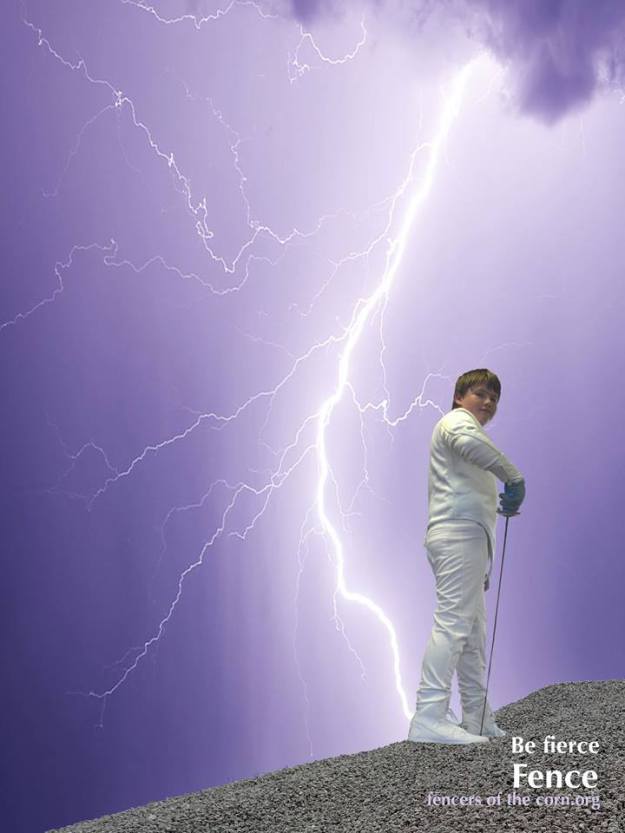 Chance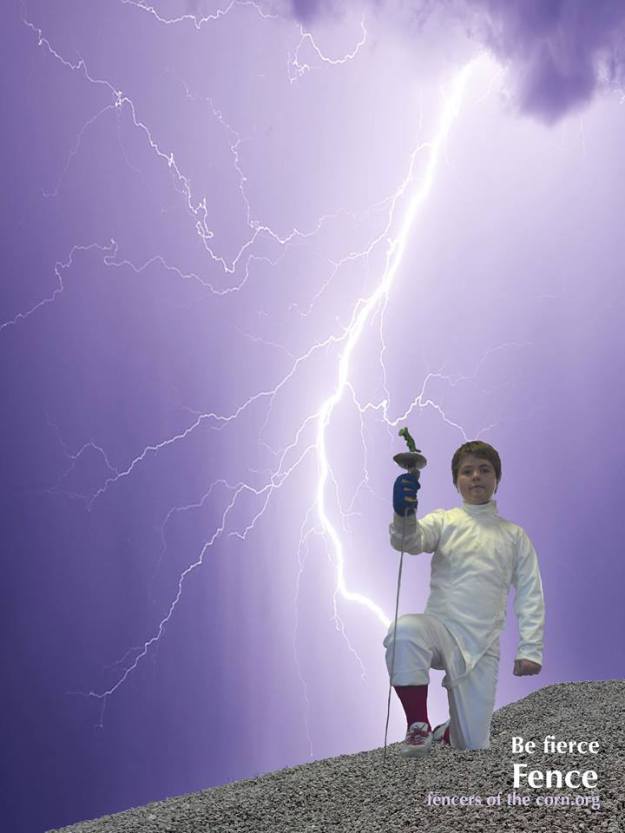 2015/2016 season rules changes
August 8, 2015 - Pearce Wilson
Several changes mostly at the international level having to do with international points and tournament operational requirements that will not have any effect locally.
A couple we already knew about, 2 mask cords required on strip, lose a meter from beginning of attack if step off side.
A change to team competitions where a substituted fencer can in some cases, return to the match.
800 newton saber gloves required for all levels of competition as of October 1st.
A couple more big ones:
Beginning October 1, 2015 for all sanctioned tournaments ALL tournament officials over the age of 18 must have passed the US Fencing background check. Failure to do so can result in serious penalties against the tournament organizers. This appears to cover referees of course but also any person over 18yo working to help run the tournament, be they volunteer or otherwise.
And another change proposed to take effect sometime this season (implementation date TBD), hard plastic chest protectors will need to be covered by a soft material so sword tips don't ricochet off like they do now.
Applying research based fencing training methods
August 7, 2015 - Pearce Wilson
We have been testing the application of training ideas outlined in a paper by UK researchers.
http://www.researchgate.net/publication/235790920_Strength_and_Conditioning_for_Fencing
The paper discusses exercises needed for successful strength and conditioning training of world class fencers. It gives suggestions for a specific training program.
The training program outlined by the researchers is not that different from training we are already doing but their findings suggest a way to combine a variety of training exercises and quantify a fencer's progress from week to week.
The amount of time our fencers have available for training is short. We can't afford a training tool that serves a single purpose. We need a system that simultaneously trains for strength & conditioning AND gives skills reinforcement. We also need a training system that can be executed one-on-one with a coach or in a group setting.
We are adapting their program to sync with our system of Cobra / Mongoose / Tiger.
Last night was our second trial. We don't have it perfected but I like what I see so far.
Fencers of the Corn Youtube channel is up!
August 1, 2015 - Pearce Wilson
I just posted a few short clips. And away we go!
Here is a short one.

Show-Me State Games 2015
July 28, 2015 - Pearce Wilson
We were asked by the State Games of Missouri to run the fencing competition again this year.
Unfortunately, because of vacation schedules and injuries only two of our fencers were able to fence in it. But the rest of us had a good time helping put it on.
We need to thank some friends who without we would not have been able to do it: Chris French, from the Point Fencing Club, Blake Woolley from the University of Illinois fencing team, Parkway Fencing Club, the University of Missouri Fencing team, Geongsik Lee from the University of Missouri/Science and Technology fencing team, and of course our own Yinka Adewale, Tiffany Anderson and Corey Kilgallon.
The venue was courtesy of Columbia College. This picture was taken during the epee competition on Sunday. You can see what a beautiful space this is.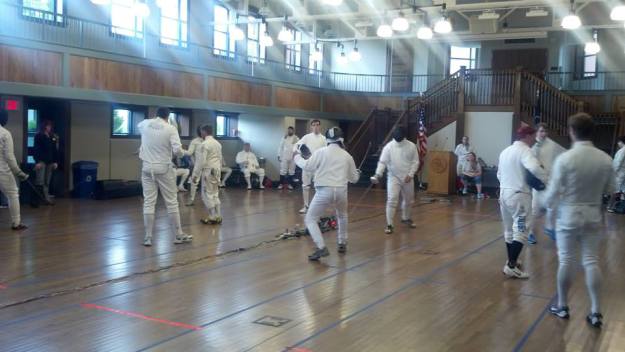 Men's and Women's Saber Medalists: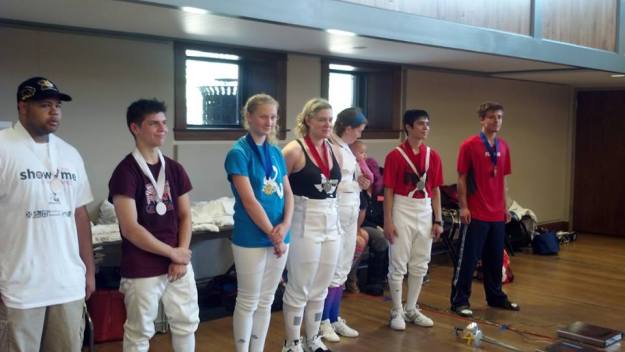 Men's and Women's Foil Medalists: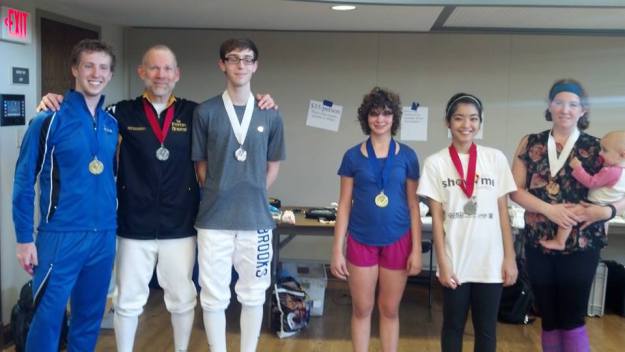 Men's Epee Medalists: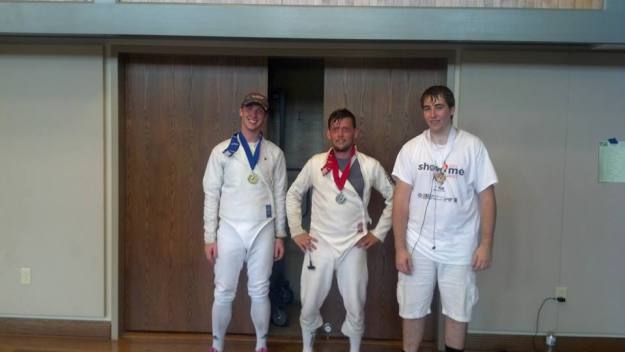 Women's Epee Medalists: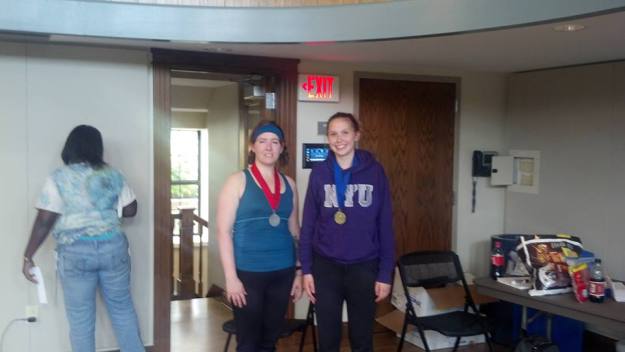 And finally, we had the honor of hosting a fencer from the Philippines. May Montenegro was visiting family in the States and made a special side trip so she could fence with us.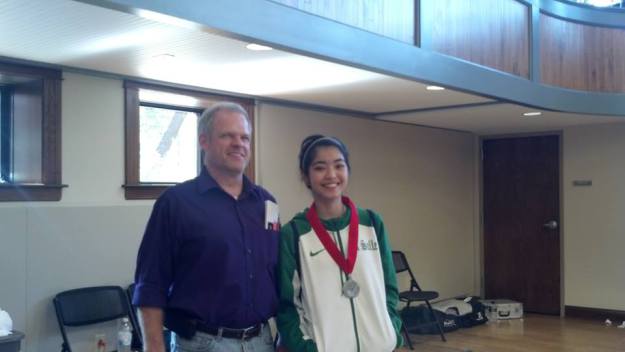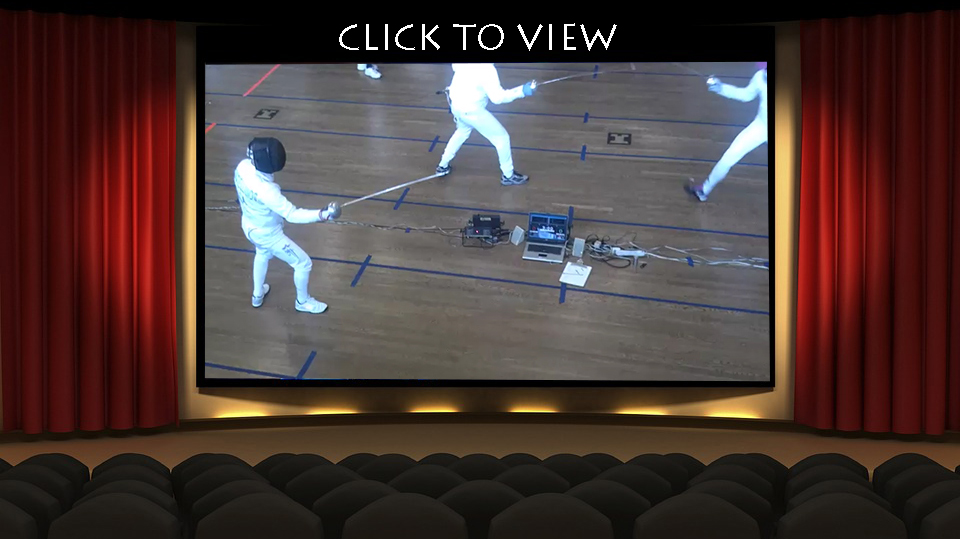 Fencers of the Corn Rally Squirrel?
July 28, 2015 - Pearce Wilson
If the St. Louis Cardinals baseball team can have a mascot rally squirrel, why can't we?!


(We found this on the internet with no ownership attribution. If you are the photographer, you did a great job with this! But if you want us to take it down, please email us.)
The Pirate!
July 15, 2015 - Pearce Wilson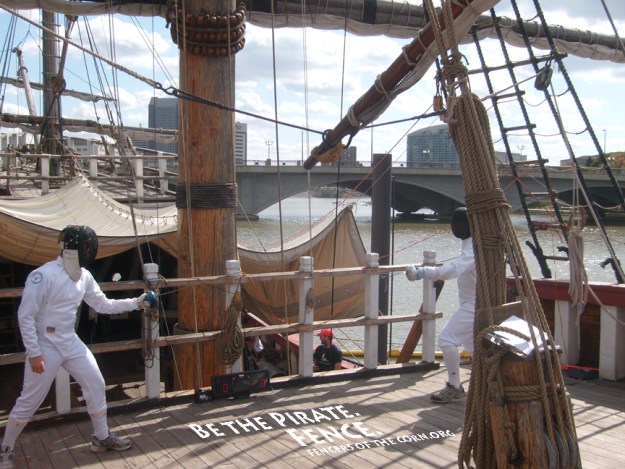 his is from a tournament on the docks of the Scioto River in downtown Columbus Ohio a few years ago. The fencers are on the top deck of the full size replica of Christopher Columbus' flagship The Santa Maria, that is moored there.
The fencer on the left is our Brett Beussink. Brett was a high school junior at the time of this picture. He graduated from Illinois State University, Spring 2015.
They held the main tournament on the docks in front of the ship. Then they held an additional 'one-touch' epee event on the top deck of the Santa Maria.
This was a VERY cool tournament!!! Probably the best we have ever attended.
Yes, fencers are that awesome!
June 27, 2015 - Pearce Wilson
I threw these together to show our fencers some ideas of what we could do with team photos. We received much positive feedback from other clubs around the world. Yeah! Anyway, here they are:
In the cornfield out front of our practice facility.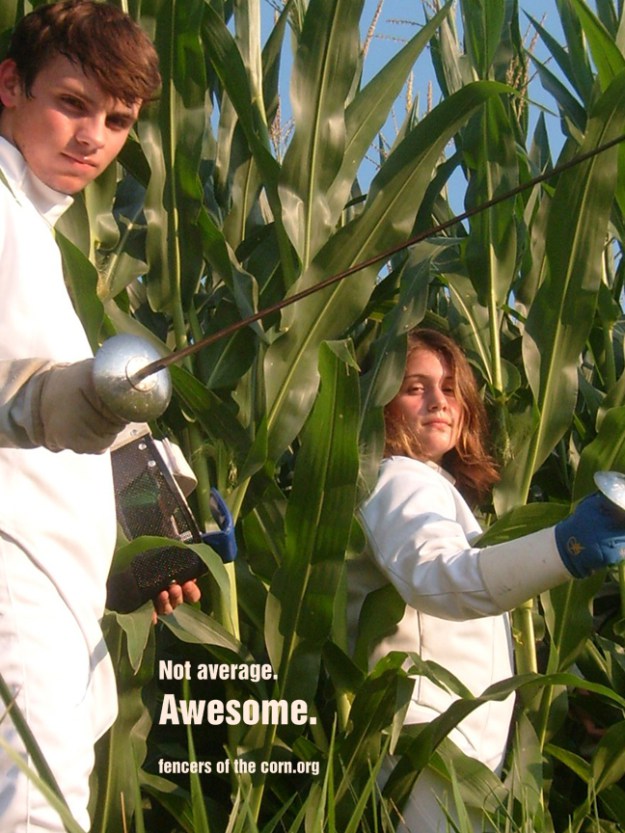 The Grand Basin and the St. Louis Art Museum.


Railroad bridge in St. Louis.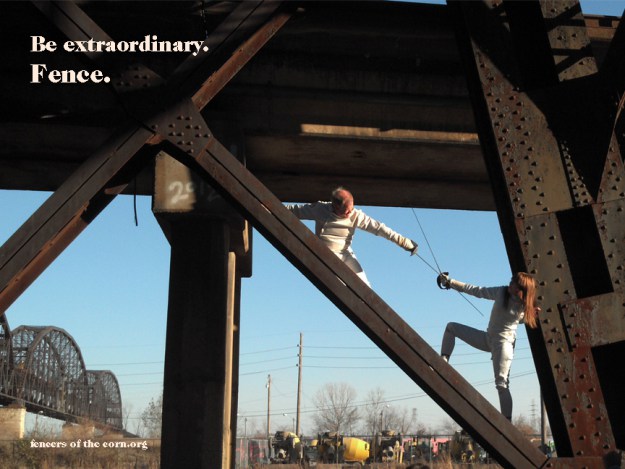 This is more like what we will end up with for individual fencer portraits: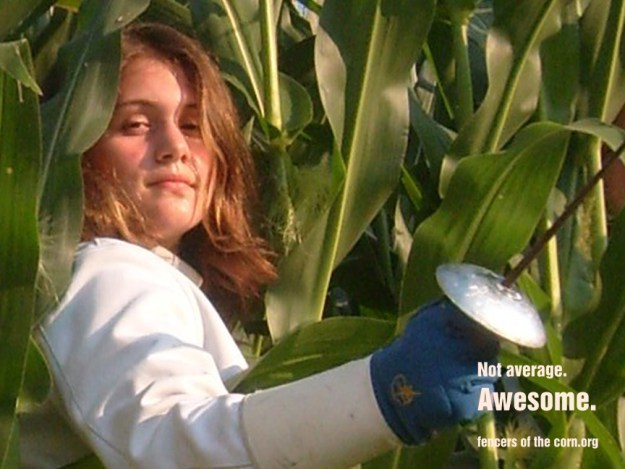 We have a tentative date of July 10 for our next photo shoot. If the pics turn out good, we will post some here next month.
Master of Arms Competition at the Point Fencing Club
June 18, 2015 - Pearce Wilson
What a fun time. This the second time we have entered this competition. The Point hosts a three weapon tournament each year. The fencer who competes in all three weapons and scores highest overall earns the title of 'Master of Arms'.
Here's the thing, a three weapon competition requires A LOT of swords! Here is the repaired and tested Crew arsenal ready to head to the tournament.


Here is a picture of the Crew resting between the foil and saber competitions. (left to right) Kenny, Shelby, Pearce, Sean, and Tyler, who came to watch his first competition. We expect Tyler to suit up for the next one.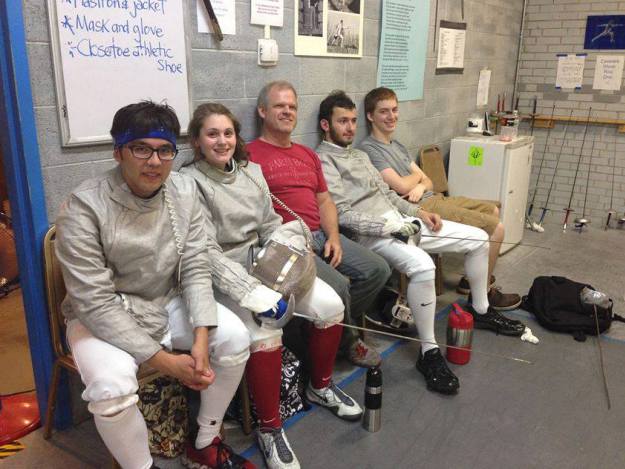 Kenneth O'Dell fenced foil, epee and saber. Kenny won the bronze medal in foil.
Sean O'Connell fenced foil, epee and saber. He won a bronze medal in epee.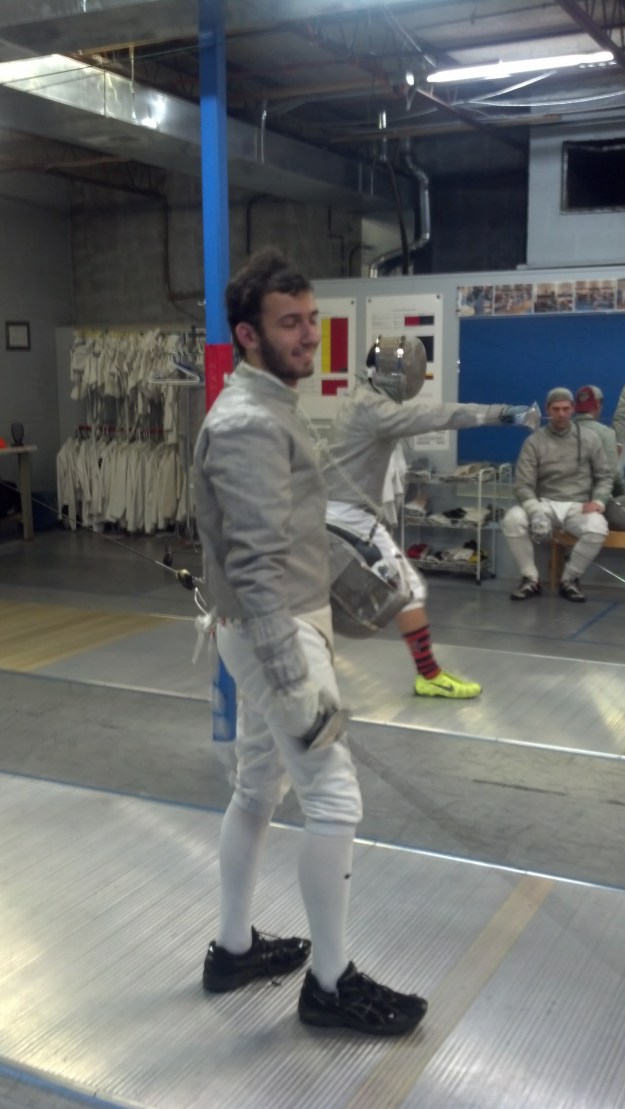 Shelby Korobey fenced foil and saber but alas, no medals this trip.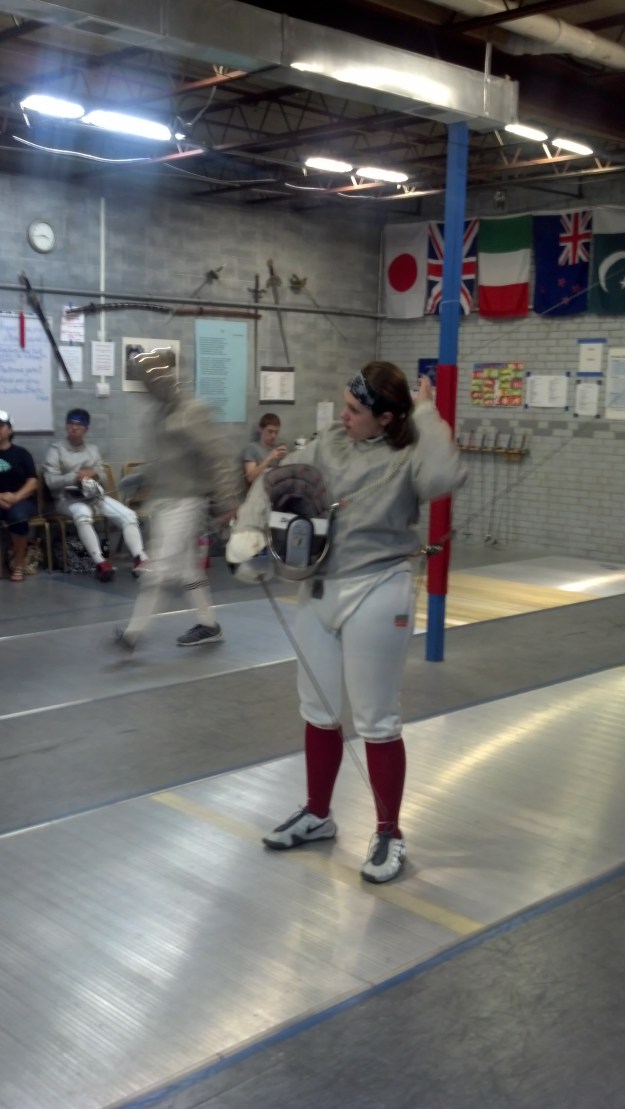 Thanks goes to the Point Fencing Club for hosting a fun event. And thanks to Sean's mom Nuray for driving us!
None shall pass.
June 18, 2015 - Pearce Wilson

Another poster idea we toyed with. We have not committed to printing this one. If you want a print let us know. Kayin Crook (left) and Shelby Korobey (right) are the models.
Obstacles, Doubters, Mistakes and hard work.
June 15, 2015 - Pearce Wilson

Our newest poster. The model is our own TJ Bowen.
Oh my, women fencers are a scandalous bunch.
June 16, 2015 - Pearce Wilson
Click here for pictures and stories about some of the famous 19th century women fencers. https://www.facebook.com/SelfDefenseforGentlemenandLadies/posts/1003910919641976

"In many of these photos, one can sense that "swashbuckling spirit" foreshadowing the rise of early 20th century male theatrical swordsmen such as Douglas Fairbanks, Tyrone Powers, and Errol Flynn. Many of these early swordswomen (especially Menken, Montez, and Hattan) led truly extraordinary lives. I encourage you to click on the individual pictures, and read the text in the accompanying image descriptions, to learn more about who these women were, how they lived…"
Memo to Human Resources: Hire the fencer.
June 4, 2015 - Pearce Wilson
If you ever get a chance to hire a fencer, do it.
I was just at a fairly high level tournament in Atlanta. There were about 100 athletes competing in the various contests that day. These fencers had spent anywhere from fifty to several hundred dollars to travel and enter the competition. Maybe ten of them had a realistic chance to win. Why were the other ninety there?
The answer to that question is why you should hire the fencer.
The competitive fencer has a single minded obsession with success. She trains non-stop to improve herself. Sometimes she will enter a tournament where she has no chance to win just to test herself against better athletes. To her, winning means doing a little better than the last time she tested herself.
This is the kind of employee who will learn your product and your customer. She will be a little better today than she was yesterday. She will be a little better tomorrow than she is today.
The competitive fencer doesn't quit when the job gets hard. When things don't go his way, he doubles down on that adversity. He studies his mistakes. Don't expect him to repeat them. He is prepared to put in long hours with little reward while he builds up his skills until he is ready to be the best.
Give this employee your hardest jobs. He won't quit until he wins. He wants the challenge.
The competitive fencer learned very early in his fencing career that a fencing tournament waits for no one. He knows that if he is not there on time, he will be booted from the competition.
This employee will show up to work on time!
The competitive fencer fights to win but understands victory is only valuable within the bounds of fair play. She is ethical. The sport of fencing requires a strong belief in sportsmanship. It is common to see a fencer refuse a point awarded to her in error by the referee. She believes that to win an undeserved victory is hollow.
Trust this employee to win within the boundaries of ethical conduct. She will be a beacon for your organization to the community.
Is stubbornness a virtue or a fault for a fencer? Both!
May 6, 2015 - Pearce Wilson
I fenced a tournament last weekend. My stubbornness at trying to fence the style I wanted to use against a fencer who obviously had an antidote to that style was a leading cause of my defeat. Why didn't I change? My stubbornness lead to my defeat.
On the other hand, during practice when learning a new action use it over and over again – even though it fails. By repeating your mistakes with minor changes you will learn why you are failing. You can fine tune the action and learn how to make it work.
Why did you start? Why are you still doing it?
April 29, 2015 - Pearce Wilson
Tim Morehouse' Fencing in the Schools just published their poll/survey of why people started fencing. You can read it here: https://fencinguniversity.org/behind-the-swashbuckling-stats
My next question is why are you still doing it?
My theory: The 80, 15, and 5 rule in play.
80% of the people who try fencing will not stick with it beyond a few weeks or months. They try it and it's just not for them. That's okay. At least they gave it a try.
15% of the people like it enough to continue fencing but they are not willing to put in the hours of sweat and sore muscles to see how far they can go with it. These are the recreational fencers. They are having fun hanging out with their friends. They go to fencing practice regularly but if they spend most of the practice time chatting with their friends, that is okay with them. They get a little exercise. They have fun. Their friends think they are cool because they fence! What's not to like?
5% of the people are the hard core. They want to see how far they can go – however far that is for them. They probably know the Olympics is not in their future but what about winning a medal in a local tournament? What about earning a rating? What about getting a chance to compete with one of the best fencers in the world? Or fencing in college?
Here is my problem as coach: The recreational fencers (15%ers) and the competitive fencers (5%ers) don't mix. Either the recreational fencers feel left out when the coach doesn't give them as much time as he does the competitive fencer and quit. Or due to the incredible gravitational pull of average, the competitive fencers get sucked into the effort level of the recreational fencer, cease improving and quit.
Both kinds of fencer are wonderful. But do I need to keep them separated? How?
McKendree University fencing team end of season dinner
April 23, 2015 - Pearce Wilson
End of season dinner with the McKendree University Fencing Team.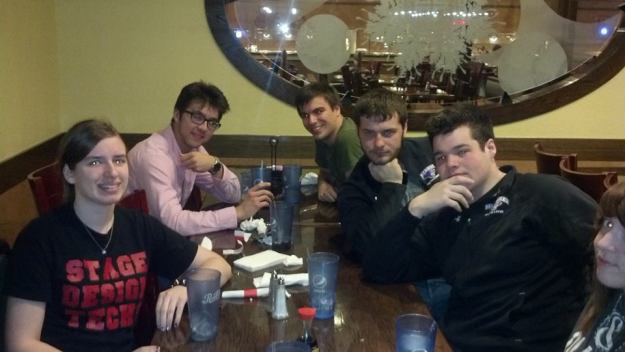 (l-r: Mary Hardig, Kenneth O'Dell, Alex Smith, Tristan Quinton, Cameron Davis, on far right is Corey Kilgallon who helped train the team this year.) Missing from the photo are team members Ivan Lich, Andrew Tolbert and Luke Davis.
Congratulations to McKendree U fencer Tristan Quinton!
April 23, 2015 - Pearce Wilson
McKendree University Freshman, Tristan Quinton received the 2014/2015 Midwest Fencing Conference, 'All Conference Men's Saber Honorable Mention' award.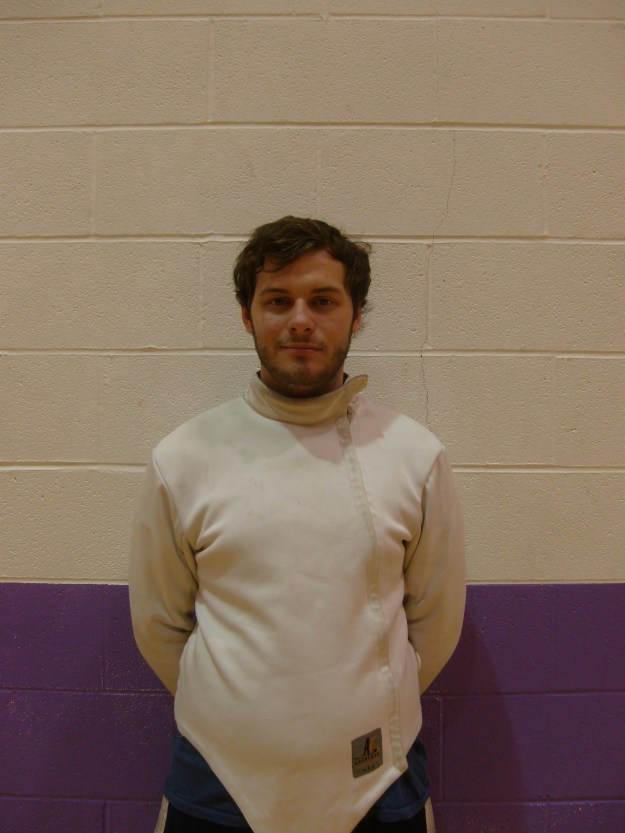 Tristan amassed a regular season record of 34-1 in the Conference.
New coach coming to McKendree University fencing
April 14, 2015 - Pearce Wilson
Dear Friends,
Last month I tendered my resignation as Head Fencing Coach at McKendree University.
I was asked not to make a public statement until they had a new coach ready to come aboard.
A new coach has not been officially named but I had email correspondence last week with the expected coach. I'll leave it to the school to make the official announcement naming him.
I want to thank McKendree for the opportunity they gave me to start this program. They took a chance and it paid off.
Thanks to some great kids and maybe a bit of luck, our team fenced to an 11-4 regular season record in the very first year of our program – against schools 20 and 30 times our size. The fencing program is drawing interest from Olympic team members and world class fencers from countries around the world who are considering attending McKendree. I can see this program being a National Championship contender in the years ahead.
It was hard to make the decision to step down but I feel like I have done all I can do. It is time to hand this program off.
I have been asked if another college fencing program is in my future. I would love a chance to start another winning program but I do not have any offers at this time.
Sincerely,
Pearce Wilson
Purdue University Foil competition
March 28, 2015 - Pearce Wilson
Sean, Corey, Nuray and Pearce made the long trip to eat in the Purdue University cafeteria. While we were there Corey and Sean decided to fence the foil competition. (Inside joke… Purdue has the best cafeteria we have ever eaten at!)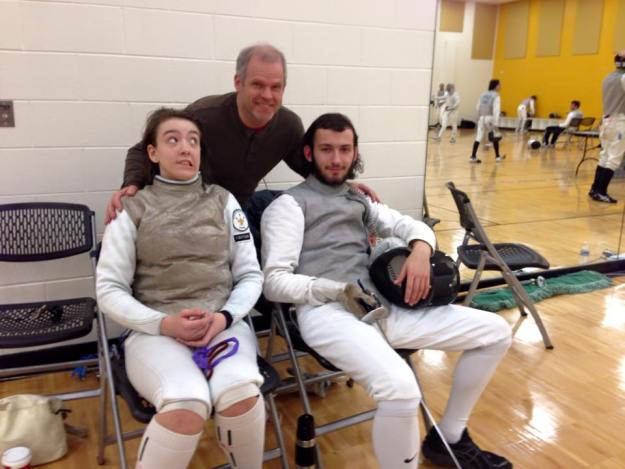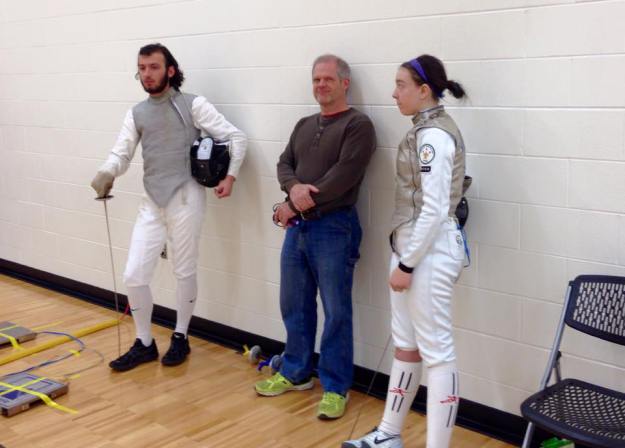 Corey earned 12th place (2nd in the women's bracket). Sean earns 15th place.
Todd Snowden Memorial – Memphis TN
March 24, 2015 - Pearce Wilson
Pearce entered a three weapon competition hosted by the Memphis University School.
Pearce earned 6th place and his D15 in epee.
He won the silver medal in saber.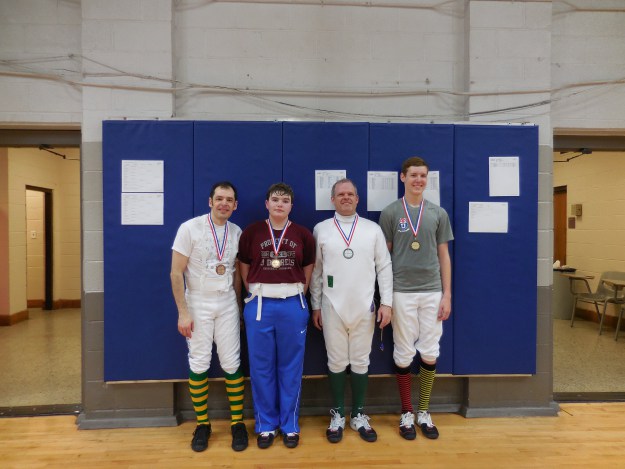 And he won the silver medal and his D15 in foil.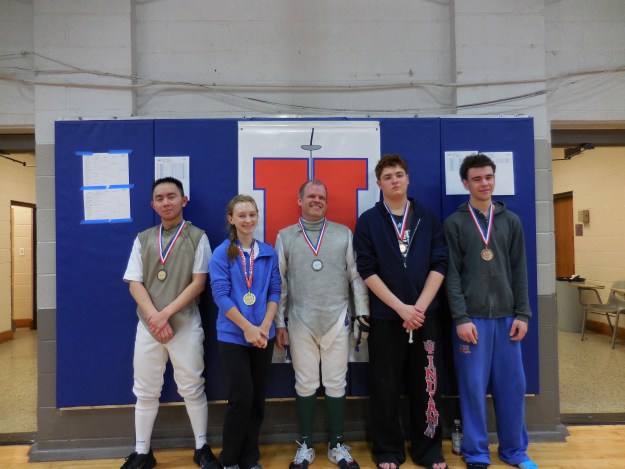 A long but productive day.
The Green Lantern!
March 17, 2015 - Pearce Wilson
The Green Lantern is a fencer! Who could have known?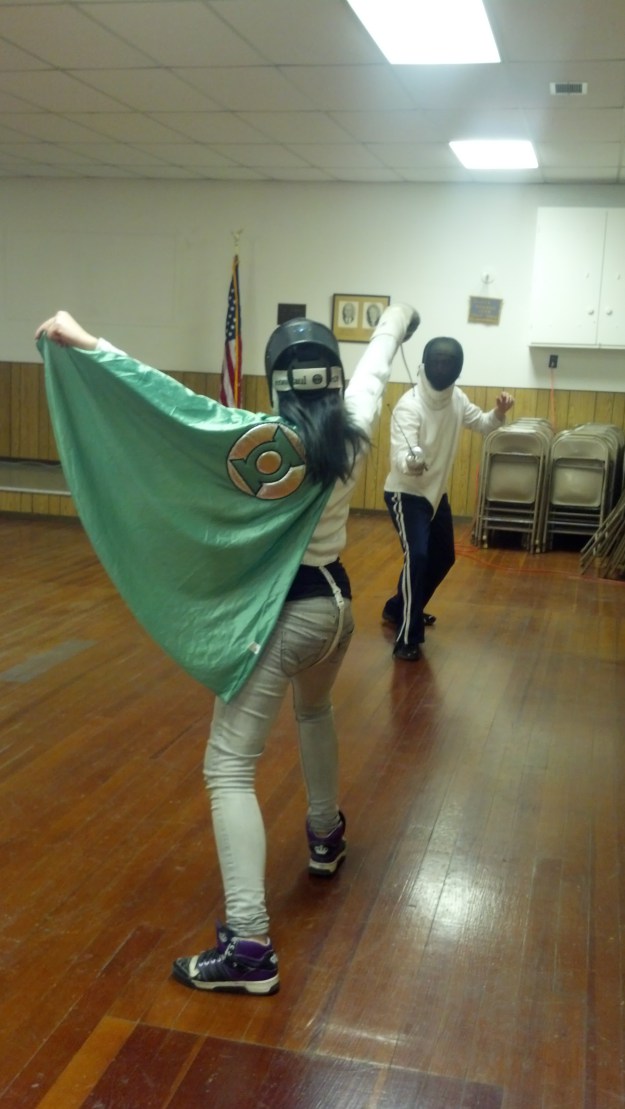 March Point Foil Double header
March 15, 2015 - Pearce Wilson
The Point Fencing Club and School, Champaign Illinois
Pearce Wilson returned to competition after a long layoff. He won the silver in the top half of the double header foil. He won the gold medal in the bottom half of the competition.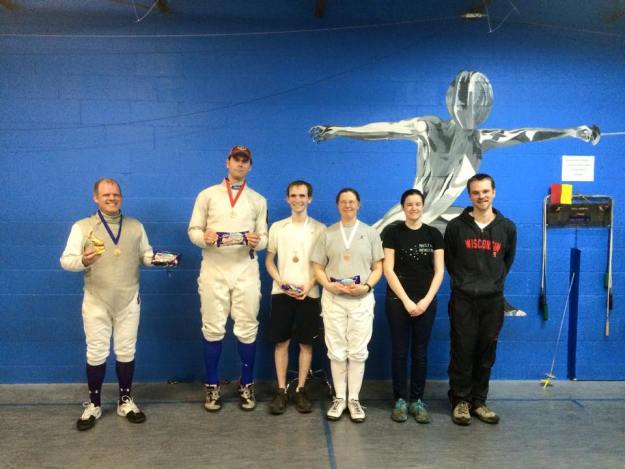 BEST TOURNAMENT EVER! Medalists won Easter chocolate!
Trivia Night Benefit for Fencers of the Corn
March 14, 2015 - Pearce Wilson
Thank you to everyone who came out and played. Thank you to everyone who helped out too, especially Rob Comstock!!!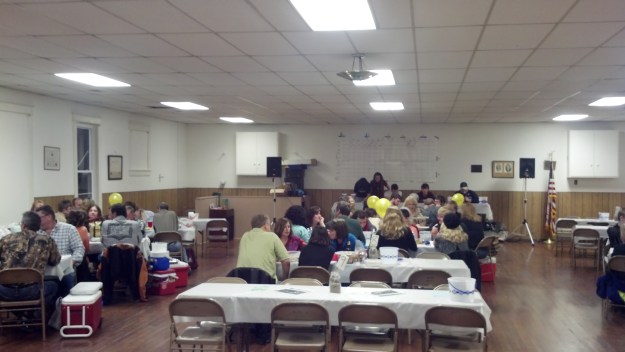 Midwest Fencing Guild at St. Louis University
March 8, 2015 - Pearce Wilson
Day one: Foil and Saber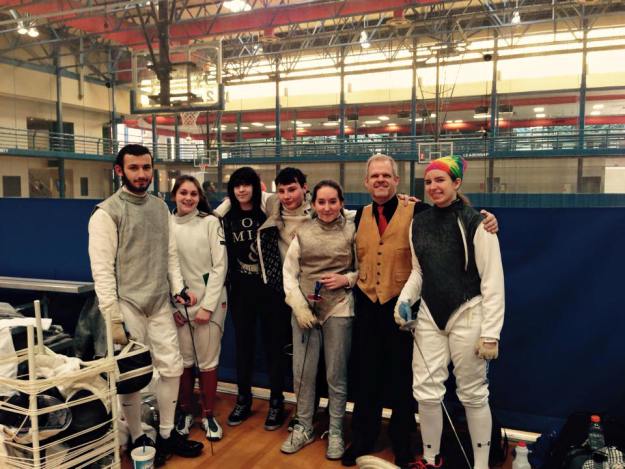 First up is saber. We only have one fencer in the competition.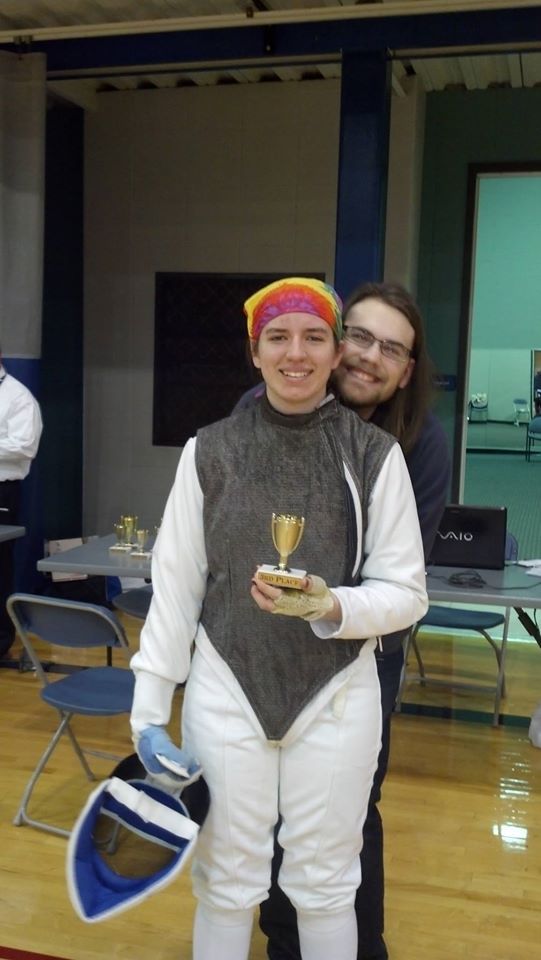 Congratulations to Mary Hardig (McKendree) on her 3rd place saber trophy!
Next up is foil.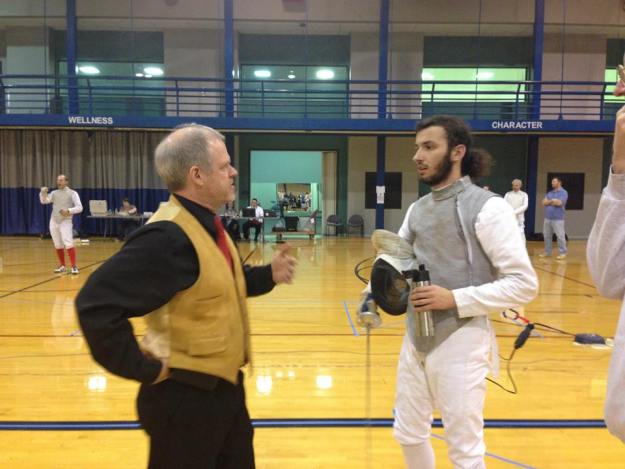 In foil, Sean takes 8th place, Rory 14th, Shelby 18th (2nd in the women's bracket), Mary 30th (6th in the women's bracket), Tiffany 37th place (8th place in the women's bracket)
Day two: Epee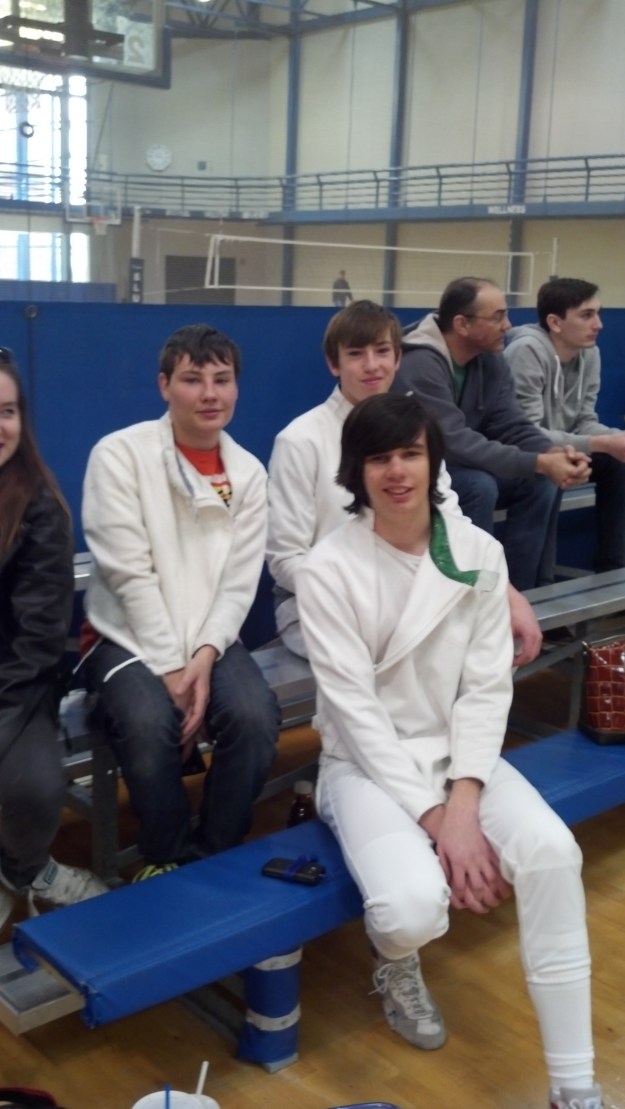 Mat finished in 9th place. Daniel finishes in 11th place. Rory finishes in 19th place.
Midwest Fencing Conference Championships
February 22, 2015 - Pearce Wilson
The McKendree University team competed in the Conference Championships hosted by Northwestern University in Chicago.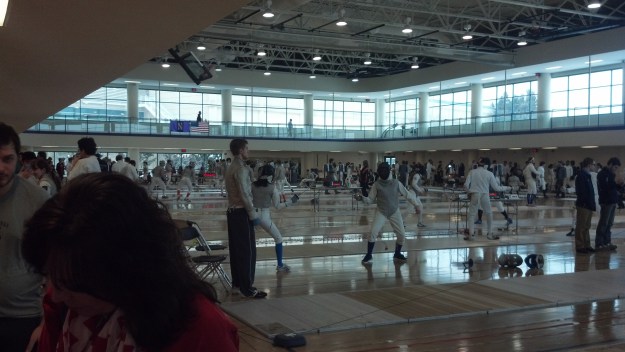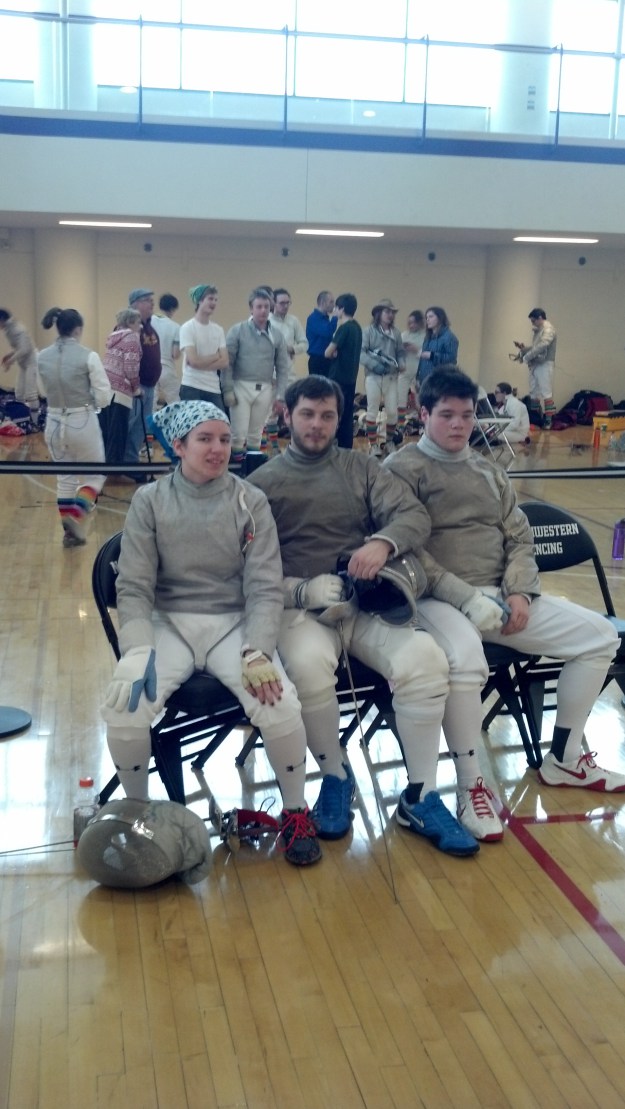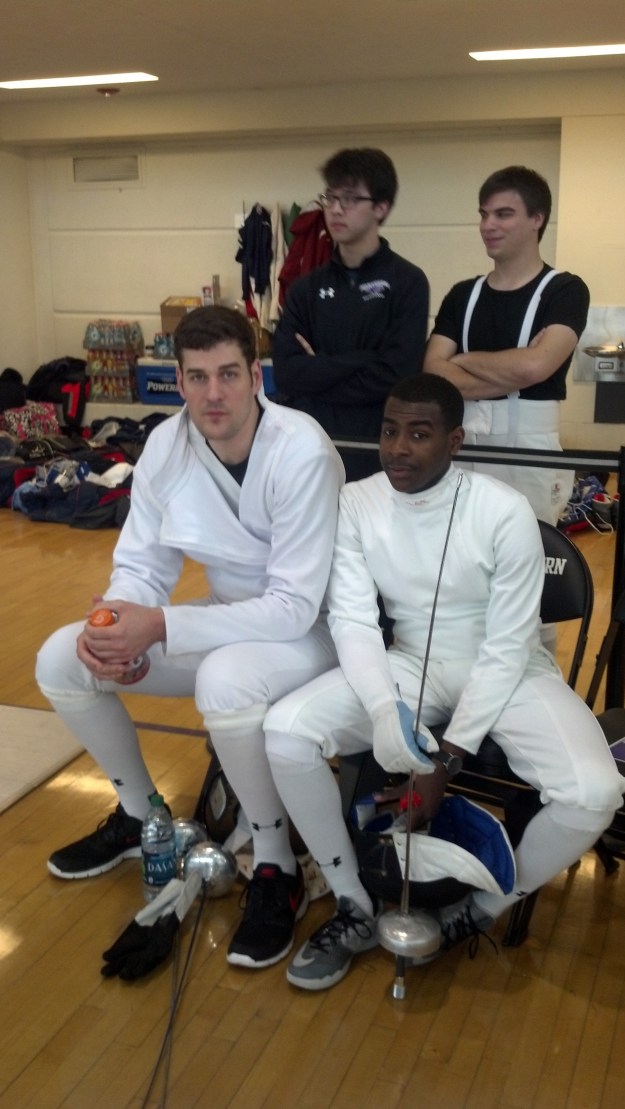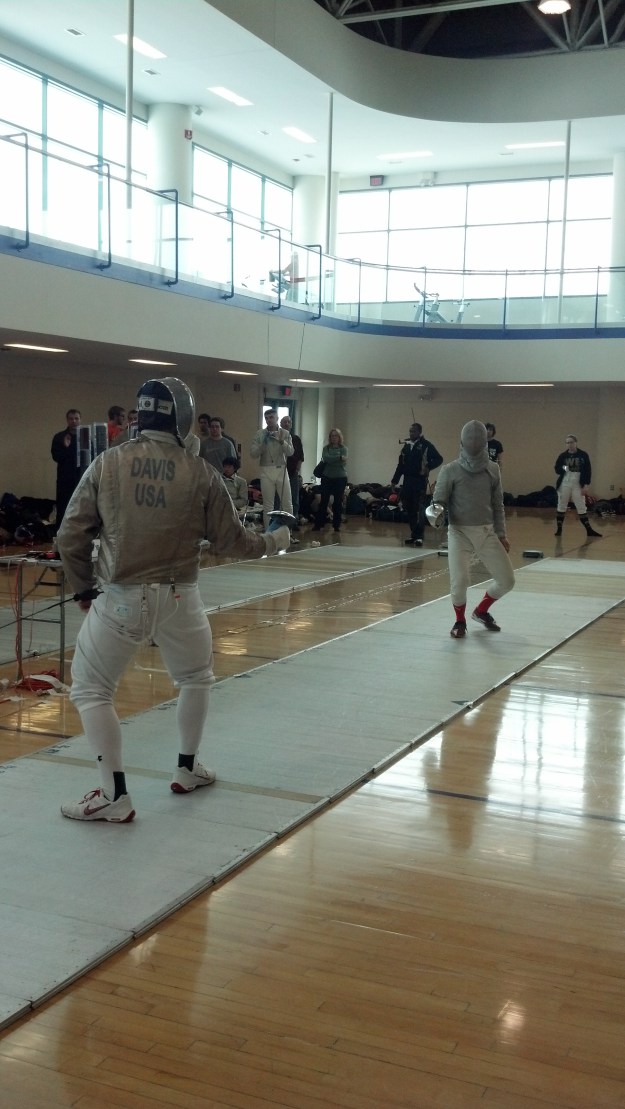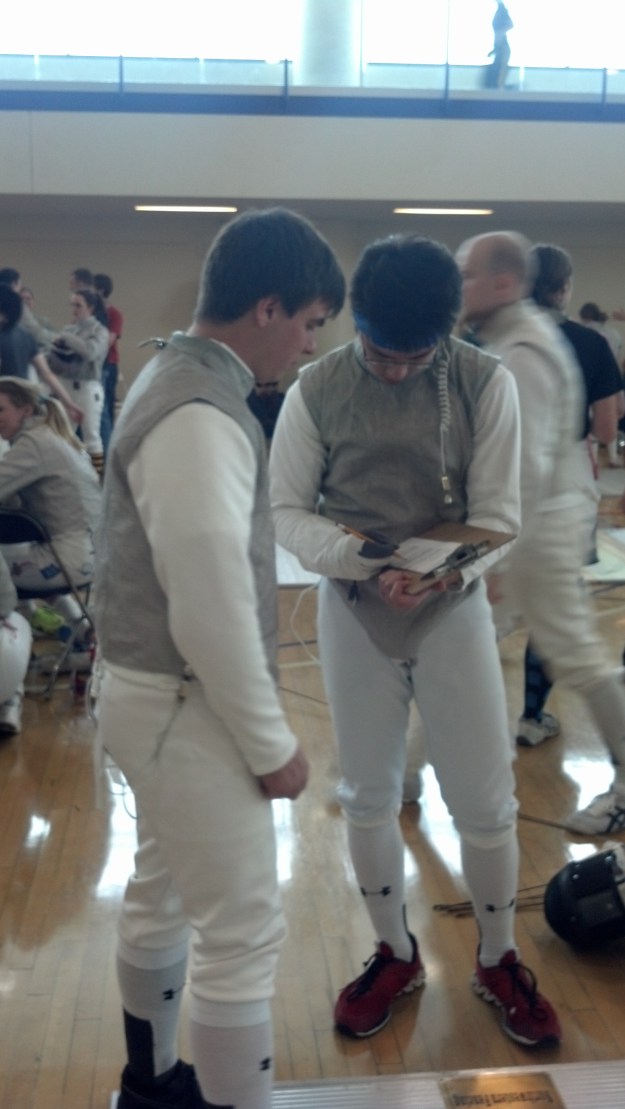 McKendree entered the competition seeded #7 in epee, #14 in foil, and #3 in saber. The team fell back a little. At the end of the competition, they finished #10 in epee, #17 in foil, and #5 in saber.
Congratulations on an incredible inaugural season for the McKendree University team.
2015 Junior Olympics
February 18, 2015 - Pearce Wilson
The Fencers of the Corn qualified two fencers to the United States Fencing Association Junior Olympics in Richmond Virginia. Shelby Korobey (Millstadt Venture Crew) in Junior women's foil and Tristan Quinton (McKendree University) in Junior Men's Saber.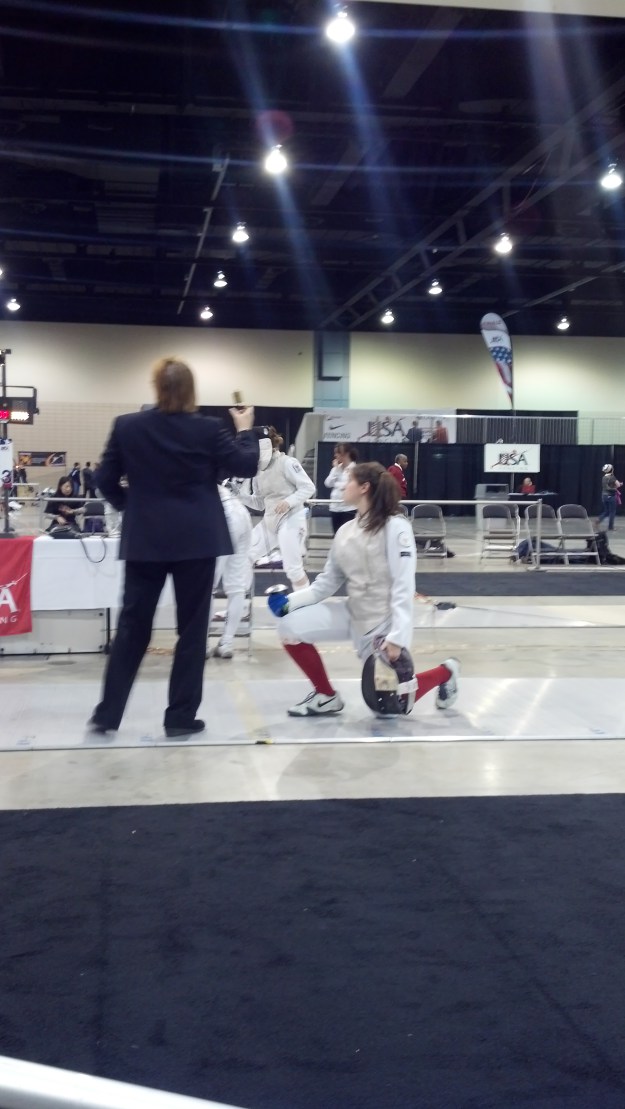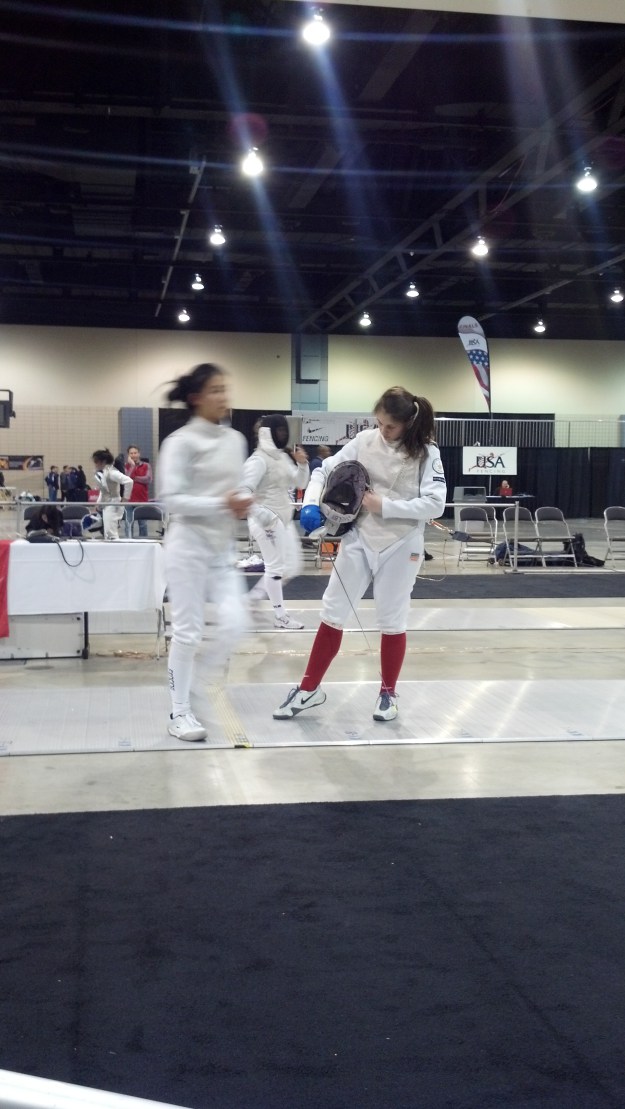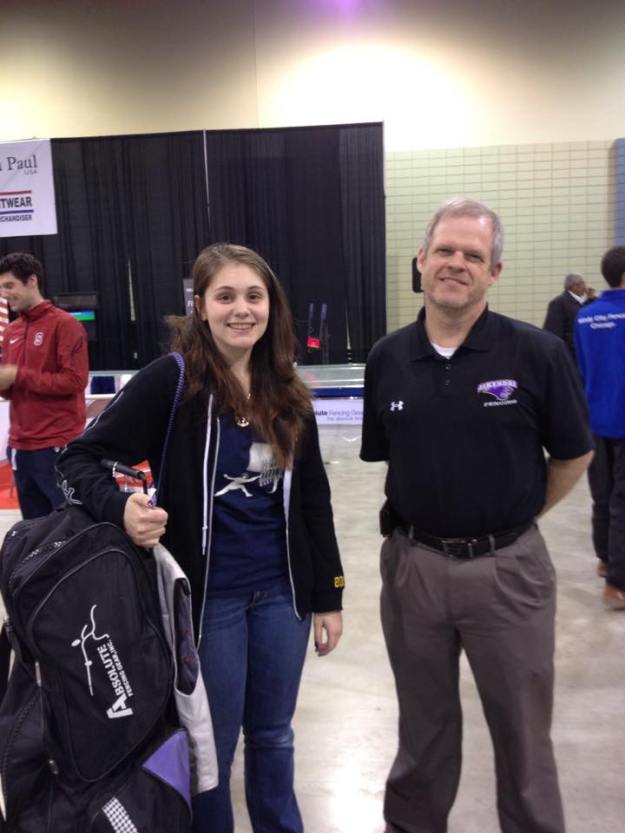 2015 Midwest Fencing Guild hosted by Mizzou
February 9, 2015 - Pearce Wilson
Another two day event. Foil and Saber are on day one. Epee is on day two.
Tiffany, Sean and Shelby compete in foil. Daniel, Alex and Mat compete in epee. As a side note: Shelby goes into this competition as the #2 ranked woman foilist in the Midwest Fencing Guild this season.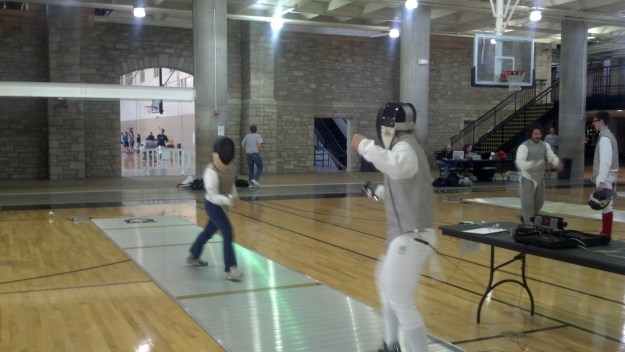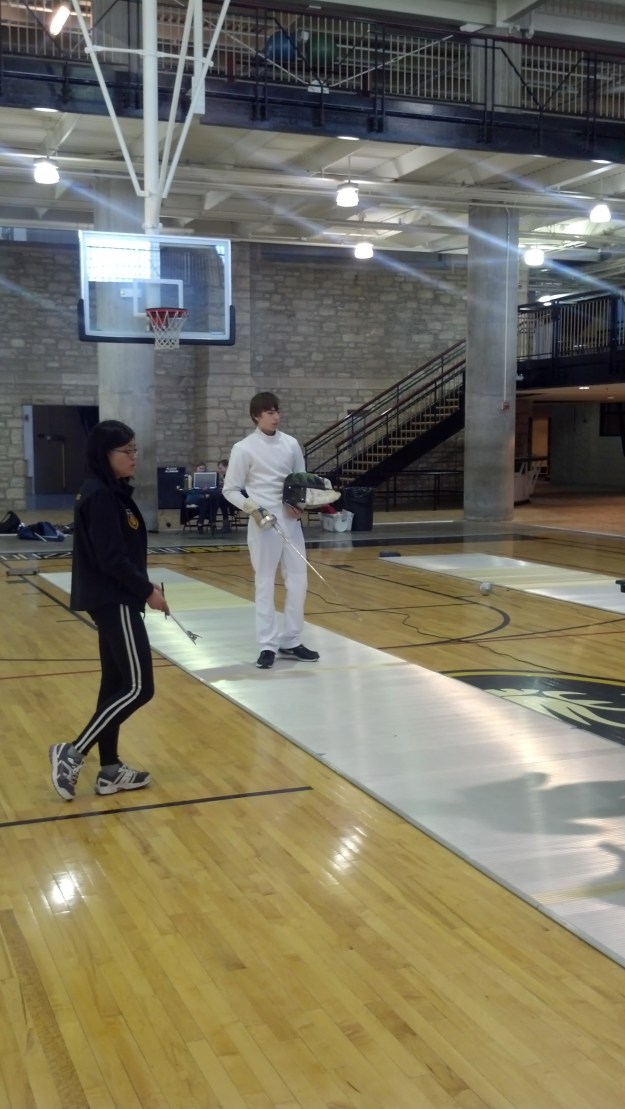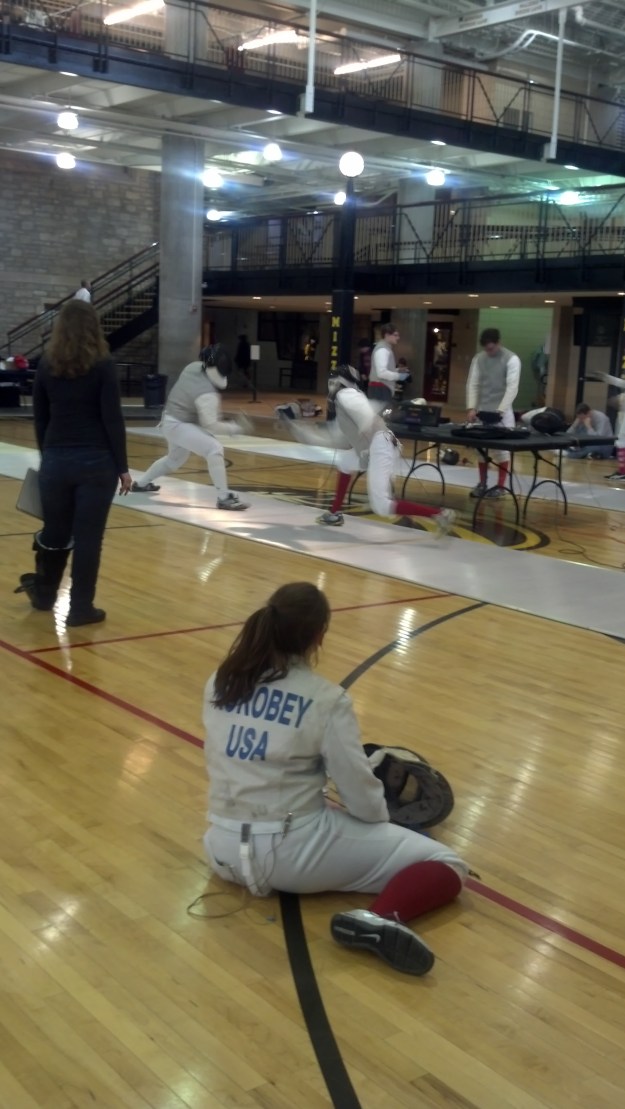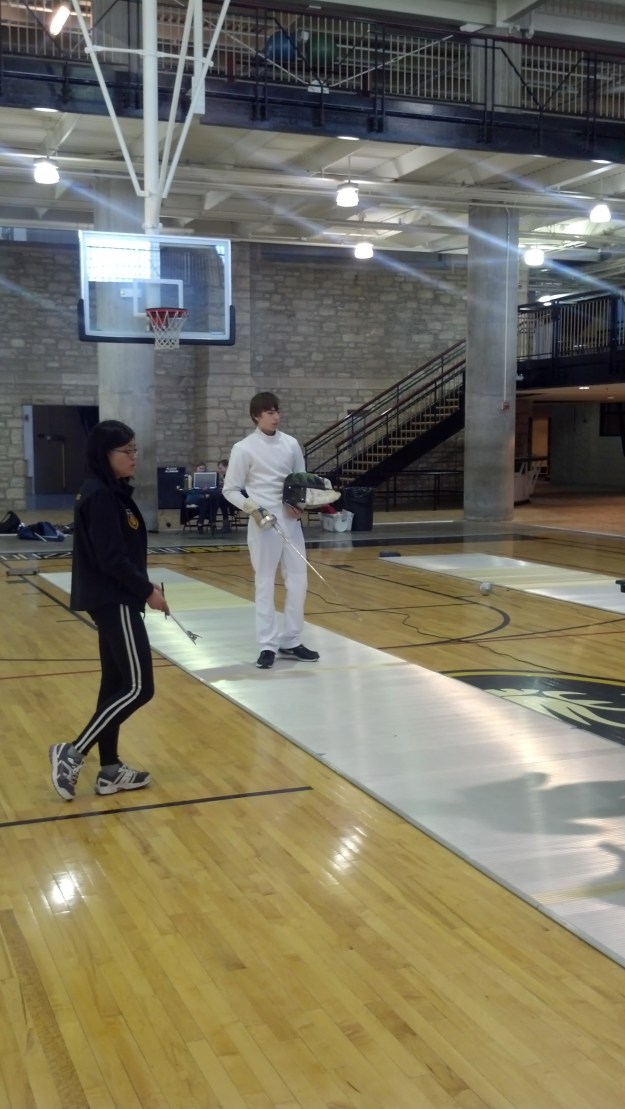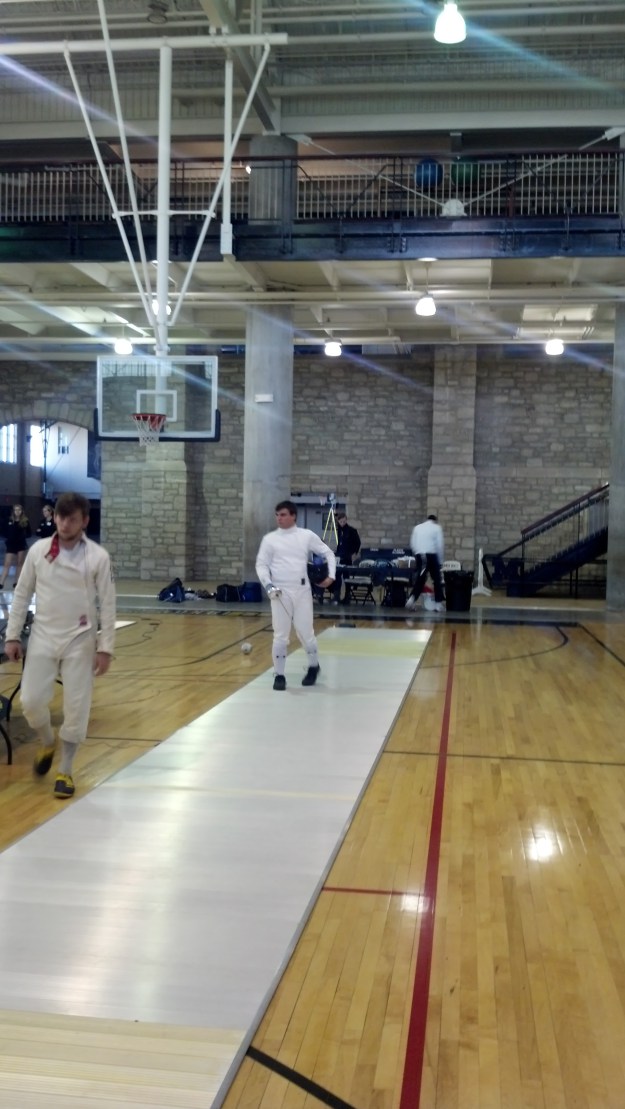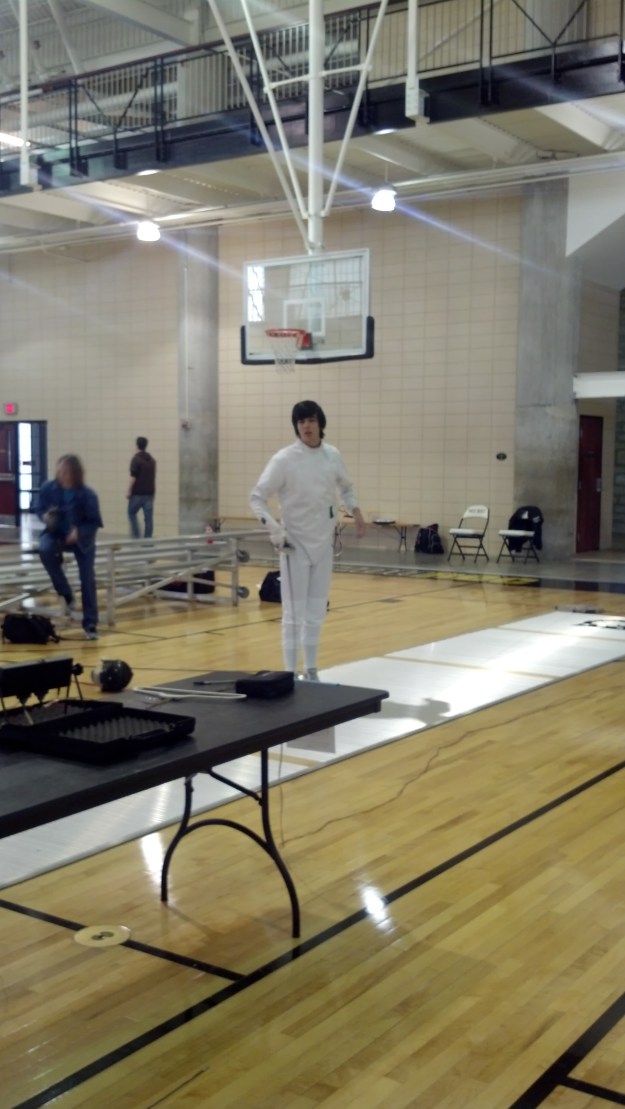 In epee, Mat takes 5th place, Alex 7th and Daniel 11th place. In foil, Sean earns 21st place, Shelby earns 24th place overall (3rd in the women's bracket), Tiffany earns 36th place (9th place in the women's bracket)
Xavier University Duals
January 31, 2015 - Pearce Wilson
McKendree competes in the Xavier University Duals.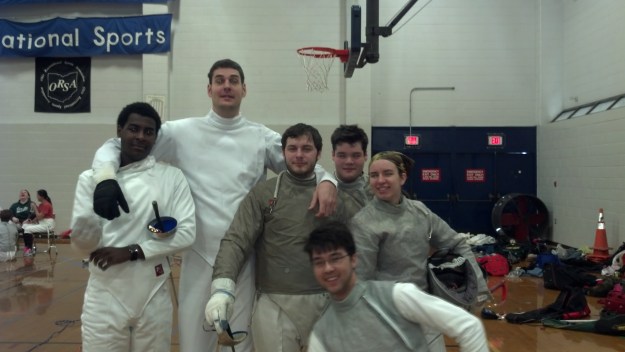 We did pretty well considering we had to compete without our top foilist. We defeated Xavier and Bowling Green Universities and were beaten by the University of Chicago and Indiana University.
This was the last regular season competition for the McKendree team. We finish the season in the 24 team Midwest Fencing Conference with a record of 11-4.
Our foil squad is ranked #14 in the Conference. Our epee squad is ranked #7 in the Conference. Our saber squad did the best of our fencers and is ranked #3 in the Conference behind Ohio State and Michigan.
I am so proud of these athletes. They did this on a first year program, a partial team having to give multiple forfeits, with half our team learning to fence for the first time last summer and with a woman fencing on our men's saber squad. These fencers don't know the meaning of impossible!
The 2014-2015 Midwest Fencing Conference regular season individual win-loss record of the McKendree team members is as follows:

Epee:
Andrew Tolbert, 31-8
Ivan Lich, 30-9

Foil:
Alex Smith, 19-9
Kenneth O'Dell, 20-20
Luke Davis, 5-11

Saber:
Tristan Quinton, 34-1
Cameron Davis, 30-5
Mary Hardig, 7-28
Successful tournament at Bluff Grange
January 19, 2015 - Pearce Wilson
We held a youth foil, unrated epee and unrated foil tournament at the Grange.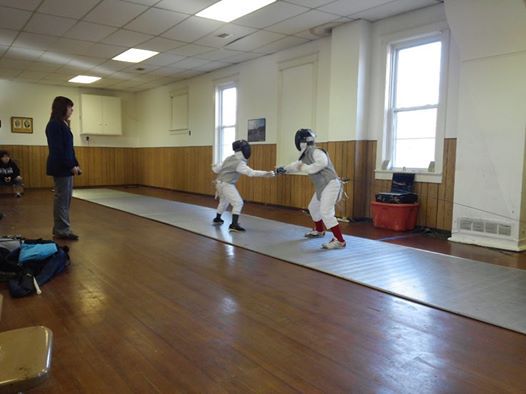 In the morning was the youth event. Chance didn't medal but fenced well, coming out of pools in 3rd place.
In the afternoon, the larger events began.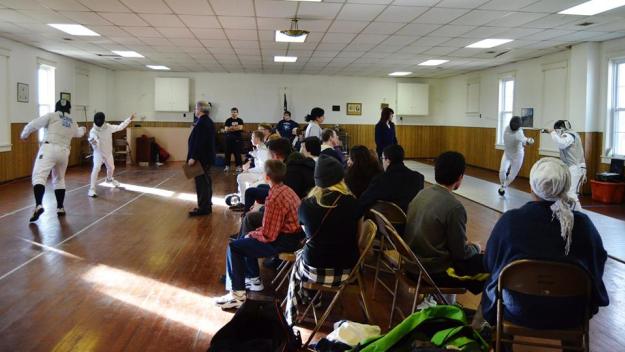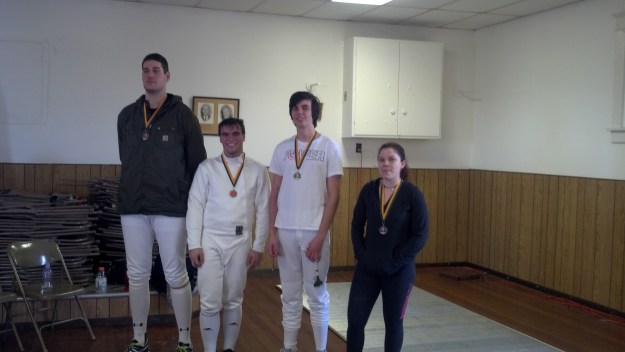 In the epee event three Fencers of the Corn fencers medal. Ivan Lich (McKendree) earned a tie for the bronze medal. McKendree fencer Alex Smith (McKendree & Millstadt) wins the silver medal. Mat Borkowski (Millstadt Venture Crew) earns the gold medal.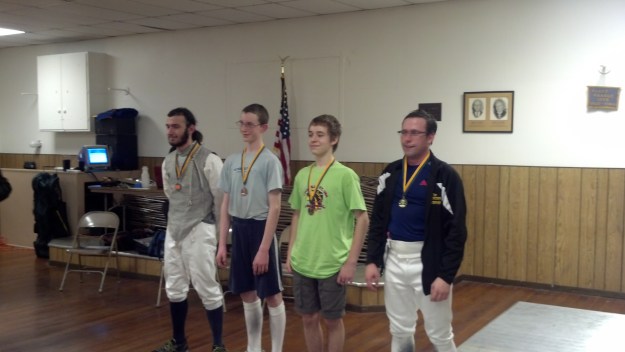 In the foil event, Liam Groom (Millstadt Venture Crew) wins a tie for the bronze medal. Sean O'Connell (Millstadt Venture Crew) wins the silver medal.