FOTC News 2017
The Reversing the Shoulder penalty has been, well, reversed.
December 27, 2017 - Pearce Wilson
Effective January 1, 2018, the Group One penalty for reversing the shoulders in foil has been eliminated. ... And there was great joy throughout the land!
December 27, 2017 - Pearce Wilson
We added an equipment requirements and reviews section. Look for it under the "Get Started!" tab. Besides letting new fencers know what gear is required, we will be adding reviews of clothing and equipment so we can learn from each other which brands are best.
Special Treats? Maybe!!
December 26, 2017 - Pearce Wilson
A little bird has whispered there may be special dessert treats at this Thursday's practice. See you there!
Trivia Night Fundraiser!
December 14, 2017 - Pearce Wilson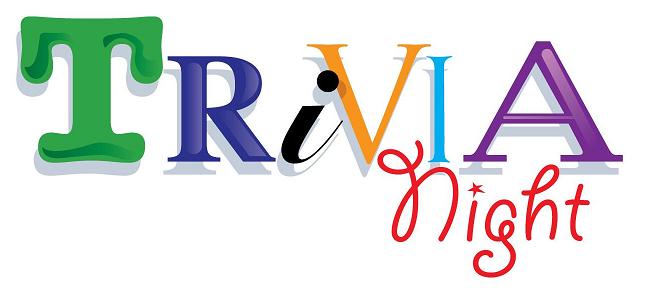 Join us for another fun packed Trivia Night to benefit our fencing program.
Saturday, February 3, 2018. Doors open at 6:00 pm. Games begin at 7:00 pm.

Besides the Trivia we will have a Silent Auction, 50/50 Raffles, Attendance Prizes, AND MORE!
Cost is only $15 per person. Tables hold 8 people. If you don't have a full table, come anyway, we'll put you at a table with some really smart people!
Proceeds will go to purchase fencing equipment for our budding Olympians.

We need silent auction items. If you have some cool stuff to donate we would be ever grateful. If you have a business product or service you would like to donate to the Silent Auction, we will make sure the world knows of your generosity!!!!

For more information or to reserve your place, call Shelby at 618-560-8499 or Pearce at 314-974-3078 or email us at fencersofthecorn@gmail.com
December 3 Weapon Challenge
December 10, 2017 - Pearce Wilson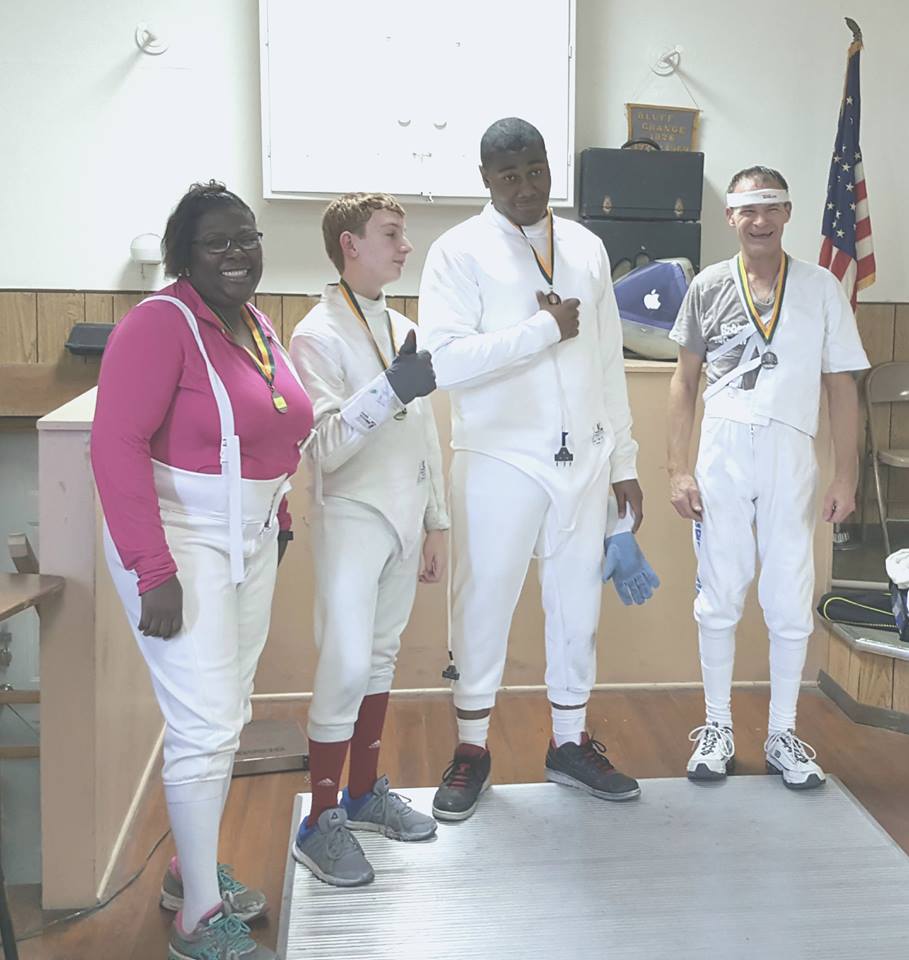 (Our epee fencers.)
Our Saturday epee tournament was smaller than we hoped for but that doesn't mean we can't still have fun!
(Our foil medalists.)
We had a good turnout for the Sunday unrated foil contest. Thanks to all the fencers who participated and congratulations to those who medaled.

The best part of the weekend's events was the superior sportsmanship displayed by everyone in attendance. It makes this coach happy!
Our 2018 Junior Olympians
December 8, 2017 - Pearce Wilson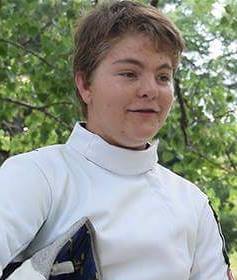 (Chance from Marissa Illinois.)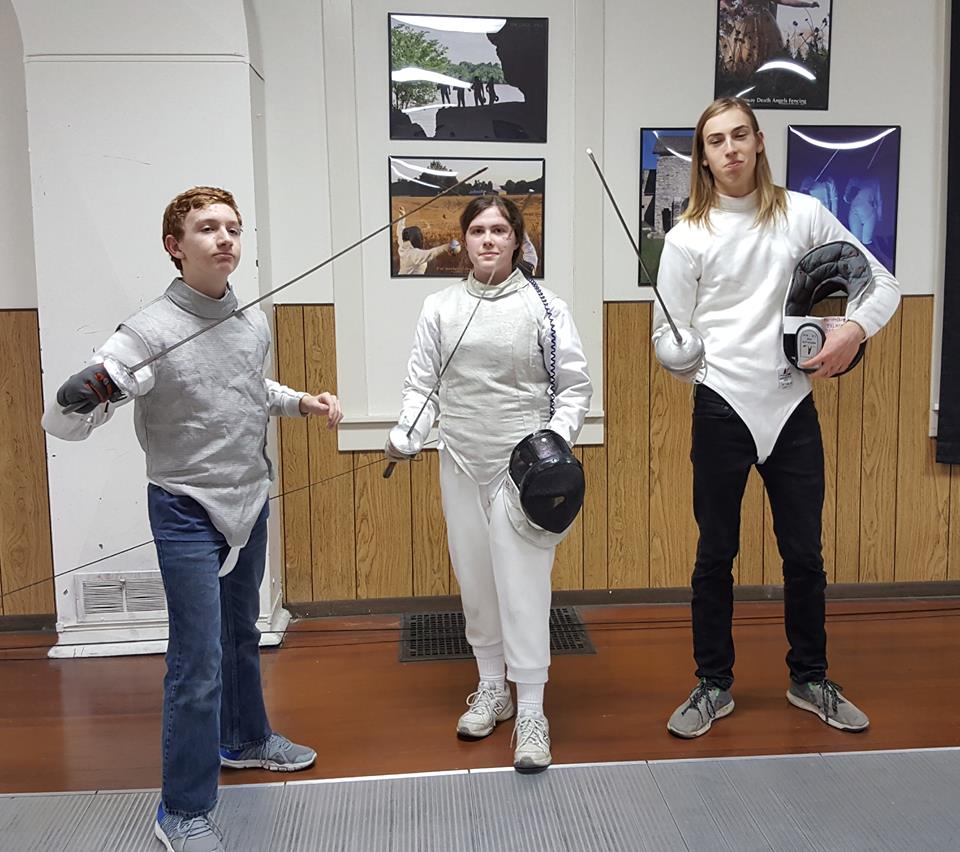 (left to right: Matthew from Breeze Illinois, Ashley from Belleville Illinois, Daniel from Belleville Illinois.)
The Junior Olympics are the National Championships for teens. They are one of the selection events for the US Olympic team.
These four will compete with approximately 1000 of the best teen fencers in the nation. This year's Junior Olympics will be held in Memphis in February.

Matthew qualified to compete in Cadet Men's Epee and Cadet Men's Foil.
Ashley qualified to compete in Junior Women's Foil and Junior Women's Saber.
Daniel qualified to compete in Junior Men's Epee.
Chance qualified to compete in Cadet Men's Saber.

This is a first JO trip for Matthew and Ashley. It will be Daniel and Chance's second Junior Olympics.
No Shave November / Beard Optional tournament today.
November 18, 2017 - Pearce Wilson
Foil and saber. A long, fun and productive day.
Great first tournament for most of our Y10/12 fencers. Everyone fenced really well! (Missing from the photo is Nolan.)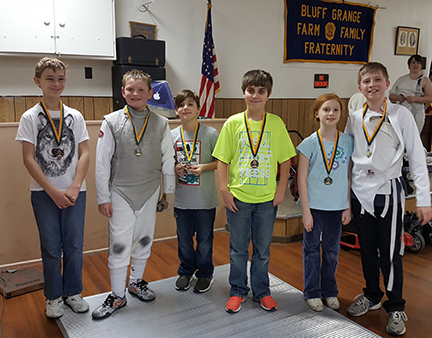 Congratulations to Dave. He earned his first National rating. Congratulations to all the medalists. Everyone fenced so well.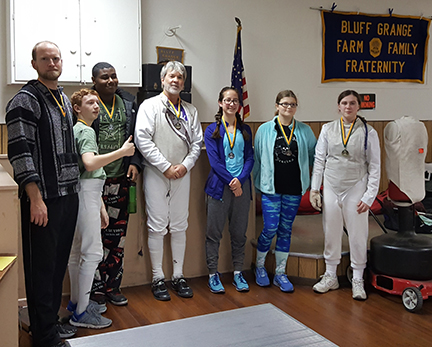 Finally we had the saber event. This was a 'just for fun' event. So no ratings but it was good practice for the fencers.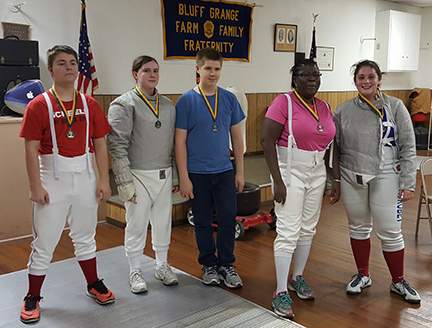 Unrated Epee Contest
November 9, 2017 - Pearce Wilson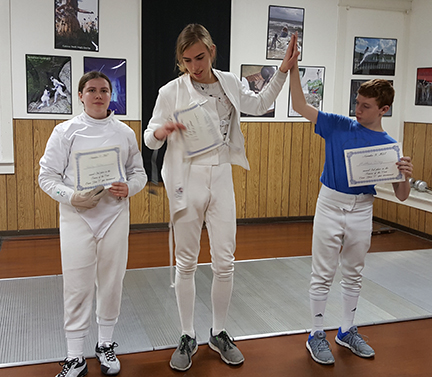 Congratulations to the medalists in tonights unrated epee contest. And special congrats to Daniel who earned his first National Rating!
Junior Olympics qualifying tournament has been scheduled.
November 8, 2017 - Pearce Wilson
The St. Louis Division qualifier for the Junior Olympics National Championships have been posted.
ENTRY DEADLINE IS NOVEMBER 30. The actual tournament is: Saturday, December 2 for Cadet events; Sunday, December 3 for Junior events.
The qualifier is being held in St. Louis. The actual Junior Olympics are February 16-19, 2018 in Memphis, TN.
Practice Schedule Changes
November 6, 2017 - Pearce Wilson
Effective immediately, our Sunday Open Fencing Practices are moving to Mondays. Same times, 7:00pm to 9:00pm.
Hopefully this will lessen schedule conflicts when we attend weekend away tournaments. Sundays remain a option for extra practices when needs arise.
Practice Video
November 5, 2017 - Pearce Wilson
We continue to refine the practice videos.
We repositioned the cameras and the results are much improved over our first attempt from last week. We can get about an hour of video from each of the two cameras. These frame captures should give you an idea of the angles we have to work with.
The videos are posted on the private member pages of fencers and the referee who are involved in any particular bout.
Fencing tournament in O'Fallon Illinois
October 29, 2017 - Pearce Wilson
Matthew and Daniel competed in Open Mixed Epee. Chance and Ashley competed in Unrated Mixed Foil.
Congratulations to Ashley on her bronze medal! She missed the silver medal by only 2 points, losing her last bout 13-15.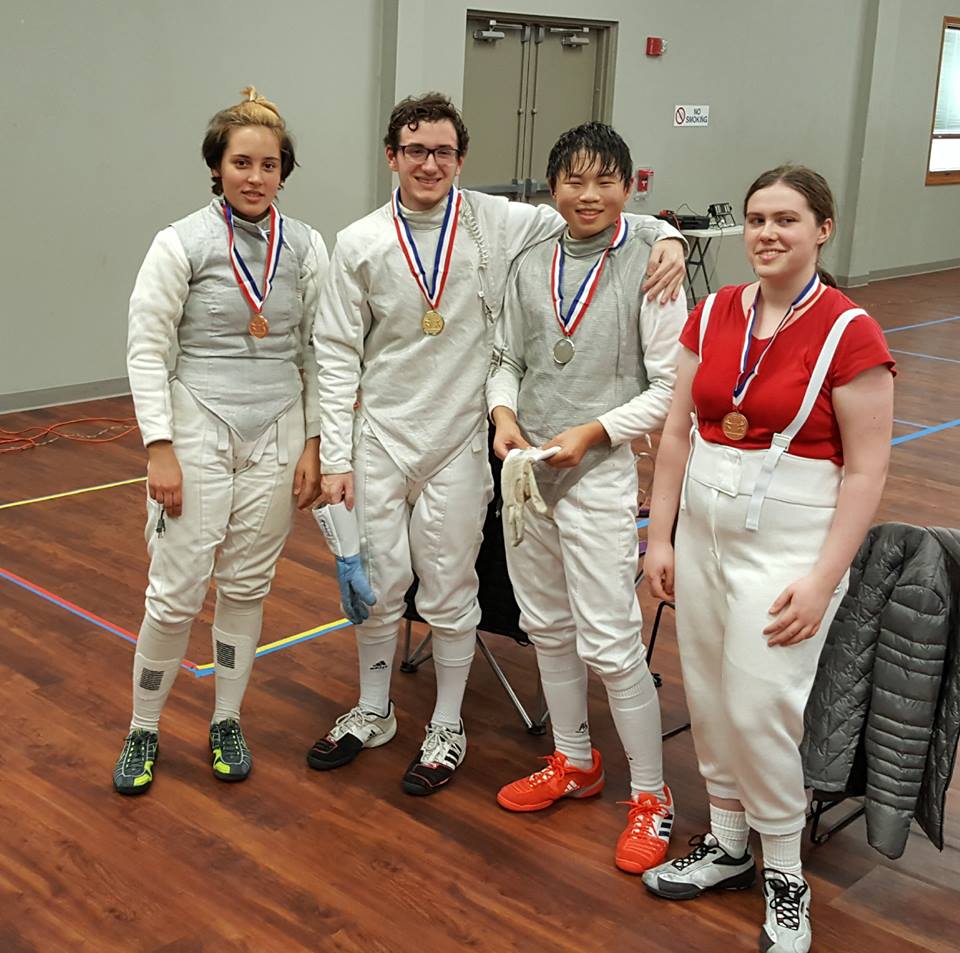 Fencing amongst the ruins of Old Baum Church
October 28, 2017 - Pearce Wilson
Matthew, Trey and Tyler fenced and posed for photos in and around the stone walls that remain of Old Baum Church, south of Waterloo Illinois.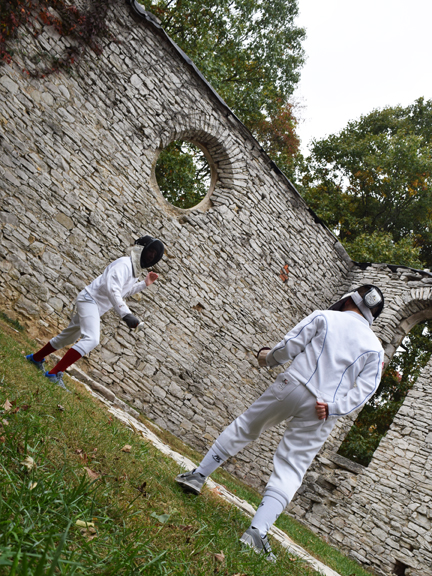 Weird things happen at fencing practice!
October 11, 2017 - Pearce Wilson
Everyone wants in on the fencing action!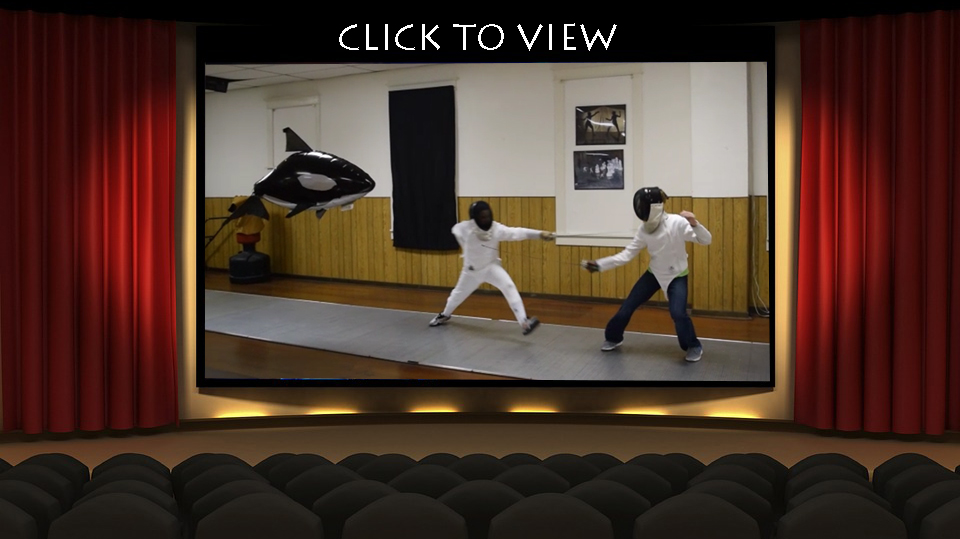 FOTC fencer competes in National Tournament.
October 8, 2017 - Pearce Wilson
Tyler fenced his first ever National Tournament this morning.
He faced one of the best fencers in the country. No, he didn't win but he was one of only two fencers who scored against that fencer.
Today, Tyler also qualified to compete in next summer's USFA National Championships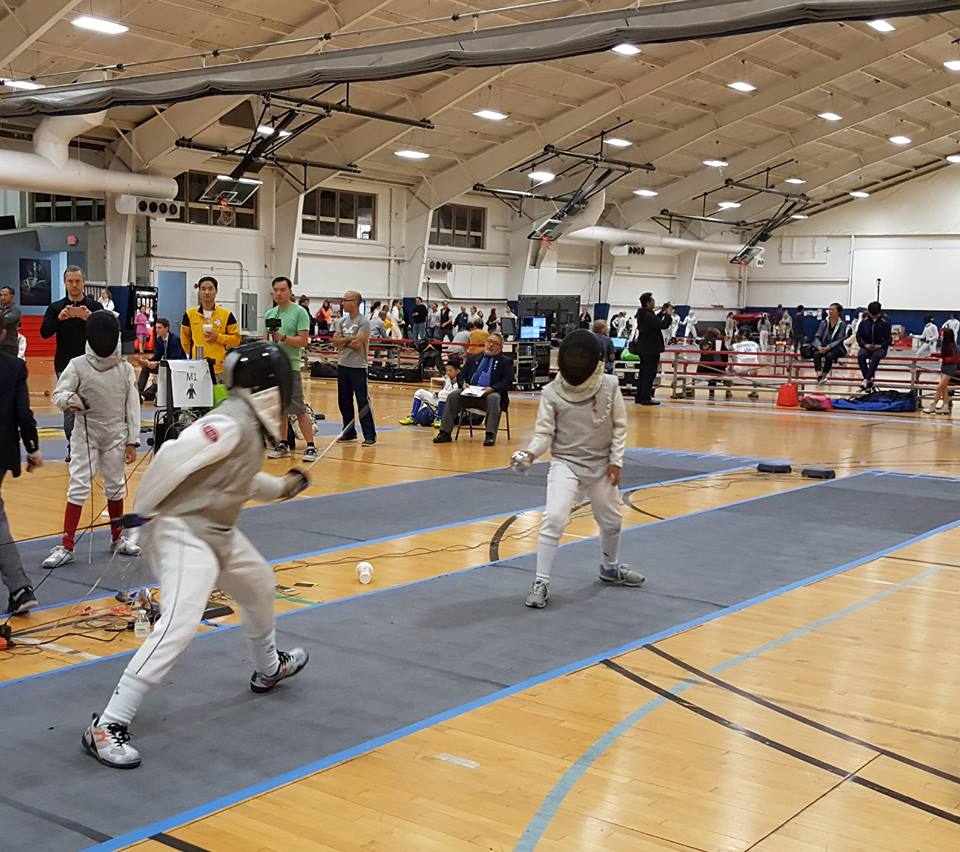 2017 Venturing Fall Fun Rally
September 23, 2017 - Pearce Wilson
We taught fencing to the Venturers visiting St. Louis from around the country. Venturing is a coed program of the Boy Scouts of America for teens.
We failed to teach all 1000+ Scouts in attendance but we did teach a bunch of them. Thanks to Matthew, Joseph, Corey and Daniel for volunteering to teach.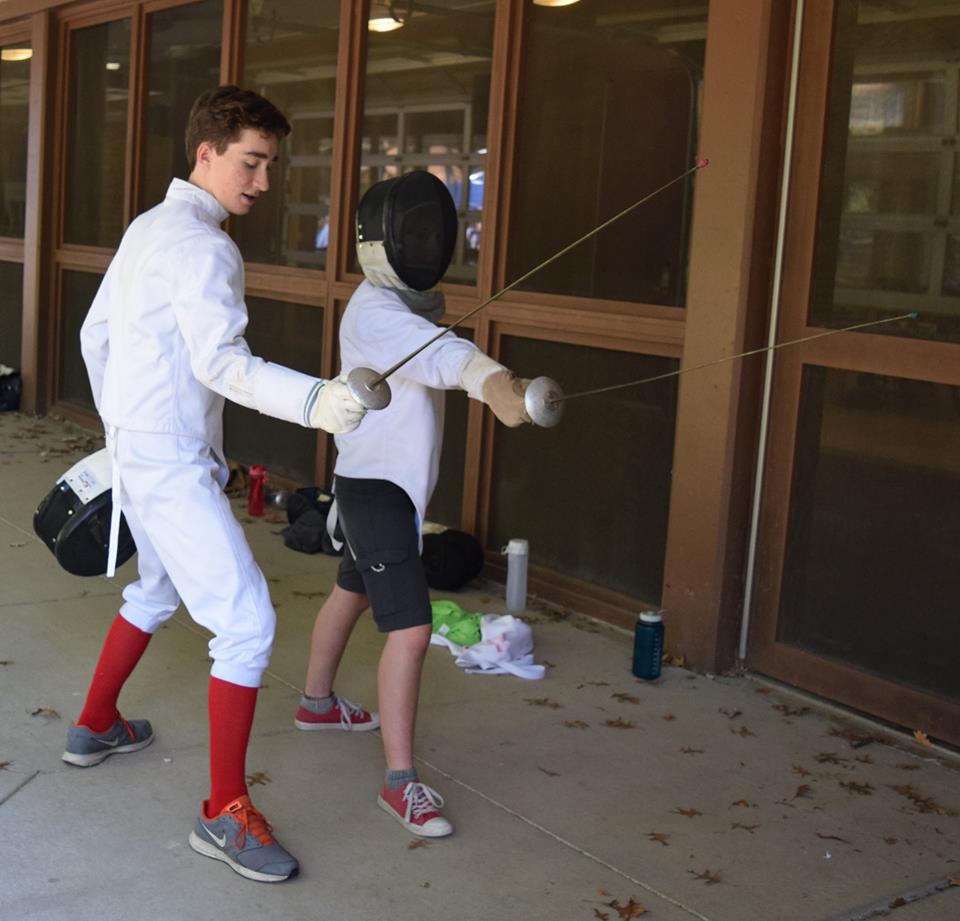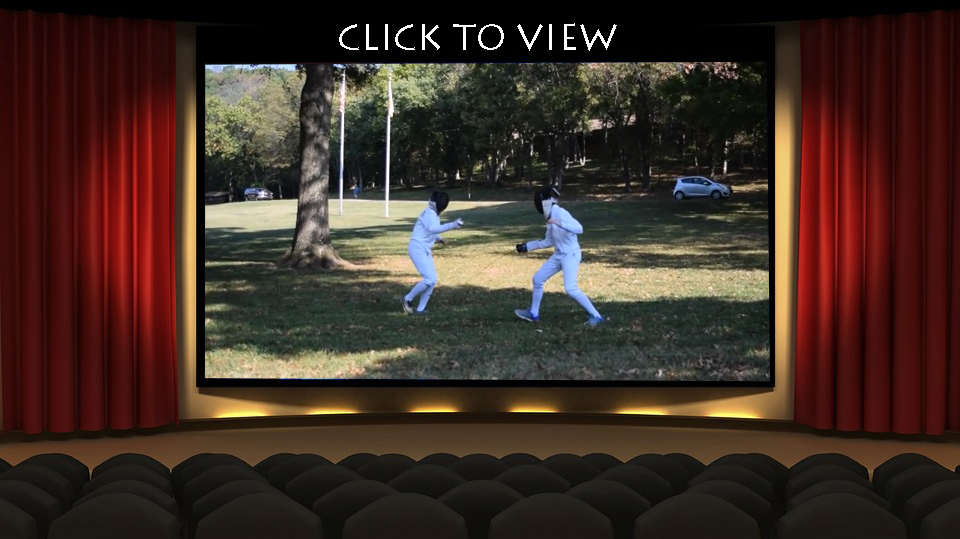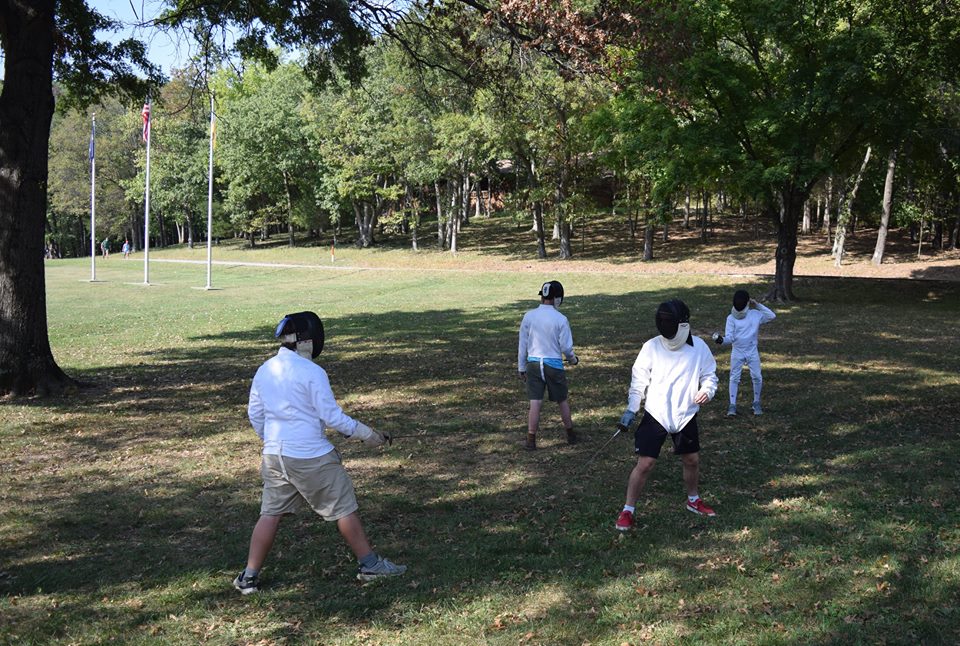 The Golden Bell Guard!
September 16, 2017 - Pearce Wilson
First place female and male contestants won this golden foil bell guard.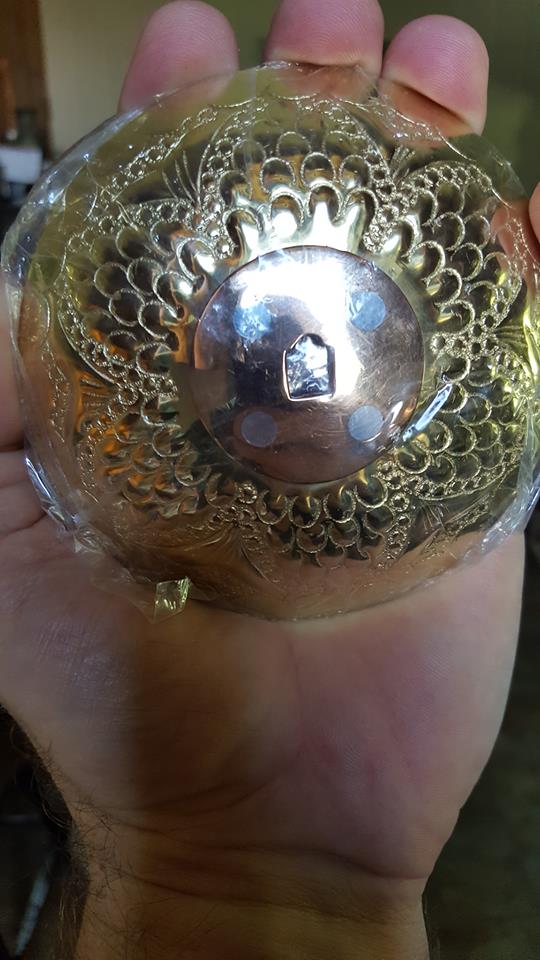 Congratulations to the medalists in our Open Foil tournament.
Matthew takes Gold for the men.
Corey takes Gold for the women. And as overall winner she earns her E17 National rating in foil.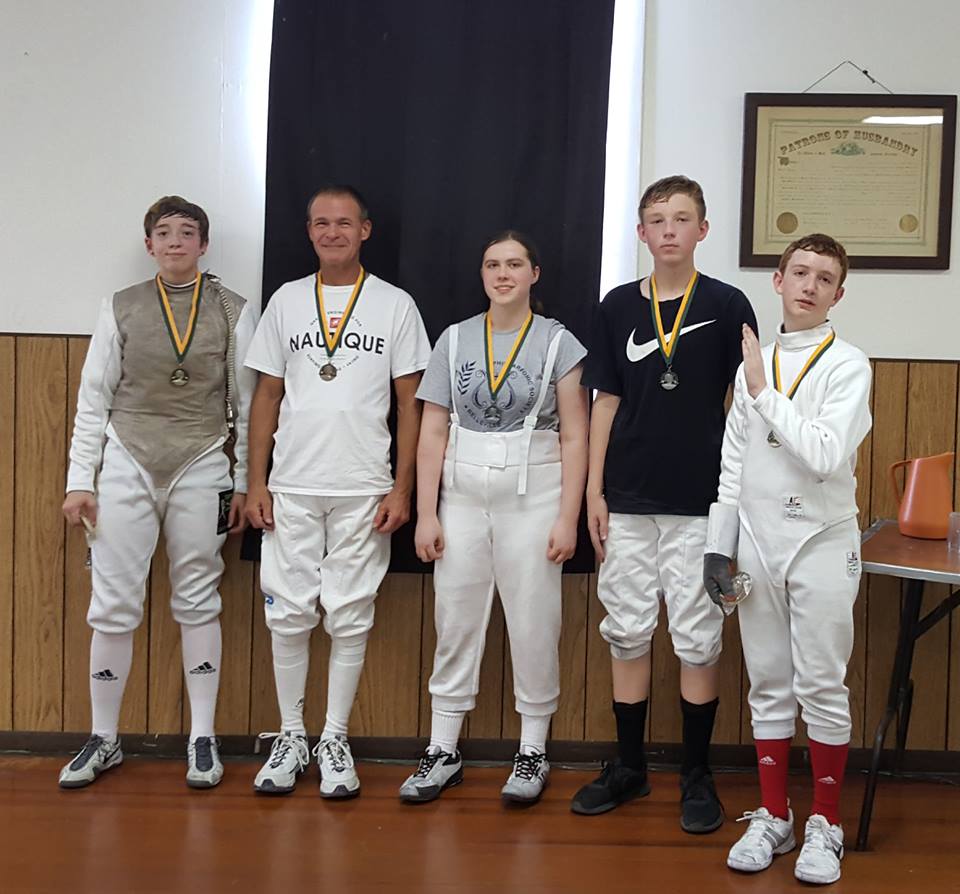 Awesome epee contest tonight.
September 10, 2017 - Pearce Wilson
Congratulations to Shelby on her gold medal and earning her first National rating through the United States Fencing Association, the fencing governing body for the U.S. Olympic Committee.
But everyone fenced really well.
And also great job of refereeing by Chance. (Assisted by Pearce).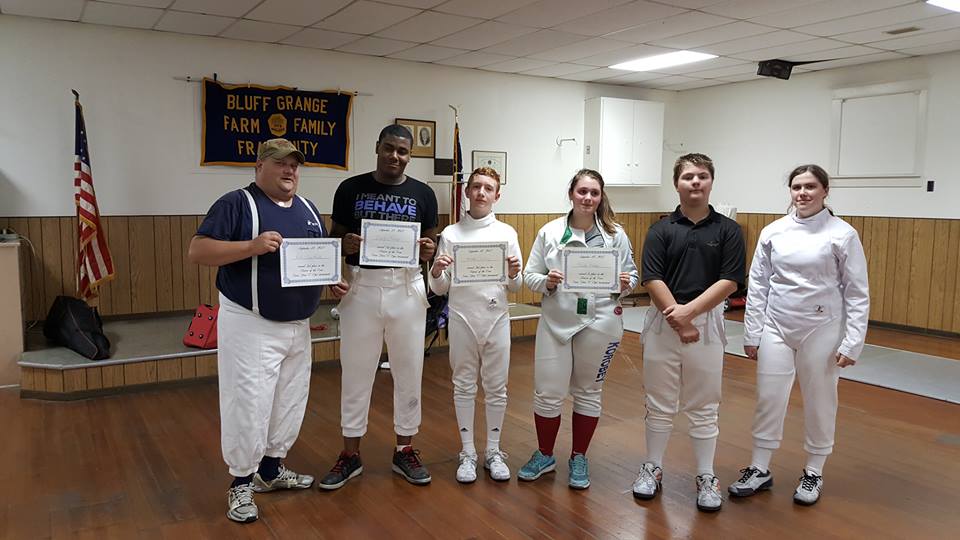 14 Years of Fencers of the Corn and Millstadt Venture Crew
August 29, 2017 - Pearce Wilson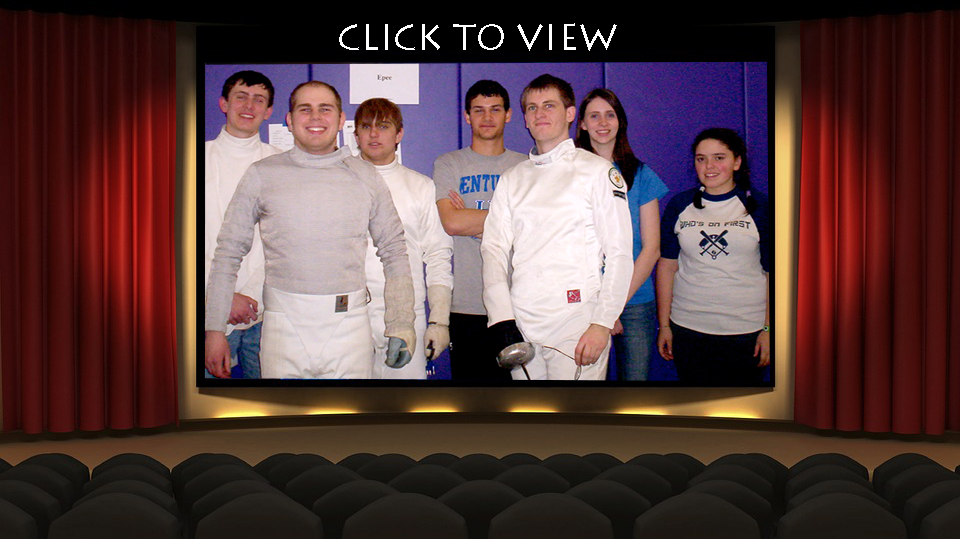 FOTC fencers compete in Wentzville Missouri
August 27, 2017 - Pearce Wilson
Silver Medal in Y10/12 foil for Tyler.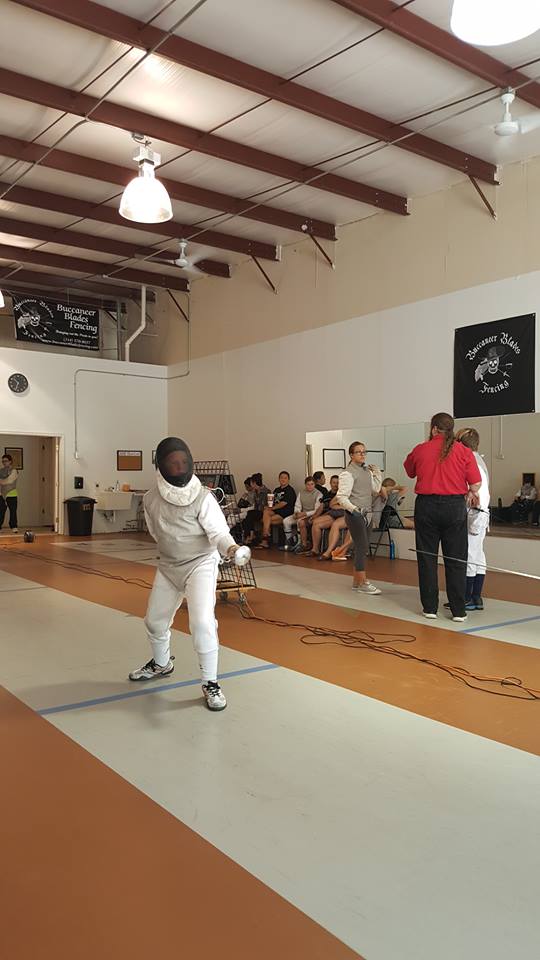 Bronze Medal in Senior Open Epee for Daniel.

Matthew moved up two age brackets this month. As a 13yo he is now eligible to fence as an adult. Today's adult event was a challenge but he fenced very well. Keep up the hard work Matthew!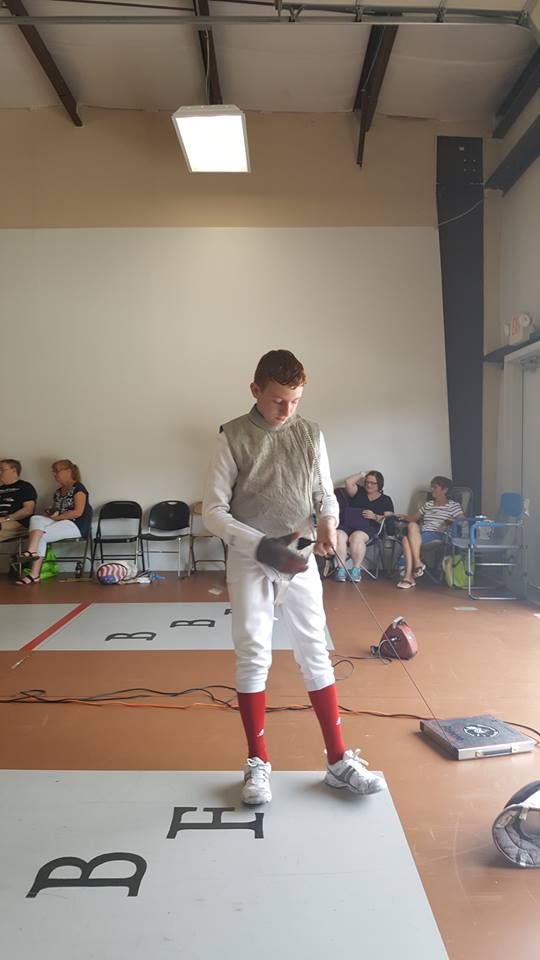 August 12th Senior Open Epee
August 12, 2017 - Pearce Wilson
Fun epee tournament today.
Fencers of the Corn fencers take 1st, 2nd, and a 3rd place tie.
Special congratulations goes to Corey Kilgallon on her gold medal AND earning an "E rating", her first USFA National Rating in Epee. She already has a National rating in foil. And she had to beat two higher rated male fencers to do it (*cough *cough, including her own coach)!
Corey takes 1st.
Pearce takes 2nd.
Shelby ties for 3rd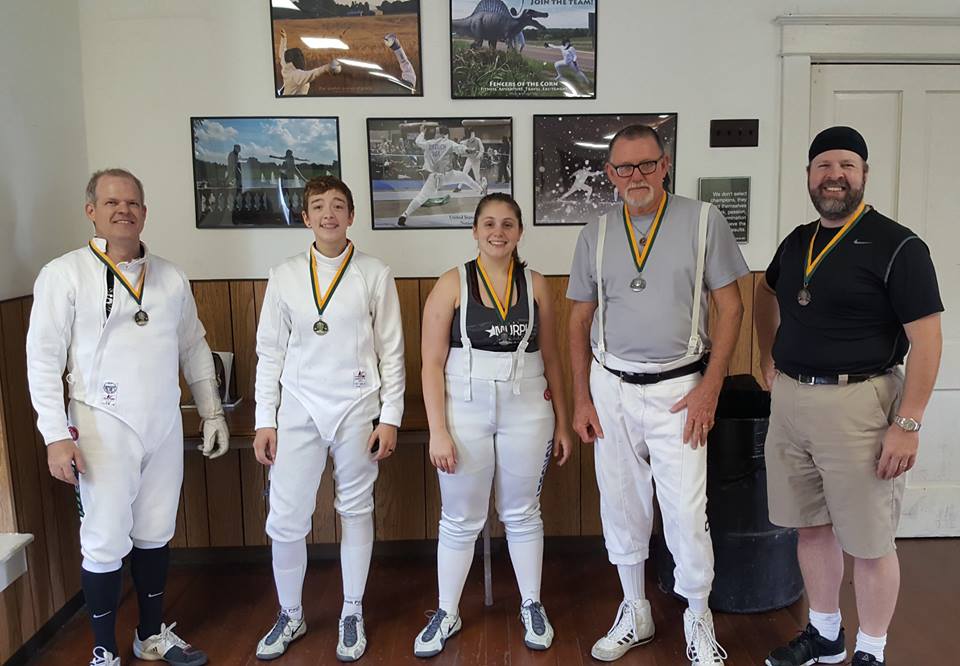 Congratulations to the medalists from our August 5th tournament!
August 5, 2017 - Pearce Wilson
Y10/12 Foil medalists.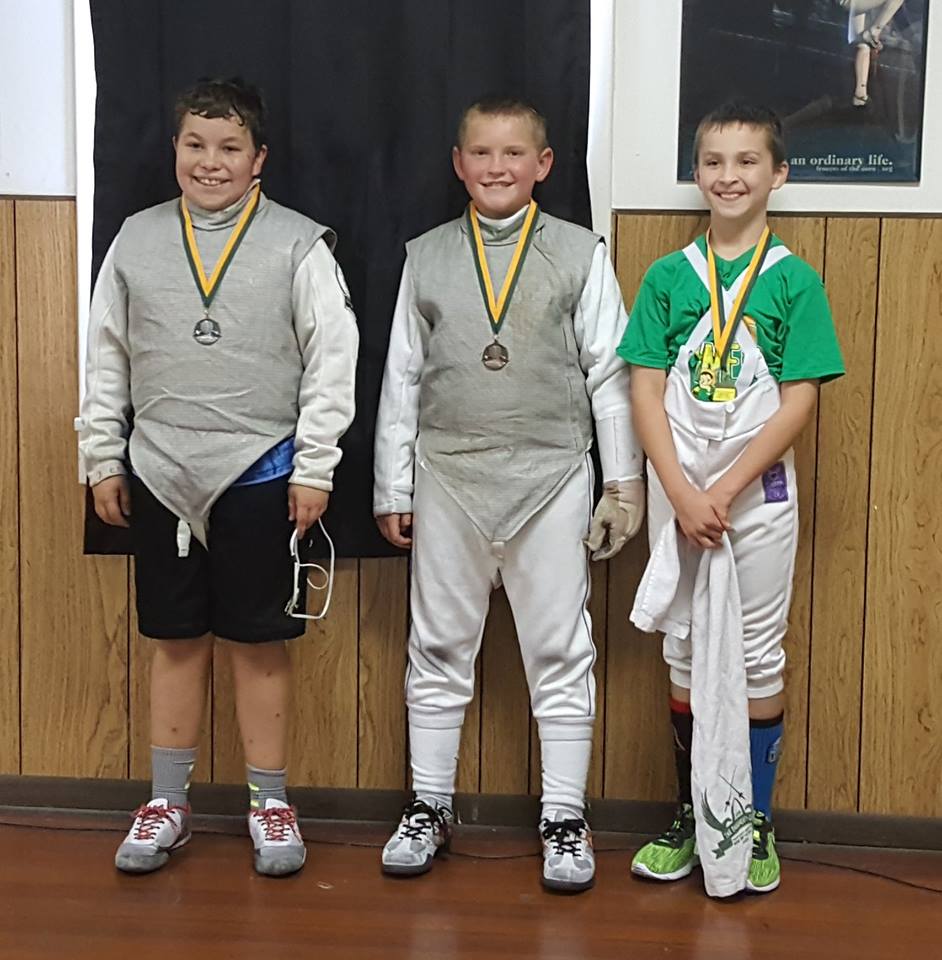 Senior Unrated Foil medalists.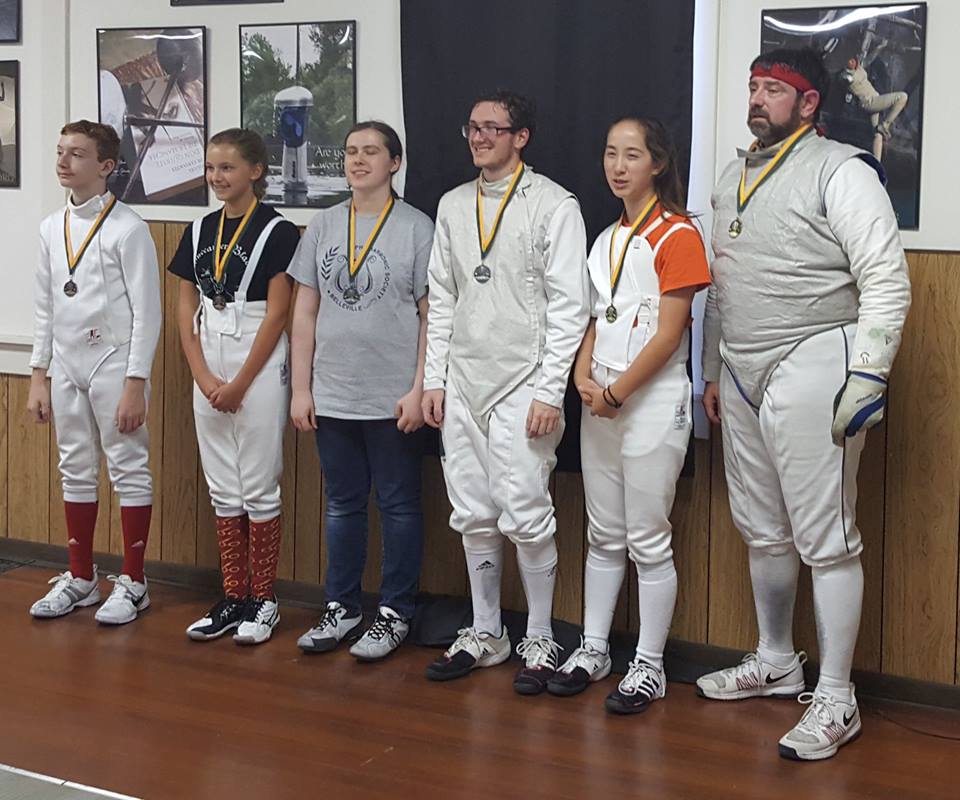 Fencing movie? Why not?
July 26, 2017 - Pearce Wilson
We tried our hand at movie making this morning. We have a lot to learn before we can say we are good at it! Here is a short clip from our efforts: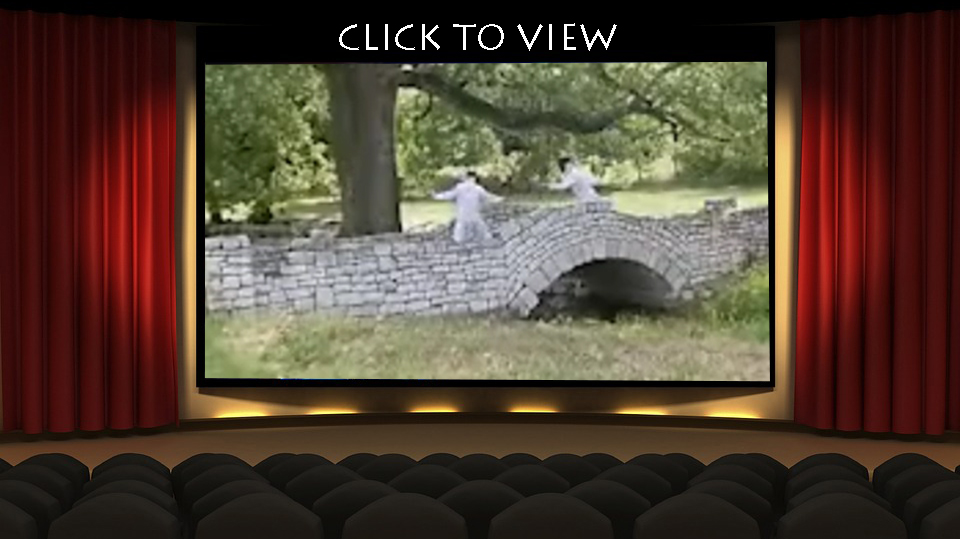 Say hello to our movie stars, Chance and Tyler.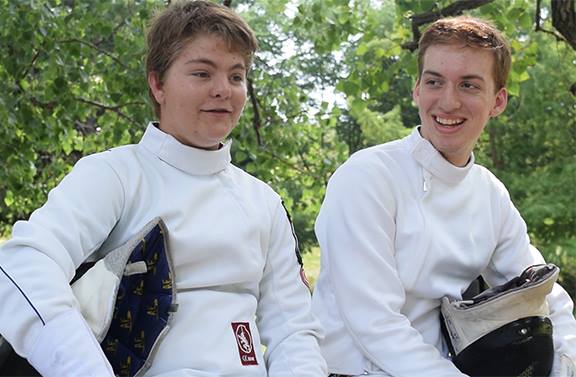 Ice Cream, Barbecue, and Swords Tournament Results
July 22, 2017 - Pearce Wilson
Thanks to everyone who came out to support us at our Ice Cream, Barbecue and Swords fund raiser on Saturday. And congratulations to the medalists. What a fun day. But long!!
Saber Medalists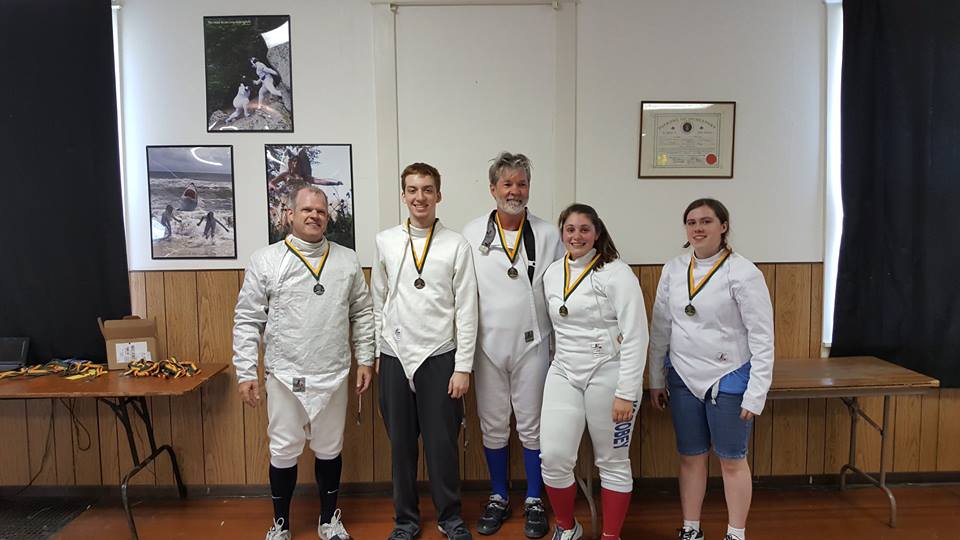 Foil Medalists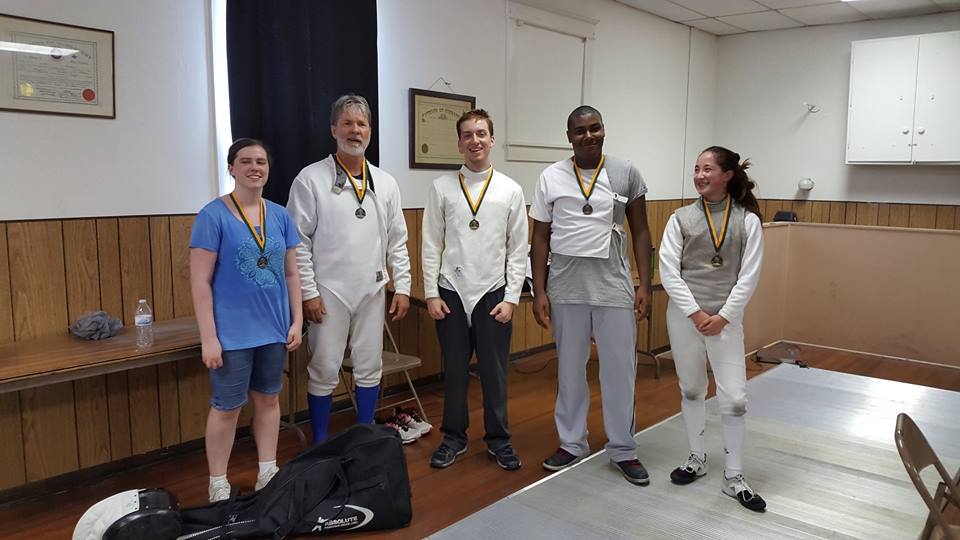 Epee Medalists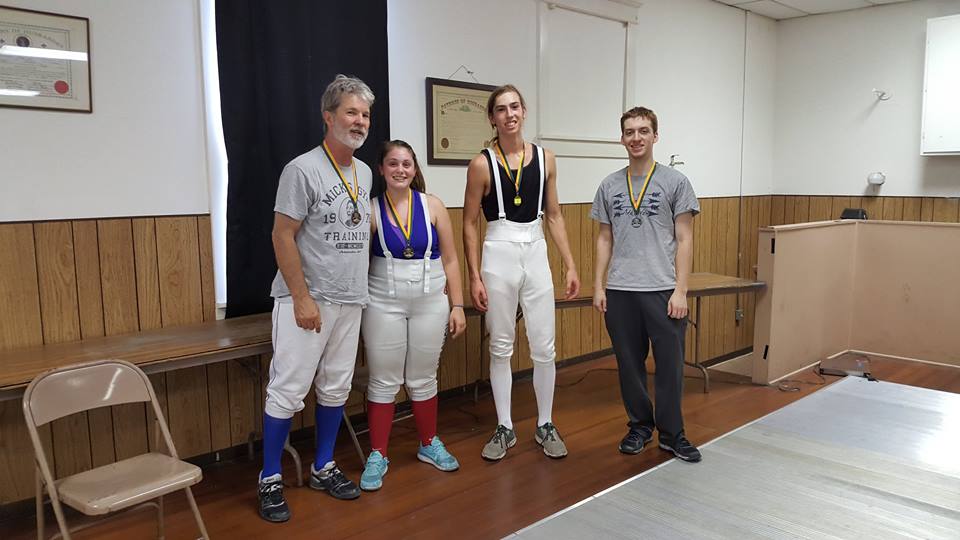 Ice Cream, Barbecue, and Swords
June 26, 2017 - Pearce Wilson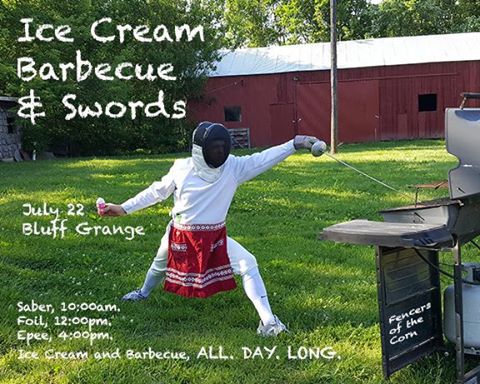 July 22 we're hosting a 3 weapon fencing tournament AND all you can eat ice cream and barbecue!
Senior Saber starts at 10:00 am.
Senior Foil starts at 12:00 noon.
Senior Epee starts at 4:00 pm.
Barbecue and ice cream is served all day.
$10 entry for each weapon fenced. $20 for barbecue and ice cream.
Click here to preregister.
Fencing and sloth.
June 25, 2017 - Pearce Wilson
Our team captain has an unhealthy obsession with sloths.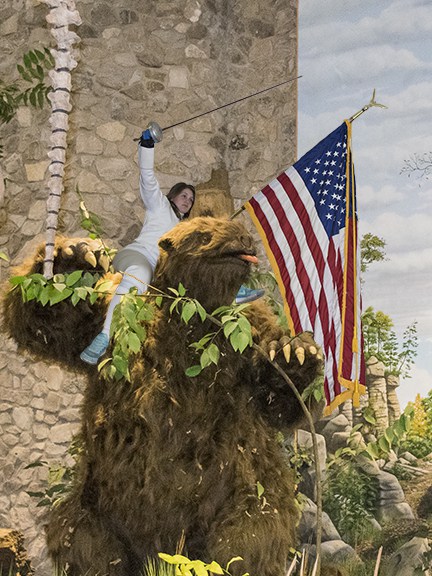 Location scouting
June 25, 2017 - Pearce Wilson

The best discoveries are by accident!
Shelby and I were at Mastodon State Historical site for some photos and we had a little extra time so we headed over to the Sandy Creek Covered Bridge. Great location for a team picnic and fencing photos. We need to make some plans to take the team there some weekend this summer.
Fathers Day 2017
June 18, 2017 - Pearce Wilson
I was supposed to have the night off from fencing practice but team leadership would not take 'no' for an answer. They bribed me with T-bones.
So we fenced for a couple hours then enjoyed dinner together.

Mississippi State Games 2017
June 17, 2017 - Pearce Wilson
State Games of Mississippi. So glad we made the trip.
Chance and Carlos fencing in the motel parking lot the night before the competition.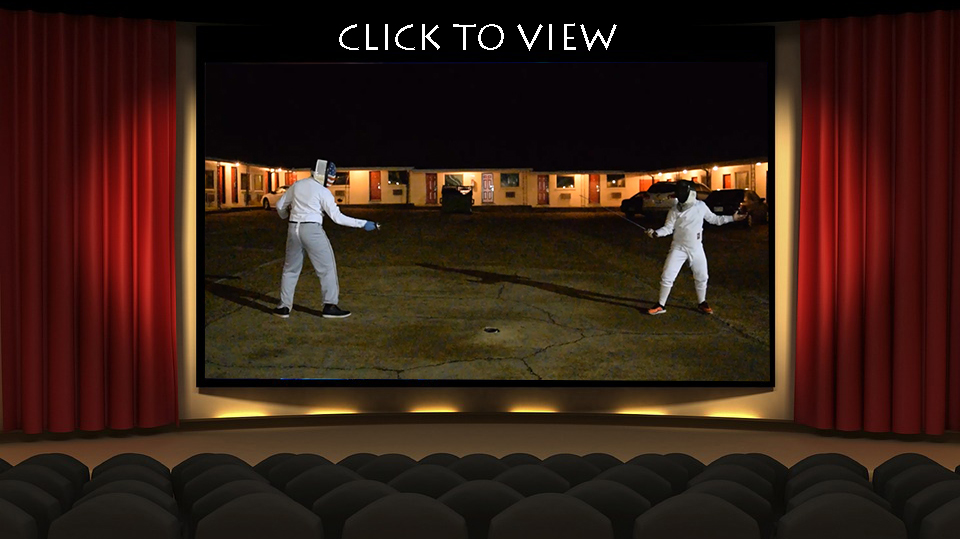 Y10 Men's Foil, Tyler wins bronze.
Y12 Men's Foil, Kierre wins silver, Matthew wins gold.
Y14 Men's Foil, Chance wins silver.
Senior Men's Foil, Carlos gets 14th place. Tyler gets 5th.
Senior Men's Saber, Matthew gets 5th place.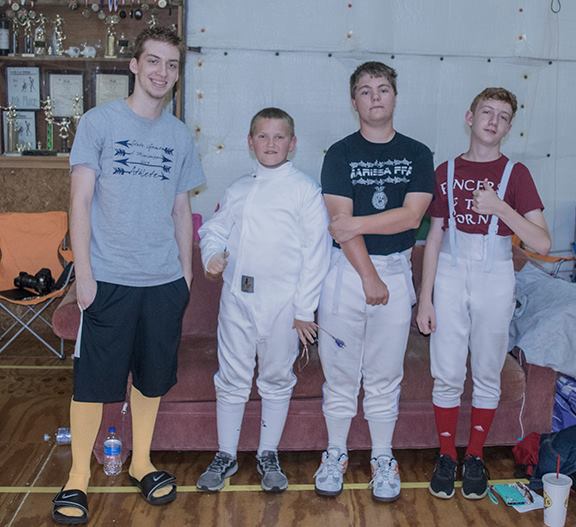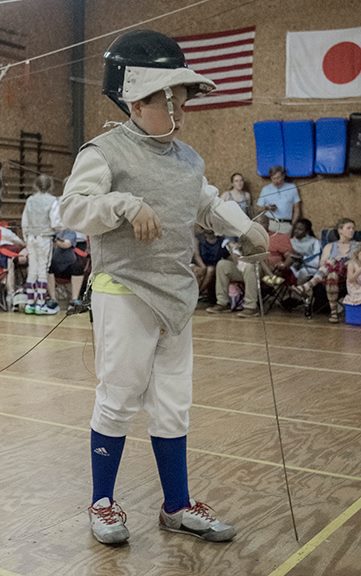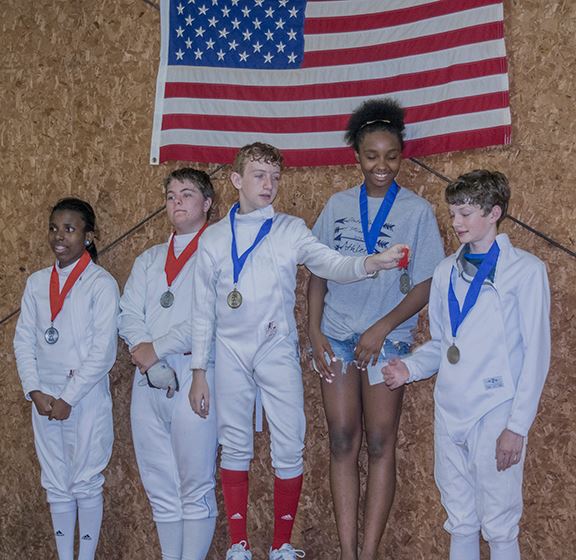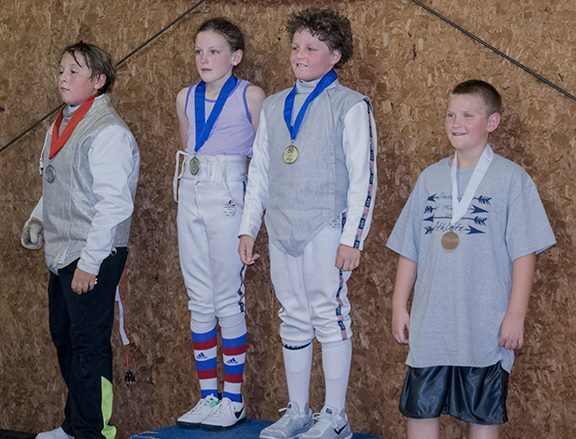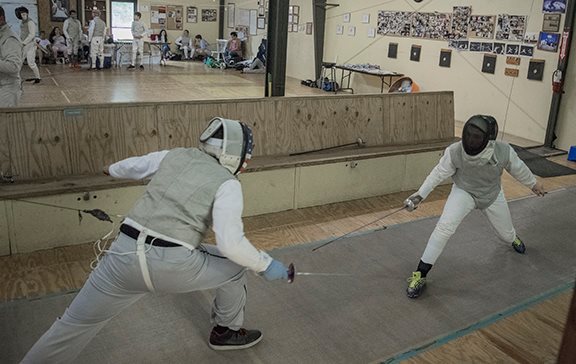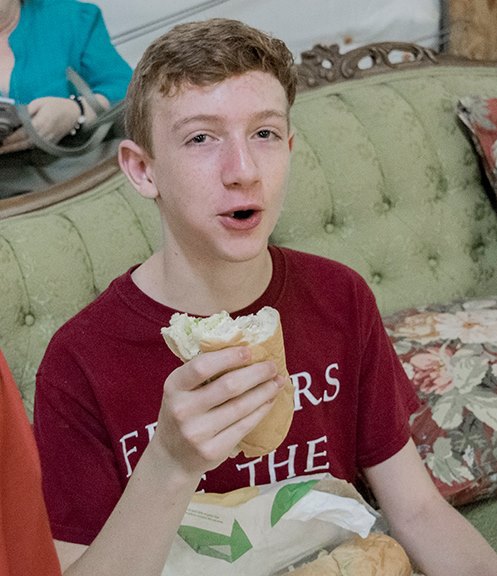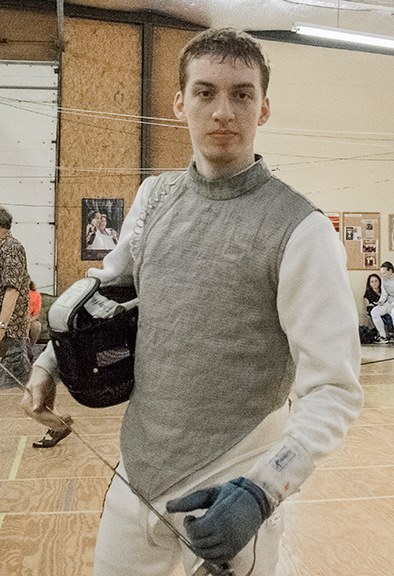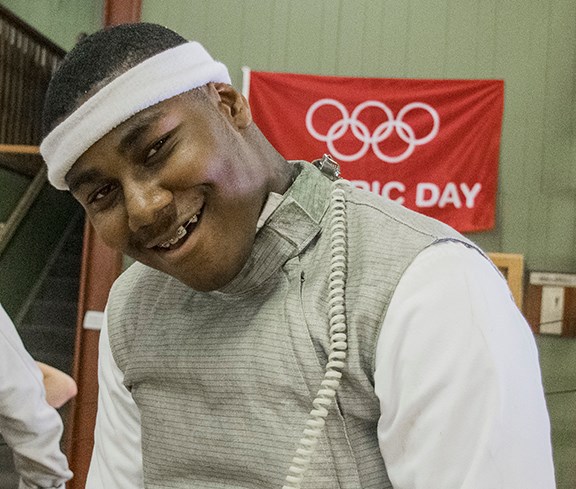 Tools For Dad
June 10, 2017 - Pearce Wilson
Small foil tournament today. Great warm-up for next week's Mississippi State Games. Congratulations to our medalists!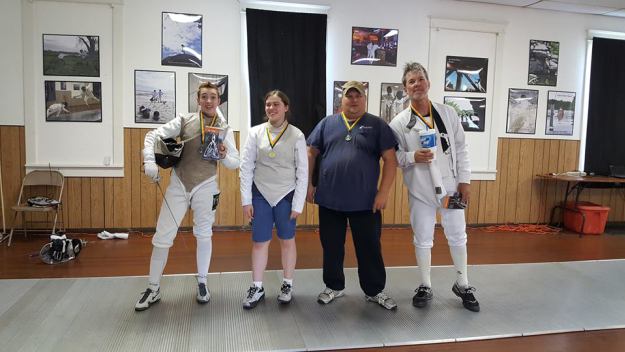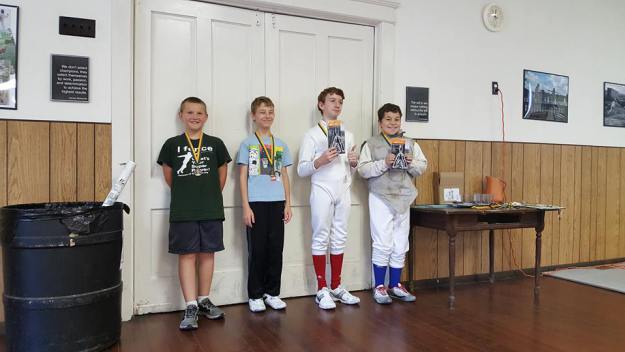 Neighborhood girls visit fencing practice
June 9, 2017 - Pearce Wilson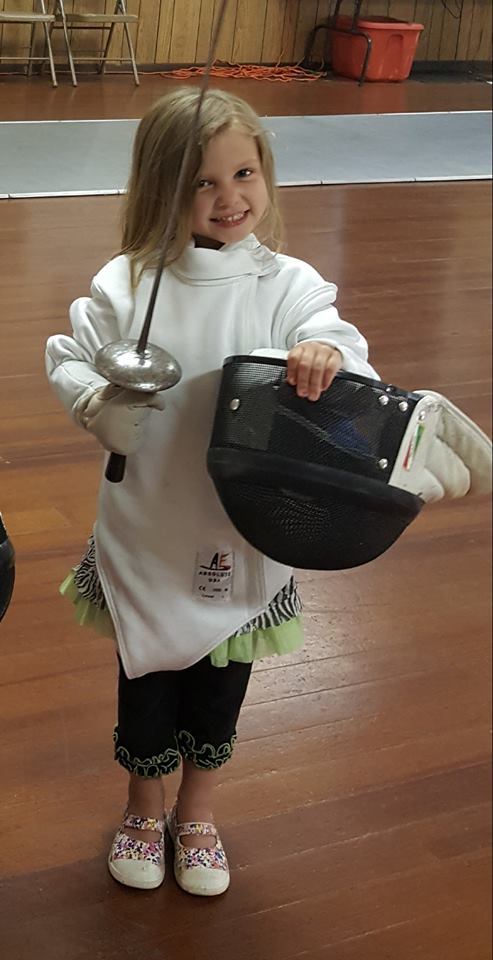 We had a couple visitors last night. They wanted to watch us fence. But of course, we convinced them to suit up and try it.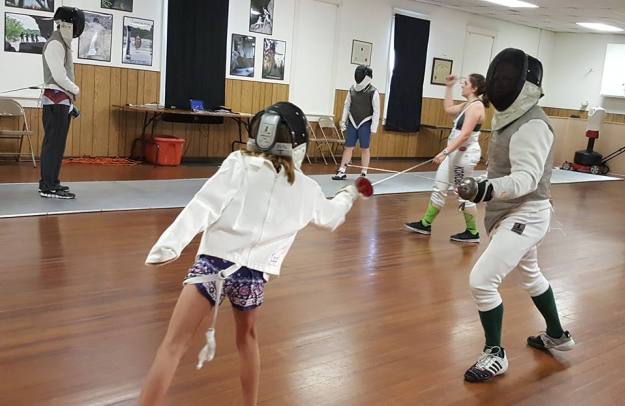 Team Captain and Co-Captain announced.
May 22, 2017 - Pearce Wilson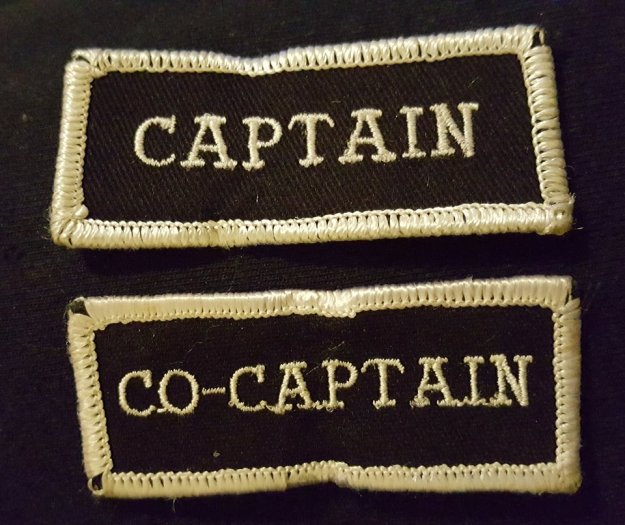 Team Captain and Co-Captain
It has been 5 years since we last named a team captain. For the past few years our fencers rarely competed. We were mostly a recreational fencing club. Having a team captain was not needed.
This year we began to see more of our fencers compete and with the national championship in St. Louis next summer, we will encourage competition like never before.
I have asked Shelby Korobey to serve as our team captain. Shelby took on a giant leadership role for the team with her spearheading our Trivia Night Fundraiser. She is competing often in tournaments big and small. She comes to practice regularly with the attitude that she will be a little bit better than she was the day before.
I have asked Tyler Forsythe to serve as Shelby's Co-Captain. This year Tyler moved beyond the recreational fencer into the competitive ranks. He goes out of his way to fence with the younger fencers at practice, helping them become better. He doesn't mind fencing any weapon if it can help our team.
Both Shelby and Tyler have been incredibly helpful to me this past year. I often ask their opinions on team management issues, scheduling, etc.
We are lucky to have these two young athletes on our team.
Silvercreek Elementary School duel
May 18, 2017 - Pearce Wilson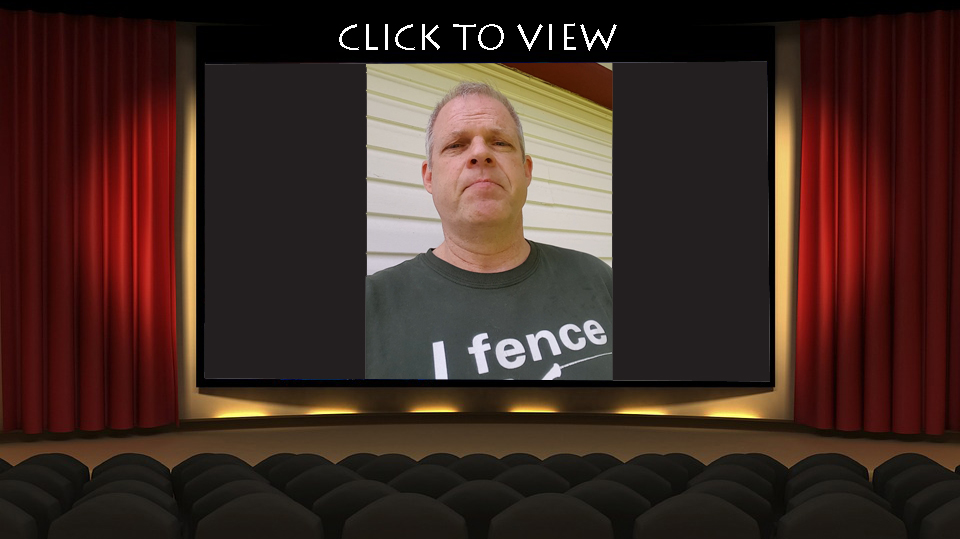 Flowers for Mom
May 13, 2017 - Pearce Wilson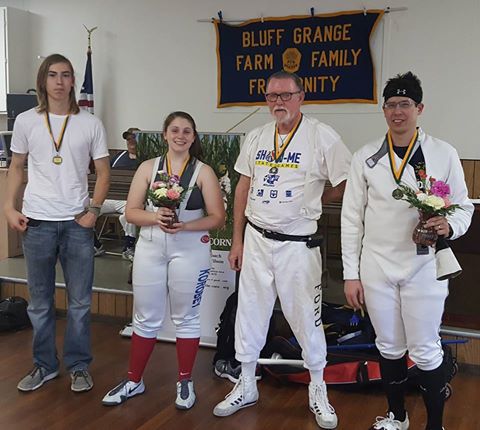 Great mix of veteran and beginner fencers for today's Flowers for Mom, Epee tournament.
Men's bronze goes to our Daniel.
Men's silver goes to Terrell who came from Springfield Illinois with a couple brand new fencers who got to try their first competition.
Men's gold goes to Joe who came up from Memphis to win some flowers for his mom. Joe has graduated but he used to fence at U.S. Naval Academy.
Finally, Women's gold (plus 3rd place tie in the men's division) and another bouquet of flowers for her mom, goes to our Shelby.
Tournament in Wentzville
May 6, 2017 - Pearce Wilson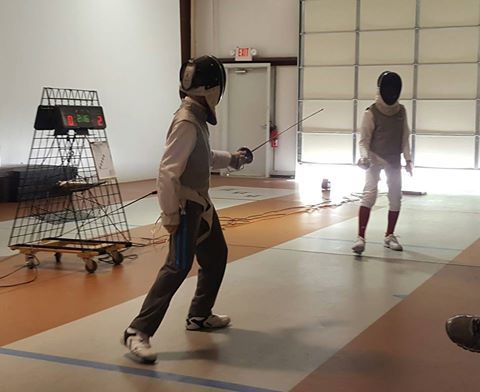 Tournament today in Missouri.
Teammates meet. Matthew on right. Timber on left in his first tournament.
Kierre's Got Talent
May 5, 2017 - Pearce Wilson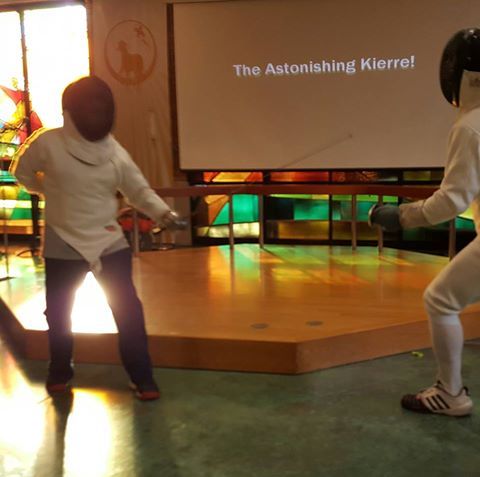 Kierre demonstrated fencing tonight at his church's talent show.
Orion's Belt
May 2, 2017 - Pearce Wilson

When you're a fencer, you see the world (and the night sky) a little differently.
Chance and Daniel, a couple of our Junior Olympian fencing stars, have recreated the constellation Orion.
Great competition trip to Oxford Mississippi
April 17, 2017 - Pearce Wilson
Fencing plus adventure on the road.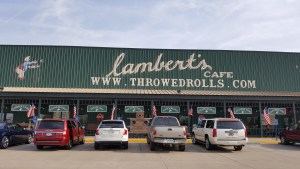 If you're passing through Sikeston, treat yourself to some 'throwed rolls'!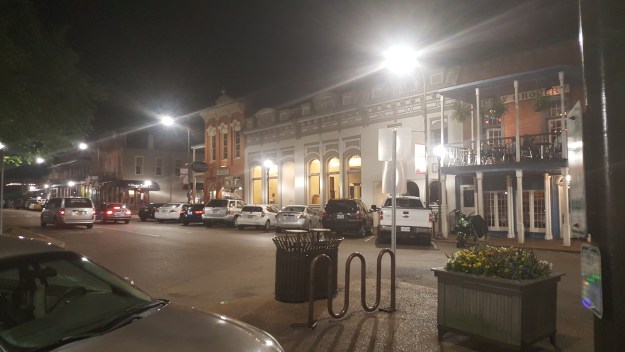 Oxford at night.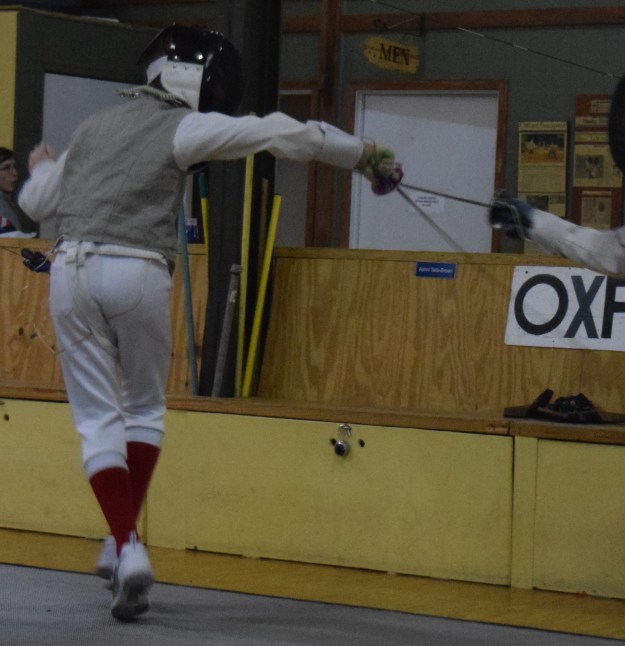 Woohoo! Silver medals for two of our fencers.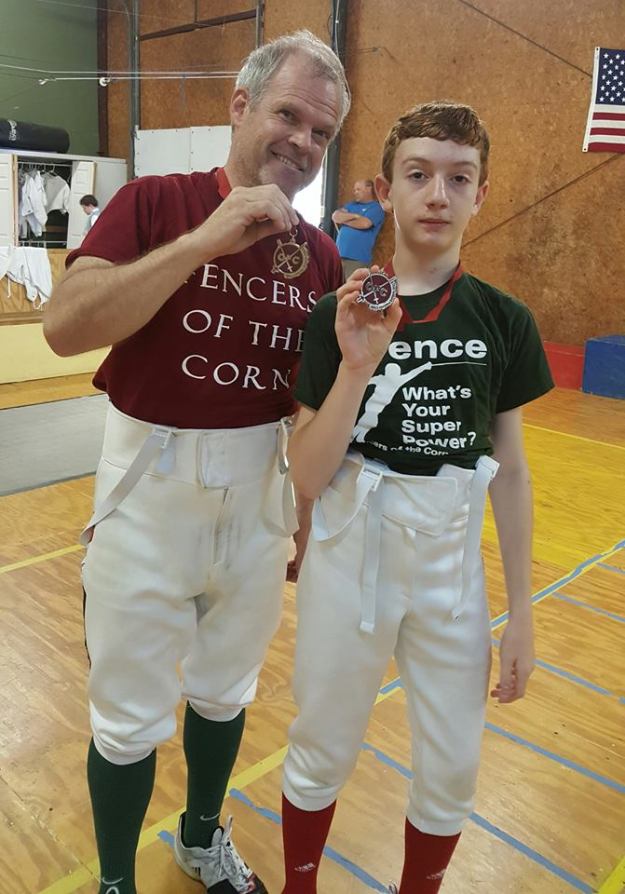 Finally, a sword fight and tour of 20th Century Nobel Prize winning author and former Oxford resident, William Faulkner's home, Rowan Oak.

We've written about this before but we'll write it again, we like fencing but there is the bigger picture of education and adventure that is more important to us that just competition. Education and adventure opportunities help guide our competition selections.
FOTC head to Oxford MS for competition
April 13, 2017 - Pearce Wilson
The team will compete in Oxford this Saturday. Oxford is the home of William Faulkner and the Rebels of Ole Miss. It is a beautiful historic Old South town. We look for tournaments that challenge us in competition but that also offer new cultural and educational experiences for our team members.
We will be fencing at the Oxford Fencing Club, home base of the University of Mississippi (Ole Miss) Rebels fencing team.
Fencing in our DNA?
April 9, 2017 - Pearce Wilson
Thanks to Chance and Daniel for being our movie stars!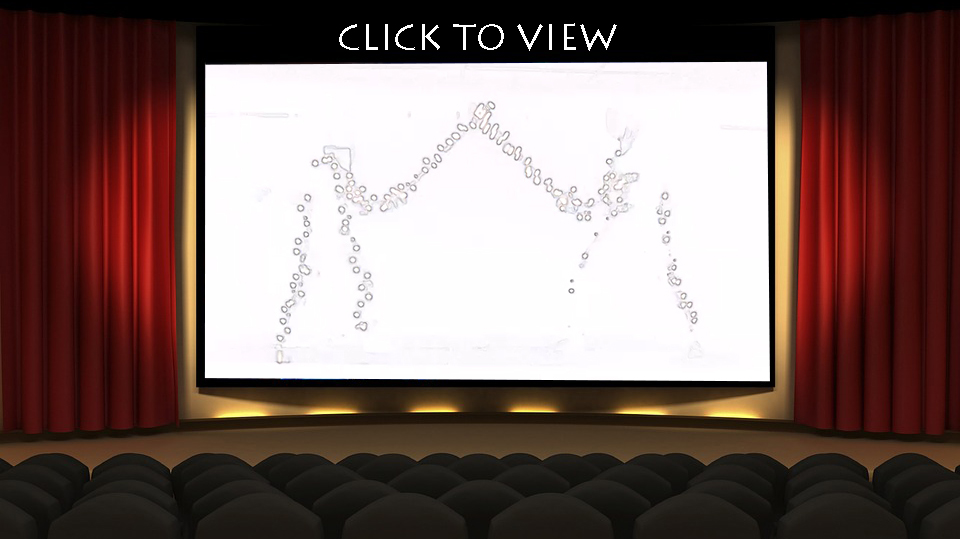 April 2017 FOTC Foil tournament
April 9, 2017 - Pearce Wilson
Fun tournament yesterday. We didn't intend it to be a FOTC club only event but that's the way it turned out. Thank you to Shelby and Corey, our two most experienced fencers, who helped us out with refereeing.

Several of our fencers got their first taste of competitive fencing in a low pressure environment.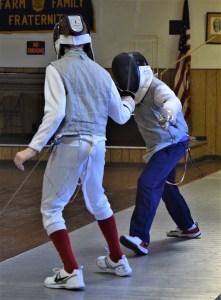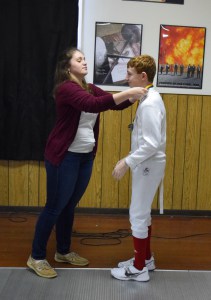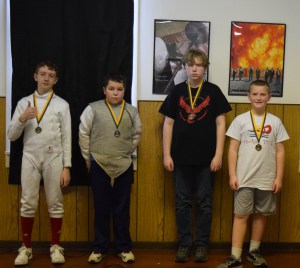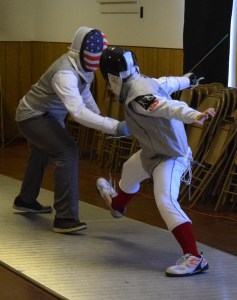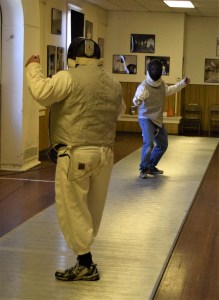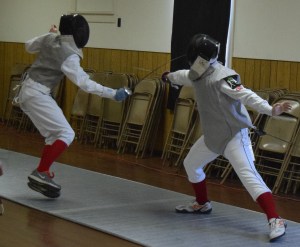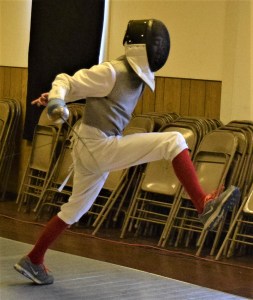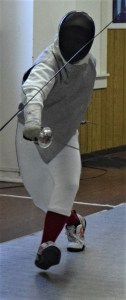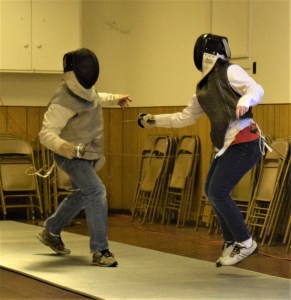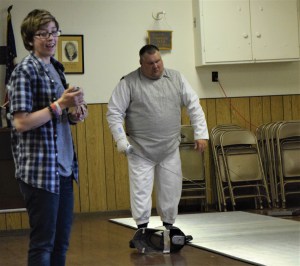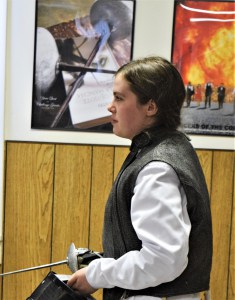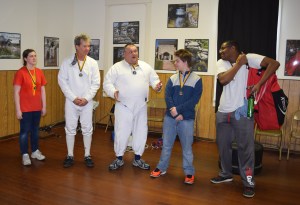 Fencing and BBQ at the 4-Way
April 5, 2017 - Pearce Wilson
We held a barbecue fundraiser for our sponsor Bluff Grange on Saturday at the town's only stop light. Corey and Tyler entertained while we cooked bratwurst.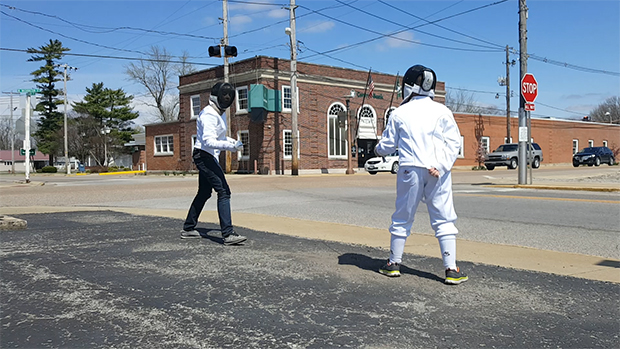 The constellation Orion as seen from Southern Illinois
April 5, 2017 - Pearce Wilson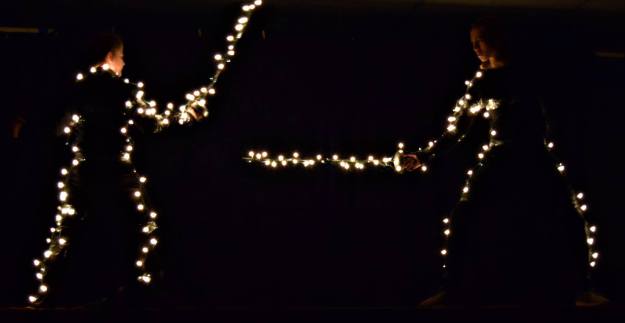 Competitions at Univ of Illinois and Purdue University
March 31, 2017 - Pearce Wilson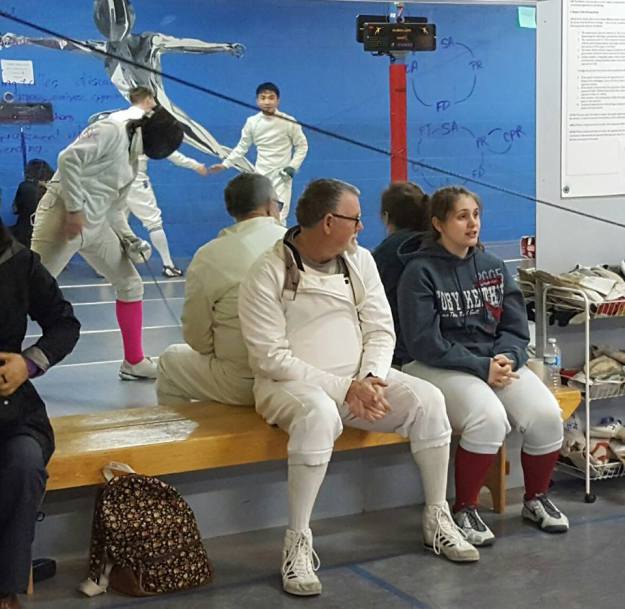 Early March saw Shelby fencing at The Point Fencing Club (the Univ. of Illinois' home base).
This was their "Master of Arms" special event where fencers have the option of competing in all three weapons. Most fencers specialize in one, sometimes compete in two, rarely all three. There were other women competing in a single weapon but Shelby was the only woman to compete in all three against the men. No medals but she represented our club well.


Late March saw Daniel travel to Indiana to compete in Purdue University's Spring Open. Daniel ends in 17th place of 32 in a strong event.
School "greater than" Work "greater than" Fencing
March 27, 2017 - Pearce Wilson
We just got an apology from one of our fencers because he has to skip practice to finish his school work.
I have commented on this situation before.
School and work come before fencing.
I miss you when you can't come but I would be very upset if I found out you were neglecting your school obligations to fence.
Study hard. We'll still be here when you get done.
Pearce
Great fencing weekend in Wentzville Missouri
March 7, 2017 - Pearce Wilson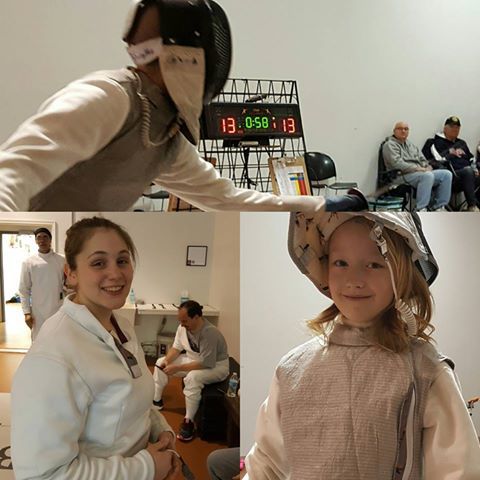 Kellen, Tyler and Shelby competed at Buccaneer Blades Fencing in Wentzville this past weekend.
This was Kellen's first tournament. She was so excited! She did very well. Finishing with the silver medal. And apparently she can fly!


Tyler lost in the Direct Elimination round to a fencer from Washington Universty. This was one of the more exciting contest I've gotten to watch. Tyler was down 3 to 9 in this 15 point contest with about a minute left in the first 3 minute period. Then he got smart and changed the way he fenced. Over the course of the next 7 minutes he made an amazing comeback. With less that 6 seconds left in regulation he tied the score 13-13. The two fencers entered into the tie breaker sudden death round where Tyler did lose but over all it was a huge positive for him. So cool to watch him perform so well under pressure.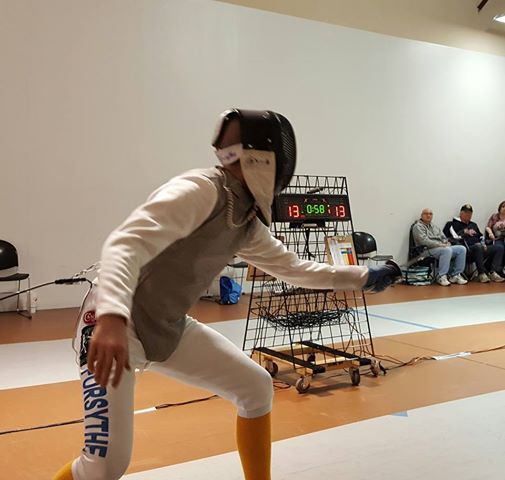 Shelby was fencing so well. She came out of the preliminary round in second place against a field of all men. She finished the day with the bronze medal.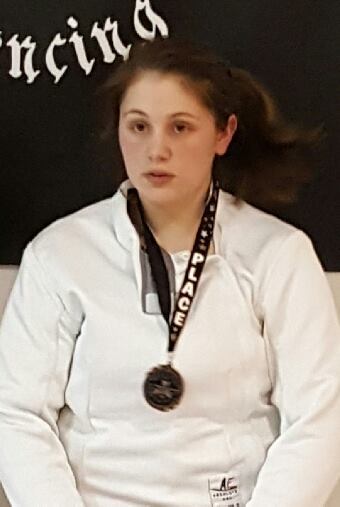 2017 Junior Olympics National Championships
February 21, 2017 - Pearce Wilson
This year marks the largest team we have ever sent to the Junior Olympics, the National Championships for U.S. teens. The JO's were in Kansas City this year.


Chance, Shelby, Daniel, Tyler and Corey head to Kansas City to compete with the best fencers from each State in the Nation.

Shelby and Corey competed in both foil and epee. Tyler and Chance competed in foil Daniel competed in epee.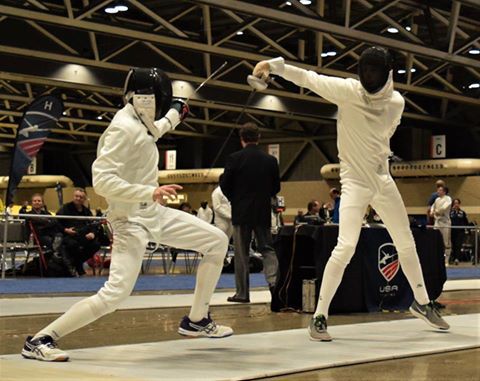 Daniel on right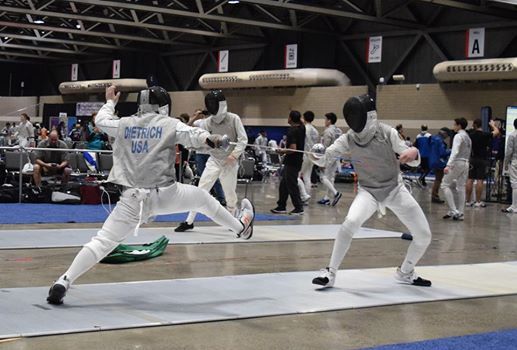 Chance on left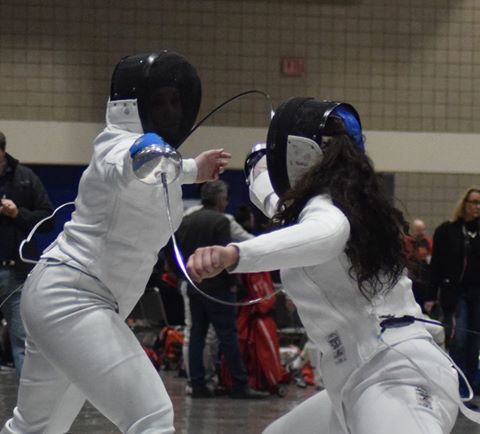 Shelby on left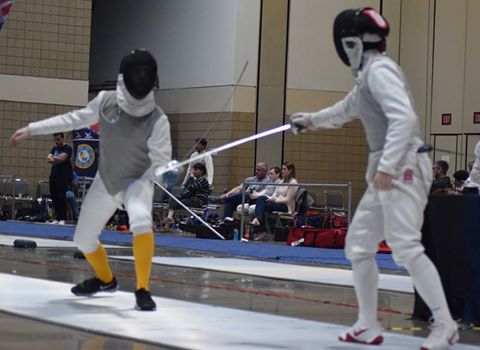 Tyler on left. Hey, wait a minute! Is Tyler's opponent using a lightsaber? That is definitely against the rules!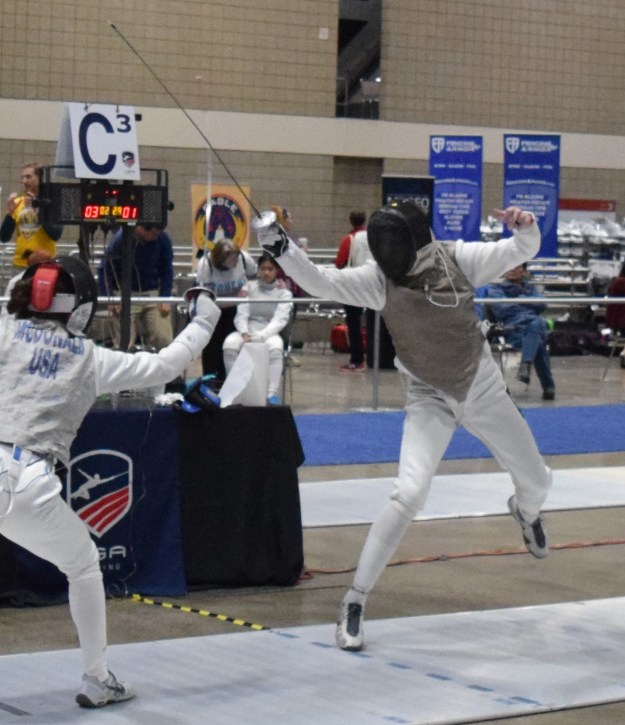 Corey on right
No medals but some great battles and even better experiences for the team.
Keeping things in perspective.
February 15, 2017 - Pearce Wilson
Just how amazing are our fencers?
Recently I had an opportunity to sit down with one of our college fencers for a long chat. It was nice. We have some wonderful, genuine people who fence with us.
In the chat this athlete lamented that she felt like she had not accomplished much. My response was, "WHAT!?!"
I have written on this subject before but it is time to do it again. Our fencers are young. They don't have a frame of reference to compare their accomplishments with what is typical. Our fencers have gotten an opportunity to do some pretty amazing things. It is up to the older members of the team to remind these kids how awesome they are.
I need this teenage athlete to answer a few questions to help her put her accomplishments into perspective.
Have any of your friends traveled north, south, east, west, literally coast to coast to compete in ANY athletic endeavor?
How many of your classmates have competed in a National Championship?
What about competing in a National Championship 4 years in a row?
What about being one of only two women in the entire United States to compete in all three weapons at the National Championships last year?
Can you name one of your classmates who has competed head to head with one of the top five athletes in the world?
How many people do you know who can say that because of their athletic performances, have pictures that are getting the attention of professional athletes; Hollywood movie stars, directors and producers; Advertising Agencies and fashion models worldwide?
And as a bonus, how many people do you know who received the economic benefit of training, lessons, equipment and travel worth more than $50,000 over the past 5 years for nearly free, thanks to our team's treasured sponsors, donors, and volunteers?
No, she didn't complete every one of her goals but she has absolutely nothing to be sorry about. She has already done amazing things and she is still a teen!
This particular athlete is a pretty amazing person! All our fencers are pretty amazing people!
Junior Olympics schedule changes
February 13, 2017 - Pearce Wilson
Due to the Junior Olympics this weekend, Thursday February 16 and Monday February 20 practices are canceled.
Monday class students can attend the Wednesday February 22 class as a make up
As tough as junkyard dogs.
February 10, 2017 - Pearce Wilson
Thanks to Mudd Duck Auto Salvage for letting us fence in their salvage yard. The juxtaposition of the gritty chaotic salvage yard against the distilled perfection of the fencers is striking.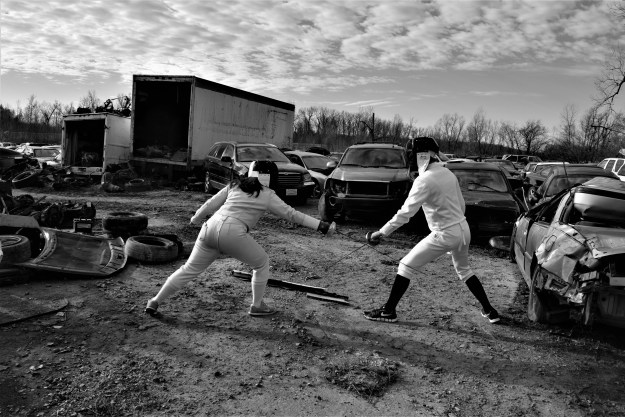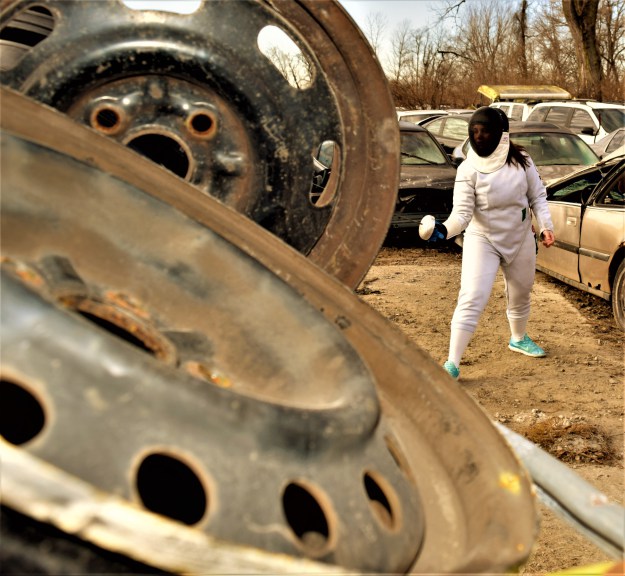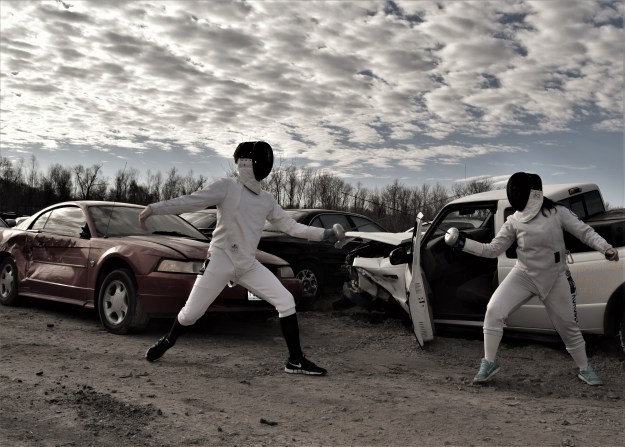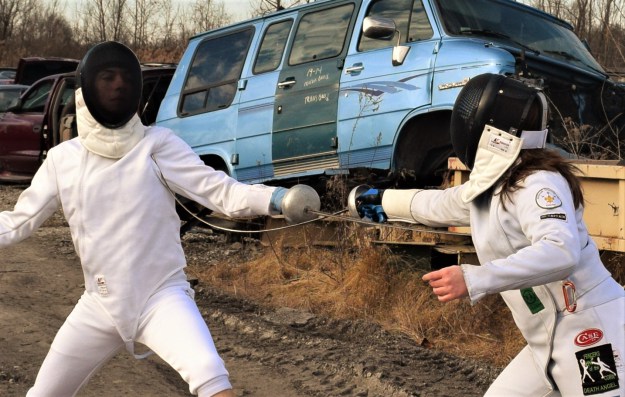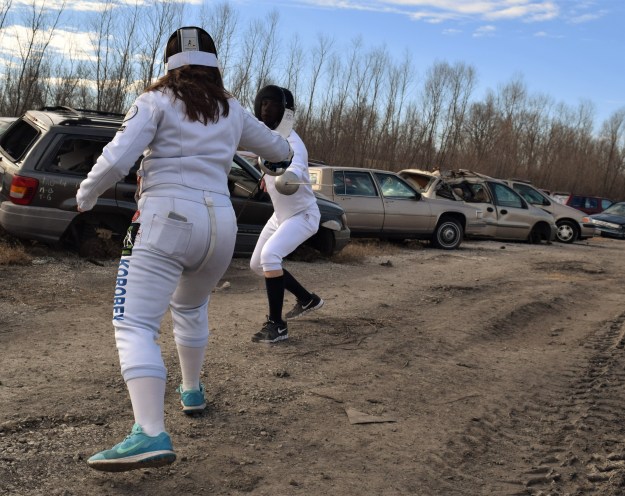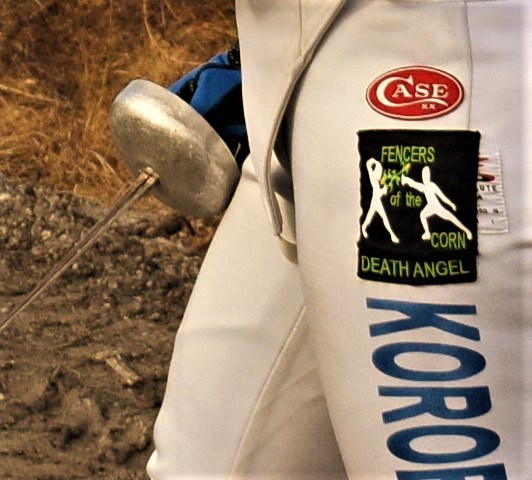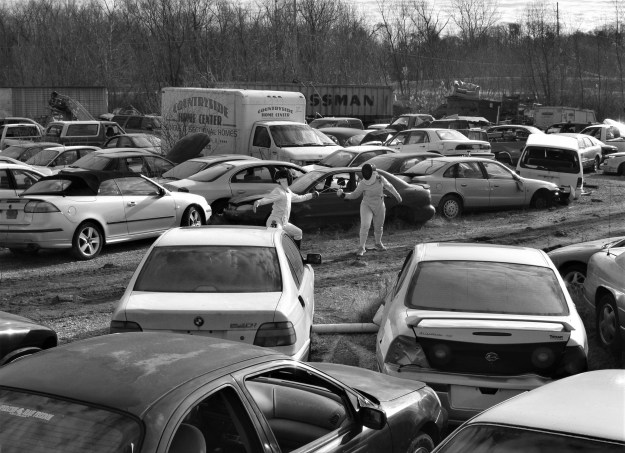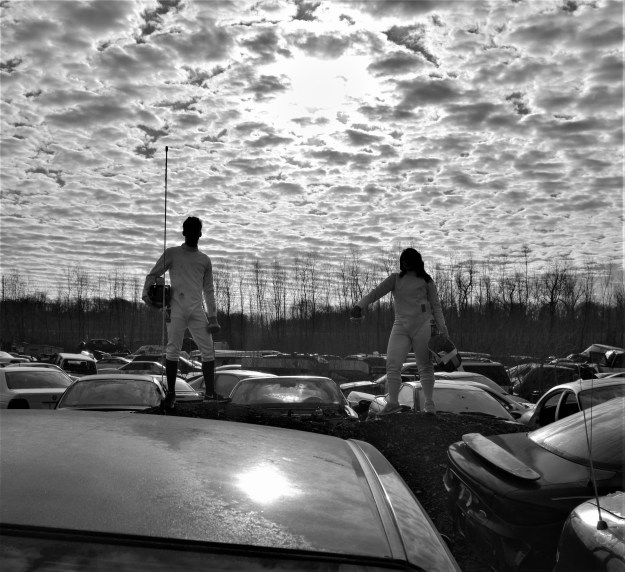 Thank you Tyler and Shelby for braving the early winter morning to get these shots!
Unexplained phenomena
February 10, 2017 - Pearce Wilson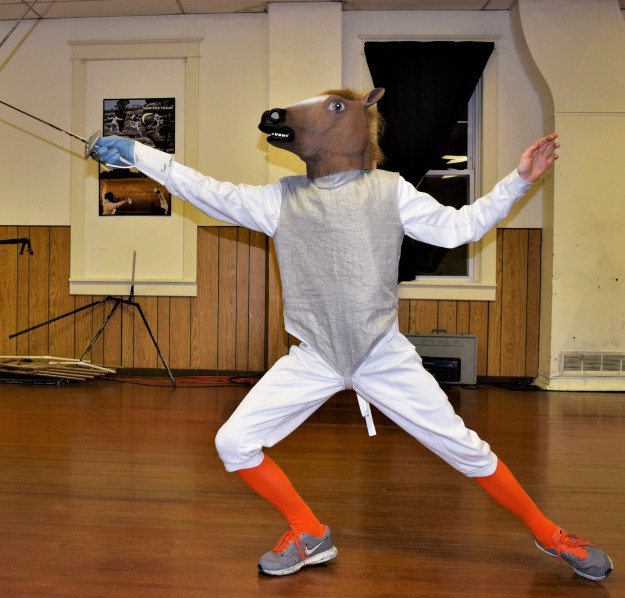 Fencing practice can get weird.
Huge thanks to everyone who supported us!
February 5, 2017 - Pearce Wilson
Trivia Night was a giant success. Thank you to everyone who came out to play. To everyone who donated items for the Silent Auction. And to everyone who worked so hard to make this night possible!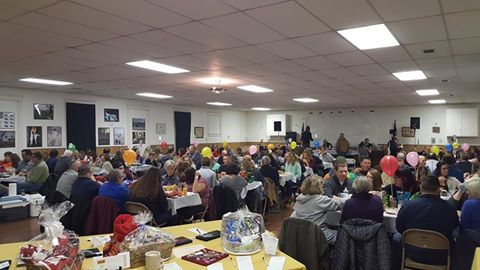 A new team begins to emerge.
January 31, 2017 - Pearce Wilson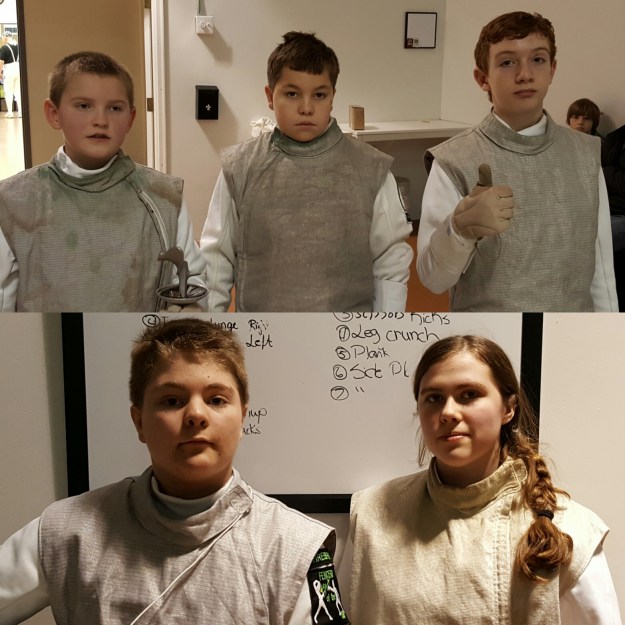 Five our fencers competed in foil this past weekend. We couldn't be happier with how everyone fenced.
Tyler, Kierre and Matthew fenced the Y12 competition. Chance and Ashley fenced the Open.
Tyler was by far the youngest in his event and he performed very well.
This was Kierre's first competition. He surprised our coach with how well he did.
Matthew earned the Y12 silver medal.
Chance at 14 years old took on a mostly college male group and did well. He came out of pools in 10th place of 17. He was eliminated by a college fencer (and eventual silver medalist) who had been team captain of his high school fencing team.
Ashley, also was competing in her first tournament. She was on fire. She came out of pools in 6th place of the 17 fencers.
We have more new young fencers coming up. Can't wait to get them competing!