FOTC News 2018
May and June Tournaments at Bluff Grange
April 18, 2018 - Pearce Wilson
Saturday May 12 we will hold our Flowers for Mom Saber and Foil tournament. Top female and top male fencer in each weapon receive a floral bouquet for their mom.
Sunday June 3 we will hold an Open Foil and an Unrated Foil tournament.

Surf over to the tournaments page to find the pre-registration links or just tell Pearce you want to enter.
April Stab Epee Tournament
April 14, 2018 - Pearce Wilson
We held a double header today. Unrated Epee in the morning. Open epee in the afternoon.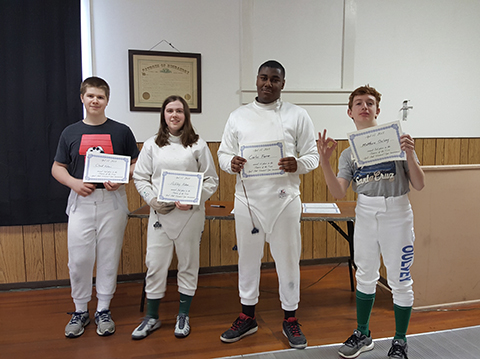 Congratulations to Matthew and Chad who tied for 3rd in the morning event; Ashley who earned 2nd place and Carlos who won first place.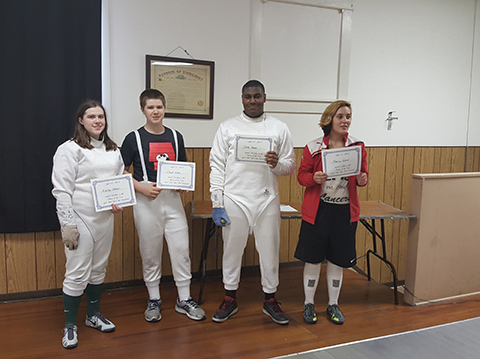 In the afternoon event, Ashley and Chad tie for 3rd, Carlos takes 2nd and Karina wins first place.

Special congratulations go to Carlos and Karina who both earned their first National epee rating through the United States Fencing Association with their wins today.
New style chest protectors to be required in foil starting August 1, 2018.
April 13, 2018 - Pearce Wilson
Sooner for some of the Summer National events.
Just posted. Click to view ruling.
FOTC Attack Lesson Video Library
April 13, 2018 - Pearce Wilson
Shelby and I spent an hour before practice yesterday recording attack lesson video. It is part of our continuing efforts to provide the best training tools possible for our fencers.

It will take quite a while to process the raw video and get all the segments online. The first is up now though at this link.
2018-2019 National/Regional tournament schedule starting to take shape.
April 11, 2018 - Pearce Wilson
The United States Fencing Association has posted its Super Youth Circuit (SYC) and Regional Open Circuit (ROC) schedules for 2018/2019. There will be 14 SYC's and 32 ROC's across the country during the season. Still to come are the Regional Youth Circuit (RYC), Regional Junior and Cadet Circuit (RJCC) and North American Cup (NAC) schedules.

Our Club tournament schedule is dependent on filling in holes in these larger USFA events' schedules. And this presents a problem. Over the past couple of years, the USFA has expanded the number of these 'qualifier' events to the point where it seems they are crowding out local club tournaments around the country. SYC, ROC, RYC, RJCC events are great for more serious and experienced fencers. They are expensive and intimidating for the newer or recreational fencer. Local club events are generally less expensive and better suited for the athlete just starting out or entering just for the fun of competition. The new and/or recreational are the vast majority of fencing athletes.

This season we scheduled A LOT of tournaments. We wanted to test a number of different formats. This season we have tried official USFA sanctioned events and unofficial unsanctioned events. We tried Saturday, Sunday, weekday, morning, afternoon, and evening events. We tried unrated, open, single weapon, multiple weapon, youth, cadet, and adult events. We tested zero entry fee tournaments and 'going' price tournaments. We also tried tournaments held coincidental with banquets, prizes for winners, attendance prizes, and events with paying spectators. We absolutely knew that some of these events would fail from either a financial or head count perspective. After all, a successful test requires failure at some point. Our goal was to test what works and what doesn't so we can better provide useful events for our members and the greater fencing community going forward.

We have a few tournaments left on the schedule for this season before we finalize our plans for our 2018/19 season tournanament schedule and whether we should pay the fee to be an offical USFA member club again. The expanding competition for tournament dates from the USFA will play a large factor in these plans.
Wednesday April 11 Class Canceled.
April 10, 2018 - Pearce Wilson
There is a big county-wide Grange meeting that night at Bluff Grange so we have to skip. We will be back to normal on Thursday, April 12. See you then.
April Slash
April 9, 2018 - Pearce Wilson
Small but fun saber tournament yesterday at the Grange. Chance and Carlos tie for 3rd. Ashley takes 2nd. Dave wins 1st place.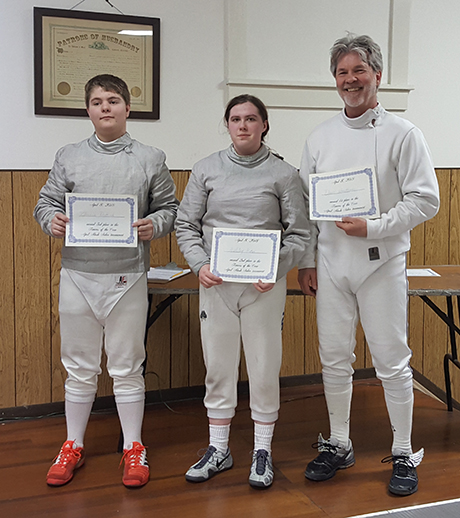 Congratulations Tyler!
April 7, 2018 - Pearce Wilson
He competed in a foil tournament this morning in Wentzville. Lost 13-15 in the gold medal round to a fencer an age bracket up but because in this mixed age event they awarded medals to both age categories, comes home with the Gold in Y10.
Online Training Updates
April 5, 2018 - Pearce Wilson
Over the next few months we will be recording more training videos for the Online Training pages. The goal is to create an always available resource for our fencers to review the lessons we learn in class or even to pick up on new skills that we haven't yet covered in the class.

To that end, we made a major update to the footwork videos on the Online Training pages. We have 3 additional footwork videos still to record then we will begin recording other of our lessons.

The training videos are only available to our Class students, Club members, and Distance Learning members. Log in to your private member page to gain access to these new tools.
Referee Seminar Results
April 3, 2018 - Pearce Wilson
Those of you who were at last night's class or Club practice have already seen some of the changes. We learned lots from some very good international referees at the referee seminar that was held concurrent with the Middle Tennessee State University fencing tournament.

First I have to congratulate Middle Tennessee State for the awesome job they did with this their first big tournament. And I couldn't help but notice how many fencers participated who live in the mid-south. Birmingham, Memphis, Nashville all seem to have vibrant and growing fencing communities.

Our specific goal on this trip was to improve our saber refereeing skills. We did (and also learned how much more we need to learn!) but we also learned valuable lessons in foil and even some epee reff'ing nuances.

In foil, the changes we studied were in line with those we saw and previously blogged about from the Junior Olympics but the seminar made those changes more clear. There is no reason to wait, we started learning how to fence under and take advantage of these changes at last night's class and practice.
Middle Tennessee State University referee seminar
March 30, 2018 - Pearce Wilson
We're headed to Murfreesboro Tennessee today for a full weekend of referee training.

If we don't keep up with the latest rules interpretations we can't do a good job of training our fencers. This weekend's training is being lead by Justin Meehan, one of the United States' top referees.

We're especially interested in improving our saber reff'ing skills. We have more and more fencers interested in saber and admittedly, our current saber reffing is weak.

Referee call trends change. Maybe adapt is a better word. We noticed a change in foil attack vs. preparation to attack calls at the Junior Olympics National Championships last month in Memphis. So even besides saber, we have to work hard to keep up if we want our lessons to stay current.
Changes coming to chest protectors
March 29, 2018 - Pearce Wilson
New chest protector requirements will take effect this Spring at the international level. We have seen no word on when they will start being required for U.S. domestic competitions. Click here for Leon Paul's article on the new chest protectors and why the change was needed.

March 26 practice videos ready
March 27, 2018 - Pearce Wilson
The training bout videos from last night's practice are ready. Look for them on your member page.
Who wants a fencer portrait?
March 27, 2018 - Pearce Wilson
We have a youth saber event scheduled for Sunday April 8 at 11:00 am and an open saber at 2:00 pm. The contests will be small. That morning before we start fencing might be a good time to take fencer portrait pictures. Let us know if you are interested.
Why yes, we did learn to soar!
March 26, 2018 - Pearce Wilson
We held 3 foil events this weekend. All the participating fencers got a kite as a prize plus of course, the medalists their place medal.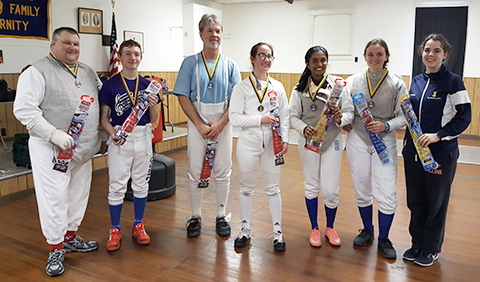 Saturday morning was an Open Mixed Foil. It's always great to see fencers from other clubs around Illinois participate. We had fencers from the University of Illinois' club, The Point and from Eagle Fencing Academy in O'Fallon fence with us. We award medals to the top places of both the men and women. For the men, Matthew takes gold; Dave takes silver; Rob takes bronze. For the women, Mikayla takes gold; Shreya takes silver; Rachel takes bronze. Mikayla from Eagle Fencing Academy won overall first place and for the second year in a row earned her National rating.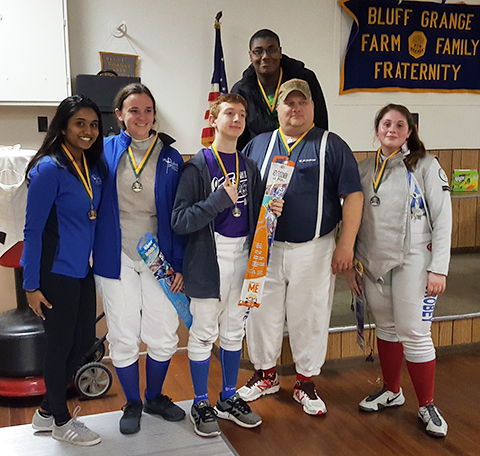 Saturday afternoon was an Unrated Mixed Foil. For the men, Matthew takes gold; Carlos takes silver; Rob takes bronze. For the women, Rachel takes gold; Shelby takes silver; Shreya takes bronze. Rachel from the University of Illinois won overall first place and earned her first National rating.
As an aside, the individual contests between the various fencers were very close all day. We saw a bunch of fencers who are ready to break out to big things.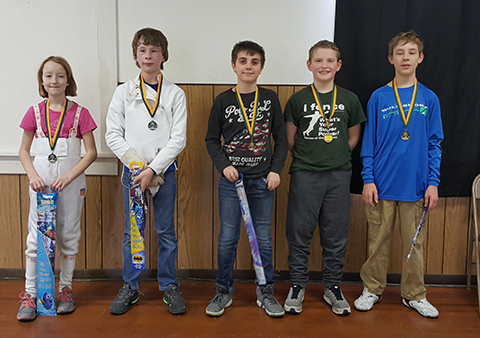 Sunday was our youth foil. Again, the contests were very close. There were very few points separating the fencers up and down the line. For the men, Timber earns gold; Austin wins silver; Tyler and Dylan get bronze. For the women, Kellan take gold.
Online Training Tools
March 23, 2018 - Pearce Wilson
At last night's practice, Shelby asked about the various online training tools we have available on the FOTC website for our members. Our online tools are designed for the serious competitive fencer. All our club fencers are welcome to use them but a recreational fencer will likely find the tools a little boring compared to just coming to fencing practice and having fun.

Some of the tools are experimental. Specifically, the 'Scored Point Control' is not very useful unless you have a laser pointer mouse. But the unscored version of the Point Control tool is very useful for hand eye coordination training. It can be used on both desktop and mobile devices. It is simple really, just follow the bouncing ball with your sword tip. Try to stay on top of it. When you get good at a lower speed, increase the speed and train again.

The other tool(s) that we have found to be extremely useful is the Parry Practice exercise. The plain 'Slides' trains your brain for quicker threat recognition and reaction when you are at a proper engarde postition. The 'POV Slides' does the same for those times you get caught out of proper engarde position. The video version that you will find on the same page is more experimental. The theory was that video would be a closer approximation of real life but we discovered that the slides are more challenging and have proved to yield a better training outcome. For the Parry Practice exercise to be useful, you need to know how to parry correctly. If you use this exercise with bad parry form all you will do is get really fast at bad parries. So if you are in doubt of the proper form for any particular parry, go to the 'Learn The Parries' training tool first and study the example video and still photos of the various parries.

If you are on a desktop or larger screen of a tablet, we suggest you slow the training down to a speed that you can see the threat and pantomime the parry/riposte with a lunge. Yes, actually lunge! You don't need to hold your sword, but if you do, please don't stab your computer screen! That would be bad!! If you are on a phone screen size device you can go faster and just practice the hand motion of the parry/riposte. Again, make sure you know how to execute each of the parries correctly. Start slow. When you can parry/riposte with the correct parry flawlessly at that slower speed, move to a higher speed and train again. The program is setup to go from crazy slow to impossibly fast. There is no value in training so fast you consistently fail. Pick a speed that is a challenge but not impossible.

I used a very early experimental version of this tool a number of years ago to great success. (At that time only a very basic plain slides version was working.) I used the tool for 10 minutes each day for one week leading up to a tournament. At that tournament all the other fencers' attacks appeared to me to be coming at me in slow motion. I just stood on the strip and waited for the other fencers to attack me and parry/riposted. I was undefeated that day.

At this time only the foil version is working. If you want to use this tool as a pure epee fencer pick foil parries 4, 6, 7,and 8 to practice. If you want to use this tool as a pure saber fencer pick foil parries 3, 4, 8, and 9 to practice. A pure linear foil experience would be parries 2, 4, 5, 6, plus envelopment but all the parries available on the check list are used in foil and in the long run you need to get good at them all.
Learning to Soar
March 22, 2018 - Pearce Wilson
This weekend we have a foil tournament at the Grange. Everyone who participates gets a kite!

Saturday is Open Senior Foil at 11:00am and Unrated Senior Foil at 3:00pm. We have enough fencers pre-registered for a decent couple events but we have plenty of room for more. If you are interested in joining us, we'd love to see you.

Then on Sunday at 11:00am we have a Y10/12 foil. This one is a practice tournament for younger fencers. If you don't have your own competition gear we have some you can use. This is a great training and learning opportunity.
Fencers of the Corn is branching out into teaching math classes.
March 20, 2018 - Pearce Wilson
For the second year in a row, we were asked to teach "The Math of Fencing" to a group of grade school students. We have one more class to teach this Thursday.

We use a hands-on beginner fencing class to teach how important distance, speed and time; levers and leverage; and vector forces are to successful fencing.
Congratulations to Rob and Matthew!
March 18, 2018 - Pearce Wilson
Both qualified for the National Championships today at the St. Louis Division of the United States Fencing Association 2018 National Championships Qualifers.

Rob qualifed in 40+ Men's Epee. Matthew qualified in Y14 Men's Foil and in Y14 Men's Epee.

This will be Rob's first National Championships. Matthew has fenced one National Championship when he qualified and competed an age bracket up at the Junior Olympics (the National Championships for teens), last month in Memphis.

Rob and Matthew will join Yinka and Tyler, two other of our fencers who have qualifed to represent the St. Louis region and our club at the National Championships.
A To Z Fencing
March 16, 2018 - Pearce Wilson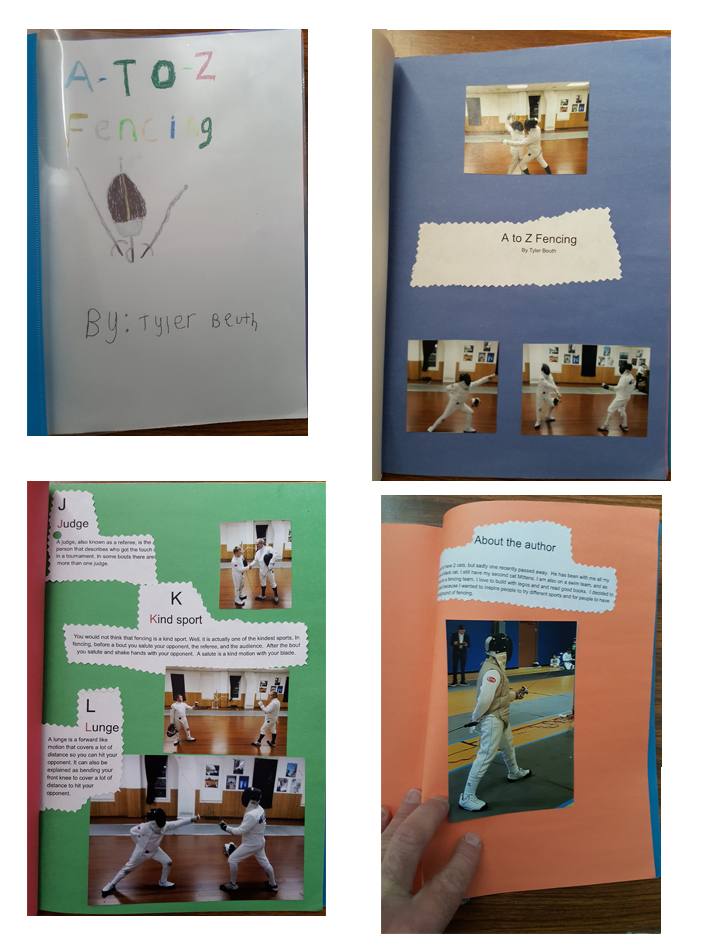 Tyler recently completed a school project, a book about fencing. He did a great job on it. He's leaving it at practice for a few days so any of our interested fencers can take a look. It's in the closet. Ask Pearce if you want to see it.
Replay looping capabilities added to practice videos.
March 15, 2018 - Pearce Wilson
We added a 4 second continuous loop replay feature to the member videos.
It should be helpful for fencing training. We know it will be helpful for referee training.
Right now it only works correctly at live speed. Over the next few days we're hoping to figure out the balance of the code so you can watch replay loops in slo-mo or double speed.
Messaging capabilities added to member pages.
March 12, 2018 - Pearce Wilson
We added the ability to send notes to the Coach and Team Captain via your private member page. Look for the 'Note' box on the bottom left under your private messages list.
National Championship Qualifying Tournament
March 9, 2018 - Pearce Wilson
Summer National Championship qualifying tournament for our area is March 17 and 18 BUT THE DEADLINE TO PREREGISTER IS THIS MONDAY -MARCH 12.
YOU MUST PREREGISTER TO FENCE THIS ONE.

If you are over 40 and want to fence in the Championships this summer (in St. Louis this year) YOU WANT TO ENTER THIS!

If you are born 2003 or younger and want to fence in the Championships this summer YOU WANT TO ENTER THIS!

For the in-between ages, entry would be to qualify for Division 2 or Division 3 competitions at the National Championships and are of less interest to me. But you can do it if you want.

If you don't know how to get pre-registered, let us know immediately!
Star Charts and Next Skills features added to member pages.
March 7, 2018 - Pearce Wilson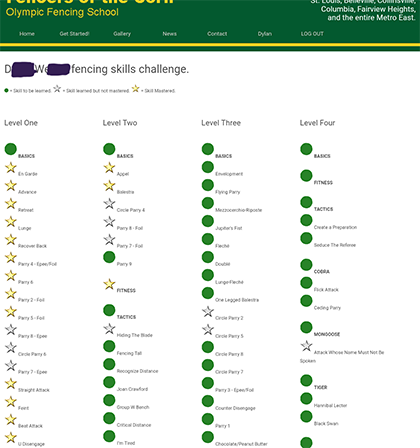 We added a couple of (we hope) very useful features to the private member pages of the website.

If you log into your member account at the site you will see we now have a separate column on the right with a list of the next skills you should be working on.

Years ago we started making Star Charts to register skill achievements of our fencers with silver and gold stars to signify learned skills. They were taped to the wall at fencing. But they took up a lot of room on the walls and they took up a lot of time to maintain. Because it was so much work to keep up to date, we stopped using them 4 or more years ago. They were very popular. So popular that two of the fencers who are still fencing with us from those days, still give us grief about taking them down. We hope you find the on-line version of these charts as valuable as our earlier fencers found the old paper versions.

You'll find the link to your personal Progress Star Chart at the top of the 3rd column on your Member page.

To log into your member account you need your login and password information. If you don't know it, ask Pearce for it.
Learing to Soar!
Short notice fencing tournament coming up.
March 6, 2018 - Pearce Wilson
Another club had a tournament scheduled for March 24 and 25 but were unable to secure a facility for the event. They offered the dates to us.

Saturday, March 24 we'll hold an unrated and an open foil tournament for USFA members.
Sunday, March 25 we'll hold a Y10/Y12 foil and a Y14/Cadet foil tournament. The Sunday events do not require USFA membership. This is a really good one for our newer fencers to get a little more tournament experience.

Oh, yea, it's March so everyone who participates gets an kite!
New Fencing Tournaments Posted
March 1, 2018 - Pearce Wilson
We will host two April tournaments at Bluff Grange.
Sunday April 8th we'll host a Y10/12 saber and a Senior Open Mixed Saber tournamet. Then on Saturday, April 14th we'll host a Senior Open Epee and a Senior Unrated Epee.
You'll find links to pre-register for these events on the Tournament page. Or of course, just tell Pearce you want to fence them.

Gently used fencing shoes looking for a new home.
February 22, 2018 - Pearce Wilson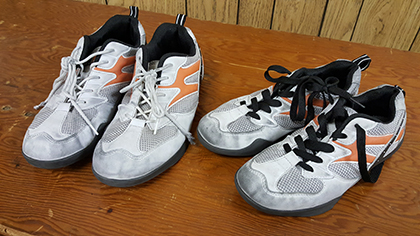 One pair of men's size 5-1/2 and one pair of men's size 9-1/2 Absolute brand fencing shoes. Free if they fit you.
They are in the fencing closet. Ask Pearce if you want them.

Memphis Central High School Marching Band performs at Junior Olympics
February 20, 2018 - Pearce Wilson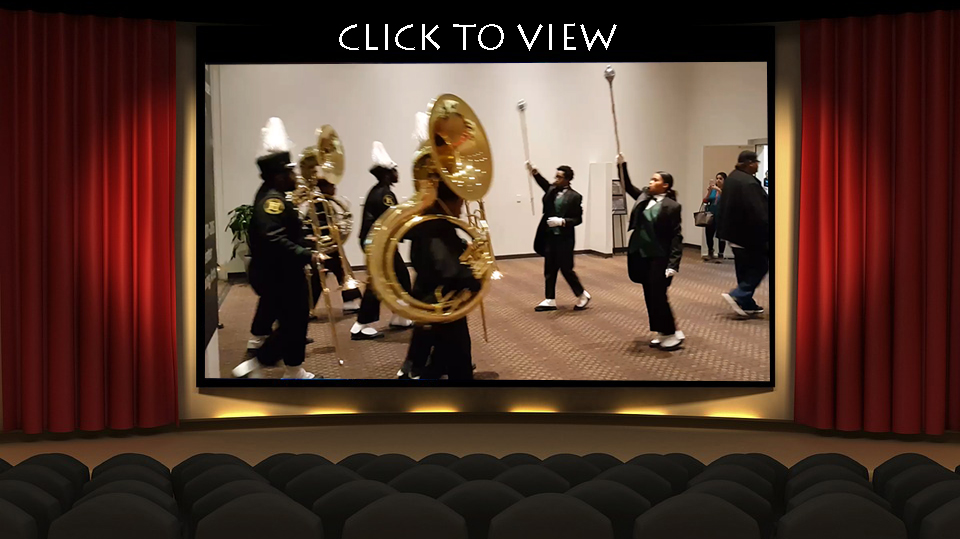 We would be remiss if we didn't thank the Memphis Central High School Marching Band for their performance of the National Anthem to start off the 2018 Junior Olympics. They put on an impressive a show!
Someone wants to buy our videos
February 19, 2018 - Pearce Wilson
A media company has offered to buy the broadcast rights to our videos.
Price would be based on viewership our videos get on their system.
It is very flattering but the amount of money is not large and we could lose control of our work.
I think we're going to tell them no.
2018 Junior Olympics National Championships
February 18, 2018 - Pearce Wilson
One more day to go at the Junior Olympics. Tomorrow is Matthew in Cadet Men's Epee and Ashley in Junior Women's Foil.
Day one was Ashley in Junior Women's Saber.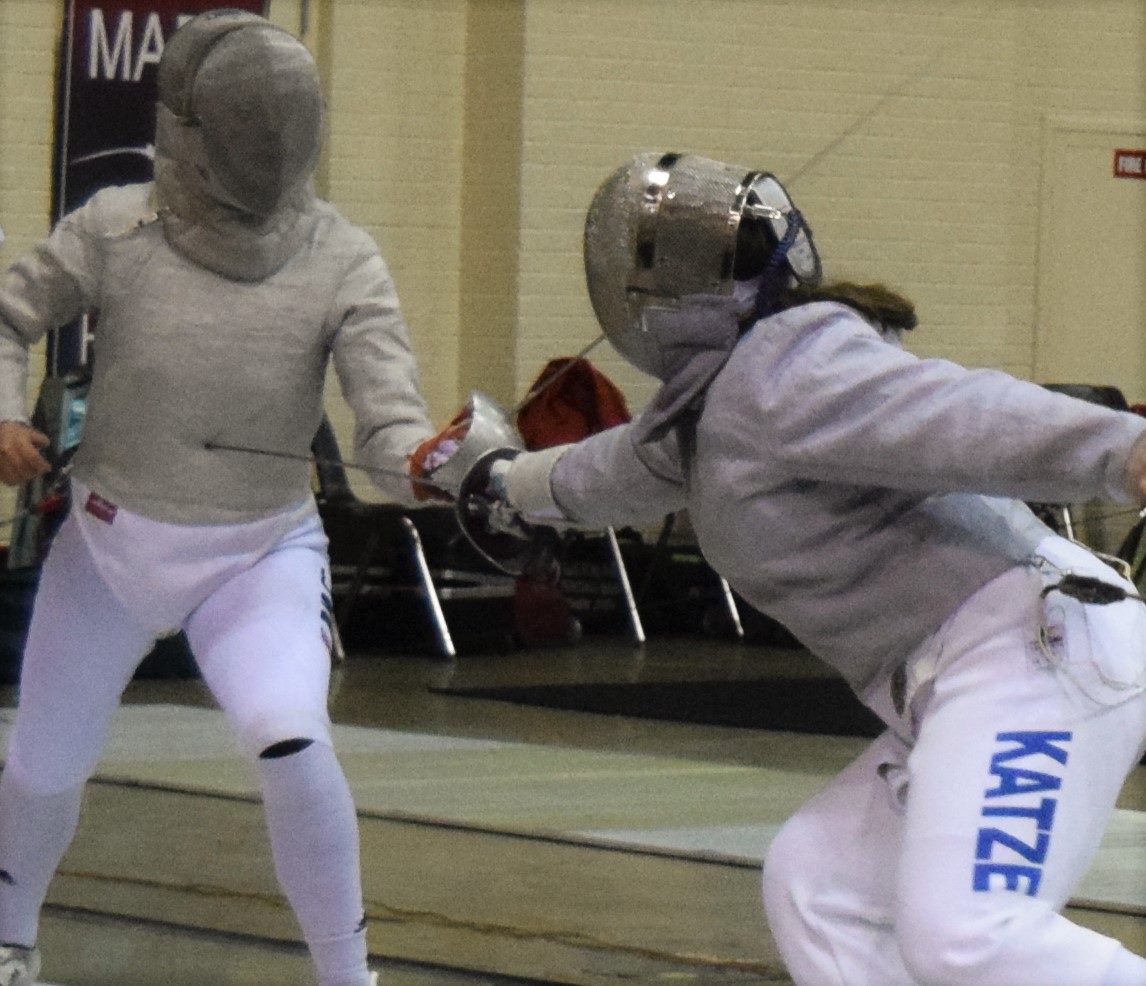 Day Two was Chance in Cadet Men's Saber and Daniel in Junior Men's Epee.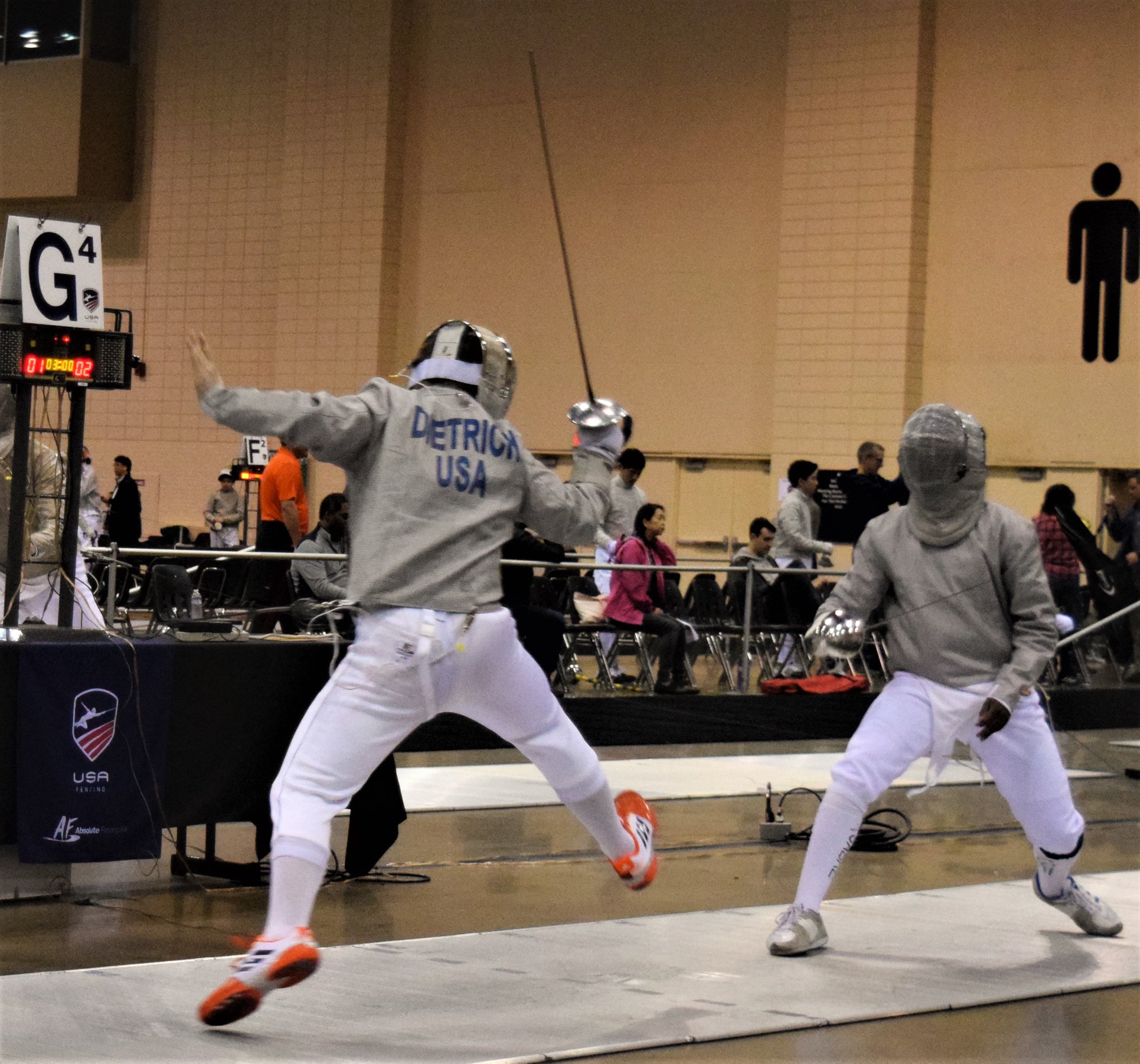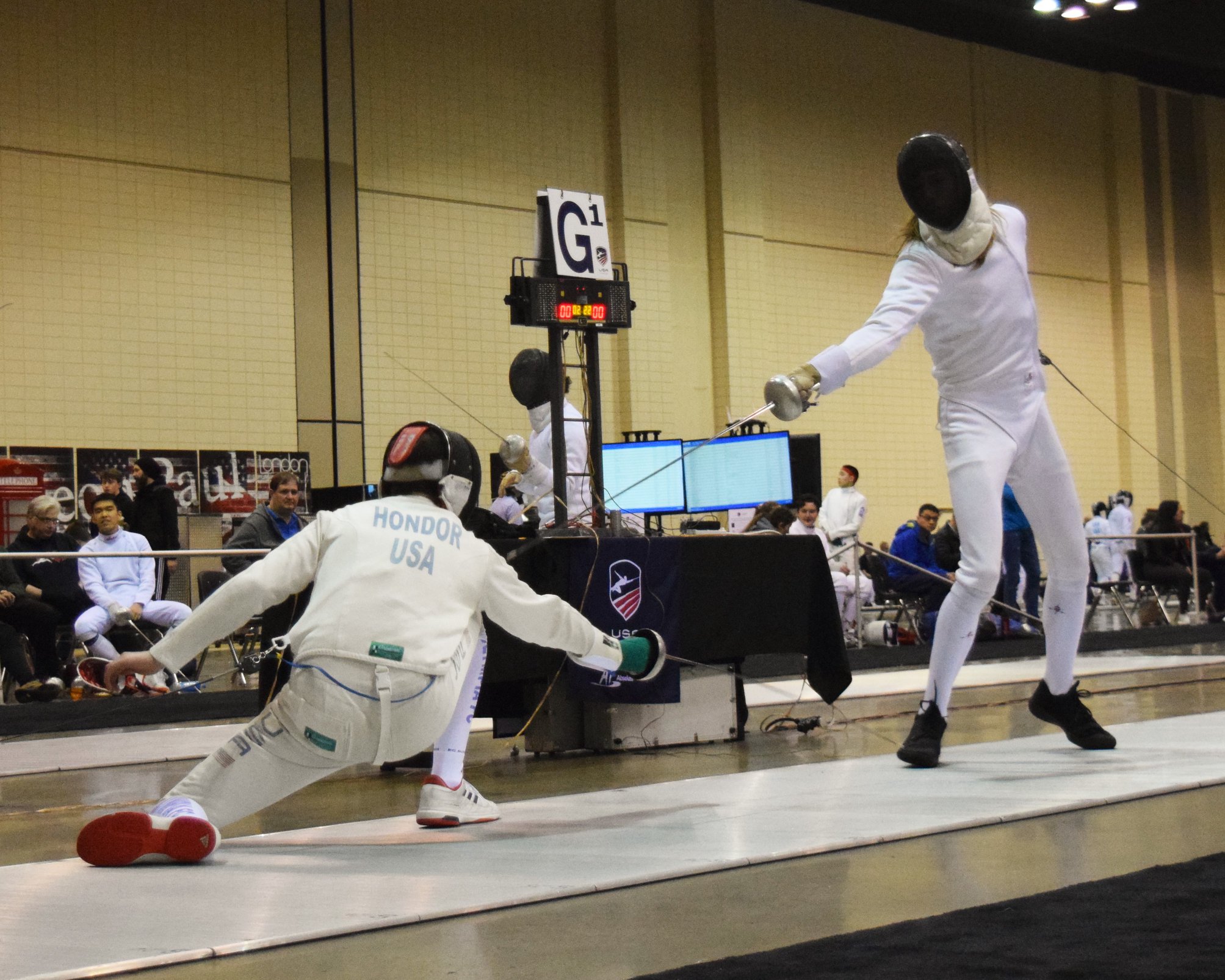 Day Three (today) was Matthew in Cadet Men's foil.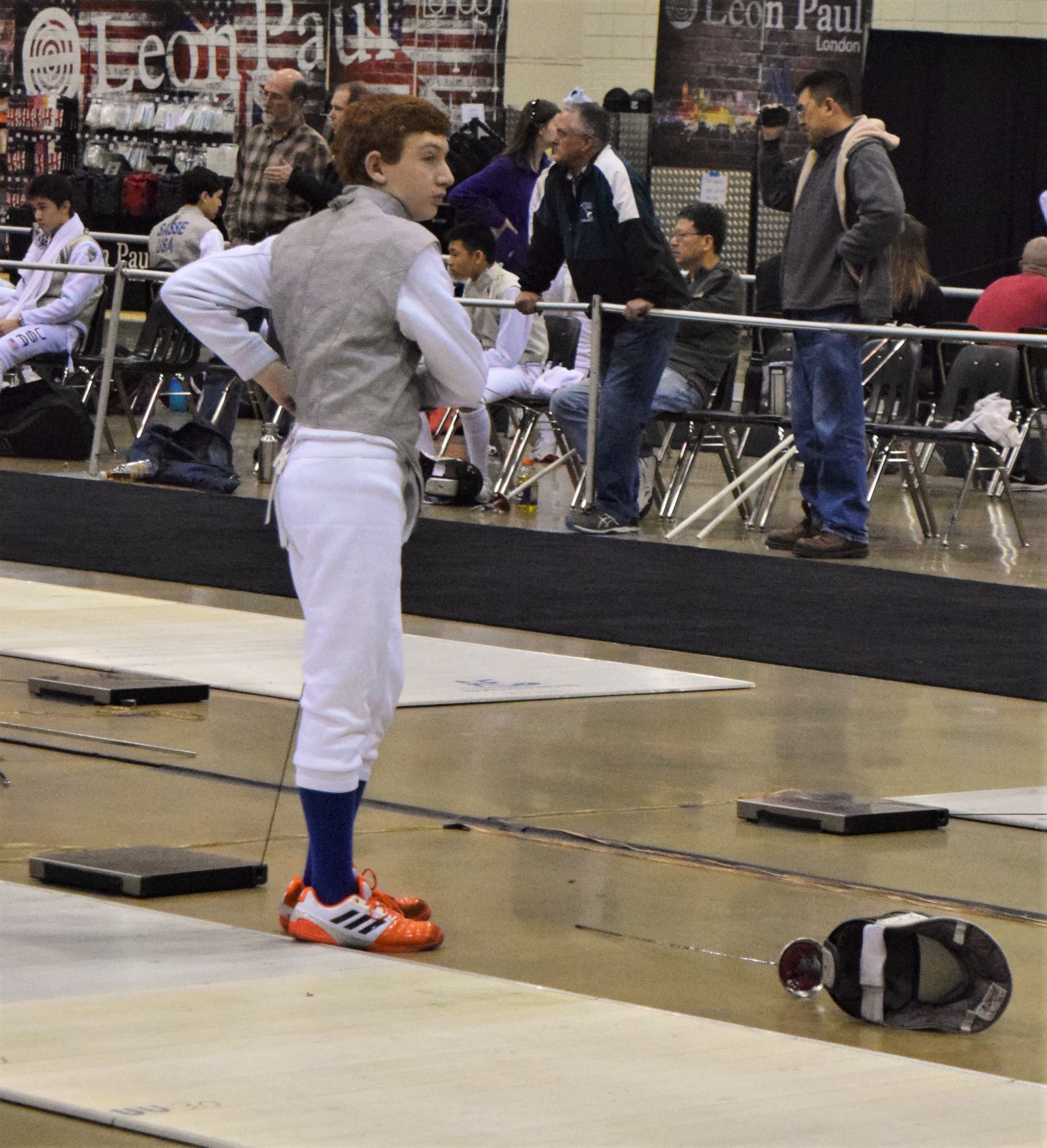 No one has gotten close to winning a medal so far, but everyone is fencing well.
Fencing Class and Practice Schedule Changes
February 14, 2018 - Pearce Wilson
Thursday, February 15 and Monday, February 19th classes and practices are cancelled.
The team is headed to Memphis for a long weekend of competition at the Junior Olympics National Championships.
Mardi Gras fun and fencing.
February 10, 2018 - Pearce Wilson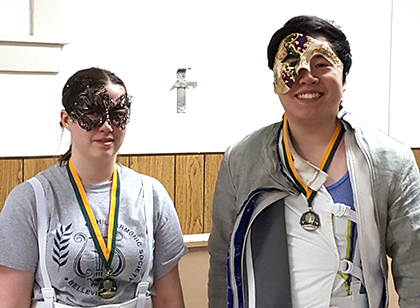 Saber gold medalists Ashley and Christopher modeling their first place prize, Mardi Gras party masks.
We are testing new formats for tournaments in an effort to increase the fun for not just the fencers but also for spectators. Today's events were accompanied by a New Orleans Mardi Gras style feast.

| | |
| --- | --- |
| Jambalaya. | Corn Bread. |
| Pralines. | Beignets. |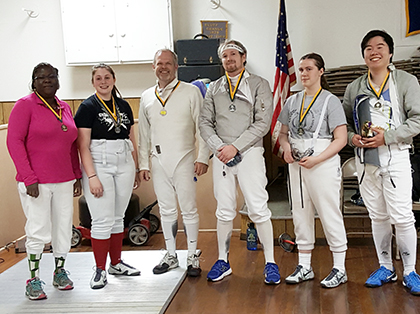 Our saber medalists.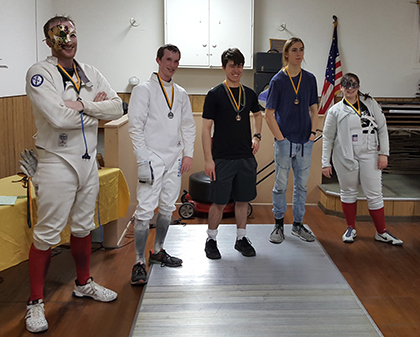 Our epee medalists.
Of our team's fencers, Ashley gets the gold in women's saber. Daniel gets the bronze in men's epee. Shelby gets the gold in women's epee and silver in women's saber.
Thank you to Shelby for not only fencing really well, but for refereeing the entire day. She did a great job.
And special thanks to Bill and Darla for helping us cook the wonderful feast. They spend lots of hours in the kitchen so the rest of us could have fun fencing and eating.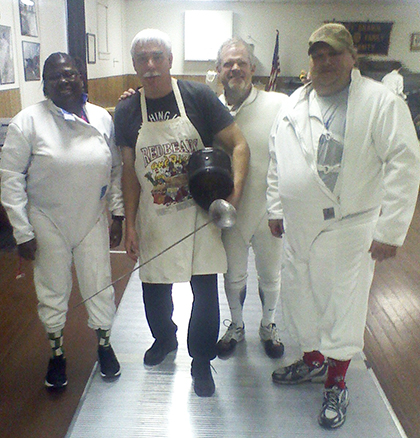 February Earn Your 'E' Series - Foil
February 8, 2018 - Pearce Wilson
We held a small foil tournament tonight.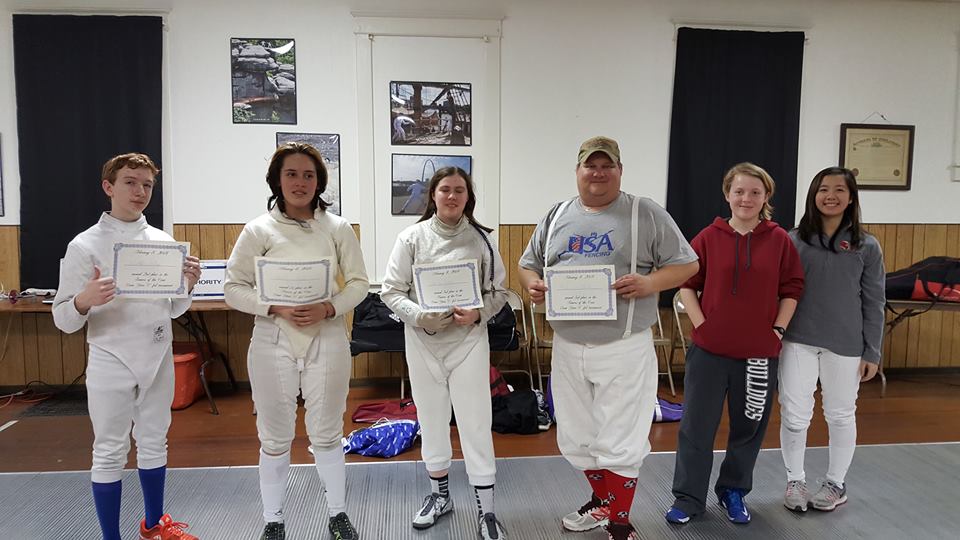 (Rob and Ashley tie for 3rd. Matthew wins second. Karina takes first. Zoe and Shudi fenced their first tournament. Missing from the photo is Sarah who came down from Champaign Urbana.)

We have to keep these events small due to time restraints. A huge thank you goes to Chris French who helped referee. Without his help there is no way we could have let 7 people enter.
As it was, it took 2 and 1/2 hours to complete.
Our next fun tournament is not one to be missed!
February 6, 2018 - Pearce Wilson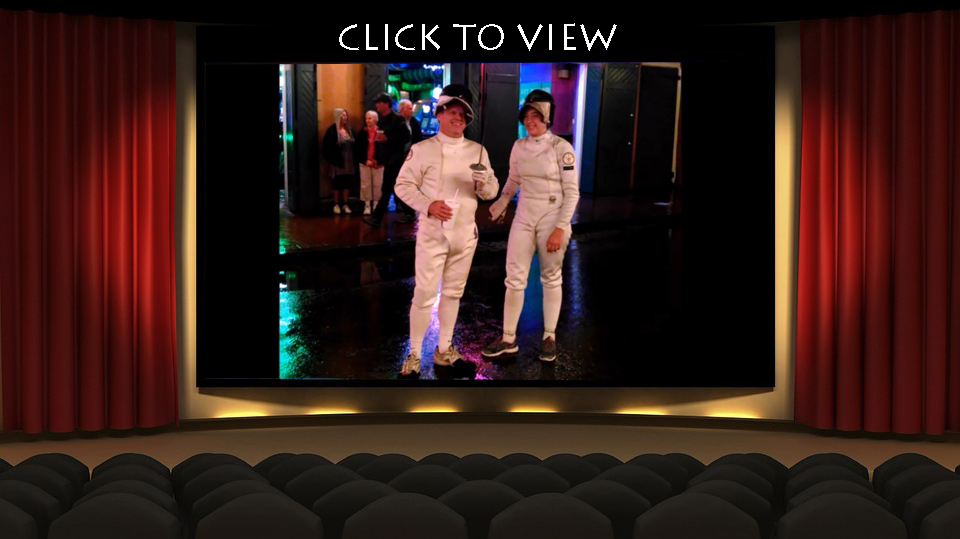 Saturday, February 10 at Bluff Grange. Saber starts at noon. Epee starts at 3:00.
Sure, we'll be fencing hard in separate saber and epee contests but after the fencing we'll be celebrating Mardi Gras with a banquet.

What kind of New Orleans Mardi Gras would it be without Red Beans & Rice, Beignets and Chicory Coffee?

Spectators are welcome to watch the fencing for free.
$10 for non-fencers to join in on the Mardi Gras beads and banquet. Fencers eat free.
| | |
| --- | --- |
| Women's first place prize. | Men's first place prize. |
Thank you for a successful Trivia Night fundraiser!
February 4, 2018 - Pearce Wilson
Thank you to everyone who came out to support us Saturday night. Also thanks to all those who helped us run the event and who donated items for our Silent Auction. Finally, extra special thanks goes to Rob, Cheryl and Shelby who were responsible for making this another great night for our team.

Special thanks to these treasured individuals...
Adeyinka Adewale
Rick and Joyce Brenner
Rob Comstock
Catherine and Tom Hunter
Cheryl Korobey
Joyce and Bill Korobey
Lisa Korobey
Shelby Korobey
Tina Orr
Bill Velders
Dorothy and Malcolm Weiser
Carol Wiley
Dave Woesthaus

... and businesses:
Bliss Floral
Body and Mind Gifts
Curt Smith's Outdoors
Curt Smith's Sporting Goods
DiGregorio's Italian Market (on the Hill)
Float Center Shiloh
Grappa Growlers
Pottery Hollow
Randall's Wine & Spirits
Schubert's Smokehouse
St. Clair Bowl
Steak-Out
Town Hall Archery
Unique Inking

Trivia Night fund raiser this Saturday. Your help is needed!
January 29, 2018 - Pearce Wilson
We need items for the silent auction and we need more people to come play the games with us.

The funds we raise go to provide training and competition equipment for kids from across the St. Louis metropolitan area who are challenging the best in the world.


(Matthew studies up on giant slaying.)

Matthew is one of 4 of our athletes who will be competing in the US Fencing Association/U.S. Olympic Committee sponsored Junior Olympics in less than 3 weeks. He and the other 3 will face the best teen fencers from each state in the Nation.

Please help us continue to provide these opportunities to many more deserving kids in the coming year.
Successful fencing weekend in St. Louis
January 28, 2018 - Pearce Wilson
| | |
| --- | --- |
| On Saturday, Matthew wins 5th in Y14 Men's Epee. | In Y10 Men's Foil, Tyler has 4 victories and 2 losses in pools. Wins first elimination bout. Loses in the semi-finals to take the bronze medal. |
| | |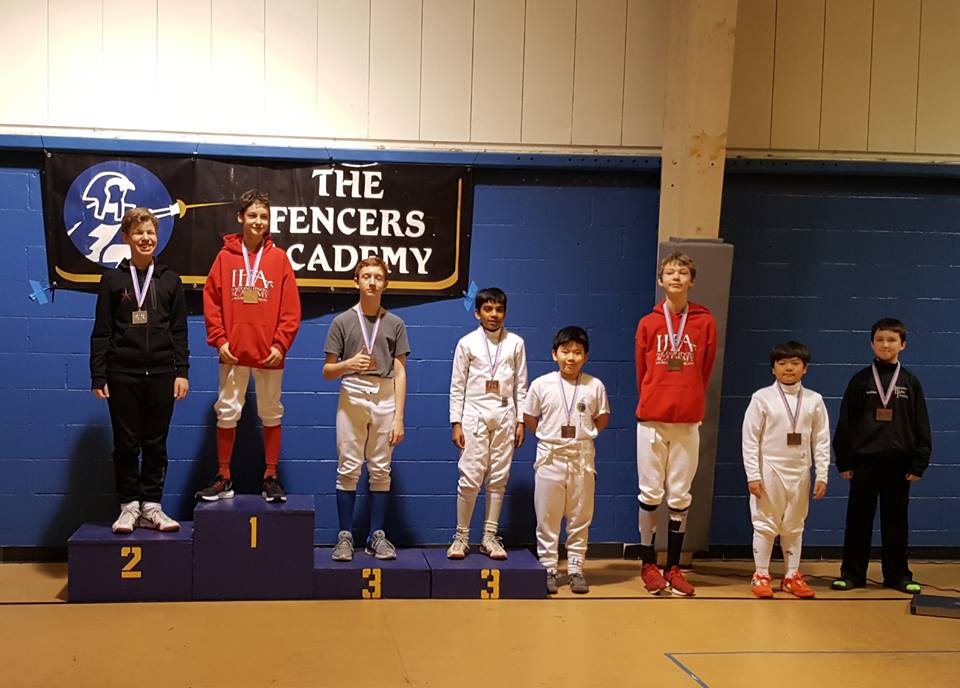 On Sunday, Matthew fenced Y14 Men's Foil. He was eliminated by the eventual gold medalist, a very good fencer from Kansas City. He comes home with the bronze medal.
Matthew and Tyler head to St. Louis for a National Championship qualifying tournament
2018 - Pearce Wilson
Tyler and Matthew will be competing in a national championship qualifier this weekend in St. Louis.
For Tyler, this is just a practice tourament, he has already qualified for next summer's championship. For Matthew though, this is a chance for him to qualify in the Y14 age bracket at the championships.
Matthew has already qualifed for and will compete in the Junior Olympics (the separate national championship for teens) in a few weeks but in that event he will be competing an age bracket up. By age, he is still a Y14 athlete.
Wish us luck!
Changes coming to fencing mask design
January 23, 2018 - Pearce Wilson
Due to concerns that masks could come off during fencing, the international fencing oversight body, the FIE, is requiring a change to mask designs. It is not clear when these new masks will be required for US Domestic competition.

Absolute Fencing Gear is offering a discount off regular prices for their existing FIE approved masks. These current design masks are what many fencers use today and should be fine for practice but be prepared to have to buy a new mask in the coming months for competition use.

If I had to guess when the new mask regulations would go into effect, my date would be August 1, 2018... the start of the new season.

I note that the current Leon Paul mask has a unique design that in my opinion will not be effected by any new mask design regulations.
Another of our fencers qualifies for the National Championships!
January 22, 2018 - Pearce Wilson
Congratulations Yinka! She competed in epee, foil AND saber at a national championship qualifing tournament over the weekend. She is the first of our adult fencers to qualify. The national championships are in St. Louis this year.
Adding 2 extra weekly practices for our Junior Olympians
January 17, 2018 - Pearce Wilson
We will add a Sunday evening practice starting at 7:00 and an extra Thursday evening practice starting at 6:00 just for our Junior Olympians.

We did this last year and it worked well. These extra practices will run til the Junior Olympics in February.

We only need one strip for the Junior Olympian practice. If any other of our fencers wants to get in some extra practice time, the balance of the salle is availble. You are welcome to come and fence on your own.
A lesson amongst the chaos of open fencing practice.
January 15, 2018 - Pearce Wilson
Fencing Fun in the New Year tournament
January 13, 2018 - Pearce Wilson
In the morning we held the Youth Foil event.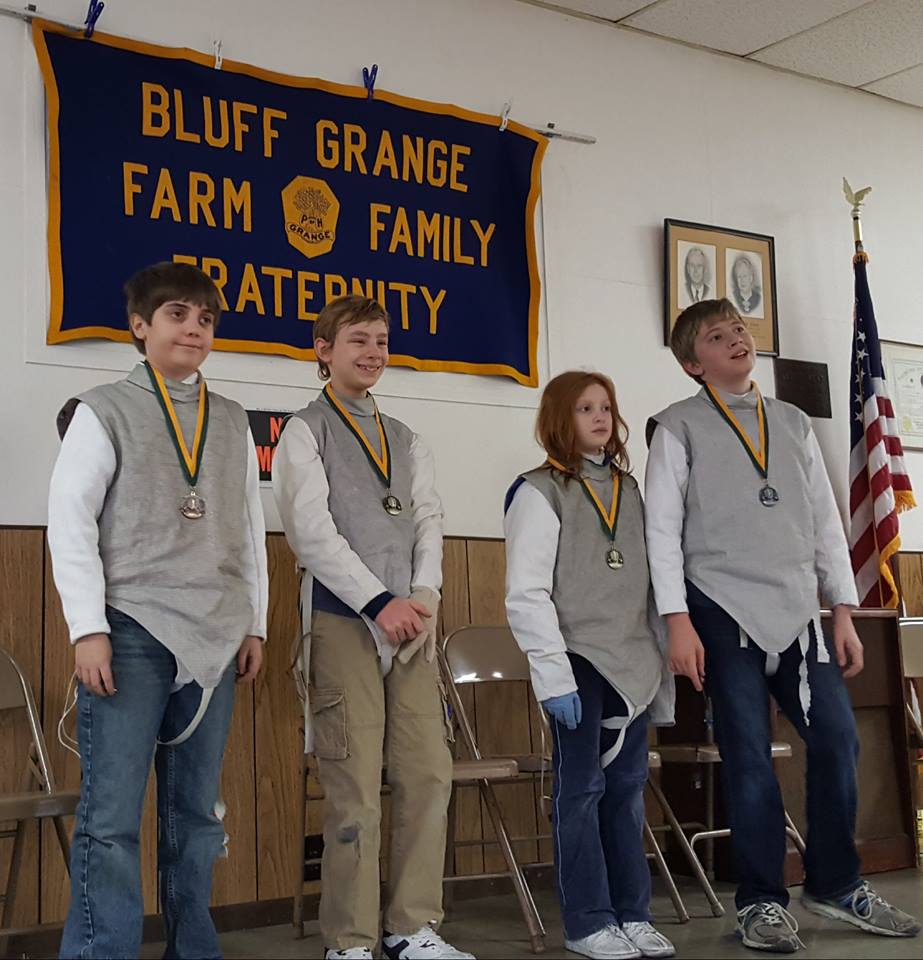 (Congratulations to our Youth Foil medalists, Dylan, Timber, Christine and Nicolas.)

We had a noon youth saber scheduled but we didn't have enough fencers. So we improvized and drafted a couple extra siblings and held one anyway! We continue to try to get enough saber fencers to enter tournaments but we just don't have very many in our area.

Finally in the afternoon we had a big crowd for the Senior Unrated Mixed Foil. It was especially nice to see so many of the University of Illinois' team fencers make the long trip down to fence with us.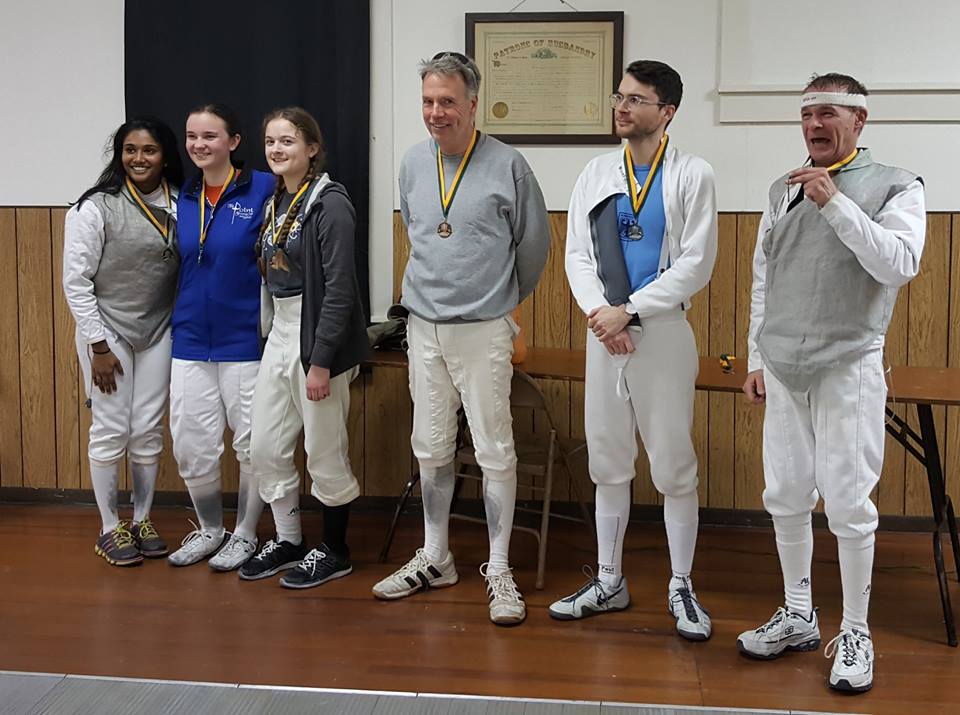 (Pictured are the 1st through 3rd place women's and men's medalists.)
Unrated Senior Foil almost at capacity
January 11, 2018 - Pearce Wilson
Saturday, January 13 9:00 am youth foil and noon youth saber are good. Plenty of room for more fencers.
However our 2:00 pm Unrated Senior Foil is getting full. We can only take a few more fencers. If you want to fence and are not pre-registered you need to tell Pearce quickly or you could get left out.
Do we have a mission statement?
January 10, 2018 - Pearce Wilson
Our team captain, Shelby is hard at work getting donations for the silent auction. One of the potential donors asked if we had a mission statement.
We have written about our mission before but we've never put it down in a concise form.
Our not very well kept secret is that while we work hard to become the best fencers we can be, being great fencers has never been our goal. Our fencing is just a tool. It's just the hammer to the carpenter. We are building something wonderful, our future self. We strive to use what we learn about ourselves as we train, to become better people.

So here is a more concise version of our Mission Statement:
The mission of the Fencers of the Corn's fencing program is not just to create great fencers.

Our mission is to teach young people about goal setting, that life requires non-stop learning, that achievement requires struggle and to never be afraid to challenge the best.

Our mission is to help create a great person.
By the way, our Trivia Night fund raiser is Saturday, February 3 at Bluff Grange. We are in need of more donations for the silent auction as well as more players. Please help us by supporting our young people at this, our biggest annual funds drive.
Deerfield High School Invitational (Chicago Illinois)
January 6, 2018 - Pearce Wilson
Ashley and Chad made the trip to Chicago to compete in their first big tournament.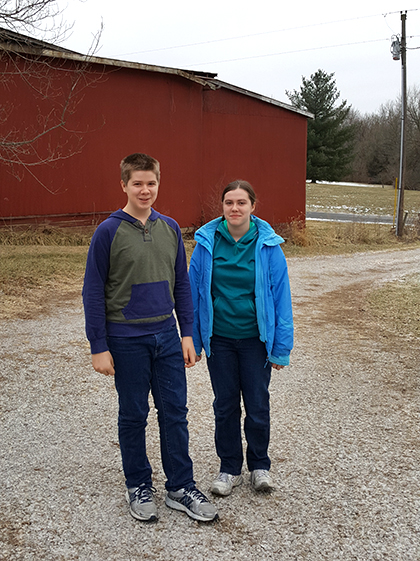 (Fencers ready to hit the road to Chicago.)

Ashley has competed in a number of small tournaments in the St. Louis area but this was her first out-of-town trip and first big tounament. Chad has only ever fenced one practice tournament we held at Bluff Grange last month.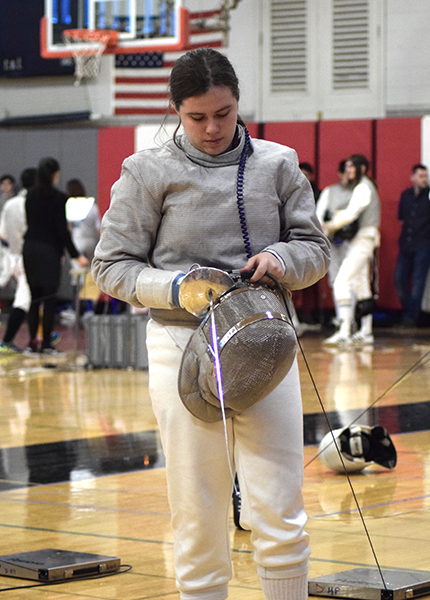 Ashley won 4 of her 6 preliminary bouts. Because she did so well in that preliminary round, she received a bye (a free pass through) in the first round of the direct elimination round. In the second round she continued her winning ways. She was finally bested in the 3rd round, missing a medal by one bout. Ashley finishes the tournament in 11th place.
Chad was nervous for this his first real competition. As a new fencer, I told him his job was to get one point against each of his opponents - if he accomplished that, I would consider him to have won the day. He did that and more. He scored against each of his opponents. Plus he tallied one victory. He finished the tournament in 44th place.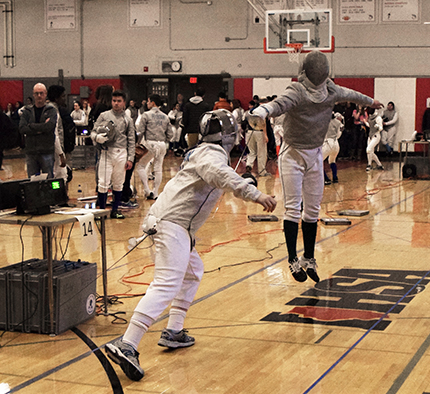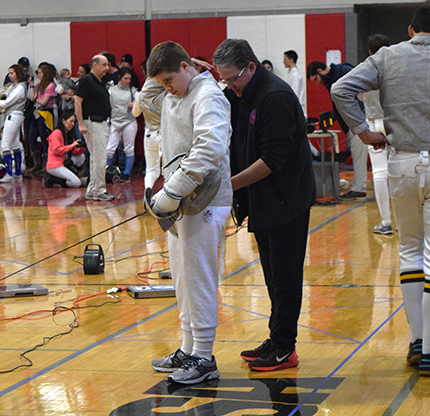 This photo displays what I like best about fencing, the sportsmanship. Here you see the dad of Chad's next opponent helping Chad hook up to the scoring machine for the bout with his son. We have some pretty awesome people in this sport!
January Earn Your 'E' Unrated Saber
January 4, 2018 - Pearce Wilson
We FINALLY got enough entrants to have a good saber tournament! WOOHOO! We don't have many saber fencers in our area so it has been a challenge to get enough of them in one spot at the same time where we could actually have a tournament.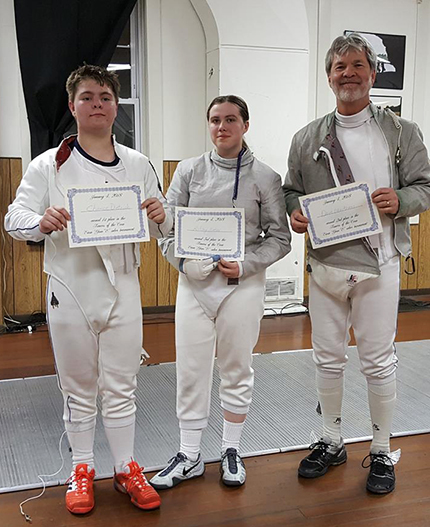 Congratulations to the medalists. Ashley ties for 3rd with Karina (not pictured). Dave takes 2nd. Chance wins 1st place.
Chance was fencing especially well tonight. In addition to this FABULOUS FIRST PLACE CERTIFICATE he also earns his first national rating from the United States Fencing Association. Chance is our team's first ever fencer to earn a national rating in saber.
Leaping into the New Year
January 1, 2018 - Pearce Wilson
What is the best way to start a new year? Stabbing your friends!!