FOTC News 2019
Tai Chi Classes
May 15, 2019 - Pearce Wilson
We offer taichi classes on Wednesday's from 7:00 to 8:30 pm FREE to our fencers and their families.
Taught by our multi-talented fencer Dave.
Give it a try!
Upcoming Tournaments of Interest
May 9, 2019 - Pearce Wilson
The competition season is winding down but there are still a few events worth a look.
On May 18 and 19 in Wentzville is an epee, foil and saber tournament. Some events require USFA membership, some do not. Y10/Y12 plus 14+yo events.
Also on May 18 in Peoria is a youth tournament in all 3 weapons. Y8 and Y10 events.
On June 1 is the Mississippi State Games in Oxford. We received a personal invitation to compete from one of the coaches at the hosting club. Y10/12 foil, Y14 foil, plus 14yo+ events in all 3 weapons. The 14yo+ events require USFA membership. ** Unfortunately, Missouri residents cannot compete in this one. **
Member Practice Video Catalog Changes
May 2, 2019 - Pearce Wilson
In the next couple of weeks we will be removing the older practice bout videos from our Cloud storage location. We want to add new ones but we are at the limit of our free Cloud storage so we have to free up some space.

You will still be able to watch and download your videos after they are removed from the Cloud but they will be coming from our slow local server.

If you log into your member account on our website you can download any of the videos to your computer and watch them to your heart's content.
The Math of Fencing
April 30, 2019 - Pearce Wilson
We are headed to St. Louis this morning to teach a class of grade school kids about how we use math when we fence.
2019/2020 Season National Tournament Schedule
April 29, 2019 - Pearce Wilson
Most of the National USFA events have been announced. This is a good year for Midwest fencers. Lots of close events for us.

I've updated our Tournament Schedule to include the national and regional events our fencers are eligible for. There will be one more round of updates once the USFA sponsored RYC (Regional Youth Circuit) events are announced.

Local clubs' tournaments will be scheduled later this summer. We will post an update to our tournament schedule once that happens.

PS: We are in Region 2. Competing in an ROC in another Region does not count towards qualification to Summer National Championships. Likewise, results from an RYC competition in another Region do not count towards Summer Nationals Qualification for youth fencers. The exception is 40+yo fencers who automatically qualify for the Summer National Championships' Veteran events by competing in an ROC from any region in the country.
Team and Competition Class
April 25, 2019 - Pearce Wilson
We tested the new Wednesday two hour class format for our intermediate and advanced fencers yesterday. I'm sure we will tweak it as we go along but based on this first test I think it will work.

Halfway between a structured class and an open practice, the goal is to pit fencers with different styles, strengths, physical characteristics, etc. against each other with a coach offering training suggestions so our fencers get practice time against the widest variety of opponents as possible.

And to be clear, a fencer can attend this Wednesday class and still come to the Monday class for specific skills practice.
Wednesday Classes Changes
April 22, 2019 - Pearce Wilson
We will be changing the format of the Wednesday classes beginning in May.

The Wednesday classes began as beginner classes however, those coming on Wednesdays are no longer beginners. *** NOTE: Monday classes will remain the same. ***

We will evolve the 5:00pm and 6:00pm one hour Wednesday classes into one 2 hour (5:00pm to 7:00pm) semi-open fencing practice. Unlike the regular open practices on Monday and Thursday nights where fencers are fencing without coaching interruptions, the altered Wednesday format will be halfway between a class and an open practice with coaching input to practice bouts between the fencers. We will fence electric as much as possible.

Fencers can come for just an hour or stay for both hours.

Again, Monday's classes will remain structured class format. Also individual lessons are always possible if you feel the need to learn/practice specific skills.
Private Member Page Upgrade
April 19, 2019 - Pearce Wilson
I added a little bit of code to the website.

Now when you log in to your Private Member Page you can see when your club dues and if it applies, your class tuition are due.

What, you didn't know you have a private member page? All our fencers have a private page on the website that gives access to our proprietary computer based training tools, tournament suggestions, messages, etc. that only they can see.

If you don't know your login name and password just ask.
Oxford Fencing Results
April 16, 2019 - Pearce Wilson
Oxford is wonderful. The people are friendly. The hosting club is spacious. Have I told you how much I like Oxford?


We had 4 boys in the Y14 foil event. Timber, Montana, Dylan, and Graham all fenced well. Unfortunately, Graham and Timber met in the quarter-finals and one of them had to lose. Graham won that battle of the teammates to move into the semi finals where he lost to the eventual gold medalist. Montana and Dylan also made it to the semi finals where they met. Dylan bested Montana. That put Dylan into the Gold Medal round where he lost to that very skilled fencer from Alabama. Final results, Montana and Graham tie for the Bronze Medal. Dylan wins the Silver.
In the Unrated Senior Foil, Caren took on a dozen fencers from the University of Mississippi. She lost to the eventual Women's Division gold medalist in the quarter-finals in a nail biter sudden death tie-breaking overtime. She end up with a sixth place overall and with a Bronze Medal in the Women's Division.
Chance fenced the Senior Open Foil. He fenced as well for a saber fencer who hasn't fenced foil in months as can be expected, but did not medal.
All in all, we had a great team trip.
Road Trip!
April 12, 2019 - Pearce Wilson
Later today the team heads south for a big tournament weekend in Oxford Mississippi. Six of our fencers will be competing in 3 different foil contests.

This weekend's roster includes some of our newer fencers who have never had a chance to travel with the team. That adds to the fun for everyone.

Wish us luck!
Thank you Ashley!
April 11, 2019 - Pearce Wilson
At yesterday's classes Ashley helped train three of our fencers who will be competing this weekend in Oxford Mississippi.
Who needs fencing equipment?
April 10, 2019 - Pearce Wilson
I expect a vendor to be in attendance at the Super Youth Circuit tournament being held in St. Louis the weekend of April 26-28. This should be a good place to try gear on to ensure proper fit before handing over any cash!
Monday vs. Thursday open fencing practice info
April 8, 2019 - Pearce Wilson
If you've attended recently you already know, our Thursday night open fencing practices are getting really crowded.

Monday's are more lightly attended. If you want more fencing time come on Mondays.
Good Luck Rob!
April 5, 2019 - Pearce Wilson
He is heading to Peoria for a very challenging epee tournament.
Unsanctioned Y14 Foil in Champaign Illinois
April 4, 2019 - Pearce Wilson
This Saturday in Champaign Illinois. Start time 10:00am

Short notice on this one. It is Unsanctioned! I had not been pushing this to our non-USFA fencers because I thought USFA membership was required. It is not.

This will be a small tournament but if we can get 2 or 3 of our fencers to go, it will be a good experience.

Say something right away if you are interested.
Host A Summer Away International Fencing Camp? NO WAY!
March 31, 2019 - Pearce Wilson
We received a request from a Chinese sports authority for us to host a two month summer away fencing program for 40 Chinese kids.

First off, there is no way we can do it. Too many kids. Too long. Too much 24 hours a day responsibility.

I assume they sent it to every fencing club in the United States. But the more I think about it, who could do it?

The Chinese sports authority sends chaperones who can help translate but there is so much more that needs to be done.

They need their US host to arrange lodging, meals, local transportation and English lessons for the kids. Then you would need to come up with fun and enriching activities to keep them entertained when they were not in fencing class.

The fencing lessons part is simple. But how on earth do you arrange all the other things kids in a 2 month summer away program need?
Congratulations Rob and Ashley
March 31, 2019 - Pearce Wilson
Both have qualified for the United States Fencing Association National Championships being held in Columbus Ohio this summer.

Rob qualified for Vet40 Men's Epee.

Ashley qualified for Division2 Women's Epee, Division2 Women's Foil, Division2 Women's Saber, Division3 Women's Epee, Division3 Women's Foil, and Division3 Women's Saber.
Oxford update:
March 28, 2019 - Pearce Wilson
The Oxford Fencing Club coach emailed this morning. They ARE planning an Open Senior Foil event. They just don't have it listed yet.

So yes, there will be an event for all our foil fencers to compete in.
TEAM ROAD TRIP!
March 27, 2019 - Pearce Wilson
Event date: April 13, Oxford Mississippi. At our request, the Oxford Fencing Club has kindly agreed to add a couple of unsanctioned foil events to their annual "April Foils" fencing tournament. There will be an Y14 event and a beginner Senior event.

I thought they were also planning a sanctioned senior open foil event but so far, their Askfred preregistration page doesn't list one. I'll have to email them to double check.

You have heard me say this before, the people at the Oxford club are just wonderful people. And the town of Oxford is one of my favorite towns. It has such an old time southern feel. I love taking our fencers there.

Go to this webpage to pre-register: https://askfred.net/Events/whoIsComing.php?tournament_id=43489

Once we have a better idea who is going, we can work on travel and lodging plans. I'm really hoping we can take a big squad.

If you have any questions, just ask.
Weekend Competition Highlights
March 25, 2019 - Pearce Wilson
Graham and Aaron both win silver in their first foil tournaments. Ashley takes first place of the women in her mixed foil tournament. She also earned a new National E19 Foil Rating.
Competing this Saturday
March 22, 2019 - Pearce Wilson
Aaron, Tyler and Ashley are competing in foil in Missouri. Graham is competing in both foil and saber in Kentucky. Good luck guys!
What are the odds?
March 21, 2019 - Pearce Wilson
A little statistical analysis of the United States Fencing Association national rating stats for you math geeks!
There are 22,259 competitive fencers in the 2018/2019 season. 7397 female. 15262 male. Note: This includes only the official USFA competitive member fencers. There are many multiples more of recreational fencers in the United States who are not included in these statistics.

Female:
... with an epee rating: 1011 (13.67%)
... with a foil rating: 883 (11.94%)
... with a saber rating: 792 (10.71%)

... with no rating: 4916 (66.5%)
... with at least one rated weapon: 2481 (33.5%)

... with a rating in only one weapon: 2291 (30.97%)
... with a rating in exactly two weapons: 175 (2.36%)
... with a rating in all three weapons: 15 (0.20%)

Male
... with an epee rating: 3014 (19.75%)
... with a foil rating: 2139 (14.02%)
... with a saber rating: 1723 (11.29%)

... with no rating: 9395 (61.56%)
... with at least one rated weapon: 5867 (38.44%)

... with a rating in only one weapon: 5002 (32.77%)
... with a rating in exactly two weapons: 721 (4.72%)
... with a rating in all three weapons: 144 (0.94%)

Lots of Competitions
March 13, 2019 - Pearce Wilson
Some suggested events for our fencers:
March 23 in Wentzville Y10/12 foil. USFA membership not required.
March 23 in Louisville Kentucky. Beginner Youth Epee, Beginner Youth Foil, and Beginner Youth Saber.
March 23 at Purdue University. Strong epee, foil, and saber events for our more serious 14+ USFA member fencers.
March 30 and 31 in St. Louis. Y14 Men's and Y14 Women's, C & Under Men's and C & Under Women's, 40yo+ Men's and 40yo+ Women's qualifiers in all 3 weapons for summer national championships.
April 6 in Champaign Illinois. Y14 foil. Requires USFA membership.
April 13 in Oxford Mississippi. Youth Foil. 14+ Beginner Foil. Open Foil. The open foil will require USFA membership.
Valentines Day. NO FENCING
February 14, 2019 - Pearce Wilson
Between our married adult fencers likely being absent and our Junior Olympians headed to Denver, we would have very few people.
Belleville Famous
February 5, 2019 - Pearce Wilson
Our fencer extraordinaire, Ashley made the paper. (Belleville News Democrat) If the text is too small to read, it basically just tells how awesome she is!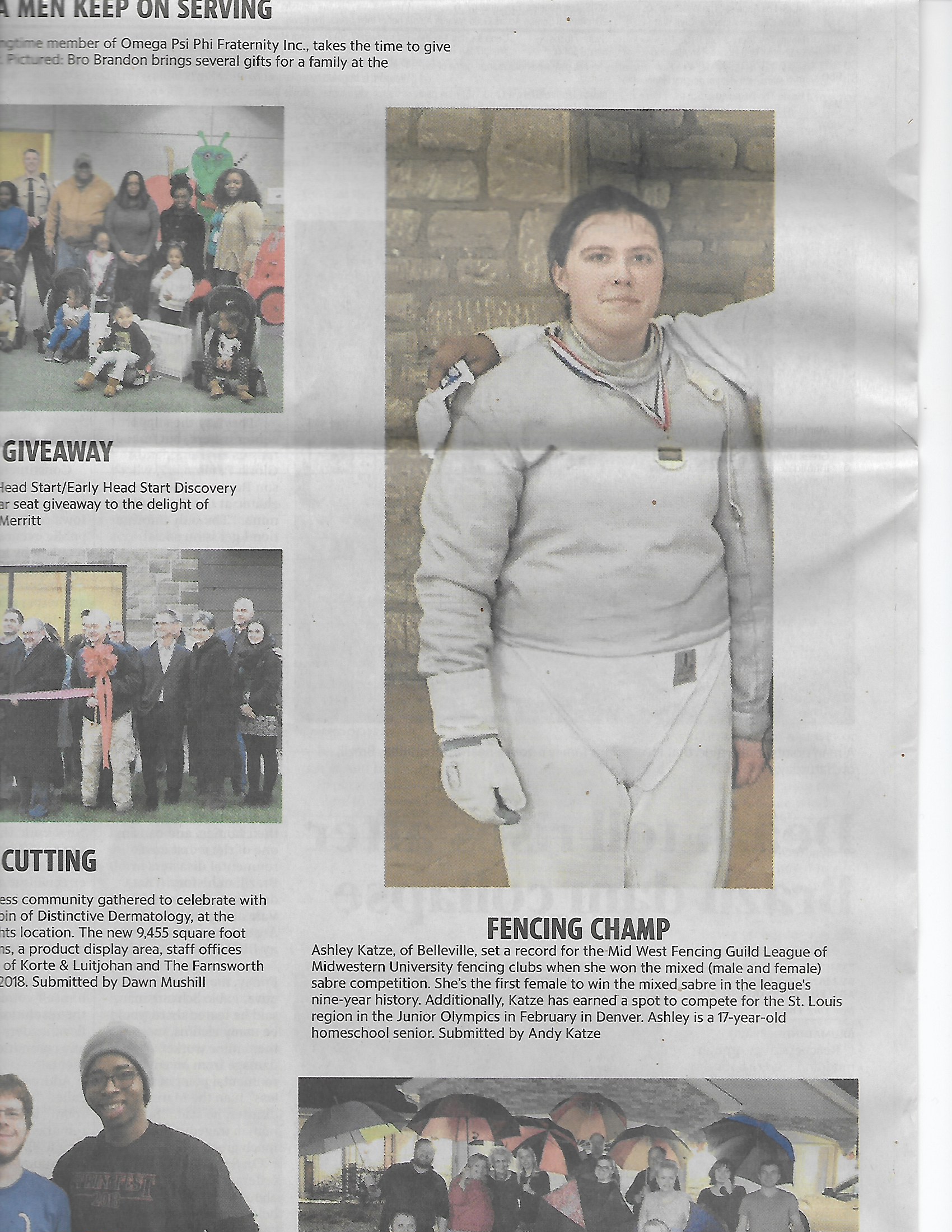 Our 2019 Junior Olympians
February 5, 2019 - Pearce Wilson
Chad and Ashley will be representing our club and the St. Louis Division (encompassing Southern Illinois and most of Missouri) at the United States Fencing Association's 2019 Junior Olympics.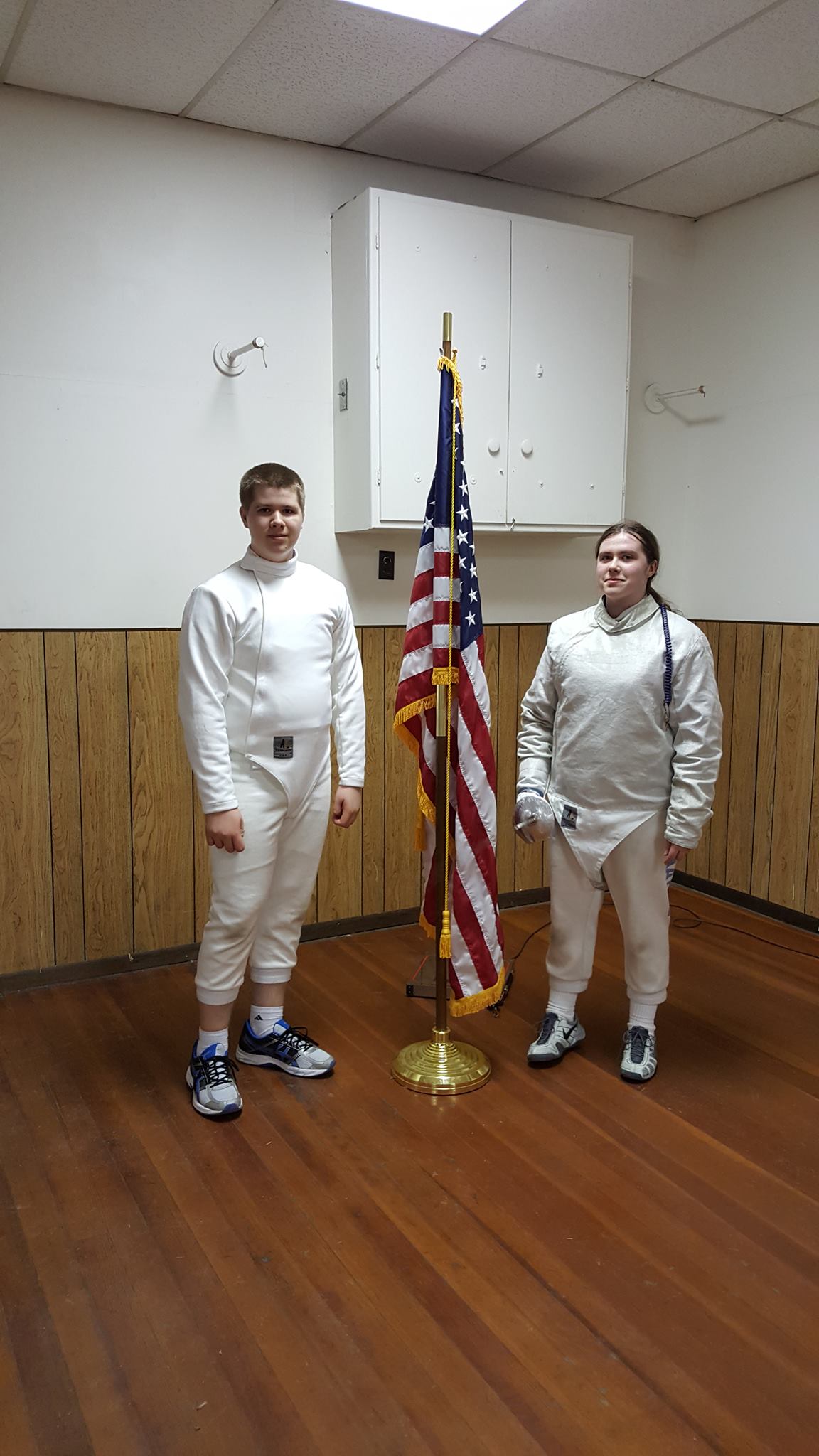 They will be facing the best fencers from each State in the nation at this US Olympic Committee sponsored championship for teens.
Chad will compete in both epee and foil. Ashley will compete in foil and saber.
The Junior Olympics will be held in Denver Colorado in a little under 2 weeks.
Good luck guys!!
Busy Competition Weekend
January 27, 2019 - Pearce Wilson
Yesterday Logan and Cole fenced in the college league foil tournament at St. Louis University.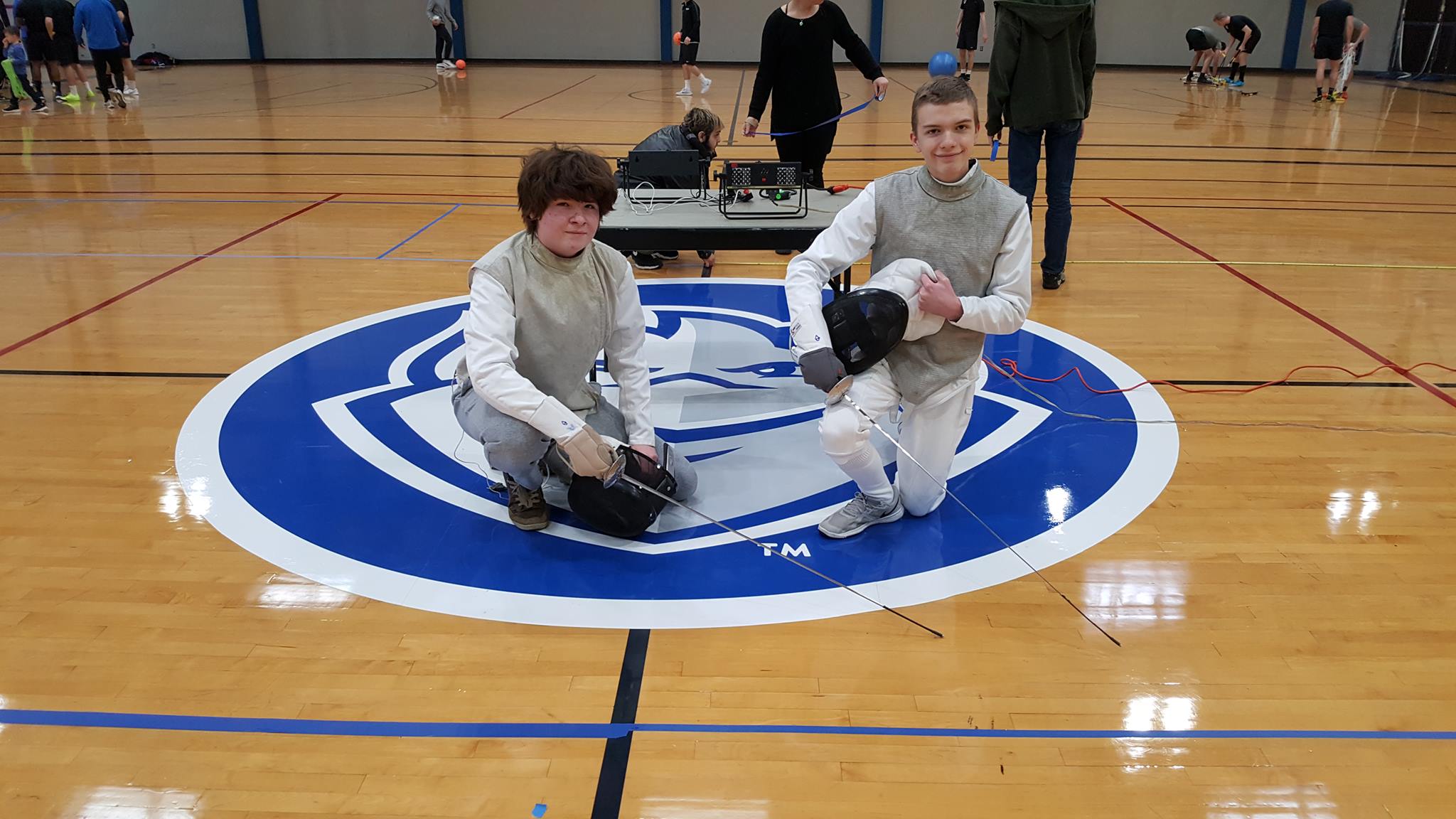 This was Cole's first tournament. It was Logan's second. Both fencers did well. These first tournaments are where a new fencer really begins to learn. New opponents, never seen before tactics, new referees who call action differently; all add to the challenges.
Today, Ashley and Chad travel to the Point Fencing Club in Champaign where the University of Illinois team trains to compete. Good luck guys!
Saber in the Snow!
January 17, 2019 - Pearce Wilson
Ashley and Chad challenge each other AND the snow! Thanks to the Katzes for the cool video!!
Click picture to view video.
This is a slow version of the video. Later today or tomorrow I'll get it uploaded to the cloud (and to our video catalog) for better viewing speed. --Pearce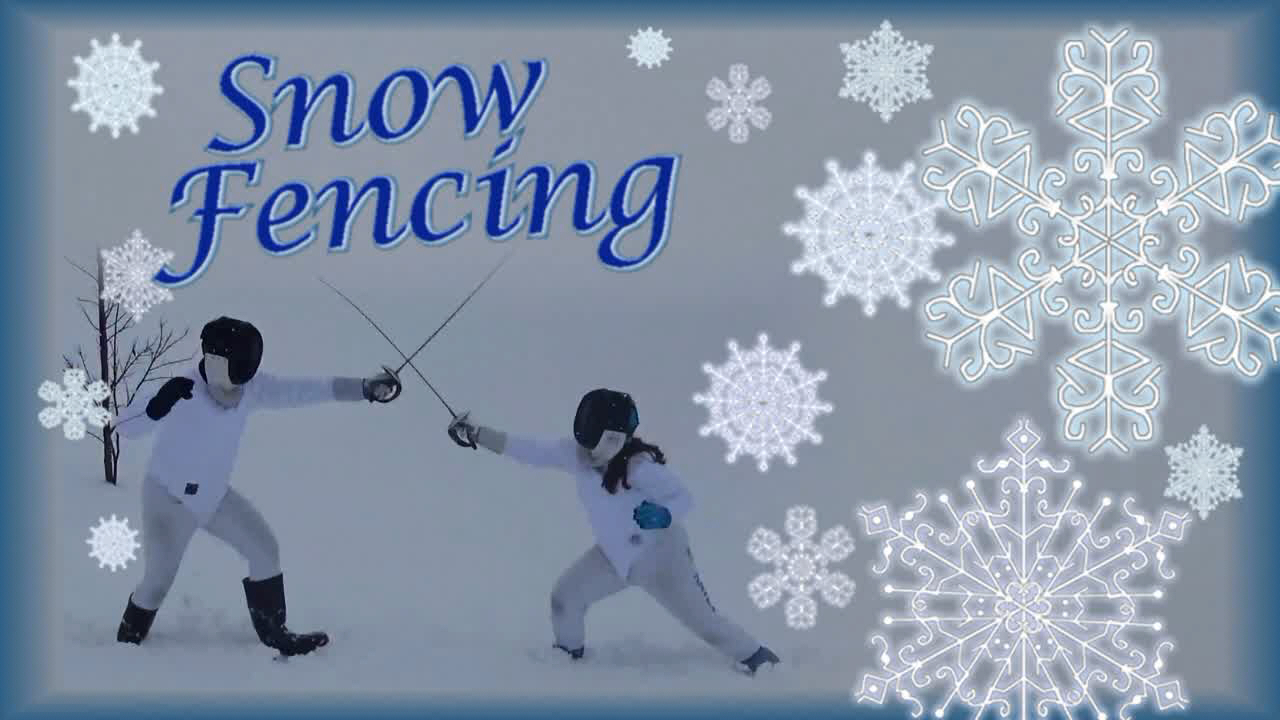 First competition of 2019 is in the books.
January 6, 2019 - Pearce Wilson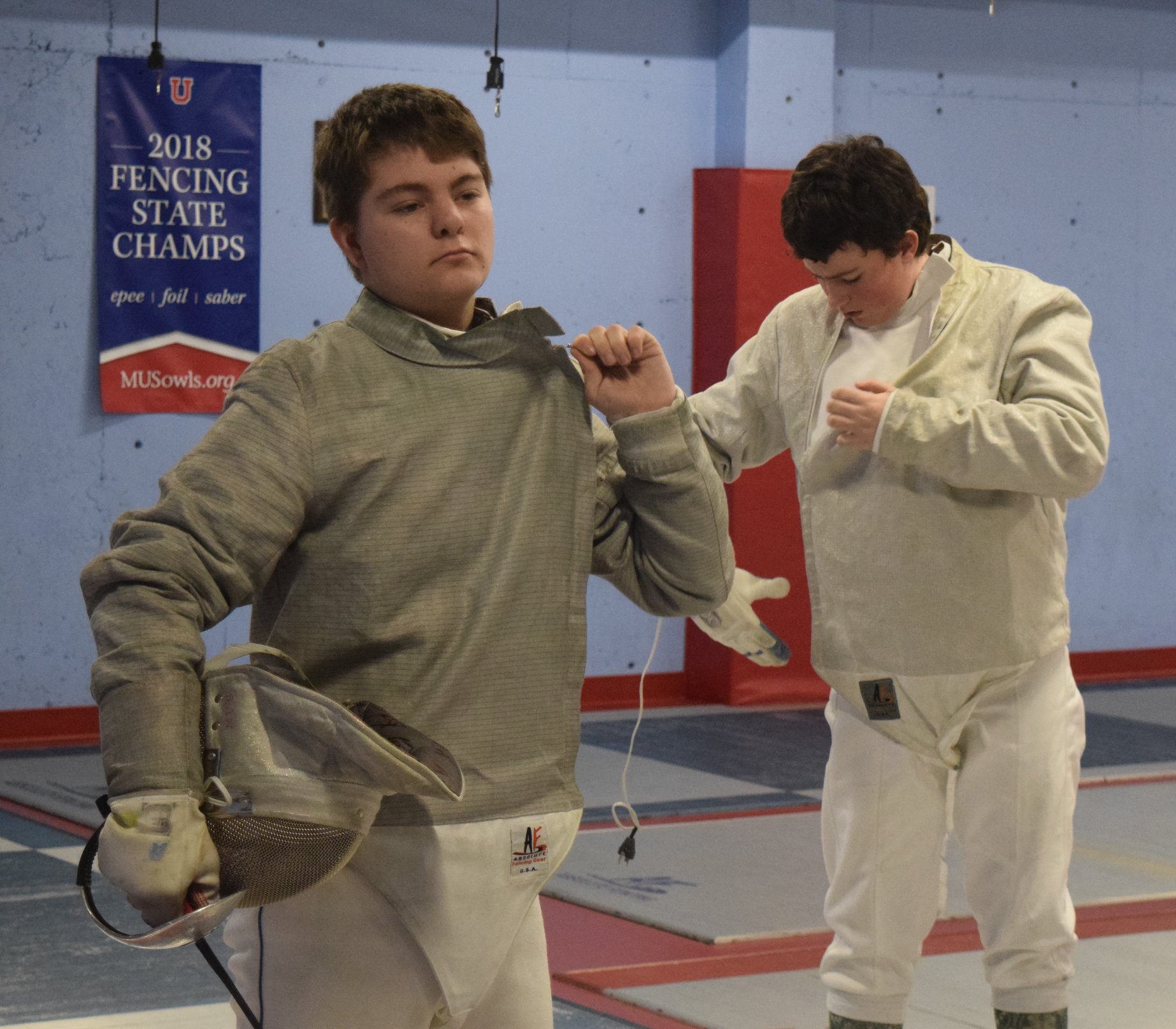 No medals but good fencing. Chance and Warren traveled to Memphis Tennessee this weekend to take on the 2018 Tennessee State High School Fencing Champions of Memphis University School.

As we were leaving, one of the MUS coaches asked us to let them know if we were going to host a high school tournament at our place. They want to visit us. How fun would that be? We'll have to look into doing just that.
| | |
| --- | --- |
| Chance lunges from the left. | Warren lunges from the right. |
The team is headed to Memphis
January 2, 2019 - Pearce Wilson
This weekend Memphis University School is hosting a high school 3 weapon tournament.
We currently have fencers for the foil and saber events.
It's not too late to add your name to the travel roster but you need to speak up quick!
Welcome to the New Year
January 1, 2019 - Pearce Wilson
Tomrrow, Wednesday January 2nd we FINALLY get back to our regular schedule.